Spider-Man: No Way Home Trailer Dropped - The Loop
Play Sound
| | |
| --- | --- |
| | WARNING: This series contains scenes of blood, gun violence, and murder. Viewer discretion is advised! |
Zero-One Others: Kamen Rider MetsubouJinrai (ゼロワン Others 仮面ライダー滅亡迅雷, Zerowan Azāzu: Kamen Raidā Metsuboujinrai) is a Japanese superhero film that serves as the first installment of the Zero-One Others series of V-Cinext films set within the continuity of Kamen Rider Zero-One. It focuses on the members of MetsubouJinrai.net as they attempt to rescue Jin from Lyon Arkland, who wishes to weaponize the Humagear into a devastating military force.
The catchphrase for the film is "To fight for justice, freedom, and dreams, the time of crusade is now." (正義, 自由, 夢のため、いざ聖戦の時, Seigi, jiyū, yume no tame, iza seisen no toki)
Synopsis
ZAIA Enterprise CEO Lyon Arkland has taken away Jin from Metsuboujinrai.net. A large number of soldier-type Humagears "Sold" were seen by Naki and Ikazuchi while rescuing Jin. The intention of Lyon Arkland was to mass-produce "Sold" and sell them as weapons all over the world. Jin is indignant at the fact that Humagears are about to be used as a weapon, and tells the other members of Metsuboujinrai.net that he wants to free the "Solds". Four people who transform into Kamen Riders will fight to release the "Solds". However, something unexpected happened... What happened to Jin, who was captured by Lyon? According to Lyon's plan, the being that poses the "greatest threat" to humankind is about to be born in a surprising way.[1]
Plot
At ZAIA Enterprise's USA Headquarters, Lyon Arkland expresses his desire to bring Project Sold to fruition and embarks on a trip to Japan with Azu's guidance from the Ark. In Japan, Jin is attacked by Lyon's new Solds, Sold9 and Sold20, who kidnaps him and later reveals that Jin himself was Sold0. Horobi attempts to save him but is defeated. As Arkland arrives in Japan to tend to Jin's needs, he reveals that he himself was the namesake of the Ark, and connects Jin to his new Massbrain System which restricts Humagears from free will, making them perfect expendable soldiers.
After asking Naki and Ikazuchi for help, Horobi brings them to rescue Jin and are ambushed by Arkland and his Solds, who had intended to connect Metsuboujinrai.net to the Massbrain System. As they all transform into battle, Jin leads his fellow members into connecting with Masssbrain as they materialize into the autonomous Kamen Rider MetsubouJinrai whose mine decouples back into its original four before it is able to kill Arkland. Azu is displeased with results, and Arkland destroys her on the spot, proclaiming that the Ark was now an "obsolete evil", and wishes to turn Metsuboujinrai back into the terrorists they once were by having them fight his Solds in order to maximize ZAIA's profits.
Yua Yaiba announces at an A.I.M.S. press conference that AIMS was working to resolve the recent MBJR issue, but Arkland arrives and accuses AIMS of employing a terrorist. The television network is then intruded by MetsubouJinrai.net, who reveal to the country of ZAIA Japan's Humgear exploitation, and plan to destroy them. With them now outed, Arkland promises that his Sold Magia will protect the public. Enraged, Yua complains to the Secretary of National Defense, Shigeru Daimonji, who then tells her that the Solds were being considered for national defense purposes, which would result in less human casualties on the battlefield, and render the Kamen Riders obsolete.
Isamu Fuwa then meets Horobi at the forest, who did not participate in the broadcast intrusion. Isamu promises to the robot that should Metsuboujinrai.net go bad once again, he'll be there to take them down. Relieving the last of his worries, Horobi joins his group outside ZAIA Japan HQ and they all connect to the Massbrain Network once again, transforming to Kamen Rider Metsuboujinrai. From a distance, Isamu watches as Metsuboujinrai destroys its Humagear hosts and kills Arkland. It destroys ZAIA Japan HQ, then breathes heavily, and cries out in pain and agony in the rubble of the destroyed remains of the building. Yua reports back to Daimonji that ZAIA Japan has been destroyed, and is tasked by the secretary to eliminate Kamen Rider MetsubouJinrai as Kamen Rider Valkyrie.
Continuity and Placement
Characters
Kamen Riders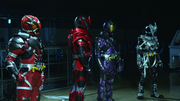 Allies
Villains
Kamen Riders
Others
Cast
Suit Actors[3]
Forms and Collectibles Used[4]
Key Used:

Ikazuchi
Naki
MetsubouJinrai
Zaia
Music
The film's theme song is S.O.S., performed by MONKEY MAJIK, who also performed the majority of the voices for the Zero-One gear and equipment, as well as this movie's eponymous Rider.
Release
The film premiered in Japanese theaters on March 26, 2021.
The film was released digitally on April 16, 2021. The film was released on DVD/Blu-Ray on July 14, 2021, which included the DX Massbrain Zetsumerisekey along with the MetsubouJinrai Driver unit attachment for the DX Hiden Zero-One Driver used in the film, as well as the full version of the film's theme song.
Errors
When Horobi freed Jin, he slashed to the top right but the cut was in opposite way.
When the bodies of MetsubouJinrai.net's members are shown on the ground after their first transformation into Kamen Rider MetsubouJinrai, the distance between them is inconsistent between shots.
When Kamen Rider MetsubouJinrai is performing the MetsubouJinrai Impact finisher, a chroma key issue causes parts of their body to be transparent.
Notes
This is the first V-Cinema film since:
This is the first Zero-One film to not have J and Takanori Nishikawa perform the theme song. It is instead performed by MONKEY MAJIK, who has up until now been the exclusive voices of Zero-One's equipment.
Both major Riders featured in the movie, Zaia and MetsubouJinrai, speak fluent English.
Suit actors Yuya Nawata and Yasuhiko Imai make out-of-suit cameo appearances in the film.
External Links
References