"Presented by ZAIA"
―ZAIA's copyright slogan
ZAIA Enterprise Japan (ZAIAエンタープライズジャパン, ZAIA Entāpuraizu Japan), simply ZAIA or ZAIA Japan, is a subsidiary of ZAIA Enterprise based in Japan. In addition to marketing products for civilians, they are also a weapons developer. They plan to sabotage Hiden Intelligence and dominate the world with their technology.
Overview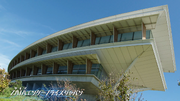 ZAIA Japan was involved with the production of the prototype Humagears used during the Daybreak Town Accident. They also supply A.I.M.S. with their equipment and Progrisekeys to fight MetsubouJinrai.net and the Magia.
Their proposed solution to an outbreak of Humagears being hacked in masses is the Giger, a series of giant mecha capable of hacking Humagears in masse, though this is turned against them by MetsubouJinrai.net, who take no time to hack into a Giger and produce a massive outbreak.
It was later revealed that CEO Gai Amatsu was behind corrupting the Ark as a means of corporate sabotage to do a hostile takeover bid of Hiden Intelligence and gain its technology to control the world. After humiliating Hiden Intelligence CEO Aruto Hiden by causing another outbreak of rampaging Magias on Christmas when he thought he defeated Metsuboujinrai.net, the panicked public and press demanded answers. Gai arrived and posed as a Samaritan, claiming that Aruto was not aware of what Humagears were capable of and that he would declare a takeover bid to seize control of Hiden's stocks and destroy all the Humagears once the bid was accepted by federal regulators. 
ZAIA Enterprise Japan succeeded in taking over Hiden Intelligence, to which the latter's former CEO Aruto has to found HIDEN Manufacturing until Ark-Zero's rampage. ZAIA Japan would later gain a new CEO in Williamson Yotagaki, who was revealed to be responsible for Jin's revival.
Known Members
Known Products
Members
Appearances
Community content is available under
CC-BY-SA
unless otherwise noted.