Wiki Targeted (Entertainment)
Play Sound
The "Past Man" (過去の男, Kako no Otoko) is the future self of Yuto Sakurai that appeared several times in the past to evade capture from the Imagin.
History
He has a Seiko pocket watch with the phrase "The past should give us hope" on the back etched. He wears a trenchcoat and many caps. When Ryotaro bumps into the "Past Man" at one point, he saw that he was the Yuto Sakurai he knew: Airi's fiancé who mysteriously disappeared and is believed to be dead. Ryotaro remembers him as a kind figure who was into astronomy and loved Airi's coffee, and as such, almost considered him family. As he is Yuto's future self, Sakurai has access to the Zeronos arsenal. Eventually, the memory of Sakurai is completely erased from mostly everyone within Ryotaro's time. This happens because Sakurai provided Deneb with the first set of Zeronos Cards Yuto uses at the cost of his future self's existence, with the final Zeronos card presented to Yuto in the final battle completely erasing him from time, although Airi is confident that her love will return to her in time.

Kamen Rider Zeronos
Plat Form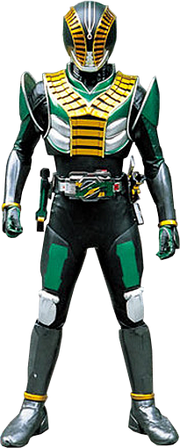 Plat Form (プラットフォーム, Puratto Fōmu) is Zeronos' most basic default form undersuit, which is briefly seen during Zeronos' transformation sequence before the Altair Form (or the Zero Form) armor attaches.
Altair Form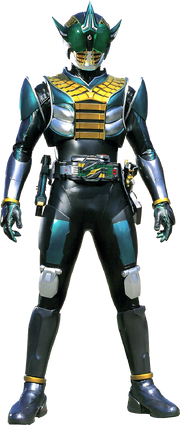 "Altair Form!"
―Transformation announcement
Rider Statistics
Rider Senses:
Ability Parameters:
Altair Form (アルタイルフォーム, Arutairu Fōmu) is the default form of Zeronos, using the Zeronos Cards to evoke the change. It is named after the star Altair in the constellation Aquila the Eagle. The "mask" is made up of two green bull's head-shaped visors, the same motif as ZeroLiner Drill, which is based on the mythological occupation of Altair as a cowherd. These form from two bull's head-shaped train cars that ride along the tracks on Zeronos' helmet. The rest of the body has a set of converging train tracks that are almost like a zipper. Altair Form has generally balanced abilities comparable to Den-O's Sword Form.
Appearances:
Episode 46
Equipment
Device
Weapons
ZeroGasher: Personal/primary weapon for Altair form
Vehicles
Notes
See also
Community content is available under
CC-BY-SA
unless otherwise noted.