Wiki Targeted (Entertainment)
Play Sound
This article is about the A.R. World version of Kamen Rider Kuuga. For the original Kamen Rider Kuuga, see Yusuke Godai.
This article is about the original Yusuke Onodera. For the A.R. World version, see Yusuke Onodera (A.R. World).
"This man is fighting so that no one else need to fight. Even when plunged alone in his darkness, he wants to make others smile. That is what he believes! If he protects smiles, then I will protect his smile! Did you know? His smile is not bad."
―Tsukasa talking about Yusuke to N-Gamio-Zeda
Yusuke Onodera (小野寺 ユウスケ, Onodera Yusuke) is the resident of the World of Kuuga in Kamen Rider Decade. He supports the police and fights the Gurongi as Kamen Rider Kuuga (仮面ライダークウガ, Kamen Raidā Kūga), later being recruited by Tsukasa Kadoya as his first companion across the A.R. Worlds. While journeying with Tsukasa, Yusuke takes a backseat from fighting and acts more of an inspirational figure to others instead, as shown with Wataru of the World of Kiva.
History
World of Kuuga
After killing the Gurongi Me-Gyarido-Gi and Ra-Dorudo-Gu, Yusuke answers Ai's call about another Gurongi being spotted. After witnessing Decade defeat another Gurongi Ai and Yusuke meet Tsukasa, who offers them his help as a policeman. Although Yusuke seems to be annoyed by this, Tsukasa demonstrates his intellect and baits out two Gurongi. Yusuke recognizes Tsukasa transforming into Decade, the man who will defeat all the riders, and attacks him, but their battle is interrupted by Kick Hopper and Punch Hopper appearing due to a dimensional rift.
After the battle, Tsukasa goes off to a fight a revived N-Gamio-Zeda who is terrorizing the city by converting humans into Gurongi using his miasma. Yusuke saves Ai from the miasma but is afraid to fight because she is dying. Her words are able to convince him otherwise, and Yusuke, along with Tsukasa, defeats Gamio. However, upon his return, Yusuke finds that Ai has died. Yusuke promises to go on fighting, in order to protect everyone else's smile.
But after visiting Ai's tombstone to pay his respects, Yusuke meets Kiva-la who brings him to Castle Doran in Kiva's World, where Yusuke offers his aid to the Fangire King Wataru before joining Tsukasa's group as a resident of Hikari Photo Studio.
However during the Rider War, though his world is destroyed, Yusuke still exists due to his traveling of the Nine Worlds. Even though he is destroyed by Decade in The Last Story, he and his world are restored, allowing him to aid in reviving Decade and defeating the newly formed Super Shocker once and for all.
World of Kiva
After Yusuke was brought to the Kiva World by Kiva-la. Yusuke realized that he is inside the Castle Doran, then Yusuke meets The arms monsters with some of Castle Doran servant. After that Yusuke becomes a guard in Castle Doran that serves the Crown Prince of the Fangire world. The name of the prince is Wataru. As a guard, Yusuke has to protect humans from an evil Fangire.
When Tsukasa and Wataru fought each other, Yusuke forced them to stop fighting. After that, suddenly there was a Fangire that disobeyed the Fangire law of absorbing human life energy was caught by a Guard Fangire. Yusuke tells Wataru and Tsukasa that the guards will protect them from a Fangire that disobey the law.
When Wataru doesn't want to become a king, Yusuke tries to convince Wataru to become a king, but Wataru still doubts himself. After that event, Castle Doran came under attack by the Beetle Fangire. Yusuke protects Wataru by transforming into Kamen Rider Kuuga. Wataru and Yusuke both defeat and then flee because the Beetle Fangire and the Arms Monsters are too powerful. After fleeing, Yusuke convinced Wataru for the second time to return to the castle and accept the offer to become King of the Fangires.
Yusuke returns to Castle Doran and fight the Arms monsters but was defeated. Not long after that Tsukasa and Wataru arrive, and Tsukasa then fights against the Beetle Fangire. During the fight, Yusuke convinces Wataru for the third time to be a King. Being convinced by Yusuke then Wataru wants to become a King and transforms into Kamen Rider Kiva once again. Wataru and Tsukasa then beat the Beetle Fangire.
After that event, Yusuke decides to follow Tsukasa and Natsumi by traveling into the Rider Worlds with them.
World of Ryuki
World of Blade
World of Faiz
World of Agito
World of Den-O
World of Kabuto
World of Hibiki
World of Negatives
World of Diend
World of Shinkenger
In the World of Shinkenger, The Arrival of the Samurai Sentai Kuuga fought with Shinken Blue and Shinken Yellow of the Samurai Sentai Shinkenger to defeat the Kaijin Ride Eagle Undead of Chinomanako Diend. Heretic Rider, Go Forth!
World of Black RX
World of Amazon
World of the Rider War
In the World of the Rider War, Kuuga got injured by protecting Decade. Later, Kiva-La bites Kuuga to revive him, but turns him into Black-Eyes Ultimate Form.
Later appearances
Kamen Rider Heisei Generations FOREVER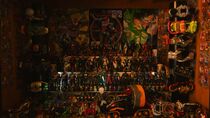 Kamen Rider Kuuga Rising Ultimate appears as a poster when Sento and Sougo find Ataru and he brings them to his room, which is filled with Kamen Riders memorabilia, with Sougo and Sento stunned to see toys of themselves. Ataru reveals that Kamen Riders are fictional. Kamen Rider Heisei Generations FOREVER

Rider Time: Decade vs. Zi-O
Yusuke is thought to be one of the participants of the King Death Game, but he turns out to be a malicious doppelganger from another world. The real Yusuke, as Kamen Rider Kuuga, later appears along with Kamen Rider Diend and Kiva-la to assist Decade and Zi-O in their fight against Oma Zi-O. However, they are unable to defeat him.
Non-Canon TV Appearances
Kamen Rider G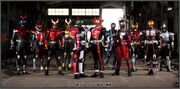 Video Game Appearances
Kamen Rider Battride War
Although the playable Kuuga in Kamen Rider Battride War is confirmed to be Yusuke Godai, Yusuke Onodera makes an unofficial appearance in one mission and is directly referenced in another. In the mission Decade's Awakening, the first "boss" character fought is Kuuga, intended to represent Onodera (though there are no gameplay or vocal changes from the normal Godai version). Additionally, if the player uses Decade in the mission Kuuga's Awakening, Tsukasa will have special dialog where he acknowledges that Godai isn't the same man he traveled with, but says they both have the same desire to protect people's smiles and encourages Godai to remember that desire to help him break free of Mnemosyne. However, Kuuga cannot be used in Decade's Awakening due to the presence of the boss Kuuga, meaning Godai has no special dialog with Tsukasa.
Kamen Rider Battride War Genesis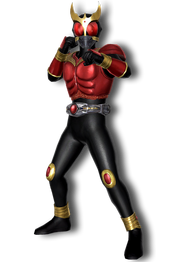 Yusuke Onodera makes his playable debut in Battride War Genesis, with Ryota Murai reprising his role from Kamen Rider Decade. The primary difference between the two Kuugas is that Onodera lacks the powered-up Rising Forms, but instead, the charge attack is used to access Ultimate Kuuga (Black Eyes), which act as a limited form change. His strongest form is Rising Ultimate Kuuga (Red Eyes), and his Super Finishing Move is the Rising Ultimate Kick.
Kamen Rider Battle: Ganbaride
Kamen Rider Kuuga Rising ultimate black and red eyes, appears as a playable and support character in the video game Kamen Rider Battle: Ganbaride.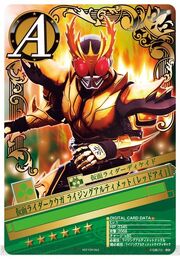 Kamen Rider Kuuga Rising ultimate appears as a playable character with other Riders and monsters in Kamen Rider Break Joker.

Personality
Unlike Yusuke Godai who was confident of himself, Onodera was (initially) a rather meek and cowardly man who hesitated to fight the Gurongi, and would at times flee from danger rather than face it. Although not as confident or courageous as the original Yusuke, this Yusuke also tries to protect everyone's smile thus showing some resemblance. As he traveled with Tsukasa and the others, Onodera gained more confidence and became more mature as he was willing to sacrifice himself to save the Nine Worlds, showing how much he had changed compared to his initial appearance.
Abilities
Forms
Just like the original Kamen Rider Kuuga, Kuuga can change into various forms into which he gains different powers and specialties. While he can transform into Rising Ultimate that Yusuke Godai did not access (until the 53rd/final episode of Kamen Rider Wizard), Onodera has not been seen using the Rising versions of his four basic forms. In the World of Agito, Yusuke dons the Kamen Rider G3-X (仮面ライダーG3-X, Kamen Raidā Jī Surī Ekkusu) suit for a while. During the visit to the world of Den-O, Yusuke is possessed by Momotaros, who uses him as a body to transform into Kamen Rider Den-O Sword Form (仮面ライダー電王 ソードフォーム, Kamen Raidā Den'ō Sōdo Fōmu).
Equipment
Devices
Weapons
Vehicles
Imagin Possessions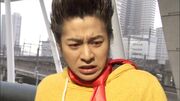 Behind the scenes
Portrayal
Yusuke Onodera was portrayed by Ryouta Murai (村井 良大, Murai Ryōta). As Kamen Rider Kuuga, his suit actors were Kenji Tominaga (富永 研司, Tominaga Kenji) and Norihito Itō (伊藤 教人, Itō Norihito). In Kamen Rider: Battride War, he was voiced by Nobunaga Shimazaki, who also voices his actual counterpart.
Etymology
Yusuke's surname Onodera (小野寺, Onodera) is a reference to Kamen Rider Series creator Shotaro Ishinomori whose original family name is the same as Yusuke.
Notes
Appearances
References
Footnotes

Kamen Rider Decade
Kamen Riders
Primary: Tsukasa Kadoya - Daiki Kaito - Natsumi Hikari
A.R. Kamen Riders: Wataru Kurenai - Yusuke Onodera - Wataru - Shinji Tatsumi - Kazuma Kendate - Takumi Ogami - Shouichi Ashikawa - Momotaros - Ryotaro Nogami - Souji - Asumu - Kotaro Minami (Black RX) - Kotaro Minami (Black) - X-Rider (A.R. World) - Daisuke Yamamoto - Kazuma Kenzaki - Joji Yuki - Yuriko Misaki
A.R. Evil Kamen Riders: Chinomanako - Mimihiko - Kuchihiko - Kamen Rider Abyss - Dark Kiva - Ryuga - Orga - Dark Kabuto - Alternative
Other A.R. World Riders: Ren Haguro - Scissors - Zolda - Femme - Verde - Tiger - Imperer - Odin - Raia - Gai - Sakuya Hishigata - Mutsuki Kuroba - Takahiro Furuya - Kotaro Nogami - Arata - Ibuki - Zanki - Todoroki - Akira - Junichi Kaito - Haruka Miwa - Shin Magaki - X - Ixa - Saga
Prime Universe Kamen Riders: Kotaro Nogami - Urataros - Kintaros - Ryutaros - Sieg
Hikari Studio
Natsumi Hikari - Kiva-la - Eijiro Hikari
Other Allies
Ai Yashiro - Kivat-bat the 3rd - Garulu - Basshaa - Dogga - Reiko Momoi - Ai - Mai - Mi - Yuri Tomoda - Toko Yashiro - Deneb - Teddy - Kohana - Naomi - Owner - Toki - Yu - Grandma - Mayu - Natsumi Hikari - Chinatsu - Hikoma Kusakabe

- Kuroko

- Kurando Tani

- Shinkengers

- Masahiko Okamura (A.R. World) - Ritsuko Okamura (A.R. World)
Dai-Shocker
Doctor Death - Ambassador Hell - Apollogeist - Jyumenki Yum Cimil - Shadow Moon - King Dark - General Jark - Bishium - Yuki - Shvarian - Televi Bae-Kun
Worlds of Black & Black RX: Scorpion Imagin - Seamoon Fangire - Mantis Fangire - Rhinoceros Mutant - Ox Orphnoch - Worm Orphnoch - Frilled Lizard Orphnoch - Brachypelma Worm Aurantium - Brachypelma Worm Viridis - Tarantes Worm Purpura
World of Decade: Fiddler Crabking -

Crabbat

- Doras - Garai - Me-Badjisu-Ba - Zu-Mebio-Da - Me-Ginoga-De - Go-Gadoru-Ba - Leiurus Acutia - Formica Regia - Formica Pedes - Sheerghosts - Raydragoons - Psycorogue - Butterfly Orphnoch - Giraffe Orphnoch - Longhorn Orphnoch - Slug Orphnoch - Wild Boar Orphnoch - Pelican Orphnoch - Stinkbug Orphnoch - Arch Orphnoch - Elephant Undead - Giraffa Undead - Darkroachi - Kappa - Bakeneko - Hitotsumi - Coleoptera Worm Aeneus - Coleoptera Worm Croceus - Coleoptera Worm Argentum - Geophilid Worm - Subst Worm - Cassis Worm Gladius - Albinoleo Imagin - Mole Imagin - Rat Fangire - Sungazer Fangire - Bat Fangire
World of Amazon: Go-Jaraji-Da - Propheta Cruentus - Camponotus Worm Maxilla - Bakeneko - Yobuko
Dai-Shocker Combatmen - Dai-Shocker Scientists - Destron Combatmen
Super Shocker
Narutaki - Bee Woman - Neo Organism
Zanjioh - Jaguarman - Poison Lizard Man - Leechameleon - Zu-Gooma-Gu - Go-Jaraji-Da - Volucris Falco - Solospider - Scorpion Orphnoch - Titan Undead - Kodama - Sectio Worm Acuere - Cobra Imagin - Gecko Imagin - Sungazer Fangire
Super Shocker Combatmen
Gurongi
N-Gamio-Zeda
World of Kuuga: Me-Gyarido-Gi - Ra-Dorudo-Gu - Go-Baberu-Da - Go-Bemiu-Gi - Me-Biran-Gi - Go-Jaaza-Gi - Me-Garima-Ba
World of Agito: Me-Badjisu-Ba - Zu-Mebio-Da - Me-Ginoga-De
The Lords
Taurus Ballista
Formica Regia - Formica Pedes
Mirror Monsters
The Contract Monsters
World of Ryuki: Darkwing - Volcancer - Destwilder - Gigazelle - Abyssodon (Abysshammer - Abysslasher)
World of Negatives:
Dragblacker
Wild Mirror Monsters
World of Ryuki: GuldThunder - Zebraskull Bronze - Megazelle - Negazelle - Omegazelle - Magazelle
World of Den-O:
Gelnewt
World of Negatives:
Raydragoons
Orphnochs / Lucky Clover
Momose - Shukawa - Genda - Shirogane
Butterfly Orphnoch
The Undead
World of Blade: Kamata - Hajime Shijo
Buffalo Undead - Elephant Undead - Capricorn Undead
World of Diend: Fourteen - Bossroach - Darkroachi
World of the Rider War: Deer Undead - Scarab Undead - Lizard Undead
魔化魍 Makamou
Gyuki - Bakegani
Kappa - Bakeneko - Ooari - Tengu - Ubume
Worm
Sou Otogiri
Coleoptera Worm Argentum - Geophilid Worm - Subst Worm
The Imagin
Alligator Imagin - New Mole Imagin
The Fangires
Beetle Fangire - Yuki
World of Kiva: Ryo Itoya - Swallowtail Fangire - Lion Fangire
World of the Rider War: Shark Fangire - Silkmoth Fangire - Horsefly Fangire - Warthog Fangire
View • Edit