Yukimura Belial Grunstein (雪叢・ベリアル・グランスタイン, Yukimura Beriaru Guransutain) is a professional mercenary from the Torkia Republic with an effeminate personality. Hired by Kagiomi Shizumiya to assassinate Takatora Kureshima, he was given a prototype Sengoku Driver and transforms into Kamen Rider Proto Bravo (仮面ライダープロトブラーボ, Kamen Raidā Puroto Burābo).
History
to be added
Powers and Abilities
to be added
Personality
to be added

Arms
Durian Arms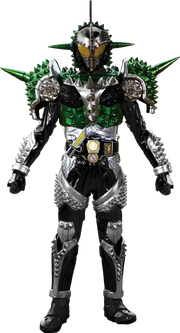 "(Guitar riff) (engine revving) Durian Arms! (Single bell ring) Mr. Dangerous! (Five count bell ring with a cheering crowd)"
―Transformation announcement
Durian Arms (ドリアンアームズ, Dorian Āmuzu) is Proto Bravo's default durian-based armored Roman Gladiator form. Accessed through the Durian Lockseed, this form bears the Duriking Casque (ドリキングカスク, Dorikingu Kasuku) helmet with the ReduSight (レデューサイト, RedyūSaito, short for "Reducer Sight") visor.
While assuming Durian Arms, Proto Bravo dons the Durian Armor Part (ドリアンアーマーパート, Dorian Āmā Pāto) and his Arms Weapon is the Duri Noko.
Appearances: Kamen Rider Zangetsu Stage -Gaim Gaiden-
Equipment
Devices
Weapons
Behind the scenes
Portrayal
Yukimura Belial Grunstein was portrayed by Shota Onuma (小沼 将太, Onuma Shota).
Notes
Yukimura's middle name Belial comes from the Hebrew Bible, where it became associated with the Devil over time.
Yukimura's personality, an effeminate mercenary with a crush on Takatora, is highly similar to Oren Pierre Alfonzo.

However, his being hired to assassinate Takatora is in direct contrast to Oren, who would never even consider attempting to kill "the white Armored Rider".
Appearances
Community content is available under
CC-BY-SA
unless otherwise noted.