"I need to collect more data to complete my research."
This article is a stub, meaning it needs more info. You can improve this Kamen Rider Wiki article by expanding it.
Yuki Kitami (北見 勇樹, Kitami Yūki) is the second patient of Emu Hojo to be infected with the Bugster Virus.
Character History
Yuki developed a fear of doctors after having a major operation.
Forms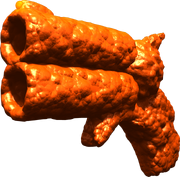 The Bugster Union (バグスターユニオン, Bagusutā Yunion) is the monster form of a Bugster-infected patient when the virus first flares up. When a Bugster-infected patient experiences enough stress, the Bugster Viruses inside multiply rapidly and overtake the patient's body, forming a giant orange virus form around it; the Union's shape seems largely irrelevant to the Bugster's appearance. Bugster Unions can only be defeated by a Kamen Rider in Level 1; the reason why is unexplained, though it may be because other Levels are too strong and may injure the patient inside the Union.
Behind the Scenes
Portrayal
Yuki Kitami is portrayed by Rio Takanashi (高梨 理央, Takanashi Rio).
Notes
to be added
Appearances
References
External Link
Community content is available under
CC-BY-SA
unless otherwise noted.