Wiki Targeted (Entertainment)
Play Sound
For the original version, see Mio Suzuki.
Yuki (ユウキ, Yūki) was the guise of the sea cucumber Fangire a named Thorn Fangire (ソーンファンガイア, Sōn Fangaia), a member of the Aqua Class and the Queen of the Fangire in the World of Kiva. Her true name was Perishing at the Altar, Silence from a Deep Kiss (滅びゆく祭壇に、沈黙より深いキスを, Horobiyuku Saidan ni, Chinmoku yori Fukai Kisu o). She wielded a sword named the Man-eater Saber (マンイーターサーベル, Man'ītā Sāberu), which was able to absorb the life energy of the Thorn Fangire's opponents and transfer it to her.
History
Kamen Rider Decade
World of the Rider War
Though she supports Wataru, Yuki actually sides with Apollogeist, marrying him to give him immortality so she can have a place in Dai-Shocker. When Tsukasa crashes the wedding, the Thorn Fangire fights him and is killed by Decade Complete Form with Ryuki Survive's power. Rider War: Prologue
Video Game appearances
Kamen Rider Riderbout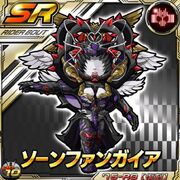 Thorn Fangire Undead appears as a playable character with the other Heisei and Showa kamen Riders in Kamen Rider Riderbout.

Statistics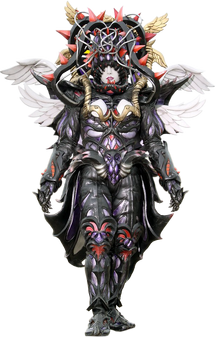 Height: 187 cm[1]
Weight: 98 kg
Behind the scenes
Portrayal
Yuki was portrayed by Yuria Haga (芳賀 優里亜, Haga Yuria), who preiously portrayed Mari Sonoda in Kamen Rider 555 and similar character Mio Suzuki in Kamen Rider Kiva and later portrays Kagome

in ZERO: Dragon Blood

.
Concept Art
Thorn Fangire was designed by Tamotsu Shinohara (篠原 保, Shinohara Tamotsu).

Notes
Appearances
References
External Links