Yu Kamimura (上村 優, Kamimura Yū) is a transgender woman and the manager of Donut Shop Hungry who always tries to make new original doughnut styles, which draws Haruto Soma to the truck as a loyal customer though he prefers plain sugar doughnuts, much to her chagrin.
It is revealed in Movie War Ultimatum that Young Masked Belle Poitrine is her Underworld self, who appears as she had looked when she was younger.
World within the Magic Stone
In the World within the Magic Stone, Yu appears as an old woman who lives with an old man resembling Ryu. Haruto meets them when he arrives in the world. The Kamen Rider Rings
Video Game appearances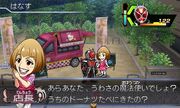 to be added
Behind the scenes
Portrayal
Yu Kaminara is portrayed by Kaba-chan (KABA.ちゃん, Kaba-chan). Speaking about the role, Kaba-chan stated that while she never really watched Kamen Rider as a child, she feels that she will form great memories as a member of the Kamen Rider Wizard cast. This role makes her the first LGBT cast member and regularly appearing character in the history of the Kamen Rider Series.[1] At the time of Wizards production and airing, she had presented as a homosexual man, which her character was presumed to be as well, but she has since come out as a transgender woman. 
Notes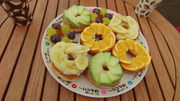 References
Community content is available under
CC-BY-SA
unless otherwise noted.