Spider-Man: No Way Home Trailer Dropped - The Loop
Play Sound
"Xevious! (Xevious stage start music)"
―activation announcement
"Gashat! Let's game! Metcha game! Mutcha game! What's your name? I'm a Kamen Rider!"
―Level 1 transformation announcement
"Gachan! Level Up! Uchimakure! Xevious! Xevious! Solvalou Blaster! Xevious! Go! (Xevious stage start music)"
―Level 2 transformation announcement
"A Gacha! Gan gan gekitsuida! Gust Notch! Gust Notch! Bang Bang high score! Xe-vi-ou-s! (Xevious in-game music)"
―Level 3 transformation announcement
Xevious (ゼビウス, Zebiusu) is a video game based on the original game released by Bandai Namco Entertainment Inc., which serves as the basis for the Xevious Gashat.
Game Description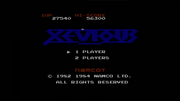 Xevious is a 8-bit first person shooter game that you could destroy enemy targets. Where you could play as a protagonist's military spacecraft, Solvalou.
History
Xevious was one of three Bandai Namco Gashats, along with Pac Adventure and Famista, which were held by "Dr. Pac-Man", appearing as an antagonist to Kamen Rider Genm. 「Part. I: Legend Rider Stage」 In reality, rather than the late Michihiko Zaizen, this "Dr. Pac-Man" was actually Parado, who at that time was working with Kuroto Dan in a scheme which saw him carrying the Bandai Namco Gashats, evidently intending to collect their data, while Genm worked on the legend Rider Gashats which he compiled into Kamen Rider Battle: Ganbarizing. 「Part. III: Final Legend Stage」
Receiving the Xevious Gashat from "Dr. Pac-Man", Kamen Rider Snipe assumed the Xevious Gamer to engage the Kamen Riders summoned by Genm's Ganbarizing Gashat. Facing off against Kamen Rider Fourze with the Rocket and Gatling Modules in the Game Area, Snipe ultimately prevailed in the dogfight, forcing the Rider back to land before finishing him with Xevious's Critical Strike. However, for reasons unknown, this did not clear the game. 「Part. II: Legend Gamer Stage」
The game was ultimately cleared by Ex-Aid through besting Ganbarizing's Kamen Rider Hibiki using a fourth Gashat, Taiko no Tatsujin. His task completed, "Dr. Pac-Man" recovered the four Bandai Namco Gashats as well as the Ganbarizing Gashat from the doctor Riders before returning with Genm to Genm Corp. his base, where they were added to Dan's assembly of seventeen Heisei Rider Gashats as he noted that everything was proceeding according to plan. 「Part. III: Final Legend Stage」
Users
Xevious Gashat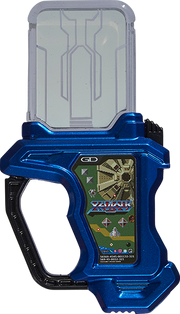 When activated, the Gashat reformats the battlefield into a Game Area. It doesn't seem to spawn any Energy Item containers, but instead summons the Xevious Gamer.

Notes
Appearances