Who Will Open The Road of Time? (時間の道を開くのはだれか, Jikan no Michi o Hiraku no wa dare ka) is the third episode of Kamen Rider Drive: Movie Roadshow Commemoration! 1 Minute Stories, a miniseries produced to promote the film Kamen Rider Drive: Surprise Future. It aired after episode 40.
Synopsis
Eiji jumping towards the portal that will lead him to travel back to the past and hopefully prevent the birth of the dark future of the year 2035.
Cast
Notes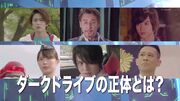 Answer to the episode's question: Eiji's rebel friend.
After this episode ended, another trailer released for the movie, however it focused on Kamen Rider Dark Drive and pointed to the viewers on who is the true identity of the mystery Rider. Six people had been suspected by the narrator and among them are, Go Shijima, Krim Steinbelt, Chase, Kiriko Shijima, Eiji Tomari and Shinji Koba (Chief of Tokyo Metropolitan Police Department). In the end, Shinnosuke finally gets to see the true face of Dark Drive, trembling in shock and says "It was you, it can't be...".
External links
to be added
References
Community content is available under
CC-BY-SA
unless otherwise noted.