Boba Fett Returns - The Loop
Play Sound
White Woz (白ウォズ, Shiro Wozu)[1] is a zealous supporter of Geiz Myokoin from another world and the main antagonist of Kamen Rider Zi-O NEXT TIME: Geiz, Majesty who traveled to September 2018 in order to help him achieve his destiny to become the world's savior, who also transforms into Another Diend (アナザーディエンド, Anazā Diendo), an Another Rider derived from Kamen Rider Diend.
History
This version of White Woz hails from one of the Another Worlds created by Swartz and survived his world's destruction. Unlike the version who appeared in the TV series who was erased from existence, he hails from a seperate timeline.
Wielding a brand new Future Note Legend of Savior (救世主伝説, Kyūseishu Densetsu), he arrives to guide Geiz to become his savior. Unbeknownst to the others, he had already stolen Daiki Kaito's powers to become Another Diend. Kaito revealed that he once battled White Woz in an attempt to steal something from him, but was foiled by a decoy used by Futurering Shinobi just as he was about to finish Woz off. White Woz revealed that the reason he forced Geiz to become a savior is so he could devour his power and become the new savior. Geiz clashed against him as GeizRevive, but was outmatched until Daiki gave him the secondary Rider Cards, merging into the GeizMajesty Ridewatch.
After being defeated in battle by GeizMajesty, the Diend Anotherwatch is destroyed before White Woz is swallowed and absorbed by Black Woz without mercy as he pleaded to stop.
Powers and Abilities
Forms
Another Diend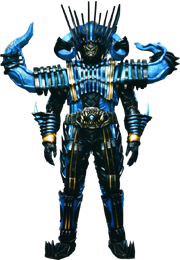 "Diend!"
―Transformation announcement
Height:
Weight:
Creator: Himself
Year of Origin: 2018
Position of year: left shoulder horn
Name and position: "DIEND", right shoulder horn.
Another Diend (アナザーディエンド, Anazā Diendo) is the Kamen Rider Diend-like monster that someone transforms into via the Another Diend Watch.
Summoning

Like Another Decade, he can summon past Kamen Rider villains that are loyal to him. He can also summon multiple Kasshines to assist him.[2]

Powerful Blast

Another Diend can be able to generate a purple energy whirlwind that is powerful enough to knock out the transformation of GeizRevive Shippu.
This form is exclusive to
Kamen Rider Zi-O NEXT TIME: Geiz, Majesty
Futurering Shinobi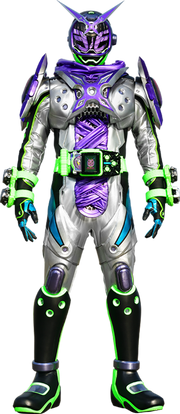 "Action! Touei! Future Time! (Traditional Japanese music) Dare ja? Ore ja? Ninja! Futurering Shinobi! Shinobi!"
―Transformation annoucement
Rider Statistics
Ability Parameters
Futurering Shinobi (フューチャーリングシノビ, Fyūchāringu Shinobi)[4] is Woz's Kamen Rider Shinobi-based form accessed using the Shinobi Miridewatch in the Beyondriver. Its visor spells out "Shinobi" (シノビ, "Shinobi") in katakana.[5]
Using a Futurering ability, Kamen Rider Woz can harness the powers and abilities of Kamen Rider Shinobi via the Shinobi Miridewatch. In this form, he uses ninja techniques and skills to fight against his enemies. It also allows Woz to turn himself into a shadowy mist that can move through surfaces.
Futurering Shinobi adds the following parts:
Caliber S/FS (

キャリバーS/FS

,

Kyaribā S/FS

) - The head. 'FS' stands for 'Futurering Shinobi'.

Clock Blade S Shinobi (

クロックブレードSシノビ

,

Kurokku Burēdo S Shinobi

) - The antenna. It is a data collection device. The long hand, Baryon Hand M, predicts temporal information while the shorthand, Meson Hand H, measures spatial information. In addition, Kamen Rider Shinobi's ability to detect and intercept signals in an encrypted or digitized state across multiple frequency channels.
War Signal Shinobi (

ウォーシグナル・シノビ

,

Uō Shigunaru Shinobi

) - An information gathering unit located on the forehead behind the Clock Blade S Shinobi. It analyses information, derives the optimum solution to a problem and feeds it to Woz. Additionally, the abilities of Kamen Rider Shinobi is taken into consideration and automatically adjusts Ninjutsu maneuvers.
Indication Track Eye Shinobi (

インジケーショントラックアイ・シノビ

,

Injikēshon Torakku Ai Shinobi

) - The visor which spells out 'Shinobi'. In addition to granting Woz a 270° viewing angle, it also allows him to view up to 10km away. It is also capable of night vision and can change its perspective mode according to the situation.

Shinobi Shuriken (

シノビシュリケン

,

Shinobi Shuriken

) - The giant shuriken on the chest. It can be detached as used as a normal shuriken.
Shinobi Shoulder (

シノビショルダー

,

Shinobi Shorudā

) - The shoulders. Kamen Rider Shinobi's abilities are recorded here and allow Kamen Rider Woz to utilize Ninjutsu techniques.
Shinobi Armor Liner (

シノビアーマライナー

,

Shinobi Āma Rainā

) - The 'strap' that runs down Woz's torso. It is the Expansion Band Liner but reinforced with data from the Shinobi Miridewatch. It contains most of Kamen Rider Shinobi's special equipment, such as optical camouflage equipment and stealth functions.
This form is exclusive to
Kamen Rider Zi-O NEXT TIME: Geiz, Majesty
Equipments
Behind the Scenes
Portrayal
As with his prime timeline counterpart, this version of White Woz as Another Diend is portrayed by Keisuke Watanabe (渡邊 圭祐, Watanabe Keisuke).
Concept Art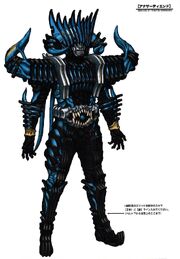 Another Diend was designed by Tamotsu Shinohara (篠原 保, Shinohara Tamotsu).

Notes
Appearances
See also
References