Doctor Strange in The Multiverse o Madness - The Loop
Play Sound
For the child of Fog Mother with the same monster title from Kamen Rider J, see Zu.
Wasp Woman (蜂女, Hachi Onna, 8, 13 & Kamen Rider: Seigi No Keifu) is a female bee monster of Shocker. She was destroyed by Kamen Rider 1's Rider Kick. She was later resurrected by Shocker as part of the Revived Monster Army before being destroyed by Tokageron's special bomb.
History
Decade
Wasp Woman would later reappear in Kamen Rider Decade: The Last Story, being the one who killed Tackle while a member of Dai-Shocker. She is now one of the high-ranking members of Super Shocker, going after Natsumi until she is mortality wounded by Electronic Wave Humanoid Tackle's Ultra Cyclone. The Wasp Woman releases the Neonoid to make her more powerful, only to be engulfed by it.

Powers and Abilities
Wasp Woman is armed with a rapier, the end of which contains an ultrasound emitter that hypnotizes sunglass-wearing victims.
Appearances in other media
Kamen Rider Manga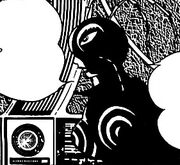 Wasp Woman briefly appeared in Shotaro Ishinomori's original Kamen Rider manga.

Video Games
Kamen Rider on Super Famicom
Wasp Woman is among the Shocker enemies in the Super Famicom Kamen Rider game.
Kamen Rider on PlayStation
Wasp Woman is one of several Shocker and Gel Shocker monsters that appear in the PlayStation Kamen Rider video game. They are fought by the player in the "Kamen Rider Story". In the "Shocker Story" players play as Shocker monsters which must defeat enemy Shocker monsters. If the player successfully passes the 8th round, the player's Shocker monster turns into Saikyō Kaijin (最強怪人, Saikyō Kaijin) which is stronger and has a different appearance from the original form. The player can then upgrade punching power, kicking power or both or can summon 6 Combatmen to aid them. the player then must defeat Kamen Rider 1 before facing Kamen Rider 2.

Forms
Wasp Woman
Appearances: Kamen Rider Episodes 8, 13, X Episode 27, The Last Story

Behind the scenes
Portrayal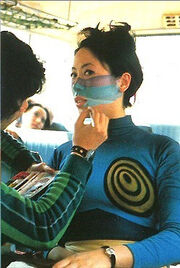 Wasp Woman was originally portrayed by Yoshiko Iwamoto (岩本 良子, Iwamoto Yoshiko).
In Kamen Rider Decade: The Last Story, Wasp Woman was portrayed by Nao Oikawa (及川 奈央, Oikawa Nao), who previously portrayed Water Pollution Minister Kegalesia

in Engine Sentai Go-Onger

. She later portrayed Televi-san in Kamen Rider Build: Birth! KumaTV!! VS Kamen Rider Grease!.

Notes
See also
Appearances

Kamen Rider Decade
Kamen Riders
Primary: Tsukasa Kadoya - Daiki Kaito - Natsumi Hikari
A.R. Kamen Riders: Wataru Kurenai - Yusuke Onodera - Wataru - Shinji Tatsumi - Kazuma Kendate - Takumi Ogami - Shouichi Ashikawa - Momotaros - Ryotaro Nogami - Sohji - Asumu - Kohtaro Minami (Black RX) - Kohtaro Minami (Black) - X-Rider (A.R. World) - Daisuke Yamamoto - Kazuma Kenzaki - Joji Yuki - Yuriko Misaki
A.R. Evil Kamen Riders:

Chinomanako

- Mimihiko - Kuchihiko - Kamen Rider Abyss - Dark Kiva - Ryuga - Orga - Dark Kabuto - Alternative
Other A.R. World Riders: Ren Haguro - Scissors - Zolda - Femme - Verde - Tiger - Imperer - Odin - Raia - Gai - Sakuya Hishigata - Mutsuki Kuroba - Takahiro Furuya - Kotaro Nogami - Arata - Ibuki - Zanki - Todoroki - Akira - Junichi Kaito - Haruka Miwa - Shin Magaki - X - Ixa - Saga
Prime Universe Kamen Riders: Kotaro Nogami - Urataros - Kintaros - Ryutaros - Sieg
Arsenal
Drivers: (Neo) Decadriver - (Neo) Diendriver - Kiva-la
Transformation Gear: Rider Cards - K-Touch - Card Holder - Diend Belt
Weapons: Ride Booker - Final Form Rides - Kiva-la Saber
Vehicles: Machine Decader - Machine Diender
Hikari Studio
Natsumi Hikari - Kiva-la - Eijiro Hikari
Other Allies
Ai Yashiro - Kivat-bat the 3rd - Garulu - Basshaa - Dogga - Reiko Momoi - Ai - Mai - Mi - Yuri Tomoda - Toko Yashiro - Deneb - Teddy - Kohana - Naomi - Owner - Toki - Yu - Grandma - Mayu - Natsumi Hikari - Chinatsu - Hikoma Kusakabe

- Kuroko

- Kurando Tani

- Shinkengers

- Masahiko Okamura (A.R. World) - Ritsuko Okamura (A.R. World)
Dai-Shocker
Dr. Shinigami - Jigoku Taishi - Apollogeist - Jyumenki Yum Cimil - Shadow Moon - Kingdark - General Jark - Bishum - Yuki - Shvarian - Televi Bae-Kun
Worlds of Black & Black RX: Scorpion Imagin - Seamoon Fangire - Mantis Fangire - Rhinoceros Mutant - Ox Orphnoch - Worm Orphnoch - Frilled Lizard Orphnoch - Brachypelma Worm Aurantium - Brachypelma Worm Viridis - Tarantes Worm Purpura
World of Decade: Siomaneking - Ganikoumoru - Doras - Garai - Me·Vagis·Ba - Xu·Mevio·Da - Me·Ginoga·De - Go·Gadol·Ba - Leiurus Acutia - Formica Regia - Formica Pedes - Sheerghosts - Raydragoons - Psycorogue - Butterfly Orphnoch - Giraffe Orphnoch - Longhorn Orphnoch - Slug Orphnoch - Wild Boar Orphnoch - Pelican Orphnoch - Stinkbug Orphnoch - Arch Orphnoch - Elephant Undead - Giraffa Undead - Darkroachi - Kappa - Bakeneko - Hitotsumi - Coleoptera Worm Aeneus - Coleoptera Worm Croceus - Coleoptera Worm Argentum - Geophilid Worm - Subst Worm - Cassis Worm Gladius - Albinoleo Imagin - Mole Imagin - Rat Fangire - Sungazer Fangire - Bat Fangire
World of Amazon: Go·Jalaji·Da - Propheta Cruentus - Camponotus Worm Maxilla - Bakeneko - Yobuko
Dai-Shocker Combatmen - Dai-Shocker Scientists - Destron Combatmen
Super Shocker
Narutaki - Wasp Woman - Neo Organism
Zanjioh - Jaguarman - Beaded Lizard Man - Hilchameleon - Xu·Goma·Gu - Go·Jalaji·Da - Volucris Falco - Solospider - Scorpion Orphnoch - Titan Undead - Kodama - Sectio Worm Acuere - Cobra Imagin - Gecko Imagin - Sungazer Fangire
Super Shocker Combatmen
Gurongi
N·Gamio·Zeda
World of Kuuga: Me·Garido·Gi - La·Doldo·Gu - Go·Babel·Da - Go·Bemiu·Gi - Me·Byran·Gi - Go·Jaaza·Gi - Me·Garima·Ba
World of Agito: Me·Vagis·Ba - Xu·Mevio·Da - Me·Ginoga·De
The Lords
Taurus Ballista
Formica Regia - Formica Pedes
Mirror Monsters
The Contract Monsters
World of Ryuki: Darkwing - Volcancer - Destwilder - Gigazelle - Abyssodon (Abysshammer - Abysslasher)
World of Negatives:
Dragblacker
Wild Mirror Monsters
World of Ryuki: GuldThunder - Zebraskull Bronze - Megazelle - Negazelle - Omegazelle - Magazelle
World of Den-O:
Gelnewt
World of Negatives:
Raydragoons
Orphnochs / Lucky Clover
Momose - Shukawa - Genda - Shirogane
Butterfly Orphnoch
The Undead
World of Blade: Kamata - Hajime Shijo
Buffalo Undead - Elephant Undead - Capricorn Undead
World of Diend: Fourteen - Bossroach - Darkroachi
World of the Rider War: Deer Undead - Scarab Undead - Lizard Undead
魔化魍 Makamou
Gyuki - Bakegani
Kappa - Bakeneko - Ooari - Tengu - Ubume
Worm
Sou Otogiri
Coleoptera Worm Argentum - Geophilid Worm - Subst Worm
The Imagin
Alligator Imagin - New Mole Imagin
The Fangires
Beetle Fangire - Yuki
World of Kiva: Ryo Itoya - Swallowtail Fangire - Lion Fangire
World of the Rider War: Shark Fangire - Silkmoth Fangire - Horsefly Fangire - Warthog Fangire
View • Edit