Obi-Wan Finale - The Loop
Play Sound
"All together, everyone! 3! 2! 1!"
―Vice's signature countdown[src]
Vice (バイス, Baisu) is one of the two main protagonists in Kamen Rider Revice. He is an inner demon born from Ikki Igarashi's desire to protect his family and transforms into Kamen Rider Vice (仮面ライダーバイス, Kamen Raidā Baisu). With the impending revival of Giff, Ikki and Vice would eventually combine their powers to become Kamen Rider Revice (仮面ライダーリバイス, Kamen Raidā Ribaisu).
History
Background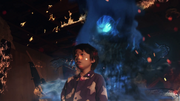 Vice is the inner demon of Ikki Igarashi who was spawned after he watched his father, who was possessed by Vail at the time, burning down the Happy Spa bathhouse. Vice allowed Ikki to form a contract with him. He later erased Ikki's memories of that night to ensure the contract's confidentiality while staying dormant within him to prevent Ikki from suffering from memory loss until he had reached of age.
Despite being dormant, Vice witnessed most of Ikki's life events, including the accident with Koji Ikeda that caused the two of them to quit soccer.
Becoming Kamen Rider Vice
One day, Vice made his precense known to Ikki and caused trouble to him. During Daiji Igarashi's ceremony at Fenix, the event is sabotaged by the Deadmans. Vice was turned corporal when Ikki used the Rex Vistamp to protect his family. However, he quickly broke the agreement and prepared to eat Ikki's mother. However, he was stopped after Ikki equipped the Revice Driver. After Vice fought with Ikki against the attacking Deadmans, he was christened by George Karizaki, as 'Kamen Rider Vice', a name he called himself from that point on.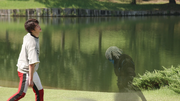 While Vice tries to goad Ikki to make him corporal again, Ikki was angered by Vice's mischief and hunger for humans. While Ikki opted to use the Revice Driver to fight occasional Deadmans, he refused to use the belt until Vice agreed to no longer harm innocent people. Vice honored his words and continued to help Ikki protect humanity from the Deadmans. Despite that he remained as mischievous, he slowly became a trusted companion to Ikki and their bond would additionally improve as the two Riders worked coherently against their opponents.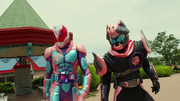 Kamen Rider Revi and Kamen Rider Vice would appear to fight off the Giff Juniors led by Orteca who were terrorizing a theme park. While the pair later retired the day off in the bathhouse, Daiji would inform them of a new Deadmans attack elsewhere in the city. Arriving to battle the Spider Deadman, Revice would assume the Megalodon Genome to vanquish the monster together. After their victory, Revi let Vice roam free to soak himself in the bath.
Time of the Three Igarashi Siblings
As the battle kept ongoing, Revice would come across the mysterious Kamen Rider Evil, who had taken over Daiji's body. Hiromi Kadota would assist the pair as Kamen Rider Demons until Ikki gets through to his brother as Daiji evolves as Kamen Rider Live. While the Igarashi brothers becoming active Kamen Riders, their sister Sakura Igarashi would find the means to become Kamen Rider Jeanne. He would also end up being in the wrong foot with George Karizaki after complaining about Jackal Genome's design, which came to bite him in the back occasionally.
Despite his retaining his mischievious ways, Vice had grown as a trusted ally to Ikki. Vice was temporarily turned corporeal to fight alongside his human host during the Deadmans' invasion at the Fenix Skybase. While Ikki was granted a new form with the Barid Rex Vistamp, Vice was disappointed that he didn't get a new form so he fashioned himself a shield using Barid Rex's egg shells.
While Vice and Ikki continued his battles with the Deadmans, he reunited with the Sword of Logos' members who came by to Happy Spa. However, their encounter came at a better time as the demon Diablo emerging to threaten the Earth's future, leading to Fenix's Kamen Riders and the Sword of Logos joining forces. They would also encounter time-displaced Shocker scientist Ryunosuke Momose, who sought to make amends with Hideo, his young son he left behind in 1971, who is now an adult man in 2021.
Vice joins Daiji, Sakura, Touma, Rintaro, and Yuri to venture to the future, while Ikki stayed behind in the present to help defeat Diablo. He would meet an elderly George Karizaki, who assisted the heroes by granting them to access to Clone Riders forms. Vice would assume the forms of Black RX, Fourze, and Woz. Upon returning to the present, Vice would join forces with Revi, Xross Saber, and the benevolent Century to battle the giant Diablo. Revice would also access the Neo Batta Genome to vanquish Diablo for good.
Dismatling the Deadmans' Operations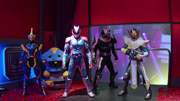 When Ikki was forced to battle Yasushi Kudo after he had escaped Fenix's custody, Vice noticed how saddened Ikki was after Kudo accused him for acting without considering the consequences. Vice encouraged him that these traits were okay and just be himself. This motivated Ikki to continue fighting to help others, while trying to change for the better. Vice would carry on to fight as Kamen Rider Vice to shut down the Deadmans' operations.
After fighting the Orangutan Deadman, Ikki and Hiromi follow its trail to Pension Nijitenka where they meet its staff, the proprietor Suzu Saionji and the caretaker Shinzo Hanawa. While trying to search for the Vistamp holder amoung its lodgers, Vice is stringed along for a murder mystery when one of the suspects ends up dead. This leads to Vice playing detective as he, Ikki, and Genpachiro Otta investigate the lodge and flush out the suspect behind the attacks.
When Hiromi ends up injured, Vice ends up finding out one of the suspects is actually an Orphnoch named Naoya Kaido. While Kaido is not the culprit, it turned out to be Suzu who orchestrated the monster attacks. It was revealed Suzu lured Ikki to Pension Nijitenka as part of her plan to kill him, as he was the pinacle of George Karizaki's research. Joining forces with Ryu Terui, Vice and Ikki prevail against Suzu after she transformed into Oblivian.
Rise of the Gifftarians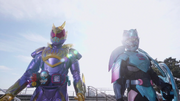 Wishing to liberate the Phase 3 Deadman from their demons, Ikki and Vice undergo a VR training simulation to harness the Volcano Vistamp. Orteca unleashes a new breed of demons known as Gifftarians, and Vice could finally be upgraded into Barid Rex. After Ikki was injured after failing to withstand the Volcano Genome, Vice encouraged him to keep fighting despite the burdens he face. With the pair strengthening their ties, Revice was able to use a wonderful combination of fire and ice.
With Giff's resurgence approaching, Vice begins to experience sharp headaches. Like Ikki, Vice would take notice of Hiromi's declining health, remarking how cruel Karizaki used Hiromi as a lab rat. After the operation to capture Orteca, Vice is informed about a demon inside the Demons Driver. Orteca deliberately had himself captured to acquire the belt and transformed into Kamen Rider Demons, becoming a powerful force who defeated the Kamen Riders and knocking Hiromi off the cliff.
The Birth of Revice
As Vice's headaches worsen, Ikki attempts to access a new form, Kamen Rider Jack Revice, using the new Rolling Vistamp. However, this results in Vice swapping places with Ikki and becoming corporeal. Vice displayed his distrust towards Fenix and Karizaki, even deliberately pretended to "betray" everyone to avoid being examined by Fenix. Later, when Karizaki offered to help Ikki's recovery, he initally refused. It was after Ikki's persuasion did he decide to agree. Eventually Ikki returned to normal, but merged with Vice.
"We're not demons, we're... Revice!"
―Ikki and Vice after becoming Kamen Rider Revice.[src]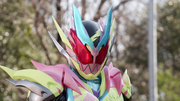 While Vice tried to adjust sharing a body with Ikki, a new threat arose with Kamen Rider Vail, who turned out to be the Igarashi patriarch, Genta Igarashi. This caused Ikki to remember his erased childhood memories of his first encounter with Vice. Vice also becomes rampant due to Giff's revival approching, causing him to turn berserk while inhabiting Ikki's body. After Ikki had to fight Vice within the subconsious to save him, Vice and Ikki harness the Thunder Gale Vistamp to unite as Kamen Rider Revice. After defeating Orteca, Vice and Ikki were restored back to seperate bodies.
The Ultimate Crusade
Following Giff's complete awakening, Ikki and Vice would battle true Gifftarians created directly by Giff, just as Hideo Akaishi began to unveil his true colors. When Ikki struggled to remember his promise to Koji Ikeda, Vice revealed the condition of the contract. As long as Ikki continues to fight for his family, he would slowly lose memories of his life. As Vice joined the Igarashi siblings to battle Hideo Akaishi, Vail resurfaced and became a menace to the family.
While Vice devoted himself to protect the Igarashi, he engaged in a one-on-one encounter with Vail. He accused Vice of abanoning his dignity as a demon and humanity would reject him. As Vice feared such prospect, this caused him to be distracted in battle. Ikki later encouraged Vice that it is fine to act like himself, giving him the confidence to fight Giff. However, Akaishi would prove to be many steps ahead against the Kamen Riders by turning Akemi into the demon Giffdemos and depleting most of Fenix's forces.
Together with Weekend, Vice joined the plan to capture Akemi and extract Giff's cells from her body. However, the plan failed after Akaishi killed her. To complete the Giffard Rex Vistamp, Genta elected to provide Giff's cells to his body. As the operation itself nearly killing him, Ikki was able to stop it just in time. Before the Giffard Rex Vistamp flew back to Giff, Ikki and Vice were able to work together and split the Vistamp, allowing them to become Ultimate Revi and Ultimate Vice respectively.
Other Events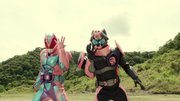 Kamen Rider Revi and Kamen Rider Vice arrived to challenge Asmodeus when he proved to be a formidable foe against the Kamen Riders and Super Sentai Rangers. While Vice made a dramatic entrance, Revi scolded him and pulled his tail. The suprise confused Kamen Rider Saber and Zenkaizer at first, but the heroes would soon watch as Revice working together to defeat Asmodeus with a Rex Stamping Finish before making their leave.
Vice as Kamen Rider Vice intruded Kamen Rider Saber and Espada's battle against the Batta Deadman, only to be stopped by Ikki as Revi. In the final battle, both Revi and Vice assumed the Megalodon Genomes to briefly slash it, before the Deadman was vanquished by Saber and Espada. Although nobody could see him in his incorporal state, Yuri was the only person who could see him and Vice was briefly driven away by Kougouken Saikou's light.[1]
Personality
In contrast to the mellow and selfless Ikki, Vice is mischievous, flamboyant, and often blunt. He is incredibly self-serving, tricking Ikki into giving him a corporal form, and claiming that he was "pretending" to attack Ikki's mother. With that being said, he is aware of his dependence on Ikki and protects him, if only to protect himself. Vice also expresses an interest in "eating" humans, but is constantly foiled by Ikki shoving his would-be victim aside, or using the Revice Driver to restrain him. Despite his reluctant vow to never attack other humans, he will often joke about breaking it, much to Ikki's chagrin.
As the series progresses, Vice has become an reliable ally towards Ikki, occasionally giving advice and attempting to comfort him when the latter was feeling down. Being the inner demon born from Ikki himself, Vice is also willing to call Ikki out on his deepest flaws and insecurities. Vice has also begun to become a bit more selfless, not wanting Fenix and George to do to Ikki what they did to Hiromi, and came to doubt their intentions. Once he switched places with Ikki with the Rolling Vistamp, Vice temporarily assumed his anti-heroic personality as a facade to protect Ikki from becoming a Fenix lab rat. When George, who was the only hope in getting Ikki and Vice back to normal, was kidnapped, Vice panicked and proclaimed that he truly cared for Ikki when Sakura calls him out for not being so.
Powers and Abilities
Powers
Demon Physiology: As a demon, he possesses the following characteristics:

Enhanced Strength: Vice possesses enough strength to send the Rex Deadman flying through the air with one punch whilst not transformed.
Imperceptibility: Vice cannot be perceived by anyone other than his host or another inner demon such as Lovekov, with both Yuri and Brave Dragon being exceptions. A solution is to summon him through Ikki's usage of a Vistamp, either on himself or through the Revice Driver. This can also be bypassed by possessing objects like Ikki's Gundephone50 and George's Vistamp Bar, allowing Vice to be seen and heard by others.
Intangibility: Vice is completely intangible and can pass through everything, including his host.
Energy Attack: Vice can generate black and blue energy to his foot to execute an energy kick.
Inanimate Possession: Vice can possess inanimate objects via Vistamp application on the said object. He can transform and/or enhanced the physical capabilities of these. So far, he has possessed the following:

Ikki's Bicycle in episode 2. Vice also increased the bike's speed to catch up and pass Daiji's motorcycle in seconds.
A rubber duck in Kamen Rider Revice: The Movie. While possessing the duck, Vice increased its size and altered the face to resemble his face.
A maneki-neko in episode 15, and made it capable of throwing gold coins as a distraction.
A power outlet in Kamen Rider Revice: The Mystery. He is capable of entering electronic devices that are plugged in, such as television screens and appear on it as if it was turned on.
The Rolling Vistamp in episode 23. By stamping it onto himself, Vice can possess the Vistamp, using the Vistamp for fast travel in order to make a quick escape.

Mind Accessibility: Vice is able to literally enter the mind of someone else and explore their hidden thoughts and emotions, as long as he is within close proximity of them.

Memory Erasure: Vice is able to repress any of Ikki's memories that has a traumatic effect on him, though these memories can be reawakened later on in life. A much more permanent version of this is in effect as a condition of the contract formed between Vice and Ikki: as Ikki continues to fight using the Revice Driver, his memories of his family will eventually fade away, as indicated by Ikki's image disappearing from his family photographs.

Fire Breath: Vice can breathe fire for offensive purposes.

Fourth Wall Interaction: Vice is able to interact with the audience, but Ikki cannot and often thinks Vice is talking to himself.
Abilities
Combatant: Vice seems to be knowledgeable in certain martial arts techniques such as executing a corkscrew pile driver. On a more humorous note, Vice sometimes has a knack for executing parodies of techniques from other fictional franchises.
Weaknesses
Ikki Igarashi: Vice is dependent on the body and mind of his host, Ikki, and cannot assume a physical form without Ikki transforming or using the Rex Vistamp. If Ikki dies, Vice will as well. When the two are swapped as a result of using the Rolling Vistamp, George mentioned that Ikki becoming incorporeal meant he could not consume any nutrients and therefore could starve to death, which would kill Vice as well.
Former Weaknesses
Giff: Due to Vice being a demon, Giff's revival has also affected Vice in a way that gives him immense headaches, which become increasingly more painful as Giff grows stronger. Despite being told otherwise by a Weekend representative disguised as a Fenix agent, the Rolling Vistamp does not seem to fully negate these headaches. Later, Giff's revival would also cause Vice to go berserk and attacking both friend and foe alike, until the usage of the Thunder Gale Vistamp was able to bring Ikki and Vice in tune back together, freeing Vice from Giff's influence and restoring them both back to normal.
Forms
Demon Vice
Demon Vice
(

悪魔バイス

,

Akuma Baisu

)
is Vice's untransformed state. While he normally has a ghost-like lower body that is connected to Ikki's body, he gains legs when physically materialized outside of Ikki. This is usually briefly seen when they transform, but he remained in his physical state for an extended period of time when Ikki stamped himself with the Rex Vistamp and formed a contract with Vice. However, Vice was forced back into Ikki's body shortly after when the latter equipped the
Revice Driver
. Later, after strengthening his trust in Vice, Ikki occasionally releases the demon again by stamping himself with the Rex Vistamp whenever Vice is needed.
Equipment
Devices
Buddy Buckle (

バディバックル

,

Badi Bakkuru

): A belt worn around Kamen Rider Vice's waist and one of the pieces of equipment used to transform. It has a built-in Genome Receiver (

ゲノムレシーバー

,

Genomu Reshībā

) that gives the user powerful energy and the abilities of various species by receiving power supplied by the Revice Driver.[2]
Vistamp Holder - Carrying straps for Vistamps. Unlike Revi's, his is grey rather than cyan.
Revice Driver - Transformation device as Jack Revice and Ultimate Vice.
Vistamps - Transformation trinkets.
Weapons
Suit-Equipped Weapons
Glacier Shield: A pair of arm-mounted shields that can be combined for increased defense. Exclusive to the Mammoth Genome.
Barid Shield: Armed when either Revi or Vice is in Barid Rex Genome.
Possessions
Legend Rider Devices
"Yo! Don! Don! Don! Donburako! Revi! Vice![23]"
―Equipping announcement while spinning the gear in the DonBlaster[src]
"Donburako! Donburako! Donburako! Donburako!"
―Transformation standby announcement[src]
"Iza! Buddy Up!"
―Activation announcement[src]
"Party Time! (air horns) Revi! Vice!"
―Finisher activation announcement[src]
"Hissatsu Ōgi! Avataro Zan![24]"
―Zanglassword

finisher announcement[src]
Kamen Rider Vice Avataro Gear
[25]
(

仮面ライダーバイスアバタロウギア

,

Kamen Raidā Baisu Abatarō Gia

)
Relationships
Friends
Ikki Igarashi/Kamen Rider Revi: Vice's host, as well as the only human who can sense Vice without using the Revice Driver. Vice has a habit of creating trouble for Ikki no matter what form he takes. In his untransformed state, his unwanted commentary will lead to Ikki angrily retorting, much to the confusion of observers who cannot perceive Vice. Though the two have become close allies throughout their battles against the Deadmans, Vice was visibly hurt when he realized that Ikki still did not fully trust him by keeping him stuck in an incorporeal state outside of transformation. However, after much reflection on Vice's own growth, Ikki decided to place his utmost faith in Vice and fully summon him in his corporeal state, much to Vice's delight. Throughout all battles and life, they became the best "buddies/partners". He loves Ikki for being the best friend he needs.
Daiji Igarashi/Kamen Rider Live: Vice suspected Daiji had an inner demon too. When he went inside Daiji's mind, while Kagero took over, he knew Daiji was still in there, as he tells Ikki that there's hope of saving him.
Sakura Igarashi/Kamen RIder Jeanne: Vice sensed Sakura had an inner demon too as Lovekov slowly came to life. He even went inside her head to talk to Lovekov.
Allies
Enemies
Behind the Scenes
Portrayal
Rider No.
As one of the leading rider protagonists of Kamen Rider Revice, Vice is labeled Kamen Rider #38 (仮面ライダー38号, Kamen Raidā Sanjūhachigō) and Reiwa Rider #3 (令和ライダー3号, Reiwa Raidā Sangō) alongside Kamen Rider Revi.
Etymology
Notes
Vice's official design was first revealed in the poster for Saber + Zenkaiger: Superhero Senki along with Kamen Rider Revi. However, his default demon appearance was shown rather than his Kamen Rider form.
Staying in-character, Eitoku would move around a lot in the suit even when Kimura does not have any lines at that given moment.[27]. According to Kimura, most of Vice's lines are improvised and his voice was inspired by both Gian and Sneech from Doraemon, whom the former Kimura voices. The series writer, Hanta Kinoshita, has stated that Vice was inspired by numerous characters such as Genie from Aladdin and the comic book anti-heroes Deadpool and Venom.[28]
Vice actually has his mouth hidden by a removable face mask, which he could take off to eat food. The way he eats is noted by the Igarashi family to be very unsettling.
Vice's Ptera Genome is based on the XTURISMO hover bike developed by
A.L.I. Technologies
, while his Jackal Genome is based on a skateboard created by Japanese studio
5050
.
With the exception of Jack Revice (through unconventional circumstances) and Ultimate Vice, Vice cannot transform or change forms on his own without Ikki's help.
Vice's Ptera Genome doubles as Revi's Rider Machine, which utilizes an actual XTURISMO hover-bike. In real life, the vehicle was developed by Japanese tech development firm A.L.I. Technologies, which went on sale in October of 2021.
Whenever he and Revi (first) transform into an auxiliary Genome, Vice often does several poses (and sometimes calls out a catchphrase) depending on what Legend Rider the auxiliary Genome is based off from.
Appearances
References

Kamen Rider Revice
Kamen Riders
Current Riders: Ikki Igarashi - Vice - Daiji Igarashi - Sakura Igarashi - Genta Igarashi - Hikaru Ushijima - Hana Natsuki
Former Riders: Hiromi Kadota - Kagero - Orteca - George Karizaki - Vail
Movie-exclusive: Kamen Rider Century (Ryunosuke & Hideo Momose) - Ryu Mukai - Nozomu Otani - Azuma - Go Tamaki
Clone Riders: Touma Kamiyama (1, Super-1, Accel), Rintaro Shindo (ZO, Kuuga, Blade), Yuri (Agito, Ex-Aid Muteki Gamer, Zero-One), Vice (Black RX, Fourze, Woz), Daiji Igarashi (Knight, Meteor, Ryugen), Sakura Igarashi (Nadeshiko, Poppy, Valkyrie)
Gear
Transformation Gears
Revice Driver - Two Sidriver - Libera Driver - Demons Driver - Vail Driver - Week Endriver - Cyclotron Driver - Destream Driver - Crimson Vistamp - Chimera Driver
Vistamp-related
Vistamps - Vistamp Holder - Vistamp Bar
Normal Weapons
Ohinbuster50 - Gundephone50 - Osutoderuhammer50 - Barid Shield - Rolling Vistamp - Evilblade - Livegun - Needle Kunai - Crimson Vistamp
Genome/Genomix Arsenals
Lovekov (Kujaku, Turtle, Hashibiroko) - Demon Bottom Higher - Demon Digzon - Demon Rumblejoker - Demon Ridolstinger - Demon Bladior
Vehicles
Vice (Ptera, Jackal)
Allies
Happy Spa: Yukimi Igarashi - Shozo Irabu - Go Tamaki
Demons:
Lovekov
Legend Riders: Takeshi Hongo - Ryu Terui - Hideyasu Jonouchi - Oren Pierre Alfonzo - Touma Kamiyama - Rintaro Shindo - Kento Fukamiya - Ryo Ogami - Ren Akamichi - Tetsuo Daishinji - Sophia - Yuri - Reika Shindai - Ryoga Shindai
Others: Genpachiro Otta - Naoya Kaido - George Karizaki (2071)
Fenix
Director: Hideo Akaishi
Commanders: Yujiro Wakabayashi - "Yujiro Wakabayashi" - Hiromi Kadota
Squad Leaders: Daiji Igarashi - Tatsuhiko Tabuchi
Others: George Karizaki - Akemi Mikoshiba
Weekend
Leader:
Masumi Karizaki
Ushijima Family: Hikaru Ushijima - Tasuke Ushijima - Kimiko Ushijima
Others Members: Sakura Igarashi - Hana Natsuki - Go Tamaki - Demons Army
NOAH
Director: Agariyama
Researchers: Masumi Karizaki - Hideo Akaishi
Military: Shozo Irabu
Others: Junpei Shiranami
Deadmans
Currently: Giff - Hideo Akaishi
Formerly: Julio - Amahiko Haitani - Yasushi Kudo - Chameleon Deadman - Kanae Motomura - Orteca - Aguilera
Deadmen
Batta Deadman - Rex Deadman - Mammoth Deadman - Kamakiri Deadman - Megalodon Deadman - Kong Deadman - Lion Deadman - Spider Deadman - Daiouika Deadman - Wolf Deadman - Kangaroo Deadman - Cheetah Deadman - Brachio Deadman - Kurage Deadman - Planarian Deadman - Chameleon Deadman - Sabertiger Deadman - Queen Bee Deadman - Koala Deadman - Orangutan Deadman - Shark Deadman - Elephant Deadman - Anomalocaris Deadman - Rafflesia Deadman
Henchmen: Giff Junior
Gifftarians: Normal - TRUE - Hell
Others: Giffdemos
Deadmans' Contract Holders
Junpei - Tomoyuki Harada - Hiromi Kadota - Araki - Ibata - Ayaka Oketani - Unnamed Salary Man - Masao - Yasushi Kudo - Koji Maezono - Scamming Group - Amahiko Haitani - Seiko Omori - Taro Gondawara - Unnamed Comedian - Mayu Tominaga - Subaru Kimura
Gifftarian Hosts
Unnamed Excavator - Unnamed Deadmans Follower - Yosuke Okuda - Chigusa Yamagiri - Kanae Motomura - Unnamed man - Unnamed child
Shocker
Diablo
Crispers
Himiko Crisper - Khufu Crisper - Edison Crisper - Leonidas Crisper
Devil Rider Corps
Shocker Rider No.1 - Shocker Rider No.2 - Kamen Rider Ouja - Kamen Rider Eternal - Kamen Rider Sorcerer - Kamen Rider Duke - Kamen Rider 4 - Kamen Rider Barlckxs
Others
Shocker Executive
View • Edit