Wiki Targeted (Entertainment)
Play Sound
This article is about a/an transformation device in Kamen Rider, the original series.
The Transformation Belt Typhoon (変身ベルト タイフーン, Henshin Beruto Taifūn) is the transformation belt of the Riders modified by Shocker, which are powered by wind.
Double Typhoon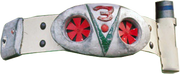 Main article: Double Typhoon
Double Typhoon (ダブルタイフーン, Daburu Taifūn): Kamen Rider V3's first and foremost weapon - the transformation belt "Double Typhoon". Shiro Kazami transforms into V3 by performing the "Henshin", a series of moves which activates the 2 revolving pistons of the Double Typhoon, and then converts the accumulated wind energy to transform Kazami into Kamen Rider V3. Kamen Rider V3 is powered by the energies of the right "Kamen Rider #1 Typhoon" and the left "Kamen Rider #2 Typhoon". This allows V3 to utilize both the "Skill" of #1 and the "Strength" of #2.
Notes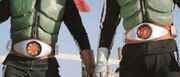 In the filming process, New 2's Typhoon have some small holes but New 1's Typhoon doesn't have.
The colour of the fans in the Typhoon belts that Kamen Sentai Gorider wear match the colour of their respective members.
Ever since Kamen Rider × Super Sentai: Super Hero Taisen, the number of red buttons on the front-facing side of the Typhoon was reduced from four on each side to two.
See also
Kamen Rider
Kamen Riders
Takeshi Hongo - Hayato Ichimonji
Movie/Special Exclusive Riders
Kyoichiro Kuroi - Kamen Rider 4
Manga/Novel Exclusive Riders
Taki Rider - Kamen Rider Gaia
Gear
Typhoon - Cyclone - New Cyclone - TriCyclone - Sky Cyclone - Neo Cyclone
Allies
Tōbei Tachibana - Kazuya Taki - Ruriko Midorikawa - Hiromi Nohara -Mari - Yuri - Michi - Goro Ishikura - Mayu Tachibana
Kamen Rider
Shiro Kazami - Yuki Joji - Keisuke Jin - Daisuke Yamamoto - Shigeru Jo - Hiroshi Tsukuba - Kazuya Oki - Ryo Murasame - Kohtaro Minami - Momotaros - Kotaro Nogami - Tsukasa Kadoya - Eiji Hino - Gentaro Kisaragi - Kouta Kazuraba - Takeru Tenkuji - Makoto Fukami
Other Heroes
Ultraman

- Ressha Sentai Toqger

Shocker
Great Leader of Shocker
Colonel Zol -

Doctor Death

- Ambassador Hell - Shocker Combatmen
Shocker Kaijin
Spider Man - Bat Man - Scorpion Man - Sarracenian - Mantis Man - Grimreaper Chameleon - Bee Woman - Cobra Man - Gebacondor - Yamogeras - Tokageron - Sabotegron - Phirasaurus Human - Hitodanger - Kanibubbler - Dokugandar - Amazonia - Musasabeedle - Kinokomorgu - Antlion Thunder - Mukaderas - Mogurang - Kuragedarl - Zanburonzo - Arigabari - Dokudahlian - Armadillong - Gamagirah - Arikimedes - Egyptus - Torikabuto - Eiking - Experimental Wolf Man - Snowman - Ghoster - Fly Man - Pranodon - Kabibinga - Namekujira - Bearkonger - Todogirah - Hiruguerrilla - Isoginchak - Kamestone - Unicornos - Gilgalass - Zanjioh - Jaguarman - Sea Snake Man - Cockroach Man - Gireera - Dokumondo - Poison Lizard Man - Earthworm Man - Owl Man - Namazugiller - Harinezuras - Saigang - Semiminga - Kabutorong - Kamikirikid - Girizames - Gillerkorogi - Elekibotaru - Abugomens - Mosquiras - Shiomaneking - Shiracuras - Bararanga - Seadragons - Imoriges - Unidogma - Poison Scorpion Man
Gel-Shocker
General Black - Doctor D - Gel-Shocker Combatmen
Shocker Riders: Shocker Rider No.1 - Shocker Rider No.2 - Shocker Rider No.3 - Shocker Rider No.4 - Shocker Rider No.5 - Shocker Rider No.6
Ganikomol - Sasoritokages - Kuragewolf - Inokabuton - Isoginjaguar - Utsubogames - Washikamagiri - Kumolion - Nekoyamori - Canarycobra - Nezucondor - Mukadetiger - Haetoribachi - Eidokugar - Namekujikinoko - Garaox - Sabotenbat
Nova Shocker
Urga - Igura - Buffal - Nova Shocker Combatmen
View • Edit