For his Bujin counterpart, see Kamen Rider Bujin Decade.
Tsukasa Kadoya (門矢 士, Kadoya Tsukasa) is the main protagonist of Kamen Rider Decade. He is an inter-dimensional traveler who oversees and dictates the fate of all the A.R. Worlds as Kamen Rider Decade (仮面ライダーディケイド, Kamen Raidā Dikeido, Masked Rider Decade).
History
Background
Tsukasa Kadoya was born in a wealthy family who had lost his parents at a young age. This left him and his sister Sayo Kadoya in the custody of the family's butler, Nobuhiko Tsukikage. Due to Sayo's fears of going outside, she manifested the ability to open Aurora Curtains. Tsukasa would exploit these abilities to explore different worlds. As an adult, Tsukasa would be appointed as the "Great Leader of Dai-Shocker" (大ショッカー大首領, Dai Shokkā Dai Shuryō) and acquired the Decadriver. Using his position and power, he began his conquest across different dimensions.
However, after one year into his campaign, Tsukasa suffered from amnesia caused by turbulence while traveling between numerous dimensions and stranded in an unknown peaceful world. While wandering in the unknown world, Tsukasa began to take pictures at Hikari Studio, where he met Natsumi Hikari. However, the images he captures on his camera would be distorted and not develop well due to his status as an outsider of the world.
Becoming Kamen Rider Decade
One day, Tsukasa was scolded by Natsumi over the distorted photos he had captured. While he laments for being unable to recall his past, he and Natsumi are separated by an Aurora Curtain. Tsukasa encounters Wataru Kurenai, who addresses him as "Decade" and to protect the world. After reuniting with Natsumi, Tsukasa notices the Decadriver in her hands and uses it to transform into Kamen Rider Decade. Using the power of the Rider Cards, he transforms into various Kamen Riders to combat the monsters. Learning that the world's destruction is a result of the Nine Worlds converging into one world, Tsukasa is tasked to traveling to these worlds to seek out the Kamen Riders and resolve the disturbances in each world.
The Nine Worlds
Starting in the World of Kuuga as a police officer, Tsukasa meets the world's Rider, Yusuke Onodera who battles the Gurongi and learns that someone is disseminating rumors across the Worlds about him as the Destroyer of Worlds. After reconciling with Yusuke, the two stop the Gurongi N·Gamio·Zeda from taking over the world. Tsukasa would motivate Yusuke to not fight for the smiles of one person, but for the smiles of everyone.
At the World of Kiva as a violinist, Tsukasa encounters the young boy Wataru, helping the boy realize his role as King of the Fangire Race to maintain the peaceful coexistence of the human and Fangire races while defeating the Beetle Fangire: Wataru's father and the former King. Tsukasa would also reunite with Yusuke, who decided to follow him in his journey, and they motivate Wataru to accept himself as a human and Fangire hybrid.
Then at the World of Ryuki, Tsukasa defends the framed Natsumi in a murder case and solves it with the aid of Shinji Tatsumi. The true villain, Kamata is revealed to have been an Undead all along and is taken by Narutaki to the World of Blade after his defeat.
Assuming the role of chief waiter under the BOARD Corporation while being promoted repeatedly, Tsukasa works with Kazuma Kendate to uncover the conspiracy between Kamata and BOARD's CEO, Kamen Rider Chalice, to take over the world through the Joker card which the latter used on himself. After he and Blade work together to defeat the Undead, Tsukasa takes his leave as Kazuma thanks him.
In the World of Faiz as a student of the Smart Brain High School, Tsukasa crosses paths with a man he saw at the World of Blade who knows him, Daiki Kaito. Though Kaito warns him to stay out of his affairs, Tsukasa finds Faiz after confronting the Lucky Clover group, learning that he is Takumi Ogami as he attempts to keep his SB-555B Faiz Driver away from Kaito. Tsukasa later resolves the tension between Takumi and Yuri Tomoda over Takumi's identity, giving Takumi the will to continue protecting the school.
Arriving in the World of Agito as a postman, Tsukasa reads a discarded letter meant for Shoichi Ashikawa, making it his goal to protect Ashikawa from the Unknown for the sake of Tohko Yashiro, the writer of the letter. With Yusuke's help, Tsukasa succeeds in having Shouichi achieve the necessary state of mind needed to complete his evolution to Kamen Rider Agito before reuniting him with Yashiro.
Upon arriving in the World of Den-O, Tsukasa becomes Den-O under the possession of an Momotaros, before forcing him into Yusuke's body. Here, he learns that some unknown force is changing the past as he is fought by the other Taros possessing Natsumi's body who believe Decade to be the source. Tsukasa finds Momotaros and helps him regain his physical form as they defeat the Alligator Imagin. Although the Hikari Studio crew believed their mission in the World of Den-O was over, the true identity of the true culprits of the world's Den-O World's time distortions were revealed to be the Oni Brothers. Before they could even travel to the World of Kabuto, Sieg comes into the Hikari Studio with a manuscript showing a battle at Onigashima. With Sieg's help, Tsukasa and company travel with the DenLiner crew back in time to fight the Oni Brothers, Mimihiko and Kuchihiko, before returning to the present time in the World of Kabuto.
In a ZECTrooper role, after witnessing TheBee and Gattack's fight against a Worm, Tsukasa brings Arata to the photo studio where he finds a Salis Worm that had mimicked him. After the impostor is exposed, the Worm is killed by Kabuto when it attempted to kill a girl named Mayu whose brother was believed to have been killed by Kabuto. Although it seemed that TheBee's user, Soh Otogiri, is her brother, Tsukasa felt something was not right. He learns of Mayu's true nature as a Worm, both his meeting with her grandmother and learning the full nature of the Kabuto Capture Plan. Tsukasa arrives to Mayu's aid and helps Kabuto, Mayu's real brother Sohji, in defeating Otogiri in his true form, the Phylloxera Worm. After bringing Mayu back to her grandmother, he giving Daiki a vial of pepper as a "treasure".
In the World of Hibiki, Tsukasa meets and encounters an Oni in training named Asumu. From there, believed to be the Great Master of Ongekidō style, Tsukasa meets the three masters of the Ongekidō Styles before being pulled into a ploy by Daiki to rob the two Oni masters Ibuki and Zanki, worsening when they are attacked by the Makamou Gyuki until Akira and Todoroki drive the beast off. Supporting their intent to end the rivalry among their schools, Tsukasa convinces Ibuki and Zanki to pass the torch. Tsukasa later offers his aid to Asumu after he became the new Hibiki thanks to Daiki, whom he still acknowledged as a thief and nothing more.
Going For The New Worlds
With the journey over, Tsukasa and the others of the Hikari Studio return to what appears to be Natsumi's world to find it back to normal as if it was not plagued by the monsters. Despite being in a perfect world that he has earned, according to Otoya Kurenai, it is revealed that it is only a parallel version of their own world where the monsters have taken over and killed all but a few humans. After being tested by Otoya, Tsukasa gains the K-Touch after turning down Otoya's offer to live in a world of lies, using Decade's Complete Form to defeat the Dark Riders.
Arriving in the World of Diend, he finds himself in the role of a salary man selling products to the society until he encounters Shin and Haruka, Kamen Riders Lance and Larc, fighting a Darkroachi. He uncovers Daiki's past regarding his former alligence with Fourteen, who brainwashed the inhabitants of his homeworld and how the Kamen Riders are branded as criminals. He and Daiki team up to defeat Fourteen to free all those who have been brainwashed, leaving only Daiki's brother Junichi, Kamen Rider Glaive, who was not brainwashed but accepting of Fourteen's peaceful world. He teaches the two brothers that they have to protect each other, no matter what, before heading off to the next world, one which he has no knowledge of at all.
In the guise of a kuroko with a strange card in hand, Tsukasa learns that his lack of knowledge is due to the world not having any Kamen Riders as he witnesses the Shinkengers

drive off the Nanashi. Curious about them, Tsukasa uses his guise to learn more about them and their world before fighting the Ayakashi Chinomanako who stole the Diendriver from Daiki. He realizes that the monster is the reason why he is in this world as Chinomanako becomes the world's first Kamen Rider. He attempts to fight the Chinomanako but is stopped by Narutaki saying that his actions will only bring doom to the world. After being given the advice to do the right thing by Hikoma Kusakabe

, Decade later helps the Shinkengers with the card revealing to be the Rekka Daizantou which he uses to destroy Chinomanako alongside Shinken Red

using the Blade Blade. As Tsukasa and Yusuke are welcomed back by Eijiro and Natsumi, assuring Tsukasa that the photo studio is his home no matter what.
Entering the World of Black RX, receiving another card and being mistaken as Joe the Haze when he changes clothes, Tsukasa is attacked by Shvarian and his Chap minions while meeting Kamen Rider Black RX, Kohtaro Minami. Decade then finds out that Dai-Shocker is in this world planning to conquer it. Decade teams up with RX to help fend off the assault on this world. Eventually, the Security Chief of Dai-Shocker, Apollogeist drains Natsumi's life through his Perfector ending up in a hospital and Tsukasa desperate to revive her. Decade learns of Apollogeist and the Perfector from Kaito and goes off to find him, but Kaito also has his agenda of retrieving the device. Decade, with assistance from RX, battles Apollogeist but falls into a Aurora Curtain.
Arriving in a different world, he encounters the Kotaro Minami of that world, who transforms into Kamen Rider Black. Decade is attacked and refuses to fight, only to be aided by Diend. They retreat and Decade continues his search for Apollogeist. After saving a child, Decade managed to gain Black's trust in the process and teamed up with him. They come across Apollogeist and Tsukasa is able to get back to RX's world with Black's assistance. Confronting Apollogeist once more, Diend takes the Kamen Rider Black card to summon the Rider to RX's world. Two Kotaros transform and fight Apollogeist and Decade is able to get his Perfecter, but Diend steals it and runs away. At the hospital Kaito hands over the Perfecter, in order to give part of his life into Natsumi and reviving her. Before leaving, Tsukasa tells Kotaro that Joe the Haze is helping his counterpart. But Kotaro is not saddened by it, knowing that Joe will be with him in spirit.
When Tsukasa enters the World of Amazon assumes the mantle of a baseball player and receives yet another card. He immediately sees that Dai-Shocker has taken over this world and is attacked by some of the monsters from different worlds. Amazon appears suddenly and helps Decade fight them, but forced to retreat as even the civilians rushed in to protect the Dai-Shocker forces. He also reunites with Apollogeist who demands him to return his Perfector, but Decade destroys it instead. After a boy named Masahiko stole Amazon's GiGi armlet, Tsukasa helps retrieve the armlet back and save Masahiko. Decade fights alongside Amazon to defeat the ruler of the world, Jyumenki Yum Cimil. Amazon is then adopted into Masahiko's family and the gang returns to the photo studio to find Diend sitting there and he proposes that he go with them.
The Hikari Studio ends up in a world which is discovered to be Tsukasa's homeworld, the World of Decade, where Tsukasa meets his sister Sayo Kadoya and starts a Rider Battle tournament to find the strongest Rider to save the world after hearing he must be the one to do so by Nobuhiko Tsukikage, Sayo's butler.
Tsukasa wins and it is revealed that he was the Great Leader of Dai-Shocker. But the victory is short-lived as Nobuhiko is revealed to be Shadow Moon and Sayo as Priestess Bishum takes control of Yusuke to attack Tsukasa as part of revenge for abandoning her, despite not knowing the truth. Tsukasa is left alone as even his friends abandoned him. He is later encountered by Joji Yuki a former scientist for Dai-Shocker that wanted payback by Tsukasa for doing said punishment to him. Later he realizes that Tsukasa is no longer affiliated with Dai-Shocker and fights Dai-Shocker as Riderman as he lets Tsukasa escape .
Tsukasa joins in the fight against Dai-Shocker starting with the fight against General Jark, renewing Natsumi's trust towards him. He and all of the Kamen Riders fight Dai-Shocker vanishing Garagaranda and Ika Devil. Later Decade fights the Bishum-controlled Kuuga Rising Ultimate but realizing he's talking with his sister, he convinces Sayo that Nobuhiko is only using her to further his goals. Sayo knowing the error of her ways destroys the Stone of Earth, freeing Yusuke. With the stone destroyed, Shadow Moon fights Decade and Kuuga Rising Ultimate overpowering them until Kamen Rider Double shows up and flings him to Dai-Shocker's castle. Tsukasa along with all of the other Riders destroy Shadow Moon with an All Rider Kick. After Shadow Moon and the castle is destroyed, Kingdark appears. Diend summons Kamen Rider J and uses the Decade Final Form Ride to turn Decade into the Jumbo Decadriver and turns J into Decade Complete Jumbo Formation destroying Kingdark. Tsukasa later makes amends with Sayo and departs his homeworld with the Hikari Studio.
World of the Rider War
Tsukasa arrives into the final world, where all the Kamen Riders are supposed to be; "World of the Rider War". It is the same place that Natsumi saw when she had her dream about the war. The World of the Rider War is Decade's undoing as he witnesses both Kazuma Kendate and Wataru leading an army of Riders and monsters against each other. Tsukasa and Yusuke try to keep both sides from killing each other and find that the Fangire Queen, Yuki, has married Apollogeist, evolving into Super Apollogeist. With this new enemy, Tsukasa destroys Yuki and the rest of the Fangire and Undead armies with help from Kazuma Kendate and Wataru. Unfortunately, Super Apollogeist accelerated the fusion of worlds, causing Kazuma and Garren to disappear and Apollogeist kidnaps Natsumi.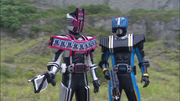 Tsukasa is then confronted by the original Kamen Rider Blade, Kazuma Kenzaki. Decade finally finds out why the worlds are merging and it is because of Decade's nature to unintentionally bridge worlds by entering them. Decade is quickly defeated by Blade King Form and forced to withdraw. After returning to the photo studio in poor condition, Tsukasa finds out every picture he took in the other worlds are completely blank because they are nearly gone. Decade heads out to follow Kiva-la and is confronted by Hibiki and Kiva who are forced to fight him. Kuuga saves Decade while he deals with Apollogeist. As Apollogeist brought back the previous monsters he fought in the different worlds, Decade fights alongside Diend and Kuuga, as well as Kiva and Hibiki to finally vanquish Apollogeist and his monster army.
Although their battle ended in victory, Kiva and Hibiki finally fading away because their worlds no longer exist. Decade is taken to the place where it all started the place where he met the original Wataru Kurenai. Wataru explains that Tsukasa discovered messed up his job and says that the Kamen Riders will fight him as he transforms into Kamen Rider Kiva. Decade is transported back into the battlefield where original Kamen Riders appear and Kuuga becoming Ultimate Form to fight Decade. With that the Rider War begins.
Decade's Final Chapter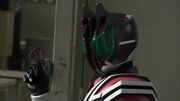 In Decade: Final Chapter, despite being unwillingly the Destroyer of Worlds, Tsukasa accepted his role and turns into Violent Emotion Decade, destroying all Riders and began turning them into cards. He was assisted by Yuriko Misaki who could transform into Electronic Wave Humanoid Tackle. He was later confronted by Natsumi who has become Kamen Rider Kiva-la to stop his rampage. Before Tsukasa died, after voluntarily letting her kill him and gave Natsumi the Kamen Ride Cards so that as long as people remember the Kamen Riders they would never disappear.
Natsumi and Kaito learned from Wataru Kurenai of Decade's role as the destroyer and connector of worlds, as Tsukasa would destroy the Riders he would connect the other worlds preventing their collapse and does anything he was needed for as a hero or a villain to finish the Rider's story. He himself however had no story and with his task complete Decade was gone forever. Despite this, Natsumi found a way to revive him through the use of a picture and the A.R. Riders' memories, and Tsukasa was resurrected. Tsukasa and the gang along with other Riders fought against Super Shocker receiving more help from Kamen Rider Double whom he met in his summer movie. With Double's Final Form Ride, he and Double destroyed Ultimate-D. He was last seen with his friends posing for a picture after the battle while continuing his adventures across the A.R. Worlds.
The Birth of Zi-O
Taking notice of irregular timeline distortions, Tsukasa Kadoya arrives to the World of Zi-O. By this point, Tsukasa had complete access to the powers of his successors and had upgraded his belt to the NeoDecadriver. He was recruited as an ally to the Time Jackers and would initially come into conflict with Sougo Tokiwa and his allies. After destroying the Ghost Ridewatch, Decade would give Geiz the Decade Ridewatch that would be used by Zi-O to assume the DecadeArmor.
During the final fight against Another Ghost, Tsukasa only observed the fight to understand Sougo. Tsukasa is also both confused and agitated by Woz's celebration announcement, even taking away his Ohma Advent Calendar to silence him. Later that night, Tsukasa came to 9 5 DO and ate Sougo's dinner. He introduced himself and takes a photo of Sougo. Before leaving, Tsukasa proceeds to tell Sougo that it's impossible for him to become the Demon King as he intends destroy the world before Sougo even became one.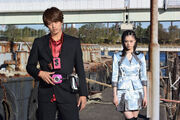 During the battle against Kasshine, Tsukasa transforms into Kamen Rider Decade to battle Zi-O. He manifests an Aurora Curtain to send Sougo Tokiwa to the year 2068 to meet his future self, Ohma Zi-O. Although the experience made Sougo temporarily quit in his pursuit of becoming a king, Sougo would find the resolve to avert the future. Kamen Rider Decade would later briefly fight Zi-O and Geiz, before leaving after they engage Kasshine.
Investigating Sougo Tokiwa's Past
Tsukasa investigates in the year 2009 as a bus driver, that transported a young Sougo Tokiwa and Hiryu Kakogawa. After Swartz causes the bus to go out of control and escapes with the children, Tsukasa escapes through a Aurora Curtain with Tsukuyomi from the exploding bus. From there, they were transported to the near future where the Dai Mazines are destroying the city. The two witness Swartz selecting the young Sougo to become king. Tsukasa then explains to Tsukuyomi that his objective is to observe all the happenings, and whether he'll fulfill his role to destroy the world.
Space-Time Distortion
With the appearance of Kamen Rider Ginga and new Another Riders, Tsukasa steps in to investigate due to a fracture in the space-time continuum. He recognizes a connection between Swartz and Tsukuyomi's pasts, and is determined to prove it. He brings Tsukuyomi to the year 2058 where they meet her younger self. They were both ordered to leave the timeline by Swartz due to a meteor vast approaching the present, forcing Tsukasa and Tsukuyomi to withdraw for now. While Tsukasa brings her back, as he quietly notes that he now understands Tsukuyomi's story.
The Time-Space Conspiracy
Sometime after Sougo acquired the power of GrandZi-O, the timeline became altered by the appearance of Another Zi-O II. While Geiz and Tsukuyomi had lost their memories, Tsukasa still retains his memories to assist Sougo in the altered reality, even motivating him to fix the situation. Tsukasa joined with the Kamen Riders as they stormed Hiryu's castle and to battle Another Zi-O II and his Another Rider army. However, he is suddenly intercepted by Kamen Rider Diend, which allowed Swartz to rob Tsukasa of his powers just as the timeline was resetting back to how it was before.
While Swartz continues to use Decade's powers to become Another Decade, Tsukasa reveals that despite the loss of his powers, he still has his natural abilities and can still control the Aurora Curtains to learn that Swartz has access to the Another Worlds. Sougo and Tsukuyomi would take another trip to 2050 to learn Swartz's true agenda to gather the twenty Kamen Riders' powers from each dimension. Although Tsukasa was killed while protecting Tsukuyomi, Daiki would arrive to revive him using the Zi-O II Anotherwatch, only to become Another Zi-O. Using the Decade Ridewatch containing half of his powers, Tsukasa becomes Kamen Rider Decade once more and assumes the form of Kamen Rider Zi-O to save his ally.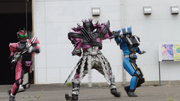 As more monsters started to surface and the city became in utter chaos, Tsukasa declares that Zi-O's world must be destroyed. Tsukasa pieces together that because Swartz attempted to merge all the Kamen Riders' timelines by using Sougo is the catalyst. Before he could destroy the world, Tsukasa works with the Kamen Riders in order to save the residents first. Tsukasa's plan involved turning Tsukuyomi to become a Kamen Rider and create a bridge between Sougo's world and Tsukuyomi's world as a new world to inhabit. However, in a surprise turn of events, Kamen Rider Tsukuyomi betrays everyone and sides with Swartz instead.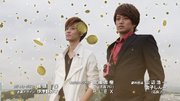 Tsukasa joins the Kamen Riders in the final battle against Another Decade and his army of villains. Although the return of GrandZi-O nearly turned the tide of the battle, Swartz still managed to overpower Sougo. After Geiz sacrificed his life to protect Sougo, this allowed the advent of Ohma Zi-O to end Swartz's threat once and for all. In the end, Sougo decides to rewrite history rather than rule the world. Tsukasa and Daiki observe the timeline begin to be rewritten, the former taking a picture of the events with his camera.
Rider Time: Kamen Rider Decade VS Zi-O
Alternate counterparts of Sougo Tokiwa, Swartz, Heure, Ora, and a couple of others became trapped in a mansion on a desolated island. A masked man orchestrates a "King Game", saying that whoever wins the game will become king of the world. Anyone who fails a task in the game will be killed by Another Ryuki. When Yusuke Onodera, Misa Kudo, and Swartz observe a deceased old man who has been killed by a mysterious person while holding a lot of cash, Tsukasa Kadoya appears and greets Yusuke after not seeing each other for a long time.
At first, the remaining people in the mansion are suspicious because of Tsukasa and Yusuke's acquaintances. Tsukasa explains to his old friend that the mansion they are in is actually the entrance to a dimensional gap, and that the "King Game" has happened many times in the past. He also reveals he is chasing down the "True Sougo", who is the mastermind of the King Game and has been weakened due to using too much power as Ohma Zi-O. He further notes that nobody is to be trusted in the mansion, since it itself is connected to various worlds, and no one can know who is from what dimension. While he particpates in the masked man's games, Tsukasa proclaims he cannot lose, in order to draw the "true Sougo" out.
The masked man reveals his final challenge: The rest of the mansion must each find a treasure weapon in the compound and use them to kill one another until there is only one left, and Another Ryuki will be killing them at random also. Tsukasa learns that the Yusuke he has kept in communication with isn't the Yusuke Onodera he knew as he is revealed to be the mysterious killer all along. However, most of his victims had survived in particular, a Space Ninja Heure, a ghost Misa, and a robot Sougo Tokiwa. After drawing out the True Sougo and learning the masked man's identity as none other than Narutaki, Tsukasa transforms into Kamen Rider Decade and fights alongside Zi-O and also Diend, Kuuga, and Kiva-la against Ohma Zi-O in a wasteland. However, Ohma Zi-O is too powerful against the five. Zi-O, seeing no other choice, gives Decade the Saber Ridewatch, telling him to deliver it to someone who can use its power. Decade and the four other Riders are then defeated by Ohma Zi-O in a massive explosion.
Rider Time: Kamen Rider Zi-O VS Decade
Having survived the battle with Ohma Zi-O, Decade is still hellbent on ending his reign. Due to a distortion within several different timelines focused around their versions of Sougo Tokiwa, Tsukasa returns to destroy the resulting world by killing all of the alternate Sougos within, while trying to prevent Ohma Zi-O from rising into power. Driving a jeep towards Hikarigamori Academy, he spots a frightened, cowardly Sougo trying to run from him. Tsukasa stops the jeep and transform into Decade in order to kills that Sougo. Tsukasa eventually arrives at Hikarigamori, but turns around when the actions of Sougo C lead to a fight and lure out several more alternate Sougos.
The night afterward, it is revealed that Tsukasa is slowly starting to disappear, showing that his wound during the stab from the evil Yusuke and Ohma Zi-O actually endangered his life because Tsukasa has yet to be treated into full condition.
After the other alternate Sougos are erased through a mix of infighting and Tsukasa's own actions, the mysterious child Tsukuyomi has been helping appears and reveals himself as the "true Sougo" that Tsukasa has been hunting and has now become Ohma Zi-O. Tsukasa attempts to intervene by equipping the K-Touch and transforming into Decade Complete 21, but his weakened condition proves fatal, with Ohma Zi-O easily defeating Tsukasa once more. Once Sougo A manages to remanifest, he finds Tsukasa near the pond where Ohma Zi-O has defeated him earlier, and is given the Saber Ridewatch. Following Ohma Zi-O's destruction at the hands of DecadeArmor Saber Form, Tsukasa begins to disintegrate, relieved that his journey will finally be over before quietly passing away and restoring all seven timelines to their original state. Although he is apparently dead, Woz does believe Tsukasa and Ohma Zi-O may return in the near future.
Other Events
Kamen Rider G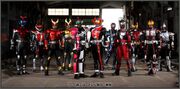 At some point during his travels across the worlds, Decade came through an Aurora Curtain to a world which was home to Kamen Rider G, who was having a hard time against the Phylloxera Worm. Decade told G that he was the only one who could save his world. Decade was soon followed by the Nine Heisei Riders through the dimensional wall behind him. With a boost in confidence, G got up and destroyed the Phylloxera Worm with his Swirling Rider Kick as the ten Heisei Riders vanished.
Let's Go Kamen Riders
A mishap caused by the Greeed Ankh unintentionally altered the timeline which enabled Shocker to utilize the Core Medal to create the Shocker Greeed which defeated the Double Riders and seemingly erased the legacy of the Kamen Riders from history. In 2011, after Kamen Rider New Den-O's attempt to repair the damage, he along with Kamen Rider OOO and M-Ankh awaited execution. However, it was revealed the Double Riders had their brainwashing removed by a Shocker scientist.
The Double Riders joined with New Den-O and OOO to fight Shocker's forces but were eventually defeated. When the order was given to kill everyone, V3 suddenly appeared, asserting that there were more than four Riders. V3 was soon followed by all the other revived Riders that came after him, as even though Rider's history was changed, the people's memories haven't changed. Decade appeared after the three 90s Riders and the first eight Heisei Riders, defeating the Paradoxa Undead, Tiger Orphnoch and Shadow Moon in quick succession.
After the Riders were united, they faced off against Shocker's Great Leader. Later, when joined by a force of extra Riders, Decade got into his Machine Decader, and alongside all the other Riders in their vehicles performed the "All Rider Break", ramming into the Rock Great Leader and defeating it once and for all.
Kamen Rider × Super Sentai: Super Hero Taisen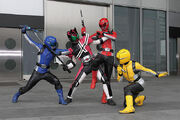 Doctor G resurrected and gathered all defeated Rider villains, recreating Dai-Shocker. He told Tsukasa that the Riders and monsters needed to destroy the Super Sentai to ensure the survival of the Riders, and, answering that, Tsukasa took control of the new Dai-Shocker, becoming its Great Leader again to battle the Super Sentai and also the Dai-Zangyack, a new union of Super Sentai villains led by the Gokaiger

's Captain Marvelous

. As the Great Leader of Dai-Shocker, Tsukasa apparently destroyed many Super Sentai teams such as the Goseigers. Gokai Red and Gokai Green

was the last Sentai Ranger alive, while Decade himself was seemingly the last remaining Rider. After he was wounded in his battle against Gokai Red, Doctor G used the opportunity to overthrow him and take control of the organization. The story about Riders needing to destroy Sentai to survive was a lie, and Doctor G was actually allied with Dai-Zangyack and using both Gokai Red and Decade to destroy the other heroes and afterwards kill the nominal leaders of the two organizations.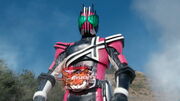 However, Tsukasa and Marvelous already realized that trap from the beginning before the war starts. The destruction of the Super Sentai actually just an act and the truth was, all the Super Sentai and Riders were just sent into a rift between dimensions. Tsukasa turned against Dai-Shocker and Dai-Zangyack, supported by all other Riders and Super Sentai. Alongside the Gokaigers, he killed General Shadow. In the end, he faced Doctor G, the man behind the new Dai-Shocker, and defeated him with the help of the Super Sentai team Goseiger

, and Kamen Riders Ryuki and Blade. However, after being defeated, Doctor G was revealed to be Decade's old enemy, Narutaki, who escaped afterwards, and his real identity was left a mystery. After the battle, Tsukasa reconciles with Daiki accepting his friendship before the latter takes his leave.
Super Hero Taihen
Kamen Rider Murder Mystery! You're the Great Detective!
The Kamen Rider Club celebrates the film Super Hero Taisen as they enter the Rabbit Hatch. Shun Daimonji is shocked to discover the body of Kamen Rider Decade on their common table, with multiple cards stabbed onto his helmet. As the club ponders a hypothesis, Gentaro considers it might have been Hurricane Red

, to which the ranger arrives and denies any connection, suggesting it may NinjaRed

, who in turn implicates Gokai Red

. Another body is discovered- this time Kamen Rider Double. Kamen Rider Meteor arrives to "help" the investigation. However, this time, an Imagin is found, Momotaros with a peach cup in hand. After Fourze gathers up the clues, he thinks that it is neither one of the Red Rangers, but instead it is one of the staff members that are currently filming them. Fourze started to think that Decade, Double, and Momotaros have something in common: they are all have the same suit actor (Seiji Takaiwa), which leads him to the culprit who is Eitoku. Fourze then noticed that in the Kamen Rider Series, Eitoku portrays the majority of the suit acting of the secondary characters (Urataros in Den-O and secondary Riders from Decade to Fourze) and knows that he wants to kill Seiji for taking the lead role, but the Riders that he killed weren't suit acted by Seiji, instead by other suit actors as Fourze reveals to him that Seiji is currently suit acting Fourze. After Eitoku is arrested, the deceased Riders revealed to be alive as they all go out for lunch and Kamen Rider Faiz calls to make reservations.
Decade later appears in another segment where his Complete Form Mode appears alongside Gokai Silver's form, Gold Mode as one of the similarities between Decade and Gokaiger.
Super Hero Taisen Z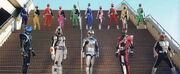 Space Sheriff Gavan Type G

, alongside Kamen Rider Beast and Yellow Buster

invaded the fortress of the Space Crime Syndicate Madou on Earth. However, inside, they're overrun by the forces of Space Shocker, which had allied itself with Madou. Gavan was separated from the others and trapped by Shocker's forces, when Kamen Rider Kamen Rider Fourze arrived, answering the call for help of Gokai Silver

, who asked for reinforcements to help in the attack. Fourze brought with him more allies, including Meteor, Super-1, the Super Sentai teams Choushinsei Flashman

, Tokusou Sentai Dekaranger

and Decade himself to confront Space Shocker. Decade briefly fights against Tortoise Undead and afterwards pierces through a Pteranodon Yummy.
Afterwards, Decade presumably stays fighting against the other reinforcements brought by Space Ika Devil, while Fourze is thrown out of the area. Space Ika Devil himself is finished by the Super Sentai team Gokaiger, while Gavan and Meteor leave to fight against Space Shocker's and Madou's leaders. After the battle is over, Decade appears on top of a nearby cliff alongside the other heroes who appeared to help to say goodbye to Gavan and the others.
Kamen Rider Wizard
Decade was summoned along with OOO by the alternate version of Haruto, taking the children to the shop. Before taking the children away, he thinks that he has arrived in the World of Wizard, but Haruto tells him that he is mistaken. [The Kamen Rider Rings] He is summoned again by Amadum to retrieve back the Fourze Rider Ring from Haruto. He then teamed up with Haruto along with the Heisei Riders to fight Amadum and his monsters. However, Amadum was too powerful for the Riders as he takes their items from them until Gaim arrives. Gaim easily beats Amadum up as the Riders regaining their items to transform into their final forms. After Amadum is defeated, and the Rider Rings gone, Tsukasa leaves to continue his journey, stating that Haruto and him will meet again.
Kamen Rider Taisen
Tsukasa managed to find Kouta in Drupers, telling the young Rider that he somehow knew Shu before Narutaki appears to them. He warns the Riders about Badan's plan and the situation between the Riders from both eras, having Kouta become curious about it. Tsukasa would plan to gather the Heisei Riders as Kaito decides to join him. He takes Kaito to Futo, meeting up with Shotaro at the Narumi Detective Office as he offers the young Rider to help the detective on his case. Later, Tsukasa approaches Takumi, asking him to join the battle against Badan. Takumi refused until he was attacked by Badan's monsters. He arrived to fight them until Kamen Rider Fifteen appears to attack him before Decade retreats. Meeting up with Shotaro in Futo, Tsukasa asks the detective to join the battle against Badan and Shu's origins, which Shotaro would inform him about the boy.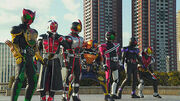 Tsukasa went to the lighthouse as he noticed that his mother, Saki looking at the picture with the note that Shu wrote as she blamed herself for his death. Decade arrived where Shu was and sent the boy to meet with his mother while Gaim distracts Fifteen. However, they were attacked by Badan's monster until Black and Black RX finished them off. Thanking both Riders, however, their next target would be the Heisei Riders as Shotaro arrived to distract both Riders. Once they reached the lighthouse, Shu was about to meet up with Saki, however Fifteen appears to retrieve his son as Tsukasa transformed to fight Fifteen. Overpowered by Fifteen, Gaim arrives to fight him, but failed to save the boy. Kouta was furious about Tsukasa not knowing Shu's feelings. Tsukasa would gather the remaining Heisei Riders as Kouta and Takumi would join him. Once the remaining Riders arrive, both sides attack as Decade and 2 were defeated by each other. However, all the Riders were freed thanks to Gaim as they started to battle the Badan Empire. Decade freed Shu from the machine as the ship was destroyed by Wizard, Faiz, and X. After battling the Badan Empire, Hongo stated that their battle wasn't over as the Rider War continues. However, the Showa Riders admit their defeat after seeing Gaim protecting a flower as they would congratulate the young Riders. Sometimes later, Tsukasa visits the lighthouse and looked at the photo of Shu that he took.
Super Hero Taisen GP: Kamen Rider 3
Due to the timeline alteration caused by Shocker, Tsukasa became one of the brainwashed Riders in that timeline, donning the name of Shocker Rider Decade. Alongside Agito Burning and Hibiki, Decade joined SkyRider, Super-1, ZX and the Shocker Combatmen against the double agent Kamen Rider 3, providing his Ride Booker's firepower in a combined projectile assault before proceeding to physically overwhelm Rider 3 as he allowed Mach to escape.
On the following day, Decade was one of several Shocker Riders who volunteered in the Rider Grand Prix under Shocker Rider 3, who had been personally challenged by Kamen Rider Drive. During the race, Decade, along with Agito, OOO and Fourze, found that his Rider Machine, Machine Decader, had been immobilized by Mach's Signal Tomarle. Decade ultimately fell short of the Top 2 in which Drive prevailed over Rider 3.
Once Rider 3 was integrated into the Great Leader of Shocker's Rider Robo form, Decade was among the Riders who appeared to attack Zeronos Zero Form and Denebick Buster only to be fought off by the turncoat BOARD Riders: Chalice, Leangle, Blade and Garren. Ultimately, the Double Riders 1 and 2 made their appearance having survived their apparent demise from within the Rider Robo, and broke Shocker's brainwashing on the fallen Riders, enabling all Riders to unite in a final battle against Shocker.
Surviving the onslaught of the History Modifying Machine, Decade fought and destroyed Shocker's Shvarian with the Dimension Kick shortly before the Rider Robo was destroyed along with the machine by Shurikenjin Tridoron

. Among the remaining Riders who witnessed the farewell of Kyoichiro Kuroi as the perversion of history was reversed, Decade's place in history was restored.
Chou Super Hero Taisen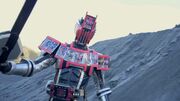 An iteration of Decade Complete Form was summoned from the Game World as part of a team of five of the Strongest Kamen Riders alongside five of the Strongest

Sentai Rangers

by Kamen Rider Brave, helping to defeat Shocker's army.
Kamen Rider Build: Be The One
Among the first 18 Heisei Riders, Decade fought against numerous monsters in a melee briefly witnessed by Sento Kiryu before being caught in the crossfire as Kamen Rider Zi-O BuildArmor used his Vortex Time Break to wipe out his enemies.
Kamen Rider Heisei Generations Forever
In an alternate timeline created by the first Heisei Rider, Kuuga, being erased from history, but traces of the original history remaining due to a Singularity Point, Decade seemingly was known just as fiction alongside the other Heisei Riders. However, after Ataru Hisanaga and the other Riders themselves stand with their belief in the Riders strengthened, the Riders started returning and saving the people, who also started cheering for them as real heroes, bringing back more Riders.
Kamen Rider Zi-O: Over Quartzer
Once the Heisei Riders were restored after the birth of Zi-O OhmaForm, Decade appeared in battle alongside them, taking on several Kasshine Troopers, once again with his original Decadriver. Eventually, he makes it to the leader of the Quartzer alongside other Heisei Riders, turning into Complete Form for the final battle.
During the final battle against Kamen Rider Barlckxs, Decade attacks alongside other Heisei Riders, but it has no effect against Barlckxs' mix of J's and BioRider's powers alongside a barrier. Soon, however, when Zi-O OhmaForm arrives, all Riders attack in unison with their Rider Kicks, destroying him.

Though he was seemingly erased as a result of Asmodeus' manipulations, he was restored back into existence once Touma Kamiyama had helped Shotaro regained his passion in drawing out the superheroes that he wants to draw out.
During the climatic final battle itself, he can be seen fighting alongside Gokai Red, Kamen Rider Zi-O and Lupin Red.
Video Game Appearances
Novel Appearances
Kamen Rider Decade: The World of Tsukasa Kadoya ~The Garden Inside the Lens~
Main article: Tsukasa Kadoya/Novel
Novel: Kamen Rider Gaim
In the darkness, Mitsuzane feels the existence of mankind. An unknown person approaches him and calls him a 'hero'. He asks whether there are people stranded in a similar situation. Sensing Mitsuzane's weak personality, the man encourages him to gather courage and move forward, never to give up. He shows Mitsuzane what is truly expected of a warrior, and the importance of Kamen Riders in the world.
"Everybody can be a hero!". Mitsuzane finally remembers who he truly was. In his hand's grasp, is a Lockseed he fondly remembers. Breaking through the darkness, he runs into the light.
Personality
Prior to becoming a Kamen Rider, Tsukasa was the ruthless leader of Dai-Shocker, a power-mad tyrant with a strong lust for control. This side temporarily manifested itself during Tsukasa's stint as the "destroyer of worlds", causing him to slaughter several Riders that stood in his way.
In his amnesic state, Tsukasa is an odd figure with a self-rightous attitude, regularly annoying others through his rude mannerisms. Having no clear goal in life, Tsukasa decided to wander through the A.R. Worlds as Decade, half-heartedly protecting the innocent from Dai-Shocker. Deep down however, Tsukasa genuinely cares for the well-being of others, especially his friends. Thus, whenever someone is seriously at harm, Tsukasa will help them without hesitation, no matter how dangerous the situation.
In strong contrast to his talents and outlook, Tsukasa can be significantly clumsy at times, made apparent when growing too cocky for his own good. In such moments, Natsumi often keeps him in line with her signature pressure-point attack, much to Tsukasa's irritation.
As a photographer, Tsukasa desires to "catch the world" with his photos, something frequently impeded by the distortion of reality. Though normally brushing it off as "unimportant", Tsukasa evidently felt a sense of inferiority from this, being reminded of his status as an outcast. Noticeably, whenever someone compliments him, especially his photography, Tsukasa becomes significantly cheerful in response, a far cry to his usual self.
After fully reclaiming his memories, his personality gained qualities from both his old and new selves. When faced with a crisis, he now closely observes the situation to determine its requirements, so as to take a course of action at the right time. However, still a quirky character in general, Tsukasa retains the habit of bewildering others with his mannerisms, usually to comedic effect.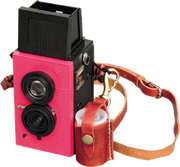 Before a climactic battle begins, a major villain often demands for Tsukasa's identity, to which he replies by declaring "Just a passing-through Kamen Rider, remember that!" (通り過がりの仮面ライダーだ、覚えておけ!, Tōrisugari no Kamen Raidā da, oboeteoke!).
On a humorous note, he heavily disagrees if someone defines his Rider form is pink, causing him to explain at length that Decade is magenta in color.
Evidently, Masahiro Inoue has stated Tsukasa to be an enigmatic character, playfully expressing him as a "dangerous wierdo" that lacks civility. Simultaneously, Masahiro aknowleges Tsukasa to be a true hero, one that always shines in moments of danger.[1]
Tsukasa uses a "Decade Pink" Blackbird Fly 135 Twin-lens Reflex Camera.

Powers and Abilities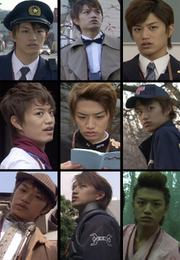 Powers
Dimensional Travel: An otherworldly human himself, Tsukasa can travel within worlds via Aurora Curtains. However, the downside is that he is unable to take perfect pictures in the world he enters unless Tsukasa returns to his own reality.

Time Travel: Tsukasa is able to travel to different periods of time using the Aurora Curtains, as he first displayed this ability to deliver Sieg to the Muromachi period, and following Geiz Myokoin in 2015.
Temporal Protection: Due to being an otherworldly human himself, he is unaffected by the changes in the timeline on the world he enters. Likewise, this power allows Tsukasa to act as a time capsule for histories and worlds of the Kamen Riders, should their existence became affected.

Nine Worlds Powers: Whenever Tsukasa travels to another world, he takes on a role within it, granting him different abilities as well as all necessary needs to take on that role (ie; clothes, hairstyles, documents, etc.). These abilities are retained after acquisition of their respective world's Rider cards.
Resurrection: If people still remember him, he can be resurrected from the dead. [Kamen Rider × Kamen Rider W & Decade: Movie War 2010]
Ridewatch Manipulation:

Ridewatch Nullification: Due to bearing an unaltered version of a Rider's history through his Rider cards, Tsukasa could nullify the Ridewatches and their abilities, displaying this after he destroyed the Ghost Ridewatch in front of Geiz.
Decade Ridewatch Creation: Tsukasa could create a Ridewatch by dispensing half of his own Kamen Rider powers. This not only enables Zi-O to simultaneously harness Decade's powers while Tsukasa keeps his own, but allows him to regain his powers after Swartz stole it.
Former Powers
Reality Alteration (Uncontrollable): While Dai-Shocker's presence had accelerated the A.R. Worlds to merge, Tsukasa's very own existence was revealed to be the cause of the worlds intersecting with one another, risking the erasure of those worlds and its people as a result. After the defeat of Dai-Shocker and his initial death at the hands of Natsumi undoing their influence upon him and restoring the damage to the multiverse, this has stopped and does not continue after his resurrection.
Abilities
Peak Human Condition: As the former leader of Dai-Shocker, Tsukasa was skilled at fighting even before the start of his series. In fact, it seems that Tsukasa's abilities far surpass a normal human since he defeated two high-level Orphnochs in tennis and used a card as a shuriken to cut a chain.
Expert Combatant: Tsukasa has great reflex and fighting skill to face his opponents. As Kamen Rider Decade, Tsukasa is still a balanced fighter who mostly fights in close combat. After recovering from his memory, he was able to analyze his opponent's skills to outwit them immediately. In Kamen Rider Zi-O, he was able to fight on equal footing with the heroes and villains of the series despite his powers cut in half, emphasizing his skill and strength as a Kamen Rider.
Gifted Intellect: He is very calculative, cunning and manipulative. Very quick at infiltrating parallel worlds with limited information on those realities, which led him to solve many problems. Moreover, even after losing his previous memories, He could easily fight against most of the A.R Riders while holding back.
Great Kamen Rider Knowledge: Tsukasa is shown to have a lot of knowledge related to any Kamen Rider, be it Kamen Riders of another world like Ryuga, those from the future like Ohma Zi-O, as well as Kamen Rider Ginga.
Forms
Equipment
Devices
Weapons
Vehicles
Legend Rider Devices
Imagin Possessions
Family
Relationships
Friends
Allies
Enemies
Behind the Scenes
Portrayal
Tsukasa Kadoya is portrayed by Masahiro Inoue (井上 正大, Inoue Masahiro), who reprised his role in Kamen Rider × Super Sentai: Super Hero Taisen, the special episodes of Kamen Rider Wizard, Heisei Rider vs. Showa Rider: Kamen Rider Taisen feat. Super Sentai, and Kamen Rider Zi-O.
While disguised as Kamen Rider 1 in Kamen Rider × Super Sentai: Super Hero Taisen, he is voiced by Tetsu Inada (稲田 徹, Inada Tetsu). In Kamen Rider × Super Sentai × Space Sheriff: Super Hero Taisen Z, Kamen Rider Decade's voice was provided by Katsuhiro Suzuki (鈴木 勝大, Suzuki Katsuhiro), who plays Hiromu Sakurada/Red Buster

in Tokumei Sentai Go-Busters

.
As Kamen Rider Decade, his suit actor was Seiji Takaiwa (高岩 成二, Takaiwa Seiji), who has been the suit actor for the majority of leading Kamen Riders in the Heisei era (except Kuuga and Hibiki). In Super Hero Taisen and Kamen Rider Taisen, his suit actor was Jun Watanabe (渡辺 淳, Watanabe Jun). In Kamen Rider Zi-O, his suit actors were Yuji Nakata (中田 裕士, Nakata Yūji) and Kosuke Asai (浅井宏輔, Asai Kosuke).
Rider No.
As the leading Rider protagonist of Kamen Rider Decade, Tsukasa Kadoya (Kamen Rider Decade) is labeled Kamen Rider #25 (仮面ライダー25号, Kamen Raidā Nijūgogō) and Heisei Rider #10 (平成ライダー10号, Heisei Raidā Jūgō). [Quiz! Decade Countdown!!]
Etymology
Tsukasa's name is a homonym of the phrase "user and card" (カードや使さ, Kadoyatsukasa).
Meme
Decade's suit color has often a subject of a joke where Tsukasa claims that it's not pink, but rather magenta, and he is very adamant of that. In the production stages of Decade, one of the reasons that Bandai and PLEX went with the color is because producer Hideaki Tsukada often wore pink clothing. However this gag has been often pointed out across many different medias.

Tsukasa owns a Blackbird Fly 135 Twin-lens Reflex Camera colored "Decade Pink".
In Check! Pink's Revenge, Decade SOS!!, Tsukasa is offended of Decade's suit color being called pink, vehemently defending that his Rider form is magenta.
In episode 14.5 of Kamen Rider Zi-O: Supplementary Plan, titled Pink Devil, Tsukasa was irritated because they keep referring him as 'Pink Guy' and defends his color designation as magenta.
In Episode 42 of Kamen Rider Zi-O, when Geiz calls Decade "the Pink guy", but Sougo corrects him by telling that his color is magenta, making this the first time Decade's color is mentioned in a canon episode.
This joke crosses in real life when Masahiro replies to tweets about the color with a plain "It's Magenta" (

マゼンタだ

,

Mazenta da

) or "Magenta".

The new final form of Decade, Complete Form21 has been roasted by fans even by Masahiro himself as he makes a joke that the future Decade would have his horn tall like a tower.

Ever since Tsukasa/Decade Complete Form21 is defeated by True Sougo/Ohma Zi-O in Final Chapter: The Last Sougo, some fans like to jokingly infer that Decade (including his upgraded forms such as Complete Form21) can be easily defeated if his opponent is a Golden-colored Kamen Rider (such as Kenzaki/Blade King Form).
Complete Form21 and K-Touch21 are also been roasted by fans due to the power itself are considered as "20 Heisei Riders + 1 Reiwa Rider" which some fans like to jokingly infer that Zero-One's power was not supposed to be added for the updated K-Touch.
In Popular Culture
Haiyore! Nyarko-san episode 3 contains an extended reference to Decade in the rooftop lunch scene. Cuuko teases Nyarko with a cake from the legendary space bakery DK-Do, owned by a man named D. Endo. The cake is said to be a limited 10th anniversary special production, and is modeled on the Decadriver; additionally, when Nyarko explains about the bakery to Mahiro, its name appears in black and magenta stripes, while D. Endo's is represented with black and cyan. Later on, Nyarko transforms her pet Shantak-Bird into a motorcycle, with her remarking "This may tickle a bit. Heck, it'll only hurt for a moment;" in the light novels, this Final Form Ride-style forced transformation is explicitly stated to be one of Nyarko's unique special powers.
Additionally, Nyarko's favorite television show is Iron Striver, a tokusatsu show made on Earth that serves as an obvious homage to the Kamen Rider franchise. A brief segment of the show seen in the OVA episode "How to Defeat a Kind Enemy" shows it to mostly be based off of Decade, with the main character physically resembling Tsukasa and using with a card-reading belt that forms the word "StriveRide" to transform. Said segment also features direct quotes from Decade, with Striver telling the villains "Bring it on! I'll destroy everything!"
Notes
Tsukasa crossing-over with Samurai Sentai Shinkenger marked the beginning of future crossovers between the Kamen Rider and the Super Sentai, such as Kamen Rider × Super Sentai: Super Hero Taisen.
While using Kamen Ride Ryuki, Tsukasa displays the unique ability to enter and exit Mirror World from any reflective surface regardless of the original entry point, all without a Rideshooter, something that the Riders in Ryuki cannot do.
Tsukasa (and eventually Inoue himself) insists that Decade's pink color is actually magenta, which has become a meta-joke.[14]
Tsukasa and Kaito were the only Legend Riders to have had recurring roles in Kamen Rider Zi-O; all other previous Riders have only been featured as guests.
Appearances
Main article: Tsukasa Kadoya/Appearances
References
External Links

Kamen Rider Decade
Kamen Riders
Primary: Tsukasa Kadoya - Daiki Kaito - Natsumi Hikari
A.R. Kamen Riders: Wataru Kurenai - Yusuke Onodera - Wataru - Shinji Tatsumi - Kazuma Kendate - Takumi Ogami - Shouichi Ashikawa - Momotaros - Ryotaro Nogami - Sohji - Asumu - Kohtaro Minami (Black RX) - Kohtaro Minami (Black) - X-Rider (A.R. World) - Daisuke Yamamoto - Kazuma Kenzaki - Joji Yuki - Yuriko Misaki
A.R. Evil Kamen Riders:

Chinomanako

- Mimihiko - Kuchihiko - Kamen Rider Abyss - Dark Kiva - Ryuga - Orga - Dark Kabuto - Alternative
Other A.R. World Riders: Ren Haguro - Scissors - Zolda - Femme - Verde - Tiger - Imperer - Odin - Raia - Gai - Sakuya Hishigata - Mutsuki Kuroba - Takahiro Furuya - Kotaro Nogami - Arata - Ibuki - Zanki - Todoroki - Akira - Junichi Kaito - Haruka Miwa - Shin Magaki - X - Ixa - Saga
Prime Universe Kamen Riders: Kotaro Nogami - Urataros - Kintaros - Ryutaros - Sieg
Arsenal
Drivers: (Neo) Decadriver - (Neo) Diendriver - Kiva-la
Transformation Gear: Rider Cards - K-Touch - Card Holder - Diend Belt
Weapons: Ride Booker - Final Form Rides - Kiva-la Saber
Vehicles: Machine Decader - Machine Diender
Hikari Studio
Natsumi Hikari - Kiva-la - Eijiro Hikari
Other Allies
Ai Yashiro - Kivat-bat the 3rd - Garulu - Basshaa - Dogga - Reiko Momoi - Ai - Mai - Mi - Yuri Tomoda - Toko Yashiro - Deneb - Teddy - Kohana - Naomi - Owner - Toki - Yu - Grandma - Mayu - Natsumi Hikari - Chinatsu - Hikoma Kusakabe

- Kuroko

- Kurando Tani

- Shinkengers

- Masahiko Okamura (A.R. World) - Ritsuko Okamura (A.R. World)
Dai-Shocker
Dr. Shinigami - Jigoku Taishi - Apollogeist - Jyumenki Yum Cimil - Shadow Moon - Kingdark - General Jark - Bishum - Yuki - Shvarian - Televi Bae-Kun
Worlds of Black & Black RX: Scorpion Imagin - Seamoon Fangire - Mantis Fangire - Rhinoceros Mutant - Ox Orphnoch - Worm Orphnoch - Frilled Lizard Orphnoch - Brachypelma Worm Aurantium - Brachypelma Worm Viridis - Tarantes Worm Purpura
World of Decade: Siomaneking - Ganikoumoru - Doras - Garai - Me·Vagis·Ba - Xu·Mevio·Da - Me·Ginoga·De - Go·Gadol·Ba - Leiurus Acutia - Formica Regia - Formica Pedes - Sheerghosts - Raydragoons - Psycorogue - Butterfly Orphnoch - Giraffe Orphnoch - Longhorn Orphnoch - Slug Orphnoch - Wild Boar Orphnoch - Pelican Orphnoch - Stinkbug Orphnoch - Arch Orphnoch - Elephant Undead - Giraffa Undead - Darkroachi - Kappa - Bakeneko - Hitotsumi - Coleoptera Worm Aeneus - Coleoptera Worm Croceus - Coleoptera Worm Argentum - Geophilid Worm - Subst Worm - Cassis Worm Gladius - Albinoleo Imagin - Mole Imagin - Rat Fangire - Sungazer Fangire - Bat Fangire
World of Amazon: Go·Jalaji·Da - Propheta Cruentus - Camponotus Worm Maxilla - Bakeneko - Yobuko
Dai-Shocker Combatmen - Dai-Shocker Scientists - Destron Combatmen
Super Shocker
Narutaki - Wasp Woman - Neo Organism
Zanjioh - Jaguarman - Beaded Lizard Man - Hilchameleon - Xu·Goma·Gu - Go·Jalaji·Da - Volucris Falco - Solospider - Scorpion Orphnoch - Titan Undead - Kodama - Sectio Worm Acuere - Cobra Imagin - Gecko Imagin - Sungazer Fangire
Super Shocker Combatmen
Gurongi
N·Gamio·Zeda
World of Kuuga: Me·Garido·Gi - La·Doldo·Gu - Go·Babel·Da - Go·Bemiu·Gi - Me·Byran·Gi - Go·Jaaza·Gi - Me·Garima·Ba
World of Agito: Me·Vagis·Ba - Xu·Mevio·Da - Me·Ginoga·De
The Lords
Taurus Ballista
Formica Regia - Formica Pedes
Mirror Monsters
The Contract Monsters
World of Ryuki: Darkwing - Volcancer - Destwilder - Gigazelle - Abyssodon (Abysshammer - Abysslasher)
World of Negatives:
Dragblacker
Wild Mirror Monsters
World of Ryuki: GuldThunder - Zebraskull Bronze - Megazelle - Negazelle - Omegazelle - Magazelle
World of Den-O:
Gelnewt
World of Negatives:
Raydragoons
Orphnochs / Lucky Clover
Momose - Shukawa - Genda - Shirogane
Butterfly Orphnoch
The Undead
World of Blade: Kamata - Hajime Shijo
Buffalo Undead - Elephant Undead - Capricorn Undead
World of Diend: Fourteen - Bossroach - Darkroachi
World of the Rider War: Deer Undead - Scarab Undead - Lizard Undead
魔化魍 Makamou
Gyuki - Bakegani
Kappa - Bakeneko - Ooari - Tengu - Ubume
Worm
Sou Otogiri
Coleoptera Worm Argentum - Geophilid Worm - Subst Worm
The Imagin
Alligator Imagin - New Mole Imagin
The Fangires
Beetle Fangire - Yuki
World of Kiva: Ryo Itoya - Swallowtail Fangire - Lion Fangire
World of the Rider War: Shark Fangire - Silkmoth Fangire - Horsefly Fangire - Warthog Fangire
View • Edit