For the original Kamen Rider Tiger in Kamen Rider Ryuki, see Satoru Tojo.
Tozuka (戸塚, Tozuka) is a young man who became the new user of Kamen Rider Tiger (仮面ライダータイガ, Kamen Raidā Taiga) in 2019.
History
Tozuka was one of the 13 people brought into the Mirror World by a mysterious woman to restart the Rider War. At some point, he teamed up with Jun Shibaura and Ishihashi. 4 days after they were sent to Mirror World, Tozuka and his team found Miyuki Tezuka' gang located in an abandoned warehouse. As a huge battle broke out between the two sides, a horde of Mirror Monsters appeared forced all of them to retreat.
The next day, both teams appeared and Miyuki gave them their Card Decks as they carried out their real plan, take out Miyuki's team. As Ishida was eaten by Evildiver, the others were about to kill Kimura and Shinji when suddenly Ouja and Zolda appeared. Tozuka was hit by Ouja's Final Vent, causing him to fade away and die.
Kamen Rider Tiger
Kamen Rider Tiger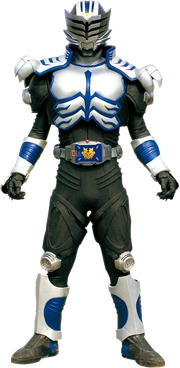 Rider Statistics:[1]
Height: 197 cm
Weight: 97 kg
Ability Parameters:[1]
Punching Power: 250 AP (12.5 t)
Kicking Power: 400 AP (20 t)
Maximum Jump Height: 40 m
Maximum Running Speed: 100 m per 5 seconds
Eyesight: 20 km
Hearing: 15 km
Special Abilities:[1]
Advent: Destwilder: 5000 AP (250 t)
Destclaws: 3000 AP (150 t)
Crystal Break: 6000 AP (300 t)
Tozuka can transform into Kamen Rider Tiger using his Card Deck and V Buckle upon forming a contract with Destwilder. His visor, the Destvisor (デストバイザー, Desuto Baizā), is a battle axe that also functions as his personal weapon. Tiger's parameters are identical to Ouja's, with the exception of a higher range of sight.
Through the use of his Strike Vent, Tiger can arm himself with the Destclaws (デストクロー, Desuto Kurō), a pair of clawed gauntlets derived from Destwilder's arms.
By using his Final Vent, Tiger can execute his finisher, the Crystal Break (クリスタルブレイク, Kurisutaru Bureiku), which equips Tiger with the Destclaws if he does not already possess them. Destwilder then grabs the opponent and drags them across the ground towards Tiger, who impales the enemy with the Destclaws.
This form is exclusive to Rider Time Ryuki Episode 1
Contract Monster
Main article: Destwilder
Equipment
Behind the scenes
Portrayal
Tozuka is portrayed by Ken Sugawara (菅原 健, Sugawara Ken), who would later going to play Sold9 in Zero-One Others: Kamen Rider MetsubouJinrai. As Kamen Rider Tiger, his suit actor was Naoki Nagase (永瀬 尚希, Nagase Naoki).
Notes
Tozuka as the new Kamen Rider Tiger being Asakura's first victim in the new Rider Fight references the original Tiger being one of his intended victims he was unable to kill in the TV series.
Appearances
See also
References
Community content is available under
CC-BY-SA
unless otherwise noted.