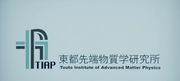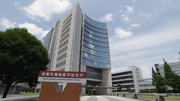 The Touto Institute of Advanced Matter Physics (東都先端物質学研究所, Touto Sendan Busshitsukakui Kenkyūsho, TIAMP for short) is an organization appearing in Kamen Rider Build. They are an advanced scientific government research laboratory with some of its staff being officials in Touto's government who deliver reports directly to the Prime Minister of Touto.

Staff
Gentoku Himuro - Director and head researcher, aide to the Prime Minister and head of Special Forces, Night Rogue. Became the acting Prime Minister after the real one, his father was hospitalized.[1] Later defected to Seito to become Kamen Rider Rogue.
Nariaki Utsumi - Assistant, Head of the Pandora Box research team. Later defected to Seito with Namba, then sided by Evolto into Kamen Rider MadRogue.
Sento Kiryu - Physics scientist and Pandora Box researcher, Kamen Rider Build. Later reveals as Takumi.
Takumi Katsuragi - Researcher involved with the Pandora Box.
Shingo Kuwata - Researcher
Eita Kawai - Researcher
Appearances
References
Community content is available under
CC-BY-SA
unless otherwise noted.