Wiki Targeted (Entertainment)
Play Sound
"I'm the one who decides how this story ends!"
―Saber's catchphrase
Touma Kamiyama (神山飛羽真, Kamiyama Tōma) is the main protagonist of Kamen Rider Saber. He is a novelist and bookstore owner who joined the Sword of Logos to fight the Megid as Kamen Rider Saber (仮面ライダーセイバー, Kamen Raidā Seibā) in the hopes of protecting the promises of others. After Reika Shindai manipulated his comrades into the Southern Base against him, Touma began operating independently from the organization while slowly regaining the trust of his former allies.
Biography
Early Life
Touma Kamiyama was best friends with Kento Fukamiya and Luna. Because he often read books with them, Kento inspired Touma to become a novelist in the future. However when the war between the Sword of Logos and the Megid began, Touma failed to save Luna from being sucked into a vortex. As a result, he himself was rescued by Daichi Kamijo, and inherited his Brave Dragon Wonder Ride Book. Waking up, he developed amnesia and lost a great majority of his childhood memories.Chapter 1: In The Beginning, There Was a Flame Swordsman.Chapter 12: The Promise, in that Place.
Adulthood
Sometime later, Touma's passion with books strove him to become a novelist, though opened his antique bookstore Fantastic Bookstore Kamiyama to help with his financial issues. Around this time, he first met Mei Sudo and asked her if she liked reading or not.
Afterwards, Touma became a novelist popular with children, writing the bestselling novel Lost Memory, with most of his books targeted towards that specific age group. Although his childhood memories were missing, he was able to interpret them through fragments and dreams. According to Rintaro Shindo, Touma's book contained scenes matching the events that transpired 15 years ago. According to Mei, the book had won an award and became a bestseller.Chapter 1: In The Beginning, There Was a Flame Swordsman.
Becoming Kamen Rider Saber
One day, just as Touma and Mei were going to present a copy of his book to Ryota in town for his birthday, the city suddenly came under attack from a monster originated from the Wonder World. Touma, saved by a red Wonder Ride Book, and determined to save everyone, obtained the Seiken Swordriver, and transforms into Kamen Rider Saber for the first time.Chapter 1: In The Beginning, There Was a Flame Swordsman.
Later, he met Rintaro Shindo, a blue Sword of Logos warrior who came to Touma's Bookstore to ask him to return the Kaenken Rekka, Seiken Swordriver, and his Brave Dragon Wonder Ride Book as Rintaro's request was denied by Touma himself but soon he asked Touma to come with him to the Sword of Logos Headquarters after Rintaro used his Book Gate Wonder Ride Book to open a portal to the Headquarters. After they arrived at the Headquarters, Touma was greeted by Sophia, the founder of Sword of Logos Organization.Chapter 2: The Water Swordsman, Along With a Blue Lion.
Uncovering the Megid's Plan
Learning Calibur's Objective
Ousted as a Traitor
Discovering the Traitor
Meeting the Sword of Light
Entering the Southern Base
The First Rampage of Primitive Dragon
Reuniting with Kento, the New Calibur
When Primitive Dragon tried to attack Rintaro, a small dark orb appeared in front of him and the new Calibur appeared. He was able to hold Touma from Rintaro, while Rintaro was surprised because Calibur appeared suddenly.
Calibur was knocked to the middle of the room and Primitive dragon used his finishing move to grab Calibur. But, Calibur was able to hold the attack for a while and counter the attack using Shuutoku issen.
But, before Touma's transformation was cancelled, he sees an imagination of a child in the middle of a rain. Touma was able to hit a blow on Calibur that also forced him to cancel his transformation, revealing that it was Kento all along. He explains to Touma that he has seen so many different futures while being held prisoner in the world of darkness and no matter what happened, no matter what choice was made, the swords would destroy the whole world. The only future he saw any hope in, as he explained, was a world where the Seiken Swords were sealed away, never to be used again. He came to the conclusion that he would seal the swords to protect the world and the people closest to him. Touma tried to reason with his friend but he insisted that he wouldn't understand and that he would continue forward, even if it meant fighting against his old friends and comrades. Touma, in anger, intentionally transformed into Dragonic Knight which was overtaken by Primitive Dragon as Kento then escaped but not before sealing the Onjuuken Suzune. All Touma could do was lash out and cry over his friend. Inside a mental mindscape, a small boy approaches Touma, attempting to befriend him in his darkest hour, but Touma ignores the boy's hand.
Befriending the Sorrow Dragon, Burning Elemental
After learning the truth of the new Calibur's identity and what Kento's goals were, Touma became very depressed and unable to act until he came to the conclusion that he would need to befriend the spirit of the boy that resides inside Primitive Dragon. He uses the Liberation to transform into Primitive Dragon so as to avoid hurting anyone to confront the spirit and find out more about him. The boy had constantly asked where all of his friends were, coming to the realization that the boy is alone and wants a friend but is hesitant to trust Touma given his recent behaviors. However, Legeiel arrives in his new Forbidden Form and proceeds to attack innocent people, prompting Touma to enter the fray. As the battle rages, Kento and Rintaro watch as Touma is overpowered. For Kento, he's seen this future where he is defeated by Legeiel and watches in horror as his friend is about to get hurt. However, mid-fight, before Touma is forced to cancel his transformation, Rintaro steps in with the other swordsmen and protects Touma as he finally manages to make a connection with the spirit of the dragon inside Primitive Dragon. He then gains the WonderRide Book Elemental Dragon and proceeds to transform into Kamen Rider Saber Elemental Dragon, shocking everyone, especially Kento. He proceeds to overwhelm Legeiel and defeat him. Kento leaves, saying that he may have to rethink his plans.
After the fight, in the mental mindscape, Touma meets the boy and Tassel for the first time, with the latter commenting on how he's followed his career for a while. He then explains that there is a threat coming and only he and his friend Luna can stop it, urging Touma to find Luna before it's too late.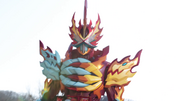 Rescuing Rintaro from the Southern Base and Meeting the Time Swordsman
After being informed by Mei that Rintaro will leave the Sword of Logos and join Kamiyama's team, Touma was excited about it. However, he would only do so when he learned the identity of the traitor in the organization. Touma decided to help him and attempts to go to the Southern Base, but their book gate has been disconnected.
Yuri offers to help by saying that there was a passage way that he and Tassel only can enter and Yuri can only bring one person through the gap. Touma volunteered himself to go with Yuri. Yuri transformed and told Touma to grab the grip and flew at high speeds.
They arrived at the Southern base and entered through the hidden path. As soon as they entered, they both were affected by the power of Jikokuken Kaiji, being leapt forward in time. Confused on what happened, they decided to split up, with Touma to find Rintaro at the mercy of Durendal.
Touma transformed and started his assault on Durendal, pushing him from Rintaro as far as he can, they both had the same level of strength at first, but Touma was forced to cancel and give both Kaenken Rekka and the Wonder Ride books. Just before he stepped back after putting his sword and the book on ground, Yuri makes a sudden attack and landed a blow on Durendal, resulting in Touma and Rintaro retrieving back the seiken and Wonder Ride books.
Rintaro activated his book gate, but before they entered the gate, Touma got slashed at his back. Yuri pushed back Durendal away from Touma and Rintaro. Enraged on what happen to Touma, Rintaro decided to transform and prepared to attack Durendal, only to get interrupted by Touma and giving the elemental dragon, Rintaro used it to bring Touma and Yuri inside the book gate.Chapter 29: At That Moment, the Swordsman made his Move.
Saber and Blades Against Zooous
After the rescue, Touma, Rintaro, and Yuri return safely return from Northern base. Due to Touma's injuries, the others urge to get him to medic, but, Yuri informs that his wound cannot be healed with a normal healing method, so Yuri creates a light to heal it.
After the battle was over, Mei telling everyone that she had a gift for everyone, so she return to touma's bookstore to prepare it. But, Zooous enter the bookstore silently, caught Mei off guard.
She was forced to transform into Neko Megid, and together with Zooous, they both rampaged around the city. Touma and Rintaro found the megid and started the assault. While fighting, Rintaro noticed that Touma is getting stronger.
After their first battle, Rintaro demand Touma to do a 1v1 duel, which Touma accepted. They got into a duel, and after a while, the Suiseiken Nagare started to show his ability to separate megid from human.
They come again to duel the megids and swear to free Mei from the megid. They fight until Rintaro and Touma were able to separate Mei from the megid, which they later both kill.
Cold War in Northern Base
Before Master Logos's arrow destroys the defense, Mei gives the gift she made to the other members.
When the arrow destroys the defense, Sophia went to reactivate the defense. but the shindai siblings and the megids had already entered the base. Right before the siblings started their assault on the swordsmen at the northern base, Yuri suddenly enters the room and blinds both of them.
Touma tells Ogami and Rintaro to take care of the megid, but before they left, Touma and Rintaro made a promise that they will save everyone. They both later transform and duel the Shindai siblings.
While Yuri indirectly able to make Sabela flee, Durendal is able to overwhelm both of them. After Touma's transformation was cancelled, he started to show the ability to see Durendal's movement, which resulted in Durendal's shattered pride.
Touma also was indirectly saved by Master Logos, who was forced to pull Durendal out of the fight.
Teaming with Kento Against Master Logos and The Revelation
After the invasion of the Northern Base, Touma looks after Kento to convince him to come back to his side. He gives Kento some snacks in order to make him remember the good times they had with Luna, over 15 years ago. He tells him that another future is possible; if Kento joins him, they have a chance to prevent the world from its destruction, while he reveals that all his memories are back, because he remembers why they lost Luna: they went into a quarrel with her, leaving her alone and preventing Touma from saving her. Kento reveals Touma that he kept saving Sophia because she's the gate between Wonder World and the real world, in other words, she's a substitute of Luna, created by Master Logos, for him to obtain the Great Book. Kento is still not convinced by the fact that another future can exist. In fact, unbeknownst to Touma, there is a future where the world is safe, but where Touma dies, that is the reason Kento stills acts as such. When Kento was about to reveal this information, Master Logos interrupts them. Touma recognizes him, understanding that he was manipulated and thus going mad. They fight against him but are overpowered, since he uses both Ikazuchi and Gekido. The Wonder World is somehow suddenly invoked, and Touma sees Luna in a breach. He tries to save her, but the Wonder World disappears, and lets Touma and Kento only knowing their old friend is still alive. Touma then insists for Kento to side with him, but Kento is again unconvinced. Chapter 33: Still, the Future Can Change.
In Other Media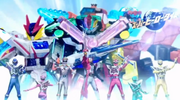 In the opening of Super Hero Time, Kamen Rider Saber is seen posing alongside the Kiramagers

in the front of King Express Zabyun, Kiramaizin, and GigantDriller.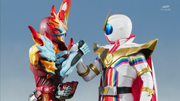 Once Kikai Sentai Zenkaiger

began airing, a new opening shows Saber in his Elemental Primitive Dragon form, which had not yet debuted upon its first showing, shaking hands with Zenkaizer

.
Kamen Rider Saber is a playable character alongside the other Kamen Riders in Kamen Rider City Wars.
As part of the Ishimori Productions collaboration limited game event, Kamen Rider Saber was an unlockable character in Puzzle and Dragons.

Abilities:
as Brave Dragon, his ability is change left-most column into Heart orbs and the right-most column into Fire orbs.

Transform the card into Kamen Rider Saber Dragonic Knight.

as Dragonic Knight, randomly spawn 10 Fire, Light & Heart orbs from non orbs.
as Seiken Swordriver + Kaenken Rekka, the ability is ATK x3 for Fire attribute, randomly spawn 10 Fire, Light & Heart orbs from non orbs.
Leader Skill:
as Brave Dragon Fire attribute cards HP x1.5, ATK x1.5, RCV x1.5.

ATK x8 when simultaneously clearing 4 connected Fire orbs

as Dragonic Knight Fire attribute cards HP x1.5, ATK x1.5, RCV x1.5.

All attribute cards ATK x1, 50% all damage reduction when HP is greater than 50%.
ATK x10 when simultaneously clearing 4 connected Fire orbs.
5000000 damage to all enemies, ignore enemy element and defense when simultaneously clearing 4+ Fire orbs at the same time.
Kamen Rider Saber Brave Dragon is a playable character in Battle spirits with other Kamen Riders
Personality
As a novelist and bookstore owner, Touma has a deep and immense love for books, believing they bring happiness and joy to others. He is easygoing and has his eccentric moments, but he holds a deep passion for upholding promises above all else, stemming from his fractured memories.
From his love for books, he combats the Megid who use books to harm and terrorize people. While he has a naive and straightforward resolve for fighting in want to protect the world and everyone, his strong heart allows him to pursue such a path against all obstacles. After his memories do return, his desire to protect the world only grew stronger. Despite this has also shown himself to be reckless at times, wanting to solve everything as quickly as possible without thinking about the consequences of his actions.
Touma has a strong resolve and commendable determination. When he was branded as a traitor by the Sword of Logos, Touma had to combat both his former peers and the ever-growing Megid threat. Even after more despair-ridden encounters such as learning about all the people he could not save from the Megid, being unable to convince Kento, and being controlled by Primitive Dragon, Touma still trudged on with his beliefs and his desire to save everyone. His efforts did not go in vain, being able to reconcile with most of his former comrades and saving several people in the process.
Touma is shown to be extremely fond of children. Even when on a deadline, he is willing to stop whatever he is doing just to read stories to them.
He has a minor character gag of yelling "Who are you?!" when suddenly confronted by a strange new person.
His catchphrase during battle is "I will decide this story's ending!" (物語の結末は俺が決める!, Monogatari no ketsumatsu wa ore ga kimeru!).
Powers and Abilities
Powers
Megid Separation: Upon showing further mastery over Kaenken Rekka after some rough guidance from Daishinji, Touma's determination evolved the sword further by granting it the ability to separate a Megid from its human host much like Kougouken Saikou, but he can't separate completely the Megid from human host. Touma can, however, perform a separation when he combines his efforts with Rintaro after he achieves the same technique with his Suiseiken Nagare.Chapter 31: Believing in Strength, Strength Believed In.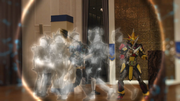 Clairvoyance: Through unknown means, Touma was able to predict Durendal's time manipulation ability and even manage to land a single hit to him. This ability is used to see Luna in the portal that he creates, something that even Kento could not do.Chapter 32: My Thoughts, Crystallized., Chapter 33: Still, the Future Can Change.
Portal Creation: As demonstrated in his fight against Master Logos, Touma can create a portal from earth to Wonder World, being able to create a portal where Luna was trapped, although he did this unconsciously, closing himself at the time when he was trying to save her. This ability is used by combining his Kaenken Rekka and the Elemental Primitive Dragon Wonder Ride Book.Chapter 33: Still, the Future Can Change.
Abilities
Skilled Combatant: Upon becoming Kamen Rider Saber, Touma was quick to learn how to use his abilities and demonstrated some mastery with his Kaenken Rekka. Unlike most swordsmen, Touma uses his Wonder Ride books in creative ways that others would not typically think of, such as using his Dragon Jackun form to create a beanstalk to catch up to the Kirigirisu Megid, send the Hanzaki Megid flying, and using his Dragon Hedgehog Peter form to yank the enhanced Hanzaki Megid to slash it with his needles. Chapter 1: In The Beginning, There Was a Flame Swordsman., Chapter 2: The Water Swordsman, Along With a Blue Lion., Chapter 3: A Father, and a Swordsman.. Later on he tends to use all of the Wonder Ride Books in his possession to his advantage, exhausting all of his forms in combat.
Skilled Swordsman: As revealed in his battles with Tetsuo Daishinji, Touma's lack of a proper swordsmanship training propels him to rely heavily on the power from his Wonder Ride Books to do most of the heavy work. Tetsuo's many years of swordsmanship experience allowed him to easily defeat Touma. However, Touma was able to copy Tetsuo's techniques during his encounter against Storious. He grows to be a stronger swordsman after harsh words from Daishinji. Through countless battles, his swordsmanship has improved to a point that he is now on par with Rintaro Shindo, a skilled swordsman in his own right, this has shown when they were having a training duel against each other.
Gifted Intellect: Touma possesses an expansive and greatly insightful library of knowledge, which enables him to pinpoint the weaknesses of most of his enemies and solve complex problems. He was able to solve the riddle to Avalon's gate, be the first after Daichi to understand the sinister nature of the Sword of Logos' corruption, and use Liberation to try and control Primitive Dragon. In combat, he could even copy techniques after only viewing once.
Indomitable Will: To be added
Former Weaknesses
Power Strain: Due to using 3 Books at once, Touma ends up fatigued, which Rintaro states is a common occurrence even among veteran swordsmen. Though he overcame this, the fatigue was amplified immensely after he transformed into Crimson Dragon, due to the increased power from using three Rekka Books at the same time. He would eventually overcome this as well.Chapter 5: My Friend, the Thunder Swordsman., Chapter 9: Overlap, the Swordsman's Timbre., Chapter 10: Crossing Swords, and Crossing Feelings.
Primitive Dragon: Due to the form's nature, Touma's higher brain functions are suppressed. It causes him to act like a feral animal, attacking both friend or foe, with the added side effect of extreme exhaustion after canceling the transformation. The book's overwhelming power also causes Touma's personality to become cold and ruthless under the form. In addition to this, when Touma is in danger or experiencing a big emotion (in this case, grief), the book will immediately save him from any form of enemy attack, causing Touma to change into this form at any time. Touma would later overcome this weakness when he obtained the Elemental Dragon Wonder Ride Book. Primitive Dragon would also stop taking control of Touma.
Kamen Rider Saber
Summons
Animals from Bremen no Rockband[29]
Dragon of Love and Dragon of Pride
Equipment
Devices
Weapons
Vehicles
Ridewatch
"(Digital beeping) Saber!"
―Activation announcement
"Armor Time! Rekka Battou! Saber!"
―Transformation announcement in the Ziku-Driver's left-hand slot
"Finish Time! Saber! Dragon Time (Break/Burst/Jack)!"
―Finisher announcement in left-hand slot
Saber Ridewatch (セイバーライドウォッチ, Seibā Raidowotchi)[31]: Based on Kamen Rider Saber Brave Dragon, this Ridewatch would provide access to the SaberArmor used by Zi-O, though it was used to access DecadeArmor Saber Form instead. It is dated 2020. The Ridewatch was originally in the possession of an alternative Sougo Tokiwa, who obtained it through unknown means. He gave it to Tsukasa Kadoya during the end of Rider Time: Kamen Rider Decade VS Zi-O, who later gave it to the prime Sougo Tokiwa in Zi-O VS Decade to defeat Ohma Zi-O. This Ridewatch's location following these events is currently unknown.
Relationships
Behind the Scenes
Portrayal
Touma is portrayed by Syuichiro Naito (内藤秀一郎, Naito Shuichiro). As Kamen Rider Saber, his suit actor is Kosuke Asai (浅井 宏輔, Asai Kōsuke).

Rider No.
As the leading rider protagonist of Kamen Rider Saber, Saber is labeled Kamen Rider #37 (仮面ライダー37号, Kamen Raidā Sanjūnanagō) and Reiwa Rider #2 (令和ライダー2号, Reiwa Raidā Nigō).
Etymology
Touma's name works as a pun of the English word "tome", which is used to refer to notably large and scholarly books.
As with the naming scheme of all the Saber Riders, Saber is named after the saber, alternately spelled "sabre", a type of curved blade-style sword utilized by light cavalry armies in the early days of warfare and the Napoleonic periods.
As with the surname scheme of other members of Sword of Logos, Touma's surname is Kamiyama (神山), with "Kami" meaning "god".
Concept Art
Notes
Kamen Rider Saber is the second titular Rider since Den-O to have his forms be based on fairy tales.
Kamen Rider Saber is the first titular Reiwa Rider and the second titular Kamen Rider overall to not officially debut in his predecessor's season via a movie or TV series finale, with the first being Kamen Rider Drive. Touma instead made his first appearance in Kamen Rider Saber Prologue, which was released during the end Zero-One.
The Sword Crown's ability to be used as a weapon is similar to how Kamen Rider Ghost's Wisp Horn could be used as a headbutting/stabbing weapon.
Dragonic Knight's name is a possible nod to Kamen Rider: Dragon Knight, the American adaptation of Kamen Rider Ryuki which was dubbed and aired in Japan circa 2009. In addition, the Dragonic Booster has a design similar to Ryuki/Dragon Knight's Dragvisor.
Touma has used at least one Ride Book tied to every Seiken, with the exception Kyomu, Kurayami, Saikou, Noroshi, and Kaiji to access alternate forms.

Rekka - Brave Dragon, Storm Eagle, Saiyuu Journey
Nagare - Lion Senki (In conjunction with Primitive Dragon), Peter Fantasista
Ikazuchi - Needle Hedgehog, Lamp do Alangina
Gekido - Jackun-to-Domamenoki
Hayate - Kobuta 3 Kyoudai
Suzune - Bremen no Rock Band

Touma is the first Saber Rider to dual wield two Seiken simultaneously, not counting Ren Akamichi, who dual wields by splitting the same sword rather than using two different swords.

Although Yuri had used both Kougouken Saikou and Ankokuken Kurayami in the past, he was not a Rider at the time.
Touma has used four Seiken, including his own Kaenken Rekka.

Saber temporarily used Dogouken Gekido against the Medusa Megid while Ryo was petrified.
Raimeiken Ikazuchi is in Touma's possession since the sealing of Kento, and he uses it in his Dragon Alangina form.
Saber occasionally wields the Kougouken Saikou in the form of Kamen Rider Saikou.

Touma is the first, and so far only, Saber Rider to use the main Wonder Ride Book of another Rider to transform into a Wonder Rider form
Several elements of Emotional Dragon are retooled:

The cape is retooled from Kamen Rider Tsukuyomi.
The shield is a recolor of Fourze's Shield Module.
Brave Dragon's headpiece is mirrored on both sides, while the middle is retooled from Storm Eagle's.
The face is a recolor of Crimson Dragon's helmet pieces.

Saber is the second Reiwa Rider to have a berserk Super Form, after Zero-One MetalCluster Hopper.

Saber Primitive Dragon being a berserk form that can be controlled with an additional collectible device, the Elemental Dragon Wonder Ride Book is similar to how Build's Hazard Form can be controlled using the FullFull RabbitTank Bottle.
The Primitive Dragon Wonder Ride Book automatically being summoned when its user is in danger is similar to the purple Core Medals.
Saber is the second rider to use another transformation trinket to fully control his berserk form, the first one being Build. While MetalCluster Hopper controls his berserk form, he uses a weapon to counter its berserk effects (Progrise Hopper Blade).

Saber Primitive Dragon being able to use other collectibles for a different form but only changing the armor slightly makes it similar to past Riders' Super Forms such as Zi-O's Decade Armor, Build's Hazard Form, and Ghost's Toucon Boost Damashii.
Kamen Rider Saber is the first Reiwa Rider to utilize Legend Rider power to access his special form. In this case, Ghost Ijinroku Form.

Saber Ghost Ijinroku Form's suit is the modified version of Ghost Darwin Damashii Form's parka and reuses the Brave Dragon's suit but with the exception of the Brave Dragon Bauld.
Appearances
References
Community content is available under
CC-BY-SA
unless otherwise noted.