"I'm the one who decides how this story ends!"
―Saber's catchphrase
Touma Kamiyama (神山飛羽真, Kamiyama Tōma) is the main protagonist of Kamen Rider Saber. He is a novelist and bookstore owner who joined the Northern Base-branch of the Sword of Logos to fight the Megid as Kamen Rider Saber (仮面ライダーセイバー, Kamen Raidā Seibā) in the hopes of protecting the promises of others. After Reika Shindai manipulated his comrades against him, Touma began operating independently from the organization.
History
Early Life
Touma was friends with Kento Fukamiya & Luna. As a child, he was caught in the battle between the Sword of Logos and the Megid. However, when Luna was sucked into a tornado, Touma tried to save her but lost the grasp of her hand. He was rescued by Daichi at the time, before being sent to Earth, and inherited his Brave Dragon Wonder Ride Book. As a result of arriving into a foreign world, he developed amnesia and lost a great majority of his childhood memories.
Adulthood
Sometime later, Touma became a novelist popular with children, with most of his books targeted towards that specific age group. However, according to his editor Mei Sudo, Touma was financially struggling. As a result, Touma opened his very own antique bookstore called Fantastic Bookstore Kamiyama. Although his childhood memories were missing, he was able to interpret them through fragments and dreams. According to Rintaro Shindo, Touma's book "Lost Memories" contained scenes matching the events that transpired 15 years ago.
Becoming Saber
One day, just as Touma and Mei were going to present a copy of his book to Ryota in town for his birthday, the city suddenly came under attack from a monster originated from the Wonder World. Touma, saved by a red Wonder Ride Book, and determined to save everyone, obtained the Seiken Swordriver, and transforms into Kamen Rider Saber for the first time.
Later, he met Rintaro Shindo, a blue Sword of Logos warrior who came to Touma's Bookstore to ask him to return the Kaenken Rekka, Seiken Swordriver, and his Brave Dragon Wonder Ride Book as Rintaro's request was denied by Touma himself but soon he asked Touma to come with him to the Sword of Logos Headquarters after Rintaro used his Book Gate Wonder Ride Book to open a portal to the Headquarters. After they arrived at the Headquarters, Touma was greeted by Sophia, the founder of Sword of Logos Organization.
Uncovering the Megid's Plan
Learning Calibur's Objective
Ousted as a Traitor
Discovering the Traitor
Meeting the Sword of Light
Personality
As a novelist and bookstore owner, Touma has a deep and immense love for books, believing they bring happiness and joy to others. He's easygoing but holds a deep passion for upholding promises above all else. After his memories return, his desire to protect the world only grew stronger.
Touma is shown to be extremely fond of children. Even when on a deadline, he's willing to stop whatever he is doing just to read stories to them. He can also be considered a genius from the books, as he was able to figure out how to get to Avalon, something that not even a veteran swordsman could, proving even to be a good strategist. He has also proven to be reckless at times, wanting to solve everything as quickly as possible without thinking about the consequences of his actions.
He has a catchphrase in which he says during battle I will decide the story's ending! (物語の結末は俺が決める!, Monogatari no ketsumatsu wa ore ga kimeru!).
Appearances In Other Media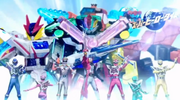 In the opening of Super Hero Time, Kamen Rider Saber is seen posing alongside the Kiramagers

in the front of King Express Zabyun, Kiramaizin, and GigantDriller.
Powers and Abilities
Abilities
Innovative Combatant: Upon becoming Kamen Rider Saber, Touma was quick to learn how to use his abilities and demonstrated some mastery with his Kaenken Rekka. Unlike most swordsmen, Touma uses his Wonder Ride books in creative ways that others would not typically think of, such as using his Dragon Jackun form to create a beanstalk to catch up to the Kirigirisu Megid, send the Hanzaki Megid flying, and using his Dragon Hedgehog Peter form to yank the enhanced Hanzaki Megid to slash it with his needles. Chapter 1: In The Beginning, There Was a Flame Swordsman., Chapter 2: The Water Swordsman, Along With a Blue Lion., Chapter 3: A Father, and a Swordsman.
High-Level Intellect: Touma has an expansive knowledge to draw from as well as being greatly insightful which enable him to find the weakpoints of his enemies. Some examples are: solving the riddle of Avalon's gate, developing an awareness of the people he can trust, understanding that the Sword of Logos was not all it seemed after Daichi's warning about the corruption present.
Weaknesses
Power Strain (Formerly): Due to using 3 Books at once, Touma ends up fatigued, which Rintaro states is a common occurrence even among veteran swordsmen. Though he overcame this, the fatigue was amplified immensely after he transformed into Crimson Dragon, due to the increased power from using three Rekka Books at the same time. He would eventually overcome this as well.Chapter 5: My Friend, the Thunder Swordsman., Chapter 9: Overlap, the Swordsman's Timbre., Chapter 10: Crossing Swords, and Crossing Feelings.
Amateur Swordsmanship: As revealed in his battles with Tetsuo Daishinji, Touma's lack of a proper swordsmanship training propels him to rely heavily on the power from his Wonder Ride Books to do most of the heavy work. Tetsuo's many years of swordsmanship experience allowed him to easily defeat Touma. However, Touma seems to have copied Tetsuo's techniques as he counters Storious using moves he saw several times.
Primitive Dragon: Due to the form's nature, Touma's higher brain functions are suppressed. It causes him to act like a feral animal, attacking both friend or foe, with the added side effect of extreme exhaustion after canceling the transformation. The book's overwhelming power also causes Touma's personality to become cold & ruthless.
Forms
Summons
Equipment
Devices
Weapons
Vehicles
Ridewatch
"(Digital beeping) Saber!"
―Activation announcement
"Armor Time! Rekka Battou! Saber!"
―Transformation announcement in the Ziku-Driver's left-hand slot
"Finish Time! Saber! Dragon Time (Break/Burst/Jack)!"
―Finisher announcement in left-hand slot
Saber Ridewatch (セイバーライドウォッチ, Seibā Raidowotchi)[31]: Based on Kamen Rider Saber Brave Dragon, this Ridewatch would provide access to the SaberArmor used by Zi-O, though it was used to access DecadeArmor Saber Form instead. It is dated 2020. The Ridewatch was originally in the possession of an alternative Sougo Tokiwa, who obtained it through unknown means. He gave it to Tsukasa Kadoya during the end of Rider Time: Kamen Rider Decade VS Zi-O, who later gave it to the prime Sougo Tokiwa in Zi-O VS Decade to defeat Ohma Zi-O.
Relationships
Behind the scenes
Portrayal
Touma is portrayed by Syuichiro Naito (内藤秀一郎, Naito Shuichiro). As Kamen Rider Saber, his suit actor is Kosuke Asai (浅井 宏輔, Asai Kōsuke).

Rider No.
As the leading rider protagonist of Kamen Rider Saber, Saber is labeled Kamen Rider #37 (仮面ライダー37号, Kamen Raidā Sanjūnanagō) and Reiwa Rider #2 (令和ライダー2号, Reiwa Raidā Nigō).
Etymology
Touma's name works as a pun of the English word "tome", which is used to refer to notably large and scholarly books.
As with the naming scheme of all the Saber Riders, Saber is named after the saber, alternately spelled "sabre", a type of curved blade-style sword utilized by light cavalry armies in the early days of warfare and the Napoleonic periods.
As with the surname scheme of other members of Sword of Logos, Touma's surname is Kamiyama (神山), with "Kami" meaning "god".
Concept Art
Notes
Kamen Rider Saber is the first titular dragon-motif Kamen Rider of the Reiwa Era.

He is also the first titular dragon-motif Kamen Rider since Kamen Rider Wizard.

Touma using the Kibou no Ryuutsukai Wizard Wonder Ride Book in Kamen Rider Battle: Ganbarizing could also reflect him as the titular dragon-motif Kamen Rider who uses fire as his main power.[32]

Kamen Rider Saber is also the first titular Rider since Den-O to have his forms based on Fairy Tales.
Production-wise, Kamen Rider Saber is the first titular Reiwa Rider and the second titular Kamen Rider overall to not officially debut in his predecessor's season via movie or TV series since Kamen Rider Drive, with Touma appearing in Kamen Rider Saber Prologue which was released during the endgame arc of Zero-One.
The fact that the Sword Crown can be used in battle relates to how the Wisp Horn (on Kamen Rider Ghost's Damashii forms) could be used as a headbutting/stabbing weapon.
While not the first Rider with mix-and-match design elements, Saber stands out as not requiring a gimmick item to materialize every area to create his armor.
Dragonic Knight's name is a possible nod to Kamen Rider: Dragon Knight, the American adaptation of Kamen Rider Ryuki which also was dubbed and aired in Japan circa 2009. Similarly, the Dragonic Booster has a design similar to Ryuki/Dragon Knight's Dragvisor.
Touma is the only Rider to use powers of other swordsmen simultaneously with his own powers.

Touma has used at least one Ride Book tied to every Holy Sword (except Kyomu, Kurayami and Saikou) for accessing different forms.
Touma is the first (and so far only) Rider in Saber to dual wield two Holy Swords simultaneously, not counting Ren Akamichi, who dual wields by splitting the same sword rather than using two different swords.

Although Yuri chronologically used both Kougouken Saikou & Ankokuken Kurayami in the past, he had yet to have operated as a Rider during that period.

Touma is currently in possession of four Seiken, including his own Kaenken Rekka.

Touma uses Kingexcalibur while using King of Arthur Ride Book.
Touma temporarily used Dogouken Gekido against Medusa Megid while Ryo was petrified.
Touma uses Raimeiken Ikazuchi has a side weapon after Kento got sealed away.
Touma temporarily wielded Kougouken Saikou.

Touma is currently the first (and so far only) Rider in Saber to use the main Wonder Ride Book that originally was used by another fellow Saber Rider as a Wonder Rider form, not counting Daichi Kamijo again, who had stole and used Hayato's powers completely.

Ironically, Touma's main Wonder Ride Book belonged to Kamijo.

Emotional Dragon reuses Kamen Rider Tsukuyomi's cape. The shield a recolored version of the Shield Module wielded by Kamen Rider Fourze.
Saber Dragon Arthur's transformation into Saver Saber is reminiscent of Kamen Rider Decade's Final Form Rides, especially Blade Blade.
Saber is the second Reiwa Rider with a berserk Super Form, after Zero-One MetalCluster Hopper.

Aesthetically, Saber Primitive Dragon is also a second titular Rider's Super Form that able to switch form with any trinkets by attach in the said device as an adapter, the first one with this trait is Build Hazard forms. Similarly, as Hazard can be controlled using the FullFull RabbiTank Bottle, Primitive Dragon can be tamed using the Elemental Dragon Ridebook.

The design of the book on the armor being based on what's inserted into the Primitive Dragon Wonder Ride Book is similar to how Jimber Arms incorporated the inside of the Energy Lockseeds, as the form is physically the same in every way besides that design change.

Saber Elemental Dragon is a retooled and recolored of Saber Primitive Dragon.
Appearances
References
Community content is available under
CC-BY-SA
unless otherwise noted.