Toshiki Kashu (賀集 利樹, Kashū Toshiki) is a Japanese actor who played Shoichi Tsugami, the titular rider of Kamen Rider Agito (2001). He later reprised this role in Kamen Rider Decade: All Riders vs. Dai-Shocker (2009).
He also had a cameo as Restaurant Staff (レストラン店員, Resutoran Ten'in) in Kamen Rider Ryuki: Episode Final (2002).
Toshiki Kashu reprised his role as Kamen Rider Agito, alongside several other Kamen Rider alumni, in the video game Super Climax Heroes, which was released on November 29, 2012. [1]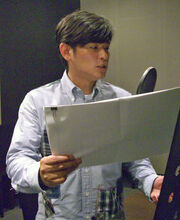 He reprised Agito in Kamen Rider Battride War.[2]
17 years after the end of Kamen Rider Agito, he once again reprised his role as Shoichi Tsugami in Kamen Rider Zi-O.

References
External Links
Community content is available under
CC-BY-SA
unless otherwise noted.