In 2005, Tomizo Todayama (戸田山 登巳蔵, Todoyama Tomizō) was Kamen Rider Todoroki (仮面ライダー轟鬼, Kamen Raidā Todoroki, lit. "Masked Rider Roaring Demon").
History
Kamen Rider Zi-O
2005: Rejoice! Echo! Roar!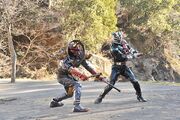 Todoroki was first seen as he fend off Another Hibiki from Zi-O Kuuga Armor and Geiz Wizard Armor easily with his Ongekiken Retsurai. He claimed that whenever an Oni misbehaves, it is an Oni duty to punish the troubled Oni. He then transformed to his Oni form and manages to gives Another Hibiki a hard time. However, before he could finish the Another Rider with his Ongekizan: Raiden Gekishin, a fireball hit him, effectively allowing Another Hibiki to flee. Todoroki then continued his chase in dismay.
2019: Heisei Oni, Reiwa Oni
Forms
Todoroki
Rider Statistics
Ability Parameters:
In this form, Todoroki is a green demon. This is his basic form and the easiest form for him to reach. To become this form, Todoroki simply needs to pluck his brace strings, the vibrations from the strings cause his body to be hit by massive lightning bolts, changing him into his Oni form. Todokori also gains a second "oni face" which is a crest that forms on his forehead. Unlike most Kamen Riders, Todoroki does not wear a suit; rather, his demon form is his true form.
Appearances: Zi-O Episode 33

Equipment
Devices
Weapons
Attacks
Kitōjutsu - Raigekiken (

鬼闘術・雷撃拳

Demon Fighting Technique: Lightning Strike Fist) Charging himself with power, Todoroki is able to directly attack any Makamou with electricity. He can do this through a punch or kick.
Kitōjutsu - Onizume (

鬼闘術・鬼爪

Demon Fighting Technique: Demon Claw) Forms claws from his hands to stab and slash at Makamou. These claws are nearly unbreakable, thus making them one of Todoroki's most useful weapons.
OnGeki Finishers
Ongeki Zan - Raiden Gekishin (音撃斬・雷電激震, Ongeki Zan - Raiden Gekishin Sound Attack Slash: Thunderbolt Exciting Quake) Todoroki stabs his weapon into the body of a large Makamou and changes it into its guitar form. He plays the guitar in a wild and fast manner. By doing this, the vibrations of his weapon are directly transmitted to all the organs of the Makamou, causing it to explode.
Behind the scenes
Portrayal
Tomizo Todayama is portrayed by Shingo Kawaguchi (川口 真五, Kawaguchi Shingo). As Kamen Rider Todoroki, his suit actor is Eitoku (永徳, Eitoku).
Notes
Appearances
Main article: Tomizo Todayama/Appearances
References
Community content is available under
CC-BY-SA
unless otherwise noted.