"Toki Meki Crisis! (Funky techno music)"
―Activation announcement
"Gashat! Let's game! Metcha game! Mutcha game! What's your name? I'm a Kamen Rider!"
―Level 1 transformation announcement
"Gachan! Level Up! Senobi shitaikedo! Choppiri tereruwa! Toki Meki Crisis! "
―Level 2 transformation announcement via the Gamer Driver
"A Gacha! Dreaming girl! Koi no simulation! Otome wa itsumo Toki Meki Crisis!"
―Level 3 transformation announcement via the Gamer Driver
"Buggle Up! Dreaming girl! (Wow!) Koi no simulation! Otome wa itsumo Toki Meki Crisis! (Wow!)"
―Transformation announcement via the Buggle Driver II
"Kimewaza! Toki Meki Critical Yōto!"
―Failed finisher announcement
"Kimewaza! (Word from other Gashat name) Crisis Critical Finish!"
―Gashacon Key Slasher finisher announcement
"Kaishin no Ippatsu!"
―Standard post-finisher announcement
"Kaishin no Biyori!"
―Special post-finisher announcement
Toki Meki Crisis (ときめきクライシス, Toki Meki Kuraishisu, lit. "Heart Beat Crisis") is a dating sim game. It serves as the basis of the Toki Meki Crisis Rider Gashat.
Game Description
Toki Meki Crisis is a game where you try to appeal to others and pierce the hearts of the other gender in order to gain their love.
History
Ren Amagasaki was the one to give this Gashat to Poppy along with the Buggle Driver II, saying a one-sided game is no fun, and he anticipates great results from her, and Parado said that games should be slowly savored. Start the New Game!
Poppy appears before Kamen Rider Ex-Aid to 'punish' him for helping a Ride-Player and transforms into Kamen Rider Poppy for the first time. Despite aid from Kamen Rider Snipe, both Riders are easily beaten by Kamen Rider Poppy, and she leaves while in her Rider form. Players Who Bet on Survival
Returning as CEO of Genm Corp., Masamune Dan, assuming the form of Kamen Rider Cronus, declared Toki Meki Crisis officially discontinued by terminating the Lovelica Bugster. Judgment Received!
Toki Meki Crisis Gamer
Bugster
Main article: Ren Amagasaki
Lovrica Bugster is the Bugster born from the data of Toki Meki Crisis, whose under by his name, Ren Amagasaki.
Toki Meki Crisis Gashat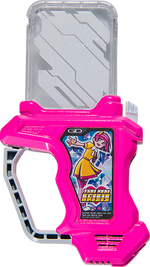 When activated, the Gashat reformats the battlefield into a Game Area.

Variations (Toy-exclusive)
Toki Meki Crisis Gashat (Memorial Finish Ver.) (

ときめきクライシスガシャット (メモリアルフィニッシユVer.)

Toki Meki Kuraishisu Gashatto Memoriaru Finisshu Ver.

): A variant of the Tokimeki Crisis Gashat with Poppy's Toki Meki Crisis Gamer Level X on the cover.
Gashatrophy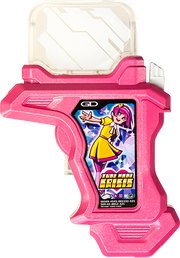 This Gashatrophy (ガシャットロフィー , Gashattorofī) is the reward for defeating Lovelica in Kamen Rider Chronicle. It is unknown if it can even be claimed due to Lovelica's death by Cronus. However it was given to Ex-Aid as as advanced payment for killing Parado. Goodbye Me!

Notes
Toki Meki Crisis is most likely based on the Tokimeki Memorial series.
Unlike other Gamers, the Gamer tied to this Gashat uses the full name of the Gashat rather than just a portion of the name.
Similar to the special Poppy version DoReMiFa Beat Gashat, Toki Meki Crisis' sounds are voiced by Poppy herself instead of the usual Gashat voice.

However, when Poppy was brainwashed by the Bugsters in the early stages of Kamen Rider Chronicle, the Gashat's activation announcement is a pitched-up version of the usual Gashat voice, similar to Shakariki Sports.

It is unknown if Kuroto created Tokimeki Crisis, as it was not mentioned until after Kuroto's first death and Ren Amagasaki took over Genm Corp.
Uniquely, it is the only game with a single-slot Gashat within Kamen Rider Chronicle to have a different color for the activation button (white), while also being the only game with a Gashatrophy with the same difference.
Appearances
References
Community content is available under
CC-BY-SA
unless otherwise noted.