Wiki Targeted (Entertainment)
Play Sound
For the original or past version, see Tomizo Todayama and Todoroki (Past).
Todoroki (トドロキ, Todoroki) is the original Todoroki's incarnation from Kamen Rider Decade.
Todoroki
He is Zanki's head apprentice who has the ability to transform into Kamen Rider Todoroki (仮面ライダー轟鬼, Kamen Raidā Todoroki). Though a member of Zanki's school, he has feelings for Akira, and sides with her and Asumu when discussing how important allying the three schools is to the future of Ongekidō. Zanki is not pleased by such an idea, but with the help of Tsukasa and Akira, he manages to convince his master, and he is allowed to move from an apprentice role to teaching.
Todoroki later appears in the World of the Rider War after his reality is absorbed into it, killed off while attacked by Fangires under Saga. But once Decade is killed, Todoroki and Akira are restored along with their world.
Form
Todoroki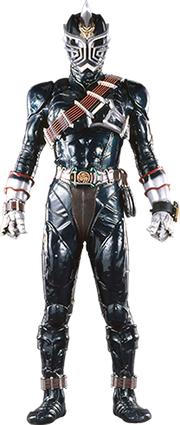 Ability Perimeters:
In this Oni form, Todoroki is a green demon. This is his basic form and the easiest form for him to reach. To become this form, Todoroki simply needs to pluck his brace strings, the vibrations from the strings cause his body to be hit by massive lightning bolts, changing him into his Oni form. Todokori also gains a second "oni face" which is a crest that forms on his forehead. Unlike most Kamen Riders, Todoroki does not wear a suit, rather his demon form is his true form.

Equipment
Devices
Weapons
Attacks
Kitōjutsu Raigekiken (

鬼闘術・雷撃拳

): Charging himself with power, Todoroki is able to directly attack any Makamou with electricity.
Kitōjutsu Onizume (

鬼闘術・鬼爪

): Forms claws from his hands to stab and slash at Makamou. These claws are nearly unbreakable, thus making them one of Todoroki's most useful weapons.
OnGeki Finishers
Ongeki Zan Raiden Gekishin (音撃斬・雷電激震, Ongeki Zan Raiden Gekishin) Todoroki stabs his weapon into the body of a large Makamou and changes it into its guitar form. He plays the guitar in a wild and fast manner. By doing this, the vibrations of his weapon are directly transmitted to all the organs of the Makamou, causing it to explode.
Notes
As with most of the characters in the World of Hibiki arc of Kamen Rider Decade, Todoroki is portrayed by his original actor, Shingo Kawaguchi.
Appearances
References