The Titan Sword (タイタンソード, Taitan Sōdo) is a sword used by Kamen Rider Kuuga Titan Form that can be created out of pole or stick-like objects, normally the control handle of his bike. His finishing move with the Titan Sword is known as the Calamity Titan (カラミティタイタン, Karamiti Taitan), which is a powerful sword thrust wherein Kuuga twists the blade as it is impaled.

After assuming Rising Titan (ライジングタイタン, Raijingu Taitan), Kuuga uses the Rising Titan Sword (ライジングタイタンソード, Raijingu Taitan Sōdo) for the Rising Calamity Titan (ライジングカラミティタイタン, Raijingu Karamiti Taitan) finisher. He can also create a second Rising Titan Sword to use in the Double Rising Calamity Titan (ダブルライジングカラミティタイタン, Daburu Raijingu Karamiti Taitan) attack.
History
A.R. Worlds
While fighting the forces of Dai-Shocker in the World of Amazon, Yusuke Onodera assumed Titan Form and performed the Calamity Titan to destroy the Lord Propheta Cruentus. The Strong, Naked, Strong Guy
Gurongi destroyed by the Titan Sword
Decade
With the Kuuga Titan Form Ride Card, Kamen Rider Decade transforms into Kuuga's Titan Form, wielding the Titan Sword. As Kuuga, Decade even converts the weapons of other Kamen Riders, as seen when Decade takes Kiva Dogga Form's Dogga Hammer and uses it to create the Titan Sword. Second Movement ♬ Prince Kiva

Other Version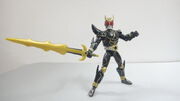 When Kuuga Ultimate Form uses the Titan Sword, it's in its Rising Form and all purple accents on the weapon turn black in color. This was never used in the series but is shown in some toys of Kuuga.

Appearances
Community content is available under
CC-BY-SA
unless otherwise noted.