Wiki Targeted (Entertainment)
Play Sound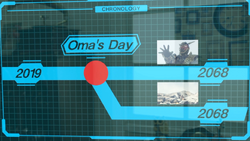 A timeline of events in Kamen Rider Zi-O set in the World of Zi-O. These events were created after Swartz merged the twenty Heisei Rider worlds, along with the creation the Another Riders during a Kamen Rider's active duty, stripping the original Rider's powers and memories, creating a new history of events, are listed here.
Ancient History
66,810,000 BC: Having rescued Sougo Tokiwa from Geiz Myokoin, Tsukuyomi briefly takes him from September 2018 to this year in the Cretaceous period via the Time Mazine. Contemplating his possible destiny as Ohma Zi-O, Sougo narrowly avoids falling victim to a Tyrannosaurus rex before Tsukuyomi takes him to 1671. Kingdom 2068
1575: As Kamen Rider Drive's history disappeared, Go Shijima (Kamen Rider Mach) and Krim Steinbelt (Kamen Rider Drive Type Tridoron) ask Sougo, Geiz, Woz and Tsukuyomi to go back in time and protect Clara Steinbelt, Krim's ancestor, from being killed thus avoiding Drive story to be erased. She's attacked by Jogen (Kamen Rider Zamonas) and Kagen (Kamen Rider Zonjis), 2 Quartzer Riders sent by SOUGO Tokiwa (Kamen Rider Barlckxs) to rewrite the Heisei Era. Kamen Rider Zi-O: Over Quartzer
1671: Sougo Tokiwa and Tsukuyomi arrive in this timeline from 2018, however they are soon followed by Geiz Myokoin, where they both chase each other out to another timeline. Kingdom 2068
Recent History
Pre-2000
2000
2002
2003
​3-year-old Ataru Hisanaga watches Kamen Rider 555 alone. He plays with a figure of Faiz and merchandise of the Faiz Phone and Faiz Gear.
October 25th: Karin Yamabuki dies in a traffic accident. 555・913・2003
October 26th: Ryuichi begins to kidnap young female high school students. Ryuichi attacks Wakana Sakamoto and absorbs her. Later that night, Ryuichi uses the revival energy to revive Karin. He continued to kidnap girls and do this for the next 15 years. 555・913・2003

Just after Ryuichi absorbs Wakana, he is stopped by Geiz Myokoin, who arrives from 2018 and transforms into FaizArmor and defeats Ryuichi. This will prevent the revival of Karin at night.555・913・2003

Sougo Tokiwa gives the Takumi Inui of this timeline a blank Ridewatch that will eventually turn into the Faiz Ridewatch when Sougo receives it in 2018. 555・913・2003
October 30th: News detailing the death of Karin is published. 555・913・2003
2005
5-year-old Ataru Hisanaga watches Kamen Rider Hibiki alone. He plays with a figure of Hibiki and merchandise of the Henshin Onsa.

Alternated: The Hisanaga brothers watch Kamen Rider Hibiki together. At home, they pose for a picture holding merchandise of Hibiki's Ongekibou and Henshin Onsa.
2006
2007
 March 18th: 7-year-old Ataru Hisanaga attends a Kamen Rider Den-O stage event.

Alternated: The Hisanaga brothers attend a Kamen Rider Den-O stage event together.
2008
2009
2010
2011
2012
Kaori Kinoshita's father passes away, thus Kaori takes over as manager of the magic house, but he wanted to close it down. Magic Showtime 2018
December 25th: Kamen Rider Wizard defeats Phoenix. The Miracle of Christmas

Hayase is approached by Heure and becomes Another Wizard. At this time, Kamen Rider Wizard was fighting Phoenix, before his powers as well as the rest of the Phantoms disappeared from existence. After gaining his powers, he convinces Kaori to keep the magic house running for the next six years, with Hayase performing in the lead shows.Magic Showtime 2018
Another Wizard begins to use his powers to make things disappear, before Kamen Rider Geiz arrives from the year 2018 with WizardArmor to stop him. Geiz gains the upper hand and executes a Strike Time Burst, destroying the Wizard Ridewatch, and disallowing Hayase from 2018 to regenerate once again. Beauty & Beast 2012

Geiz Myokoin gives Kosuke Nitoh two blank Ridewatches that will eventually turn into the Wizard and Beast Ridewatches when Geiz receives them in 2018. Beauty & Beast 2012
2013
2015
2016
2017
2018
Kamen Rider Zi-O
2019
Kamen Rider Zi-O
Possible Futures
2019
2050
2058
2068
50% of the entire human population falls to the tyranny of Ohma Zi-O, a Rider who uses the powers of the past Kamen Riders before him, from 2000 to 2018. Multiple resistance groups were founded to battle the evil tyrant. Tsukuyomi heads into the past, to 2018, to find the man supposedly behind Ohma Zi-O's mask, Sougo Tokiwa, and prevent him from becoming Zi-O. Another individual, Geiz Myokoin, a resistance fighter from the same faction as Tsukuyomi, heads to the same year as her to kill Sougo before he becomes Zi-O. Another resistance group, known as the Time Jackers, head to the past as well, to replace Ohma Zi-O with their own king using Another Ridewatches. The Mysterious Prophet Woz also heads to the past in order to ensure Zi-O's existence. Kingdom 2068
Tsukasa Kadoya sends Sougo from 2018 to this timeline where he encounters Ohma Zi-O for the first time, and becomes horrified of the future in which he does not become the "good" king he envisioned himself to be. Back to 2068
2019
2022
2040
Distant Future
Behind the scenes
Although the series was said to have taken place in a world of "the combination of past TV series", there are still differences that contrast to the original works. One possible explanation is that it's most likely a result of the space-time continuum being distorted because of the actions of Sougo Tokiwa and his friends[2], as well as Time Jackers as noticed by Tsukasa Kadoya in episode 37. Here are the following differences:
References
Community content is available under
CC-BY-SA
unless otherwise noted.