Wiki Targeted (Entertainment)
Play Sound
The World Reforming Rider! Who is the Traitor!? (世直しライダー!裏切り者は誰だ!?, Yonaoshi Raidā! Uragirimono wa Dareda!?) is the fifth episode of Kamen Rider Revice. It features the debut of the Wolf and Daioulka Proto Vistamps as well as the Lion Vistamp along with Revi and Vice's Lion Genome. It also features the brief appearance of Kamen Rider Evil.
Synopsis
Ikki officially decided to fight as Kamen Rider Revice contracted by Fenix. His father, Gen Igarashi, takes advantage of this and starts a project called "Gen-chan" to increase the number of subscribers to "Gen-chan's Channel". Ikki is busy collecting information to prevent future Deadmans attacks, but he's hit a wall as no further requests have come in.
However, one day an old man gives him a tip, saying his grandson is broadcasting something known as a "Punishment Livestream". In the video, a Deadman is created and is used to reform a sweatshop exploiting its employees. Not to mention, the whole thing is being broadcast live. Ikki decides to become the first Rider to try to change the world.
Meanwhile, at Fenix HQ, the theft of Vistamps has started to become a problem. Tensions run high among the higher-ups as Daiji and Hiromi are urgently convened. However, Commander Wakabayashi and George Karizaki's eyes are focused solely on one man. For the name of the card key that was used to access the lab read "Hiromi Kadota".
Plot
Hiromi is still reeling over the fact that he was demoted. He seemingly steals the Kong and Lion Vistamps and gives it to a young man in an alleyway who thanks him afterwards.
With Ikki having signed an official contract with Fenix, Shiawase Yu has become a hotspot for people to report any Deadman sightings, however most of the issues have been minor, leaving Ikki exhausted. Meanwhile at a Fenix meeting, Wakabayashi reports the two missing Vistamps, with Geroge glaring at Hiromi knowing that his card was used in the theft. Meanwhile, Ikki gets a help request from an old man who is looking for his grandson. The grandson, the one who received the Vistamps from the unknown Fenix member, was livestreaming in front of an office building before being detained by security guards. He activates and summons the Lion Deadmen live on camera, prompting Ikki and Vice to dispatch there to take care of business. Ikki reminds Masao of his familial bonds, as Masao is later taken in for rehab at Fenix.
At Fenix, Daiji has an idea to use Masao as bait to lure out the Deadman generals, allowing Masao to atone for his mistakes. They present the idea to Ikki, who despite being reluctant to involve civilians, agrees to be Masao's bodyguard for the mission. Before George leaves, he presents Ikki the Lion Vistamp.
At the warehouse with Fenix soldiers stationed in-and-out, Hiromi turns his gun against his fellow soldiers. Masao begins his livestreams and is about to destroy the Lion Vistamp, but the sudden interruption of Julio and Olteca freak him out, and the Vistamp falls into Olteco's hands. However, Ikki and Vice jump out, revealing that the Vistamp was a fake and transform into battle. Mid-battle, they transform using the real Lion Vistamp into Lion Genome and defeat the Giff Junior. The mysterious Kamen Rider Evil then appears. Outside, all of the Fenix soldiers have been taken out, while Ikki asks the Rider who he was.
Cast
Guest Cast
Masao (

ボン

): Takuma Usa (

宇佐卓真

,

Usa Takuma

)

Shigeo Honda

(

本田茂夫

,

Honda Shigeo

):

Kikuō Hayashiya

(

林家木久扇

,

Hayashiya Kikuō

)
President:

Seiha Naitō

(

内藤聖羽

,

Naitō Seiha

)
Boy: Shunya Suzuki (

鈴木春陽

,

Suzuki Shunya

)
Housewife:

Yoshie Suzuki

(

鈴木ヨシエ

,

Suzuki Yoshie

)
Bon's Fans:

Nicole Sara Togari

(

戸苅 ニコル沙羅

,

Togari Nikoru Sara

),

Uri Suzuki

(

錫木 うり

,

Suzuki Uri

)
Fenix Member: Matsuri Kamisato (神里まつり, Kamisato Matsuri)
Suit Actors
Forms and Collectibles Used
Errors
At the beginning of the episode, the completed Lion Vistamp is stolen from Fenix. However, the Lion Proto Vistamp is then seen being used to create the Lion Deadman. After the Deadman is defeated and the Vistamp is retrieved by George Karizaki, it is again in its completed state.
Notes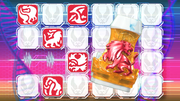 Closing Screen

Kamen Riders: Revice
Vistamps: Lion

Count at episode end

Vistamps in Revi's possession: Rex, Eagle, Mammoth, Megalodon, Ptera, Lion
Vistamps in Fenix's possession: Jackal
Vistamps in Evil's possession: Bat
Proto Vistamps in Fenix's possession: Kamakiri, Kong
Proto Vistamps in Deadmans' possession: Giff Junior, Daiouika, Wolf, Spider

This episode features two Remix forms for the Lion Genome, the standard Revice Lion and a failed Maneki-neko.
When Revice first transformed into Lion Genome, Vice can be seen doing the Kuuga transformation pose.
References
External links