Thank You, Keisuke Jin! Leave the Final Blow to Me!! (ありがとう神敬介!とどめは俺にまかせろ!!, Arigatō Jin Keisuke! Todome wa Ore ni Makasero!!) is the thirty-second episode of Kamen Rider (Skyrider). It is the concluding part of a two-part arc which includes a team-up between Hiroshi Tsukuba (Skyrider) and Keisuke Jin (Kamen Rider X), featuring the return of Ryo Hayami as the latter.
Synopsis
The unified Skyrider and X-Rider fight to save those captured by Admiral Majin's temple operation before they become sacrifices to his evil god.
Plot
to be added
Cast
Guest stars
Notes
DVD Release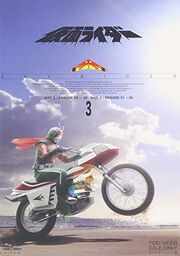 Skyrider Volume 3 features episodes 25-36.[1]

References
Community content is available under
CC-BY-SA
unless otherwise noted.