Doctor Strange in The Multiverse o Madness - The Loop
Play Sound
Tetsuo Daishinji (大秦寺 哲雄, Daishinji Tetsuo) is a mechanic and member of the Sword of Logos who transforms into Kamen Rider Slash (仮面ライダースラッシュ, Kamen Raidā Surasshu). Formerly affiliated with the Northern Base, he was briefly transferred to the Southern Base before joining Touma's team for good.
History
Background
Tetsuo Daishinji was born into the elite Daishinji family of blacksmiths, where his ancestors had forged the manmade Seiken for the Sword of Logos. As a child, his grandfather said to him that whenever the future wielder of Kaenken Rekka appears, he will join him in his path to reclaim light.
In his adulthood, Daishinji become a Sword of Logos swordsman, while upholding his family's legacy as a blacksmith. Wielding his personal Seiken, Onjuuken Suzune, he became known as Kamen Rider Slash. However, he would become involved with the battle between the Sword of Logos and the Megid, which led Onjuuken Suzune to be damaged that day, forcing Slash to be inactive for fifteen years until that Seiken could function once more.
The Sound Swordsman
Tetsuo Daishinji remained in the Northern Base operating as the blacksmith, he reunited with Ryo Ogami when he came into the base with his son. Daishiji able to notice the condition of the Kamen Riders' Seiken and called out Touma Kamiyama for recklessly using three volumes with Kaenken Rekka during his previous fight. When Kaenken Rekka was sealed by Storious, Touma tricked him into revealing a forbidden book with Avalon's location as a means to restore Saber's power. Touma would eventually figure out that Daishinji is 'Slash' and the latter admitted it has been awhile since Sophia called him that
Daishinji continued awaiting for the time Onjuuken Suzune could repair itself. When Saber, Blades, and Espada were in peril because of the Ahiru Megids, he was determined that Onjuuken Suzune was finally ready and arrived to rescue the trio. Daishinji transformed into Kamen Rider Slash, finally able to participate in the battlefield once more as the reparation took a long time. While Daishinji became more active in the field as Slash, he was there to confirm that the current Calibur is actually Daichi Kamijo, the previous Saber.
When the Immortal Swordsman, Bahato, unleashes his destruction to the world using the Book of Ruin, Daishinji joined with the Northern Base swordsmen to battle in Wonder World. Kamen Rider Slash engaged the Shimi horde as Saber fought Falchion personally. Daishinji, intent to pass down the legacy to the next generation, wiped out the Shimi army with his fellow Swordsmen before Falchion was sealed away by Saber Emotional Dragon.
Final Showdown with Calibur
While Daishinji pressed on to fight his former teammate, it would eventually result in the loss of Kento Fukamiya, having been lost into the darkness as the battle with Calibur progressed. As Kamijo enacted to seize the Almighty Book, Slash fought with Buster, Kenzan, and Blades to hold off the Megid generals while Saber chased after Calibur. Daishinji and the rest of the Northern Base swordsmen would warmly welcome Touma back once he returned from the in the realm of the Almighty Book.
Sword of Logos Conspiracy
Following the defeat of Calibur and Sophia's disappearance, Reika Shindai appeared to the Northern Base swordsmen to accuse Touma had betrayed the Sword of Logos. While Touma defended himself that there's a true enemy within the guild, Daishinji was forced to fight his friend but is stopped by Kamen Rider Saikou's intervention that forced the Northern Base swordsmen to draw back. While everyone is transferred back to the Southern Base, Daishinji and Ogami remained skeptical whether Touma really did betray the guild.
Daishinji remained conflicted with fighting Touma, especially with his latest claims that the Megid are using human hosts to spawn more monsters. When Daishinji realized he was telling the truth after hearing the Ousama Megid's sound, he noticed the growing power of Kaenken Rekka. He dueled Touma once more to determine his conviction to save the world, and witnessing him accessing Kaenken Rekka's full power. This motivated Daishinji decided to leave the Sword of Logos and joining Touma's quest.
Now part of the same team, Daishinji began to act uncomfortably close to Yuri, seeking to inspect his physiology with of a human merging with a Seiken. Daishinji would also help Touma around the Southern Base as the former wanted to speak with Master Logos. Through a series of events, Touma was forcibly compelled under the influence of Primitive Dragon. After Ogami officially joined Touma and his team, he and Daishinji were down in two Northern Base where they are suddenly ambushed by Kamen Rider Sabela. However, when Saber Primitive Dragon attacked, Daishinji was surprised by the appearance of Kamen Rider Calibur, who revealed himself to be Kento.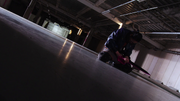 Kento had returned from the darkness as Kamen Rider Calibur, on the pursuit to seal the Seiken. In the process, Onjuuken Suzune was sealed much to Daishinji's despair. However, this did not stop Daishinji from being active with the Northern Base. Daishinji would continue to assist Touma as he is being compelled by the Primitive Dragon and was there to witness his evolution into Saber Elemental Primitive Dragon.
War against Master Logos
When Master Logos disabled the Northern Base defenses, the Megid and the Shindai siblings raid the base. Daishinji joined with Mei to protect the Seiken, only to be intercepted by Reika Shindai. When Luna made her return and had gone missing, Daishinji went out to search for her and is forced to surrender when he and Ogami were held hostage. While Touma managed to foil Master Logos' ritual to summon the Almighty Book, Daishinji regains his arsenal back in his hands. Onjuuken Suzune is returned to him, fully restored from its sealing and Daishinji remarking that he could hear the sword's sound again.
However, Master Logos is able to obtain a portion of the Almighty Book and transform into Kamen Rider Solomon, who proved to be a formidable adversary. Despite countless battles, Daishinji would bear witness to the creation of Haouken Xross Saber and Touma becoming Kamen Rider Xross Saber. After Xross Saber defeated Solomon for the first time, Daishinji congratulated him for his victory, with Touma granted a new power forged by the swordsmen's wishes to save the world.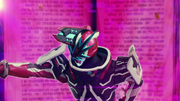 One day, Touma was sent to the world of Kikai Sentai Zenkaiger

with Mei Sudo and Yuri as a result of Asmodeus' awakening. As a result of Shotaro Ishinomori's unsatisfaction, Daishinji was among the heroes who vanished. When Asmodeus raised more monsters, Touma and Shotaro arrived with their latest creations. Touma unveils Super Hero Senki, while Shotaro unveils Kamen Rider 1 and Himitsu Sentai Gorenger

, allowing the Kamen Riders and Sentai Rangers to remanifest. Daishinji as Kamen Rider Slash joins his fellow swordsmen, the Kamen Riders, and the Super Sentai to battle Asmodeus's forces, emerging victorious in the ensuing battle.
Storious' Endgame
Though they were victorious against Master Logos, Storious began to enact his plan to destroy the world. Following Tassel's death, the destruction of World World began affecting Earth. Daishinji participated in minimizing the disaster, but Storious grew stronger after becoming Kamen Rider Storious, resurrecting the Four Sages in the process as his loyal followers.
As the final battle approaches, Kamen Rider Slash joins the swordsmen as they storm Storious' Tower of Destruction. Daishinji engaged of a Lord of Wise, while covering for Touma as he reached Storious' chamber. Although he fought with Ren in defeating it, the battle was too exhausting for Daishinji, causing him to pass out and it was only Yuri's healing ability that allowed him to stand up. As the world eventually disintegrated, Daishinji was among many lives that were affected by a wave of destruction. However, once Touma became the Guardian of Wonder World, Daishinji along with the populace resurrected in the restored Earth.
One Year Later
One year after the final battle, upon hearing word that the missing victims that were unaccounted for had suddenly returned, Daishinji joined up with most of Touma's friends as they reunited with their missing friend once more.
As the demon Diablo emerged to threaten the Earth's future, this leading to Fenix's Kamen Riders and the Sword of Logos joining forces. They would also encounter time-displaced Shocker scientist Ryunosuke Momose, who sought to make amends with Hideo, his young son he left behind in 1971, who is now an adult man in 2021.
While Touma, Rintaro, Yuri, Vice, Daiji, and Sakura go to the future, Daishinji stayed behind in the present to battle Khufu Crisper in Egypt fighting on his own until everyone was able to return. He would be assisted by Kamen Rider Blades to defeat Khufu Crisper.
Eight years after saving the world, the multiple swordsmen within the Sword of Logos have begun to disappear, with Daishinji catching wind of a strange phenomenon. He goes to investigate the incident with Rintaro, to which a white Kamen Rider Falchion appears and makes Daishinji vanish, causing Rintaro to forget Daishinji's entire existence. However, he would be restored back to normal after Mamiya reset reality.
Video Game Appearances
Personality
Tetsuo comes off as a standoffish and blunt individual, though Rintaro reasons it is due to his bashful nature, indicated by his habit to try to avoid eye contact with others. He also dislikes being in the center of attention, to the point of covering his face with his hand whenever someone asks directly to him. He seems to have no qualms about speaking about how he feels about those around him though, such as when he tells Ryo that he is annoying right to his face - albeit the latter did not mind but rather take it in stride. On a more amusing note, Tetsuo happens to be a terrible liar. After the clash with Daichi is over, Tetsuo and Ryo are the only swordsmen who remains calm when Reika tells a lie to the group that Touma has betrayed them.
However, he shows a more level-headed attitude when on the battlefield, proving himself as a great swordsman and a Kamen Rider on his own. When using the Bremen no Rock Band Wonder Ride Book, his personality completely changes into a loud, happy-go-lucky energetic, party animal being based on a rockstar, who's constantly throwing sound-based puns and has tendencies of spouting english words.
As the mechanic for the Sword of Logos, Tetsuo is competent at his job and takes it very seriously. Oddly enough, Tetsuo tends to the equipment used by the Riders as if they have feelings, claiming that "Rekka" is "weeping" due to Touma's recklessness after using three Wonder Ride Books at once. This extends to when Kento sealed his Onjuuken, upon which he mourned. He is also "addicted" to Yuri because of how he "became one" with Kougouken Saikou. He also became curious after discovering Rekka's ability to separate human from a Megid, and displays fervent excitement at the capabilities of the ultimate sword, Haouken Xross Saber.
Family
Powers and Abilities
Powers
Enhanced Hearing: Tetsuo possesses an enhanced sense of hearing as shown when he could easily hear one of the Ahiru Megids trying to sneak up on him. He can also hear the "cries" of the Seiken when they need repairing. This hearing also helps him to determine the heart of his opponent, even leading him trust to Touma's claim about humans being forcibly transformed into Megid, despite having reservations at the time.
Abilities
Expert Engineer: To be added
Expert Swordsman: As a former member of the Sword of Logos, Tetsuo is a highly trained and experienced swordsman who displayed considerable skill in swordsmanship, demonstrating his mastery at using Onjuuken Suzune when fighting his enemies or opponents. Tetsuo has also mastered a parry style of fighting, using it to defeat Touma (before accessing Dragonic Knight) with ease. Even Yuri was amused with his skill.
Kamen Rider Slash
Equipment
Devices
Relationships
Allies
Enemies
Behind the Scenes
Portrayal
Tetsuo Daishinji is portrayed by Hiroaki Oka (岡 宏明, Oka Hiroaki). As Kamen Rider Slash, his suit actor is Hirotsugu Mori (森 博嗣, Mori Hirotsugu).
Etymology
As with the naming scheme of all the Saber Riders, Slash is named after the word slash, representing the sound a sword makes when swung, also reflecting his sound-based theme.

With his element in name, his name could also be in reference to the musical artist Saul "Slash" Hudson, famously known as the guitarist of the American hard rock band Guns N' Roses.

As with the surname scheme of other members of Sword of Logos, Tetsuo's surname, Daishinji, contains a homophone of the kanji Shin (

神

) meaning "god" or "deity".
Concept Art
To be added

Notes
Appearances
References

Kamen Rider Revice
Kamen Riders
Current Riders: Ikki Igarashi - Vice - Daiji Igarashi - Sakura Igarashi - Hikaru Ushijima - Genta Igarashi/Vail
Former Riders: Hiromi Kadota - Kagero - Orteca - George Karizaki
Movie-exclusive: Kamen Rider Century (Ryunosuke & Hideo Momose)
Clone Riders: Touma Kamiyama (1, Super-1, Accel), Rintaro Shindo (ZO, Kuuga, Blade), Yuri (Agito, Ex-Aid Muteki Gamer, Zero-One), Vice (Black RX, Fourze, Woz), Daiji Igarashi (Knight, Meteor, Ryugen), Sakura Igarashi (Nadeshiko, Poppy, Valkyrie)
Gear
Drivers
Revice Driver - Two Sidriver - Libera Driver - Demons Driver - Vail Driver - Cyclotron Driver
Vistamp-related
Vistamps - Vistamp Holder - Vistamp Bar
Weapons
Ohinbuster50 - Gundephone50 - Osutoderuhammer50 - Barid Shield - Rolling Vistamp - Evilblade - Livegun - Lovekov (Kujaku, Turtle, Hashibiroko) - Demon Digzon,

Demon Rumblejoker

,

Demon Ridolstinger

,

Demon Bladior
Vehicles
Vice (Ptera, Jackal)
Allies
Happy Spa: Yukimi Igarashi - Shozo Irabu - Go Tamaki
Demons:
Lovekov
Legend Riders: Takeshi Hongo - Ryu Terui - Hideyasu Jonouchi - Oren Pierre Alfonzo - Touma Kamiyama - Rintaro Shindo - Kento Fukamiya - Ryo Ogami - Ren Akamichi - Tetsuo Daishinji - Sophia - Yuri - Reika Shindai - Ryoga Shindai
Others: Genpachiro Otta - Naoya Kaido - George Karizaki (2071)
Weekend
Leader:
Masumi Karizaki
Ushijima Family: Hikaru Ushijima - Tasuke Ushijima - Kimiko Ushijima
Others Members: Sakura Igarashi - Hana Natsuki
Fenix
Director: Hideo Akaishi
Commanders: Yujiro Wakabayashi - "Yujiro Wakabayashi" - Hiromi Kadota
Squad Leaders: Daiji Igarashi - Tatsuhiko Tabuchi
Others: George Karizaki - Akemi Mikoshiba
NOAH
Director: Agariyama
Researchers: Masumi Karizaki - Hideo Akaishi
Military: Shozo Irabu
Others: Junpei Shiranami
Deadmans
Currently: Giff - Hideo Akaishi
Formerly: Julio - Amahiko Haitani - Yasushi Kudo - Chameleon Deadman - Kanae Motomura - Orteca - Aguilera
Deadmen
Batta Deadman - Rex Deadman - Mammoth Deadman - Kamakiri Deadman - Megalodon Deadman - Kong Deadman - Lion Deadman - Spider Deadman - Daiouika Deadman - Wolf Deadman - Kangaroo Deadman - Cheetah Deadman - Brachio Deadman - Kurage Deadman - Planarian Deadman - Chameleon Deadman - Sabertiger Deadman - Queen Bee Deadman - Koala Deadman - Orangutan Deadman - Shark Deadman - Elephant Deadman - Anomalocaris Deadman - Rafflesia Deadman
Henchmen: Giff Junior
Others: Gifftarian - Gifftarian (TRUE) - Giffdemos
Deadmans' Contract Holders
Junpei - Tomoyuki Harada - Hiromi Kadota - Araki - Ibata - Ayaka Oketani - Unnamed Salary Man - Masao - Yasushi Kudo - Koji Maezono - Scamming Group - Amahiko Haitani - Seiko Omori - Taro Gondawara - Unnamed Comedian - Mayu Tominaga - Subaru Kimura
Gifftarian Hosts
Unnamed Excavator - Unnamed Deadmans Follower - Yosuke Okuda - Chigusa Yamagiri - Kanae Motomura - Unnamed man - Unnamed child
Shocker
Diablo
Crispers
Himiko Crisper - Khufu Crisper - Edison Crisper - Leonidas Crisper
Devil Rider Corps
Shocker Rider No.1 - Shocker Rider No.2 - Kamen Rider Ouja - Kamen Rider Eternal - Kamen Rider Sorcerer - Kamen Rider Duke - Kamen Rider 4 - Kamen Rider Barlckxs
Others
Shocker Executive
View • Edit