Wiki Targeted (Entertainment)
Play Sound
For the actor in Kamen Rider Wizard, see Tatsuya Kishida.
Tatsuya Kishida (岸田 立弥, Kishida Tatsuya) is a childhood friend of the late Taro Satou and one of the victims of Faust's experiments who got turned into the Press Smash (プレススマッシュ, Puresu Sumasshu). His Smash essence was used as the basis for Panda Full Bottle.
Character History
Tatsuya was a childhood friend, and later bandmate and roommate of Taro Satou. On September 5, Taro went to the house of Takumi Katsuragi to be a test subject for a new medical procedure. Tatsuya drove Taro to the apartment, which was the last time he saw his friend.
A year later, Tatsuya believed he found his friend, now going by the name of Sento Kiryu and with no memory of his past. However, Sento turned out to be someone else entirely, and Tatsuya's roommate would be revealed to have met his end.
Press Smash
Press Smash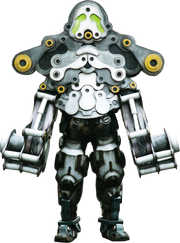 Height: 203 cm
Weight: 126.6 kg
The Press Smash never displayed any special or unique abilities, being slow and bulky, only appearing to have possessed abnormal physical strength and endurance.

Behind the scenes
Portrayal
TBA
Concept Art
Press Smash was designed by Tamotsu Shinohara (篠原 保, Shinohara Tamotsu).
Appearances