"Sorry Kamen Riders, this article is too small for the people to read."
This article is a stub, meaning it needs more info. You can improve this Kamen Rider Wiki article by expanding it.
Tanzaburo Tojima ​Wants To Be A Kamen Rider (東島丹三郎は仮面ライダーになりたい, Tōjima Tanzaburō wa Kamen Raidā ni Naritai) is a 2018 comedy manga written and drawn by Yokusaru Shibata. [1]
Plot
Ever since he was born, Tanzaburo dreamed of becoming a Kamen Rider. Even as a 40 year old adult, he continued to dream about becoming one and he would train and exercise regularly. One day, "Shocker" appeared and attacked a convenience store to rob them. Springing to action, Tanzaburo put on a plastic Kamen Rider mask and faced the criminals. Instead of being seen as a hero, he was made into an internet laughing stock! Determined to end the fake Shocker's schemes by investigating, Tanzaburo takes to the streets as Kamen Rider!
Characters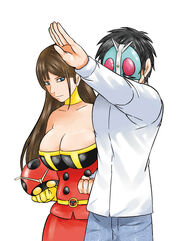 Notes
External Links
References