"I need to collect more data to complete my research."
This article is a stub, meaning it needs more info. You can improve this Kamen Rider Wiki article by expanding it.
For original version, see Takatora Kureshima.
Takatora Kureshima (呉島 貴虎, Kureshima Takatora) is an A.R. World version of Kamen Rider Zangetsu from the World of Gaim in the novel World of OOO.
History
Forms
Notes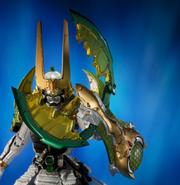 Unlike the original, the A.R. World Zangetsu's Melon Defender is able to open up at the bottom to be used as a pincer.