This Kamen Rider Rey (仮面ライダーレイ, Kamen Raidā Rei, Masked Rider Rey) was summoned by Swartz from the Another World to battle with Sougo Tokiwa and Geiz Myokoin.
History
In presumably an altered variation of the events during Kamen Rider Kiva: King of the Castle in the Demon World, Takato Shiramine most likely defeated Wataru Kurenai & Keisuke Nago. He was later brought to the main universe by Swartz to battle with Sougo Tokiwa and Geiz Myokoin.
He was finally eliminated by Kamen Rider GeizRevive's Time Burst.

Kamen Rider Rey
Kamen Rider Rey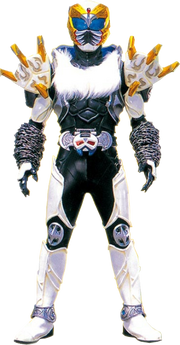 "Henshin!"
―Rey Kivat's transformation announcement
Rider height: 205 cm.
Rider weight: 87 kg.
Ability perimeters:
Punching power: 17 t.
Kicking power: 8 t.
Maximum jump height: 30 m.
Maximum running speed: 100 m. per 5 sec.
With the assistance of Rey Kivat (レイキバット, Rei Kibatto), an artificial Kivat created by the 3WA, Shiramine can transform into Kamen Rider Rey. He is armed with the Blowning Shoulders (ブロウニングショルダー, Burōningu Shorudā), which have a grip strength of 9 t and can extend their claws like spears. By using the Key Fuestle (キーフエッスル, Kī Fuessuru), the chains on Rey's arms are released and he is armed with the Gigantic Claw (ギガンティック・クロー, Gigantikku Kurō).
With the Gigantic Claw, he can perform the Blizzard Claw Execution (ブリザードクロー・エクスキュージョン, Burizādo Kurō Ekusukyūjon) with the destructive power of 28 t.

Appearances: Zi-O Episodes 44-46

Equipment
Devices
Rey Kivat - Takato's Artificial Kivat partner.
Rey Kivat Belt - Transformation device.
Fuestles - Whistle-like devices that activate a function, depending on the Fuestle.
Weapons
Behind the scenes
to be added
Notes
Appearances
See Also
References
Community content is available under
CC-BY-SA
unless otherwise noted.