Spider-Man: No Way Home Trailer Dropped - The Loop
Play Sound
For the original version, see Takahiro Omuro.
"I'm sorry, I'm sorry, I really am sorry!"
―The police officer apologising for his awry neutralizing of a Gurongi.
Takahiro Furuya (古屋 隆広, Furuya Takahiro)[1] was drafted to use the Kamen Rider G3-X suit after the disappearance of its original user, Shoichi Ashikawa.
History
Kamen Rider Decade
World of Agito
As G3-X, he dealt with the Gurongi Me·Vagis·Ba who was fighting the police, using the GX-05 Kerberos's Gatling Mode to blast the monster to bits, as witnessed on the TV news in the Hikari Studio when it arrived in the World of Agito. Though he successfully neutralized the Gurongi he faced, the use of the G3-X suit gave him a great deal of physical stress and the resulting collateral damage resulted in criticism of SAUL from the media. Telling Tohko Yashiro that he couldn't do it anymore, the police officer walked out, forcing her to search for new candidates for G3-X which came in the form of Yusuke Onodera (Kamen Rider Kuuga) and Daiki Kaito (Kamen Rider Diend). 「Reunion: Project Agito」

Kamen Rider G3-X
G3-X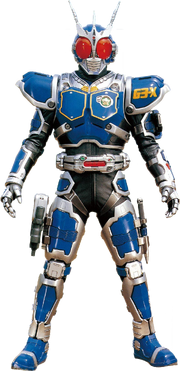 Rider Statistics:[2]
Rider Height: 192 cm
Rider Weight: 176 kg
Rider Senses:[2]
Eyesight: 15 km
Hearing: 15 km
Ability Parameters:
Special Attacks:
From what was seen during Shoichi Ashikawa's past, the A.R. World version of G3-X was also modified from the standard G3-System using G3's diagnostic data. It is unknown if it has the same A.I. installed as the original G3-X, though the existence of the G4 chip suggests that this may be the case.
This form is exclusive to Decade Episode 12

Behind the scenes
Portrayal
Takahiro Furuya was portrayed by Kohei Kurihara (栗原功平, Kurihara Kōhei). As Kamen Rider G3-X, his suit actor was Jun Watanabe (渡辺 淳, Watanabe Jun).
Notes
Although his name was not revealed around the time of Kamen Rider Decade's release, Kamen Rider Zukan confirmed his name to be Takahiro Furuya.
Appearances
References
Footnotes