Doctor Strange in The Multiverse o Madness - The Loop
Play Sound
Taiga Hanaya (花家 大我, Hanaya Taiga) is a 29-year-old unlicensed doctor who was once a member of the radiology department at the Seito University Hospital and CR. He became Kamen Rider Snipe (仮面ライダースナイプ, Kamen Raidā Sunaipu) during the events of Zero Day, but his defeat to Graphite resulted in both his powers and medical license being stripped from him. Since then, he began to collect Rider Gashats and became known as the "Doctor of Darkness" (闇のドクター, Yami no Dokutā), due to him running his own unlicensed clinic.
He later became another Kamen Rider Cronus (仮面ライダークロノス, Kamen Raidā Kuronosu), using both his Gamer Driver and the Buggle Driver II.
History
Background
Taiga Hanaya was originally a renowned genius radiologist at Seito University Hospital. He was capable of detecting and removing cancer cells in an instant. When he accidentally uncovers the Bugster Virus, Taiga and his colleague Jiro Maki were recruited to CR to become a Kamen Rider. After Maki's death, Taiga became dedicated to eradicate the Bugsters but his use of the Proto Gashat affected him mentally and physically. Ultimately, Taiga fell from grace by this side effect after losing to Graphite, a Bugster that spawned from Saki Momose.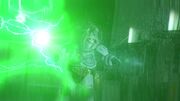 This defeat cost Saki her life and caused his medical license revoked for disobeying orders, as the Ministry declared Taiga had become obsessed with the power of the Gashats. Hiiro Kagami, who was Saki's boyfriend, blamed him for her death. Taiga initally lose all hope in saving others as a doctor and a Kamen Rider, only he can clearing the games. The side effects of the Proto Gashats had caused his hair to turn white as well.
The Doctor of Darkness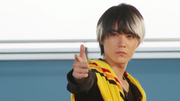 Six years later, Taiga has since ran an unlicensed clinic for the less fortunate. He learns that the Bugster Virus had resurface and observed Kamen Rider Ex-Aid's first fight against the Bugster from afar. Deciding to take matters into his own hands, Taiga purchased his own Gamer Driver and Bang Bang Shooting Gashat from Genm Corp. with large piles of cash. When complemented by Kuroto Dan, Taiga simply said that he needed money to make new games.
Sometime later, Taiga encounters Graphite and Parado as they challenge him to clear the ten games. By chance, Taiga encountered Emu Hojo chasing after Yuki, a patient infected with the Bugster Virus. The presence of Taiga aggravated the patient's fear of doctors, causing his infection to flare up. Despite Ex-Aid's protests, Taiga refused to stay out of Yuki's case, believing he should collect all ten Gashats to eradicate the Bugsters. The two wagered their Gashats in a challenge to defeat the Revol Bugster. While Ex-Aid and Snipe fought Revol, the latter landed the final hit on the Bugster.
Despite claiming the Mighty Action X Gashat, he would lose it after Kiriya Kujo seized it from him. Ever since he became Snipe again, Taiga was intent to finish things with Graphite. He would repeatedly come into conflict with Hiiro Kagami over his resentment for failing to save Saki. Although Taiga fis constantly at odds with the other Kamen Riders due to his intent to collect all the Gashats and become the "world's only Kamen Rider". This even resorted to him holding a Bugster hostage to blackmail Emu and Hiiro into surrending their Gashats to ensure their patient's life.
Taiga was present during threat of Dr. Pac-Man and the Next Genome Institute as they sought to unleash the Pac-Man Virus. He joined forces with his fellow doctors and Kamen Rider Ghost's allies against the Next Genome Institute.
Taiga along with Hiiro confronts Dr. Pac-Man who had taken Emu away from the Black Ex-Aid, accompanied by the three Kamen Riders that he had summoned. Dr. Pac-Man provides the trio with the Bandai Namco Gashats, with Taiga receiving the Xevious Gashat. Transforming, Sniper Xevious Shooting Gamer faces off against the batter Kamen Rider Fourze in a shooting and flight battle. Ultimately prevailing in the match, Snipe performs Xevious's Critical Strike to defeat the opponent Kamen Rider.
After Ex-Aid recovers the Ganbarizing Gashat, Snipe along with Brave demanded the Gashat for themselves only for all three Riders to be swiftly eluded by "Dr. Pac-Man" who recovered all the Bandai Namco Gashats and the Ganbarizing Gahsat. It is this point where the Kamen Rider realized they are being manipulated by Dr. Pac-Man and the Black Ex-Aid. Ex-Aid was defeated by the Black Ex-Aid's Critical Strike using the seventeen Heisei Rider predecessors, allowing him to defeat all three Riders with a single Rider Kick before taking his leave.
During Christmas Eve, Taiga and the Kamen Riders finally learns that CEO of Genm Corp., Kuroto Dan, is the true identity of the "Black Ex-Aid", who christens himself as Kamen Rider Genm. Taiga discovered Kuroto Dan's goal to collect the data of Gashats. When Kiriya tried to gather the heroes about the truth about the Bugster Virus, the latter was quickly killed by Kuroto in order to prevent the secret behind Emu's compatibility with the Gamer Driver from being revealed.
The Patient Zero Conspiracy
Before Kiriya Kujo's death, Taiga remained in contact with Nico Saiba, who requested him to defeat Emu Hojo during Christmas Day. Questioning Kuroto Dan's motives, Taiga deduced that Lazer was killed in order to hide what he found about Ex-Aid. While Snipe he tried to battle Genm, Taiga finds himself witnessing Emu's first transformation using the Mighty Brothers XX Gashat.
Growing further suspicious, he gathered a sample of Emu's blood and learned has Game Illness, later confirmed to be the Patient Zero of the Bugster Virus. Taiga and Hiiro initially tried to keep it as a secret and find a way to cure the Ex-Aid. However, their attempts were stopped when Parado transformed into Kamen Rider Para-DX. While Taiga became further annoyed with Nico when she tried to get invade his life, but he ultimately relented in letting her move into his clinic.
Eventually, Kuroto revealed to Emu about his true nature as Patient Zero and created a short outburst that ended with him fainting. However, this would erratically affect Emu under the influence of "Genius Gamer M", but is restored back his normal, kind self due to Hiiro's intervention. After learning Hiiro had came in possession with the Gashat Gear Dual β, he confiscated it recognizing he wasn't strong enough to handle the extra dose of Game Illness and used it to become Snipe Level 50.
Taiga would learn that the Kamen Riders and the Bugster Virus were intended to be part of Kuroto's ultimate game, Kamen Rider Chronicle and Kuroto managed to unlock Dangerous Zombie's true potential as Level X. In order to combat this, Taiga commissioned Tsukuru Koboshi to create a Gashat that can defeat zombies, which ended up becoming the base of the Maximum Mighty X Gashat. The new Gashat was given to Ex-Aid, providing the Riders with the advantage to surpass Kuroto's immortality and strip him of his powers.
Kamen Rider Chronicle
Following the defeat of Kuroto Dan, Taiga discovers that Kamen Rider Chronicle had released to the public, now orchestrated by the Bugsters to destroy humanity. As Nico becoming one of the Ride-Players, Taiga was vocally against her put into harms way. Taiga eventually permitted her to continue playing the game under the condition that she never leaves his side so he can cure her Game Illness every time. During the course of the events, Taiga learned Parado was indeed Emu's Bugster and Poppy would revive Kuroto Dan under their supervision.
Taiga and Nico would continue to collaborate with CR as they continue to collect the majority of the Gashatrophies. Snipe would fight against the low-tier and mid-tier Bugsters and allow Nico to take the final hit. As the Kamen Riders would face off against the high tier Bugsters, Masamune Dan reveals himself to be the true mastermind and becomes Kamen Rider Cronus. Because of his exploitation of Pause and holding the Proto Gashats, Hiiro was lured into working with Masamune and Kiriya is revived as Lazer Turbo.
Sometime after Emu Hojo accessed Ex-Aid Muteki Gamer, Taiga decided to settle his five-year score with Graphite but was put in critical condition during their penultimate battle. He was rushed to Seito University Hospital for emergency surgery performed by Hiiro, who chose to forsake reviving Saki to save Taiga instead. Taiga woke up forom the hospital accepting Hiiro his apologies and owes him his life.
After he had recovered from his condition, Taiga and Hiiro worked together to take down Graphite once and for all. For Taiga, it was for him making up for losing Sawa's life six years ago. Together, Snipe and Brave defeated Graphite in battle and allowed Nico to take the final shot. After some trials and tribulations, the Kamen Riders advanced to the final stage of Rider Chronicle, preparing to confront the last boss Gamedeus.
The Gamedeus Pandemic
With Gamedeus and his Bugster Virus pandemic spreading rapidly, Ex-Aid and Para-DX fought against him while the Hiiro and Taiga stayed behind to take care of the patients. Although the Doctor Mighty XX Gashat was developed to weaken him, Masamune barged in to absorbed the Bugster into his own body at the last minute. After Gamedeus Cronus abducted Nico with the intent to kill her and reset Kamen Rider Chronicle, Taiga pursued them to take her place as Kamen Rider Cronus instead. However, due to him sporting a Gamer Driver, he lacked ability to activate Pause that results in his defeat. With the help of Ex-Aid and Brave, Taiga becomes Snipe once more to defeat Gamedeus Cronus.
Through the sacrifice of Poppy and Parado, the Kamen Riders were able to neutralize Super Gamedeus's virus and seperate him from Masamune Dan. While all hope seemed lost, Taiga partipicates with the remaining Kamen Riders the final stand against Cronus by reverting back to Shooting Gamer Level 2 to defeat Cronus once and for all. However, in their final confrontation, Masamune kills himself with the Master Gashat, this removing the only way to rescue the data of the patients within the Proto Gashats. Afterwards, he watches Emu presenting his televised speech on behalf of the Ministry of Health and is touched to hear the name of Jiro Maki acknowledged among the victims of the Game Disease.
With the threat of the Bugsters seemingly over, Taiga's clinic was reinstated a medical center to treat Game Illness. Looking around his office, Taiga fonds a Bang Bang Shooting pin left behind by Nico. As Taiga began treating his patients, he reunited with a graduated Nico who volunteered to become his assistant.
Set after the Kamen Riders defeated Kamen Rider Cronus, a new outbreak of the Bugster virus occurs one rainy day as Kamen Rider Fuma and his Ninja Gamers attack the civilians. Taiga and Nico were infected and his mind is sent into the Game World where he assumes the role as a race starter for Madoka Hoshi's race. After Ex-Aid arrived and used the power of Mighty Creator VRX to teleport everyone back to the real world, Taiga's consciousness was returned to his body.
While confronting Kagenari Nagumo on his actions, the true threat arises when Johnny Makishima reveals himself as the "true last boss" and transforms into Gamedeus Machina. While Taiga joined with the Kamen Riders to combat the Bugster, he was able to overwhelm all of the six that were present. Taiga was accompanied by Kiriya as they went to storm Machina Vision and fought against Fuma, before confronting Gamedeus Machina. In the end, Ex-Aid Muteki Gamer manages to vanquish Gamedeus Machina and peace has finally returned.
One year later, Taiga complains to Nico about the "embarrassing" pink poster she made that promotes his clinic's examinations. He disliked that fact she made him into a roaring anthropomorphic cartoon tiger that frightens cartoon animal patients. The two comically fight about it until a patient enters the clinic, with Nico putting on her lab coat and going to the waiting room to greet the patient.
One week after Kamen Rider Build stole Emu's powers, Nebula Bugsters start to appear due to the effects of Enigma, an inter-dimensional gateway connecting his reality to the Build's world. This alerts the CR, who attempt to solve the issue without Ex-Aid, but they are also rendered powerless due to the effects of Enigma, controlled by Right Kaiser. Kuroto Dan eventually created the Kamen Rider Build Gashats in order to enable to Doctor Riders to continue fight while their Earth and Build's Earth were vast approaching, where it was stopped by the united forces between Ex-Aid & Build.
Two years after the Enigma crisis, Taiga is informed by Hiiro Kagami about Kuroto Dan's escape from CR's custody. He and Nico have continued treating Game Illness patients in his clinic, only to encounter Luke Kidman, Nico's gaming rival from America, who is afflicted by Loverica's infection. Taiga has kept a copy of the Kamen Rider Chronicle Master Gashat but failed to develop the ultimate antibody to properly use it. This causes him to come into blows with Hiiro as Saki's data had been restored and tied to Loverica's lifeline. Wanting to save Luke's life, Taiga was forced fire Nico so she can join Luke in America. He later stole Asuna's Gashacon Bugvisor II to transform into Cronus, allowing him to save Saki from Loverica's brainwashing. After losing to Loverica in battle, Brave managed to vanquish the Bugster and say his goodbyes to Saki, but Taiga had lost the Master Gashat in his possession. The next day, he returned to his clinic seeing Nico ready for her trip to America and said his goodbyes. Taiga assured her that in the end, he will always be Nico's doctor.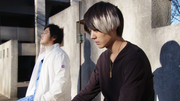 During the Zombie Chronicle crisis, Taiga fought off the horde of Zombie Gamers as Kamen Rider Snipe. After contacting with Nico, she gave him the Bang Bang Tank Gashat which proved to be a valuable tool in his fight against the Zombie Gamers. After ressurecting Jiro Maki, he warmly greeted his old friend and left to fight again as the latter tossed him a white coat for him.
Other Events
When Poppy Pipopapo was pursued by the Kyurangers

, Taiga engaged them alongside Emu and Hiiro before the fight was interrupted by the Galaxian ships. During Chou Shocker Taisen's invasion, Taiga joined forces with Parado to battle the evil forces, in which they would fight with various Kamen Riders and Sentai Rangers

against the Shocker army of the Game World led by Shocker Leader III.
Personality
Taiga was originally a kind doctor who valued the lives of his patients and did whatever he could to make them smile. However, becoming a Kamen Rider would eventually change him, with his defeat at the hands of Graphite being the turning point, causing him to give up all hope.
As a result, he has become bitter, arrogant, and selfish, holding almost absolutely no concern for protecting individuals; he cares only about his obsessions of both collecting Gashats and achieving his revenge on the Bugsters. Clearing all the ten games became his main drive for fighting, and as such he would resort to any form of dirty tactics just to claim all of the Gashats. He would later view Saki's death with disdain as well, using that just to taunt Hiiro.
Taiga especially holds a strong animosity against Graphite, who cost him both his medical license and his credibility as a doctor. He would constantly find a way to settle things once and for all with Graphite. His hatred of the Bugster overshadows any concern for a patient's well-being. For him, the battles are competitions with his fellow Riders.
Despite willing to use dirty tactics to win, Taiga does have a sense of fair play as he did not try to take Emu's Gashat by force, nor did he think that Kiriya Kujo would take the Mighty Action X Gashat from him before even winning their bet. This, however, didn't stop him from being provocative to fellow Riders. Similarly, while he kidnapped the Collabos Bugster to blackmail Ex-Aid and Brave, he did not demand them to directly surrender their Gashats to him but instead wanted to win them through a fair battle.
Taiga believes that he is the only Kamen Rider the world needs, believing that he has nothing to lose, unlike others. This mentality has also led him to prioritize defeating an enemy and keeping the Kamen Rider name, something which goes against the doctor's ideals of Emu and Hiiro. Initially despising the other Riders, he would eventually gain respect for their resolve and strength, though his strong sense of responsibility meant that he would be willing to do anything to prevent the other doctors from going down the same path as he did, even if it meant sacrificing himself.
Meeting Nico Saiba would eventually change Taiga for the better, as his interactions with Nico would slowly guide him back to his conscience. When Nico faked being sick with the Game illness and when she became a Ride-Player, he went to make sure she was alright, showing that he's at least willing to care about other people somewhat. Over time, his care for Nico grew to the point where he treats Nico as his own personal patient, getting worried whenever she's in danger. He would soon come to admit that despite having his license revoked, he still wanted to protect others as a doctor. By the end of the Kamen Rider Chronicle crisis, he has somewhat returned to his gentle nature, though at times he would react awkwardly to politeness.
Powers and Abilities
Powers
Acquired Game Disease Immunity: As a result of the standard compatibility surgery for CR candidates, Taiga Hanaya is immune to the Game Disease and able to transform into a Kamen Rider to fight the Bugsters. His usage of Proto Gashats has also increased his body's tolerance for higher-level Gashats, being able to overcome the side effects of his Level 50 almost instantly. Eventually, his immunity level grew to even able to withstand the power of two Kamen Rider Chronicle Gashats and later, to use the Buggle Driver II (being the first acquired-type to be able to do so).
Abilities
Master Radiologist: Before the introduction of Rider Gashats, Taiga is a famed and renowned genius radiologist, capable of detecting even a small strain of illness or removing cancer cells in an instant after a simple X-ray scanning. He is also capable of detecting the Bugster Virus through conventional methods, gaining the interest of Asuna and Kuroto.
Skilled Combatant: Taiga has shown himself to be a skilled fighter, being able to easily take on Bugster viruses as a civilian.
Expert Marksman: Because of his former career as a radiologist, Taiga had a huge proficiency while using his Gashacon Magnum, able to shoot the well-hidden Revol. This also shown when he shoot Combat Collabos down with ease.
Levels
Equipment
Devices
Weapons
Legend Rider Devices
Relationships
Allies
Nico Saiba: Nico wants to attract Taiga's attention so he can defeat the Genius Gamer M, but Taiga sees her as no more than an annoyance. However, as time passes, Taiga shows some sort of care to her, despite covering it with his arrogant persona, Nico ultimately does the same to him in return. After his fight with Lovelica, Taiga finally admits that Nico's presence is what made him happy and that he wants her to not leave his side ever again while promising that he will cure her Game Illness no matter how many times it will take, which Nico happily complies. Taiga also goes as far as to challenge Masamune by transforming into Cronus to save Nico. After the Kamen Rider Chronicle incident was over, Nico became Taiga's apprentice, much to Taiga's initial chagrin. It's also been implied by Lovelica Bugster, such as in Another Ending: Brave & Snipe, that they might have some kind of romantic affection for each other.
Genm Corp.

Kuroto Dan: Taiga often provokes Dan if necessary, although he's still oblivious about the fact that Dan is actually Genm, until Dan revealed himself to Taiga and three other doctor Riders once he got all battle data he needed, as Taiga and the other Riders are too late to notice and stop this scheme. In the past, Kuroto used Taiga and Jiro as his guinea pigs, most occasionally when Taiga used a Proto Gashat that he provided on just to gather battle data for Kamen Rider Chronicle. Because of this, Taiga's life was almost ruined that led him into the unlicensed doctor as he is now. However, these events granted Taiga some tricks and knowledge on how to resist the upcoming negative side-effects of the future Gashats quickly, such as when using his Level 50 form with the Gashat Gear Dual β.

Saki Momose: One of Taiga's patients that he feels guilty for and Hiiro blames him for her "death" when Graphite was born. However, realizing Saki was actually stored as data, there proves to be a second chance for Taiga to make amends.
Enemies
Graphite: Taiga sees Graphite as his number one nemesis, mainly because of the fact that he lost his doctor license. Taiga is always enraged whenever he confronts Graphite, and always tries to eliminate him at all costs, although Graphite always defeats him single-handedly. It was only by working together with the other Riders did he finally succeed in his revenge on Graphite, though he didn't want to admit it. During the Kamen Rider Chronicle crisis, he is shocked to learn that Graphite, being a fully-manifested Bugster, can be revived anytime, even after the latter's physical body being destroyed without having his Bugster virus debris absorbed into the Gashacon Bugvisor before. Graphite then challenges him to clear Kamen Rider Chronicle in order to be the same level as him now, and fight him one on one, which made Taiga swear to be the one to clear the game while hiding the truth from Hiiro that Graphite had revived.
Genm Corp.
Lovelica: Lovelica irrated Taiga of his game, but took advantage against him for Nico's sake.
Behind the Scenes
Portrayal
Taiga Hanaya is portrayed by Ukyo Matsumoto (松本 享恭, Matsumoto Ukyō). As Kamen Rider Snipe, his suit actor is Satoshi Fujita (藤田 慧, Fujita Satoshi) in Level 1 and Eitoku (永徳, Eitoku), best known for his stint as a majority of secondary Heisei Riders up to Baron, in Level 2.[18] His suit actor as Kamen Rider Cronus is Yuya Nawata (縄田 雄哉, Nawata Yūya), who is also the suit actor for Kamen Rider Genm.
Etymology
The name "Snipe" reflects his associated shooting game motif and his performance when he was a radiologist, being able to focus and target certain infections.
Notes
According to actor, Ukyo Matsumoto, the character's original name was going to be Taiga Barado (

茨戸大我

,

Barado Taiga

), but the surname was changed due to sounding too similar with Parado's.[19]
Snipe has the letters STG on his helmet, this is a reference to an abbreviated term for Shoot em' up games aka Shmups. This also alludes to Combat Shooting Gamer Level 3 as it is themed after airplanes/ships from air/space combat shoot 'em ups.
Taiga's helmet having one eye covered by default represents eye dominance during shooting. Conversely, his Level 3 form has the eye cover flipped upwards.
Fans have noted that Taiga's white highlights in his hair resembles that of Black Jack, a famous fictional doctor from a manga of the same name written by Osamu Tezuka. Much like that character, Taiga is a doctor who had his license revoked. Although the staff of Ex-Aid had acknowledged the similarities, they stated that it was coincidental.[20]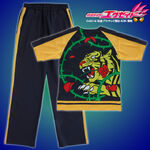 In his civilian clothes, a tiger (

タイガー

,

Taigā

) with a flower (

花

,

Hana

) paint can be seen.

In Ganbarizing, during the activation sequence of the Gag Energy Item, Ex-Aid tells Snipe a joke about the can use Night of Safari Gashat, due to Snipe was really a 'tiger'.

The way he twirls his Gashat also invokes the gunspinning tradition seen in TV and film, where a gunslinger twirls his gun before inserting it into the gun holster. Further reference to his use of guns is his quirk of pointing his Gashats at an enemy like a gun before pressing the trigger to activate it to transform.
Taiga's Levels are all allusions to different branches of the military. Army (Bang Bang Shooting), Air Force (Jet Combat), and Navy (Bang Bang Simulations).
In Episode 20, Taiga is revealed to have a fear of ghosts.
Appearances
References