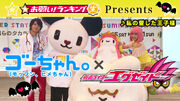 TV Asahi (formerly known as NET until 1977) is the Japanese TV channel in Tokyo (serving the Kantō Region) which has broadcast the Kamen Rider Series since its revival from 2000 to the present day. The Super Sentai series is also shown on the channel, which makes up the Super Hero Time block along with Kamen Rider.
Whereas the home of Super Sentai has always been TV Asahi, Kamen Rider shows in the Showa period varied as to what channel they aired on. Aside from TV Asahi (then known as NET), some series aired on other channels such as the Mainichi Broadcasting System and Tokyo Broadcasting System and some series aired on more than one channel.
The original Kamen Rider aired on NET as did following series until the Kamen Rider Series moved to TBS after the original Sentai series, Himitsu Sentai Gorenger

, took the time-slot after the end of Kamen Rider Amazon.
Broadcast history of Showa Kamen Rider
Broadcast history of Heisei Kamen Rider
External links