The Swordfish Orphnoch (ソードフィッシュオルフェノク, Sōdofisshu Orufenoku) is an Orphnoch who assumed the form of a gorgeous man (ゴージャスな男, Gōjasu na Otoko). He is equipped with a pair of high frequency claymores that can shred through iron. He was destroyed by Faiz Axel Form's Axel Sparkle Cut.

Form
Swordfish Orphnoch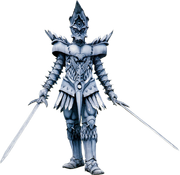 Statistics
Height: 214 cm.
Weight: 128 kg.
Powers and Abilities
Transformation to Orphnoch: As all his race, he can transform of human to Orphnoch.
Destroy hearts: As Orphnoch, he can used his worn tentacle or weapon for eliminated the hearts of theis victims in burst of flames.
Arsenal:
Sables: His two sables can shred through iron and emit vibration waves. It can also cut through iron ingots.
Behind the Scenes
Concept Art
Swordfish Orphnoch was designed by Tamotsu Shinohara (篠原 保, Shinohara Tamotsu).

Notes