The Stingray Lords (スティングレイロード, Sutingurei Rōdo) are using their method of killing is having a person fall to his/her death via matter transference. Voiced by Katsumi Shiono.
Stingray Lords
Potamotrigon Cucullus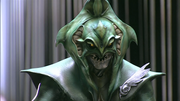 Main article: Potamotrigon Cucullus
Potamotrigon Cucullus (ポタモトリゴン・ククルス, Potamotorigon Kukurusu, 24 & 25): A green-skinned sawfish Unknown armed with a double-bladed sword named the Wrathful Mallet (憤怒の杵, Fun'nu no Sho), Cucullus' actions caught the police's attention, who attempted to fight him when it went after another victim. But Cucullus was intercepted by Shouichi in the G3-X suit, destroyed by the GX-05 Kerberos.

Potamotrigon Cassis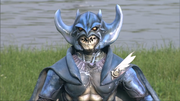 Main article: Potamotrigon Cassis
Potamotrigon Cassis (ポタモトリゴン・カッシス, Potamotorigon Kasshisu, 25): A manta ray Unknown with blue skin and hook-like tendrils he can use as weapons, Cassis witnessed the death of Cucullus. When Cassis made his move, he was intercepted by Agito before he could kill his victim. Cassis defeated Agito, but was pursued by Hikawa in the modified G3-X suit and blasted to bits by the GX-05 Kerberos.
Appearances
Community content is available under
CC-BY-SA
unless otherwise noted.