Staff Officer Steel (鋼鉄参謀, Kōtetsu Sanbō, 27-29): An armour Cyborg Majin of the Delza Army.
Character History
He was destroyed by Stronger's Stronger Electro Kick. The Curse of Majin Kate's Blood!
Kamen Rider Decade: World of Stronger
to be added Kamen Rider Decade: World of Stronger
Kamen Rider SD: Sortie!! Rider Machines
Staff Officer Steel is the boss of the Big Tank stage, as it implies, the battle is against a huge enemy tank with Staff Officer Steel using his ball and chain to try to keep the player away from him as well as two GranShocker gunners and a maser cannon to try and take out Stronger.
Arsenal
Staff Officer Steel possesses great strength which surpassed Kamen Rider Stronger. In addition he has armor and a wrecking ball composed of iron and can redirect electrical energy. His weakness is Doctor Kate's poisonous Kate Gas.
Delza Army Corps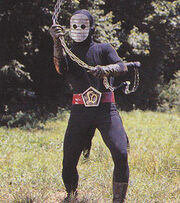 Staff Officer Steel's Delza Army Corps wore steel masks and wielded chains, using them as weapons.
Appearances
Community content is available under
CC-BY-SA
unless otherwise noted.