Wiki Targeted (Entertainment)
Play Sound
This article is about an alternative version of the protagonist of the series Kamen Rider Zi-O. For other uses of Sougo Tokiwa, see Sougo Tokiwa (disambiguation).
"My dream since I was a kid was to become a King."
―Sougo's presentation
Sougo Tokiwa (常磐 ソウゴ, Tokiwa Sōgo), alternatively spelt Sogo Tokiwa[1], is an alternate counterpart of Sougo Tokiwa from an unnamed robotic A.R. World, who is also a player in his world's Hikarigamori High School's basketball team.
History
King Death Game
This version of Sougo Tokiwa comes from an alternate dimension, where humanity has been wiped out and replaced by robots.
Sougo and a few other people find themselves inside a mansion located on a deserted island. After a brief exchange of words with the others, a masked man appears on the TV screen inside the mansion and announces they are in what is called a "King Game", and whosoever wins the game will be crowned king of the world. Sougo is excited, as his dream is to become a king.
The masked man gives everyone their first mission of the game: Each must go outside to find a chair and bring it to the room they are currently standing in. Except for one person, all the people easily finish the task given. The person, as a consequence, is killed by Another Ryuki on orders of the masked man, much to the horror of everyone else.
At night, as Sougo is disillusioned by the prospect of the King Game, the masked man appears once more on TV and gives everyone their next task: Everyone must each find a pot and bring it back. This time, a housewife cannot find one and is killed. However, an old man is also killed shortly after, alerting them to the fact that there may be more than one killer in the mansion. Later that night, Tsukasa Kadoya also makes his presence known to the group. He also reveals that the one behind the Game is the "true Sougo", who is destined to become Ohma Zi-O at some point. Tsukasa has chased the "true Sougo" until he ends up at the mansion. He also notes that the strength of the "true Sougo" has diminished due to having used too much power.
Upon learning from Tsukasa that the mansion is connected to countless other worlds, Sougo and everyone is warned to not trust anyone else, because they have no idea of knowing who is from what dimension.
The next morning, the masked man appears again and Tsukasa joins the game. The third stage requires everyone to have some games of rock-paper-scissors, whoever is beaten by everyone loses. However, if the results of 5 games are all a tie, everyone will die. 5 games pass and Misa Kudo volunteers to be the loser, resulting in her death. Before dying, she tells Sougo not to lose the Game.
The Game quickly continues into the fourth stage: A hide-and-seek game where anyone found first by Another Ryuki is the loser. Swartz is killed in this game by the mysterious killer. Sougo decides he does not wish to become King by the deadly Game anymore and attempts to leave, but the masked man appears once more and annouces the final challenge of the Game: The remaining members are to find a treasure weapon inside the mansion, and use them on one another until there is only one left, with Another Ryuki attacking them at random. While everyone is playing, Sougo still chooses not to participate and sits down near the sea. Just then, the mysterious killer throws an axe which hits Sougo's abdomen, seemingly killing him.
The killer is shortly revealed as Yusuke Onodera, who comes from an alternate dimension different from Decade's. He attempts to kill Tsukasa to be the winner, but Sougo returns, having survived his assasination attempt thanks to his robot physiology. Yusuke, enraged that he has failed to win, runs off screaming. Sougo helps an injured Tsukasa back into the mansion.
Inside, Yusuke is still ranting about his desire to become King. The masked man, at last, shows up in person, and discloses his identity and purpose: He is Narutaki, Tsukasa's old enemy, who has been selected by the "true Sougo" to be the referee of this King Game. He further notes that the "true Sougo" has become very weak due to some reason, and he has organized the King Game many times to find a suitable host for his body. Just then, Ohma Zi-O appears inside a mirror, taking Yusuke's body. However, Yusuke's body is incompatible and he perishes as a consequence. Narutaki does not wish to serve this "true Sougo" anymore, and has led Tsukasa to the mansion to finish the Game for good. Having learned the whole story, Tsukasa and Sougo transform into Decade and Zi-O, then jumps into the mirror to fight Ohma Zi-O.
The mirror drags them into a wasteland of nothingness, and they are joined by Kamen Riders Diend, Kuuga, and Kiva-la. Despite outnumbering Ohma Zi-O, they quickly find themselves overpowered by him. Desperate, Sougo gives Tsukasa the Saber Ridewatch, and asks Tsukasa to find someone worthy enough to wield it. The Riders are subsequently defeated in a massive explosion.Rider Time: Kamen Rider Decade VS Zi-O
Personality
Robot Sougo seems to be quite similar to the original one. However, this Sougo appears to have an affinity for basketball, something not seen with the original.
Powers and Abilities
Robot Physiology

Since this Sougo is a robot, he managed to survive a stab in his stomach.
Forms
Kamen Rider Zi-O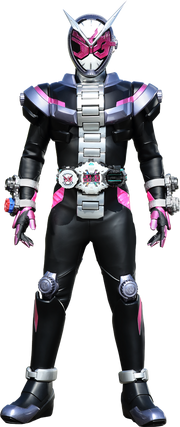 "Rider Time! (Electronic beat) Kamen Rider Zi-O!"
―Transformation announcement
Rider Statistics
Rider Height: 200.0 cm.
Rider Weight: 92.0 kg.
Ability Parameters
Punching Power: 8.2 t.
Kicking Power: 19.0 t.
Maximum Jump Height: 30.2 m.
Maximum Running Speed: 100 m. per 5.0 sec.
Kamen Rider Zi-O transforms by inserting the Zi-O Ridewatch into the right-hand side of the Ziku-Driver. His base form's visor reads "Rider" (ライダー, Raidā). This version of Zi-O could not use the Saber Ridewatch, unlike his prime counterpart.
This form's Finisher is the Time Break (タイムブレイク, Taimu Bureiku): A series of magenta-colored "Kick" (キック, Kikku) characters appear and circle the enemy. Zi-O then jumps high as the "Kick" characters merge into one and imprint on Zi-O's right foot as Zi-O performs a Rider Kick.
Behind the Scenes
Portrayal
Sougo Tokiwa is portrayed by So Okuno (奥野 壮, Okuno Sō) who portrays every version of him except his child one and Ohma Zi-O.
Etymology
Sougo Tokiwa's name is play on Tokiwa-sō, the place where Shotaro Ishinomori lived and started his manga career during 1956 to 1961. "Tokiwa" also carries the word (とき, Toki), which can be translated into time when it is written in kanji "時". If matching his kanji, it was named after (常盤桜 Tokiwazakura), which it means primrose.
Notes
His A.R. World is a nod to the future timeline of Kamen Rider Kikai, where the world has been overrun by machines, with very few humans left.
He is the only version of Sougo Tokiwa who is not a human.
Appearances
References
Community content is available under
CC-BY-SA
unless otherwise noted.