For the Mirror World version, see Sougo Tokiwa (Mirror World).
For Oma Zi-O, see Sougo Tokiwa (future).
"I'll become a King!"
―Sougo's dream declaration
"That's right.. Ever since I was born... I knew where I wanted to go!"
―Sougo's determination to change his fate
"I will become the demon king! However, I won't be the villainous demon king. I will be the greatest, kindest demon king!"
―Sougo's declaration to change his fate and becoming Zi-O
"Armor Time!"
―Zi-O's call when he changes forms in Kamen Rider Build: Be The One
"I've got a feeling this will work out!"
―Zi-O's catchphrase when he feels optimistic
"Good and evil... Light and darkness... I accept it all! With that power... I will open the way to the future!"
―Zi-O after unifying with his mirror self
"I see it, your future!"
―Zi-O II whenever he sees a vision of the opponent's attack.
Sougo Tokiwa (常磐ソウゴ, Tokiwa Sōgo), alternatively spelt Sogo Tokiwa[1], is an 18-year-old (19 as of Episode 34) high school student (graduated as of Episode 29) who is visited by Tsukuyomi and Black Woz from 50 years in the future and learns that he is destined to become the tyrannical ruler of their time, Oma Zi-O. With this knowledge, he makes it his goal to be a great king through kindness by becoming Kamen Rider Zi-O (仮面ライダージオウ, Kamen Raidā Jiō). However, Geiz Myoukouin is hellbent on killing him to alter the course of history, with White Woz backing Geiz up until his disappearance from the timeline.
History
Early Life
Sougo Tokiwa was born on April 28, 2000 to his parents, Sotaro and Namie Tokiwa.  On April 24, 2009, just four days before his ninth birthday, Sougo and his parents took a trip on a tour bus that was also (unbeknownst to him), passengered by Hiryu Kakogawa and Tsukuyomi, and driven by Tsukasa Kadoya. About halfway through the ride, Swartz (from an earlier timeline) arrived and stopped the bus with his powers, later boarding it and sat at the back. Swartz resumed time once again and subsequently sabotaged the bus, causing Tsukasa to lose control. Sougo's father (and another father) confronted him, but they were overpowered by Swartz's powers and taken down. After Swartz froze the parents in time, Sougo confronted the Time Jacker, but was held hostage, causing Tsukuyomi to shoot at Swartz in an attempt to save him. However the shot ricocheted and hits Hiryu, and Swartz proceeds to teleport himself and the children to somewhere in the city. The bus explodes inside a tunnel, killing everyone on board except for Tsukuyomi and Tsukasa, who both manage to escape right before the explosion via Dimensional Wall.
Sougo and the children awaken and discover the city being attacked by several Dai Mazines. When Sougo attempted to save Hiryu from being crushed by falling debris, he distinctively summoned a series of pink katakana that slowed down time, allowing him to save the boy and disintegrate one of the Dai Mazines by sheer willpower alone. Realizing Sougo's potential to become king, Swartz approached the young boy and offered him the chance of a lifetime, to become king and protect the world from destruction. After Sougo agreed, Swartz (to some extent) modified his memories, which an adult Sougo would later recall his memory as a dream. Swartz then proceeded to place Sougo and Hiryu at the site of the crash, where they would eventually be rescued and recorded as the two only survivors. The two later were admitted to a hospital and put into the same room. After Sougo was discharged, he moved in with his grand-uncle, Junichiro Tokiwa.
Since the incident, Sougo has had a strong belief that he could become a king, much to the chagrin of his future friends and uncle. According to his uncle, this was so serious that Sougo did not have friends growing up, and was lonely for most of his childhood. At some point, Sougo received a toy robot and wrote WILL BE THE KING in English on the back of it. This robot would later serve as inspiration for Rento Makina, later known as Kamen Rider Kikai.
During his elementary school years, he became quick friends with Tsutomu Tsuzumiya due to their seemingly "absurd" dreams together. At one point, Sougo was playing at a park, however he had gotten hurt and no one helped him. An unnamed high schooler who he would later affectionally call "Miss Sailor" (who highly resembled Yuri Aso) came and bandaged him up before offering to play with him. Later as they departed, Sougo became infatuated with her after she called him a cute boy. Sougo would later confuse the identity of this girl with Yuko Kitajima.
During his teens, he attended Hikarigamori High School, excelling in history but poor in physics.
Possible Futures
Main article: Oma's Day
Oma Zi-O's Timeline
Main article: Oma Zi-O
At some point, Sougo acquired the Zi-O Ridewatch II, which triggered his transformation into Oma Zi-O used seven giant monstrous machines called Dai Mazines to destroy the world and become the revered "Demon King."
After his younger self and Tsukuyomi arrives in 2068, Oma Zi-O, reveals himself to be the person he had feared to be and the younger Sougo tries to destroy him, to no avail. Oma Zi-O then tells Sougo that there is one thing he can do to prevent destruction and to not be a demon king, and that was to throw away his Ziku-Driver. He then shows Sougo what was going on in 2018 and sends him and Tsukuyomi back.
This resulted him briefly erased from the timeline after his past self letting Geiz destroy his Ziku-Driver, but restored thereafter knowing his past self couldn't give up his dream.
Even after Oma's Day passed, Oma Zi-O is still in fact intact in the timeline, which meant that Sougo was still on track to become Oma Zi-O sometime in the future, albeit much later than originally. Oma Zi-O reveals that there are six remaining Ridewatches left to unlock. After his younger counterpart completely managed to obtain the power of GrandZi-O, he made his way to 2068 in order to face off against Oma Zi-O once again, only to be be a futile effort as due to the younger Sougo still yet to collect the last remaining power. 

In this timeline, Geiz defeated Oma Zi-O and became known as the world's savior, later evolving into GeizRevive, creating a peaceful timeline and according to White Woz, "like time itself has stopped". This timeline is likely erased after the fated duel between Zi-O and Geiz that took place in Oma's Day was averted. 
It is never explicitly stated whenever Sougo was alive or not in this timeline.

Prophesied Vision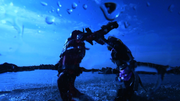 In a version of Oma's Day, seen by Sougo through the use of the Zi-O Ridewatch II, he sees a future of a fated duel between Zi-O II and Geiz to declare which future will be secured. While the dream did not reveal the outcome of the fated battle, it was likely erased after Oma's Day had passed and such battle didn't happen. Another Zi-O 2019

Other Events
Be The One
At some point in his history, Kamen Rider Zi-O joined a battlefield where the first 18 Heisei Riders were engaged in battle against their numerous adversaries. This event was also witnessed by Sento Kiryu, Kamen Rider Build, which was inadvertently transported to this location as a result of experiments with the White Pandora Panel he conducted at some point following his battle with Kamen Rider Blood.
Arriving in his Time Mazine, Zi-O disembarked and found Sento, who noted the name "Kamen Rider" on his mask. Revealing to Sento that he possessed the power of Build, Zi-O used the Build Ridewatch to assume BuildArmor as he entered the fray. After striking several monsters with his Drill Crusher Crusher, Zi-O quickly performed a Vortex Time Break which wiped out all the Riders' opponents while catching the prior Riders in the crossfire. Reverting to his default form, Zi-O was left with Sento, who questioned who the Rider was and how he had his power. Introducing himself as Kamen Rider Zi-O, Sougo proclaimed himself as the demonic king with the powers of all Kamen Riders, while acknowledging that he was going by the word of others. Kamen Rider Build: Be The One
Personality
Sougo is described as an ambitious young man with a strong desire to be king. This desire stems from a recurring dream he has had since his childhood, where a man in black, who would later be revealed to be Swartz, had encouraged him into becoming one in order to save the world. Because of his eccentric dream, Sougo did not have any friends growing up, with his sole companion being a toy robot, a fact that Junichiro would confide later with Tsukuyomi, saying both she and Geiz were the first friends he ever had. Sougo also exhibits fanatical admiration towards the presence of regal figures (i.e.: Kuroto Dan) and ordinary people who possess benevolent king-like qualities (i.e.: Eiji Hino), as he believes he can learn from individuals who have succeeded in their ascension and also understand what is needed for one to be a benevolent ruler, resulting in him becoming one step closer to accomplishing his own ambitions. His views for kingship changed once he discovered the existence of his tyranical alternate future self, and temporarily abandoned his quest for kingship. However with support from Geiz, Sougo began displaying emotional and psychological resilience when facing such moral dilemmas; even when confronted by the Mirror World manifestation of his own dark side, Sougo persevered and adapted, and was able to come to terms with his inner darkness and decided to risk it all in finding out if he truly does become the evil tyrant he was destined to be.
Sougo is a peaceful and genuinely kind man at heart who confidently feels obligated to show compassion and empathy even towards people who have committed horrible deeds, such as Yuko Kitajima, as he feels it is a quality that kings should possess. He will gladly put himself in danger in order to cease a conflict, a trait even Tsukuyomi does not fully understand. He is also very trustful towards others, and had no doubt that Geiz would use the Wizard Ridewatch and defeat Another Wizard in 2012.
Sougo also showed an inability to come out with his feelings, hiding the fact that he genuinely felt lonely after Geiz and Tsukuyomi left and continued insisting he was fine. It wasn't until Junichiro built up the courage to actually scold him over this, advising him to just come out with his feelings. This encouraged Sougo to admit his loneliness to both Geiz and Tsukuyomi and asked them to return to 9 5 DO.
Throughout the course of his journey, Sougo has improved his combat skills considerably, rising from the ranks of an amateur combatant to a formidable warrior, who could contend with more seasoned warriors such as Geiz in a relatively short period of time. In regards to his fighting habits, Sougo is a resourceful and competent fighter who relies heavily upon his huge arsenal of Rider Armors and weapons. While not a fully technical fighter, Sougo approaches a fight in a composed manner and remains calm and level-headed under fire. He is a focused and cunning strategist who can adapt to most situations with innovative strategies.
Because of his optimistic approaches, Sougo adds the verbal tic "Feels like it" (気がする, Kigasuru) at the end of most of his sentences.
Legend Rider Catchphrases
Occasionally when Sougo dons a new RiderArmor, he will say the original Rider's catchphrase, albeit somewhat altered:
Power & Abilities
Skills
Weaknesses
Forms
Kamen Rider Zi-O transforms by inserting the Zi-O Ridewatch into the right-hand side of the Ziku-Driver and spinning the Driver 360 degrees. He accesses Rider Armor (ライダーアーマー, Raidā Āmā)[2] forms based on previous Heisei Kamen Riders by inserting Ridewatches into the left-hand side of the Ziku-Driver.
Zi-O can execute a finishing attack known as the Time Break (タイムブレーク, Taimu Burēku) by pressing the Ride-On Starter on their Rider Ridewatch and rotating the Ziku-Driver. Time Breaks performed in a Rider Armor are named after the respective Rider's special move with "Time Break" after it.
Equipment
Devices
Weapons
Handheld weapons:
Suit-equipped weapons:
Legend Riders' weapons used by GrandZi-O:
Vehicles
Legend Rider Devices
Relationships
Behind the Scenes
Portrayal
Sougo Tokiwa is portrayed by So Okuno (奥野 壮, Okuno Sō). As Kamen Rider Zi-O, his suit actor is Seiji Takaiwa (高岩 成二, Takaiwa Seiji).
Rider No.
As the leading rider protagonist of Kamen Rider Zi-O, Zi-O is labelled Kamen Rider #35 (仮面ライダー35号, Kamen Raidā Sanjūgogō) and Heisei Rider #20 (平成ライダー20号, Heisei Raidā Nijūgō).
Etymology
Sougo Tokiwa's name is play on Tokiwa-sō, the place where Shotaro Ishinomori lived and started his manga career during 1956 to 1961. "Tokiwa" also carries the word (とき, Toki), which can be translated into time when it is written in kanji "時".
"Zi" in Zi-O's name could mean either time (時, Ji) or character (字, Ji), representing his "watch" and "Katakana" motifs while the "O" means king (王, Ō). It may also be Goroawase for the number 20 (2 - Ji, 0 - Ō), referencing that Zi-O is the 20th Heisei Rider.
Notes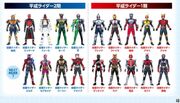 Appearances
References
Community content is available under
CC-BY-SA
unless otherwise noted.