Wiki Targeted (Entertainment)
Play Sound
"Roidmuchi? No, that's wrong...Roidmucho?!!"
Lt. Otta has messed up! Help him jog his memory by cleaning up this article!
Reason: Huge chunk of character history missing
"I want to become a King!"
―Sougo's dream declaration
"That's right.. Ever since I was born... I knew where I wanted to go!"
―Sougo's determination to change his fate
"I will become the demon king! However, I won't be the villainous demon king. I will be the greatest, kindest demon king!"
―Sougo's declaration to change his fate and becoming Zi-O
"I've got a feeling this will work out!"
―Zi-O's catchphrase when he feels optimistic
"Good and evil... Light and darkness... I accept it all! With that power... I will open the way to the future!"
―Zi-O after unifying with his mirror self
"I see it, your future!"
―Zi-O II whenever he sees a vision of the opponent's attack.
"You can't change the past, but with your own power, you can change the future."
―Sougo to Aruto
Sougo Tokiwa (常磐ソウゴ, Tokiwa Sōgo), alternatively spelt Sogo Tokiwa[1], is the main protagonist of Kamen Rider Zi-O. He is an 18-year-old (19 as of Episode 34) high school student (graduated as of Episode 29) who is inspired to become a great king through kindness by becoming Kamen Rider Zi-O (仮面ライダージオウ, Kamen Raidā Jiō). Throughout the series, Geiz Myokoin, Tsukuyomi, and Black Woz arrive from 50 years in the future in an attempt to guide Sougo away from his apocalyptic destiny of becoming Ohma Zi-O, while facing other temporal obstacles in their way.
In Zi-O VS Decade, he is nicknamed Sougo A (ソウゴ A, Sōgo Eī) to differentiate himself from his counterparts.
Biography
Early Life
Sougo Tokiwa was born on April 28, 2000, as the only son of Sotaro and Namie Tokiwa. At some point in his childhood, Sougo was riding a bike at a park with his parents. He proclaims to them that he would become a king, with his teenaged-self looking back at this event during the Quartzer incident. Kamen Rider Zi-O: Over Quartzer
On April 24, 2009, just 4 days before his ninth birthday, Sougo and his parents took a trip on a tour bus that was also (unbeknownst to him), passengered by Hiryu Kakogawa and Tsukuyomi (from year 2068), and driven by Tsukasa Kadoya (from year 2019). About halfway through the ride, Swartz (from an earlier timeline than Tsukuyomi's) arrived and stopped the bus with his powers, later boarding it and sat at the back. Swartz resumed time once again and subsequently sabotaged the bus, causing Tsukasa to lose control. Sougo's father (and another father, most likely Hiryu's) confronted him, but they were overpowered by Swartz's powers and taken down. After Swartz froze the parents in time, Sougo confronted the Time Jacker, but was held hostage, causing Tsukuyomi to shoot at Swartz in an attempt to save him. However, the shot ricocheted, hit Hiryu instead, and Swartz proceeded to teleport himself and the children to somewhere in the city. The bus explodes inside a tunnel, killing everyone on board except for Tsukuyomi and Tsukasa, who both manage to escape right before the explosion via an Aurora Curtain. The Beginning of Everything 2009
This event would lead to Hiryu's hatred against Sougo for causing his parents' death, and to him becoming Another Zi-O. Another Zi-O 2019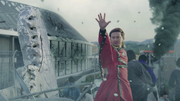 After Sougo and the children awoke and discovered the city under attack by several Dai Mazine, Sougo had attempted to save Hiryu from being crushed by falling debris. However, he unconsciously stopped time, allowing him to save Hiryu. Meanwhile, his original counterpart disintegrated a nearby Dai Mazine in order to put Swartz's attention onto Sougo instead, so that Sougo can collect the Ridewatches for SOUGO to take later on.The Beginning of Everything 2009 Kamen Rider Zi-O: Over Quartzer
Realizing the potential in Sougo, Swartz approached the young boy and offered him the chance of a lifetime; to become king and protect the world from destruction. After Sougo agreed, Swartz modified his memories, which an adult Sougo would later recall his memory as a dream. Swartz then proceeded to place Sougo and Hiryu at the site of the crash, where they would eventually be rescued and recorded as the only two survivors. The two later were admitted to a hospital and put into the same room. After Sougo was discharged, he moved in with his grand-uncle, Junichiro Tokiwa.
Since the incident, Sougo has had a strong belief that he could become a king, much to the chagrin of his future friends and uncle. According to his uncle, this was so serious that Sougo did not have friends growing up, and was lonely for most of his childhood. At some point, Sougo received a toy robot and wrote WILL BE THE KING in English on the back of it. This robot would later serve as inspiration for Rento Makina, later known as Kamen Rider Kikai. It's Kikai! 2121
During his elementary school years, he became quick friends with Tsutomu Tsuzumiya due to their seemingly "absurd" dreams together. At one point, Sougo was playing at a park; however, he had gotten hurt and no one helped him. An unnamed high schooler who he would later affectionally call "Miss Sailor" (who highly resembled Yuri Aso) came and bandaged him up before offering to play with him. Later as they departed, Sougo became infatuated with her after she called him a cute boy. Sougo would later confuse the identity of this girl with Yuko Kitajima. 2008: First Love, Wake Up!
During his teens, he attended Hikarigamori High School, excelling in history but poor in physics.
The Birth of Zi-O
One day, Sougo found a mysterious watch-like item that was on the seat of his bicycle, and after examining the blank item, Sougo laid down the blank item, then went on home while minding his own business. Later, while bicycling down a small street up towards a stairway, a man in a hood, holding a grimoire, appeared out of nowhere, who told him that it would be a momentous day for him and to avoid the "red robot" before mysteriously disappearing.
He does indeed encounter the robot shortly after, run by a man in red and black attire and attacks Sougo. He is saved by a woman claiming to be from the future named Tsukuyomi in her Time Mazine. They seemingly travel back in time to the Jurassic Era, then to 1671 Japan, where she proves her legitimacy to him. Tsukuyomi warns Sougo that the watch he currently had possessed a tremendous amount of power, and using it will make Sougo turn into the worst demon king, Ohma Zi-O. Just before Sougo could reply, a fight occurs and Tsukuyomi decide to test whether Sougo is really Ohma Zi-O or not by forcefully putting Sougo in the middle of the fight. The citizens proceed to throw Sougo to a river and doing so makes peace for themselves. Instead of lamenting his misfortune, Sougo is relieved to see that the group had reconciled, much to the citizens' amusement. However, a red Kamen Rider, Geiz manages to tail them and the two retreat back into the Time Mazine.
When Tsukuyomi was being attacked by Geiz, Sougo gets kicked out of the mech and wakes up in a strange world with a huge wall in the horizon. As he ponders over this, a Smash attacked him but luckily Kamen Riders Build and Cross-Z appears to help. After revealing their names, Sento and Ryuga bring Sougo to the cafe Nascita.
As Ryuga drinks from a carton of milk, Sougo sees the expiration date and realized that he's indeed in the year 2017. Sento affirms that Sougo is indeed from the future since, after some analysis, Sougo's Ridewatch is different from any current technology. Before Sento can ask about the future, Tsukuyomi appeared and shot the three of them into unconsciousness using Faizphone X, in order to prevent Sougo from interfering with the past any more than necessary. He wakes up in his old home, believing it to be all a dream. Later, he encounters a monster with the similar look of Build, attacking civilians. He tries to stop him, but is quickly subdued twice.
Sougo was approached by the prophet once again, who then tells him that he'll become an demonic king who will reign over the future. Tsukuyomi desperately tries to warns Sougo to not use the Ridewatch. However, after some quick thought, Sougo decides to not become a tyrant, but to become a beloved future demonic king, much to both Tsukuyomi and Woz's surprise. After that, the blank Ridewatch loads in Sougo's willpower to become a king, and revealed itself to becoming the Zi-O Ridewatch, then Sougo is given the Ziku-Driver by Woz to transform and battle the elusive Another Rider. As it is his new beginning of becoming a Kamen Rider, Woz announced the introduction of Sougo as he was now Kamen Rider Zi-O, the King of Time, much to Tsukuyomi's disappointment, and Geiz' anger.
He is able to go on par with Another Build and is quick to defeat him using the Zikan Girade's finisher. Geiz enters the fray, seemingly frustrated with Sougo on his decision and Tsukuyomi as she failed in convincing him. Geiz proceeds to ask why Sougo became Zi-O, which the latter replied that it was probably decided from the moment he was born. Reminiscing Ohma Zi-O's declaration, Geiz deems Sougo as irredeemable and transforms using both Geiz and Ghost Ridewatchs to become Kamen Rider Geiz GhostArmor and advances towards Zi-O. Kingdom 2068
The Genius Physicist
Geiz proceeds to attack Zi-O relentlessly until Tsukuyomi piloting the Time Mazine and tells Zi-O to run. After a lengthy bike chase, he manages to do so. Sougo then encounters Woz once more, who formally introduces himself. He states that the two that hail from the future are trying to change the future. Woz then warns him a group named the Time Jackers who have the same goal, but to have another king of their choosing in the future. He claims to be the one keeping the timeline the same and that he's on Sougo's side, remarking that his conquest has only just begun. He later finds Another Build fighting Geiz and rescues the two. With his Time Break, Zi-O seemingly defeats the monster once more, only to find it again within seconds. Believing only the real Build could defeat him, he rushes off to find him.
Later, Sougo went to the same cafe to meet Sento and Ryuga again. However, due to Another Build's appearances, Nascita's scenery had changed, the fridge that was the passway to the hidden laboratory is gone, and both Sento and Ryuga become Tsunagizu fanboys instead, seemingly forgetting their memories of being Kamen Riders and their encounter with Sougo the previous year. After Geiz destroys Another Build once again, Sento and Ryuga's memories returned, and two blank Ridewatches that they somehow possessed turns into the Build and (the second) Cross-Z Ridewatches. Sento then said to Sougo to take care of his past self and gives him the Build and Cross-Z Ridewatches. Although he doesn't understand at first, he quickly realizes that Another Build showed up and attacked Sento and Ryuga in 2017 and himself went back in time to help defeat it. He meets up again with Geiz and Tsukuyomi informing them and the two Riders head to their Time Mazines and head back to the past.
Sougo and Geiz manage to arrive at the very scene, only to be interrupted by Uhr of the Time Jackers. He tells Sougo that the host of Another Build's fate was to have his athletic career abruptly ended in an accident, and that he helped him move forward. The latter argues that despite his ability to time travel and intervene with other's lives, it's that individual that can determine his or her future. Impressed with his statement, Uhr wonders what "his" future will look like and walks away. The two Riders transform and join up with Build and Cross-Z to take down Another Build. However, the change of events in the timeline has caused Build's and Cross-Z's powers to disappear, seemingly to have transferred into the Cross-Z and Build Ridewatches. Zi-O uses the Build Ridewatch to become Zi-O BuildArmor, with Woz appearing and remarking this moment. Zi-O Build Armor is now able to damage the monster, with Geiz subduing him with his Zikan Zax in Yumi Mode. Zi-O uses Vortex Time Break to finish the monster, with Geiz utilizing the Zax's finisher equipped with the Cross-Z Ridewatch. Remembering that Sento and Ryuga gave Sougo the Ridewatches, he asks the two to hold on to two blank Ridewatches for safe keeping. Sento corrects him by saying that his real name is Takumi Katsuragi, and he seems to forget about Sougo. Geiz demands to know what's with sudden anomalies in the timeline, but Sougo himself is confused about it as well, only exclaiming that Sento and Ryuga will choose to become Kamen Riders Build and Cross-Z in the future.
Sougo wakes up the next morning to find out that Tsukuyomi and Geiz have rented out that his uncle's spare rooms. Tsukuyomi explains that him saving the two has questioned whether or not he will grow to become a vile dictator and have decided to keep an eye on him, with Geiz later saying his vendetta towards him hasn't ceased. Despite all this, Sougo seems to be fine with the two living under the same roof as him. Best Match 2017
Genius Gamer M
"With no continues... I think I'll clear this."
―Zi-O's version of Ex-Aid's proclamation
The first day that Geiz and Tsukuyomi took a class with Sougo, Sougo didn't feel relaxed a bit because whatever he did, they would follow and sneak on him, especially Geiz, who looked at him closely when he was about to use the toilet. During the lunchtime, he hid inside the sport warehouse and met a student playing a game from Genm Corp, similar to Mighty Action X. However, when Sougo tricked the gym teacher for covering the student to play the game in quiet, Another Ex-Aid appeared and attacked the player. Sougo transformed and fought it, but after he got thrown, Another Ex-Aid disappeared. Geiz and Tsukuyomi explained to Sougo that it wasn't his fault and the Another Rider had appeared. At home, Sougo thought to play the game to lure Another Ex-Aid, but his skill was beyond help as he couldn't reach the level where the student would be attacked. Tsukuyomi said about if only there was a gamer which could help as even she and Geiz couldn't play any old video game, Sougo rushly caught an idea to search a gamer and went to search for Genius Gamer M, after Tsukuyomi took a look on her history tablet. Sougo was late to realize if doing things like running around to search for him was a 100% difficult task but he got tired after he had done that. But he found another victim and Another Ex-Aid escaped in a blink, with Sougo couldn't even reaching for it. Woz came and told Sougo to take the victim to the doctor. Doctor Gamer 2018
Sougo, Geiz, and Tsukuyomi took the victim to Seito University Hospital. There, Sougo heard of a doctor who played games with the name of Emu and asked where he was. Hiiro met them and asked about the ruckus and Sougo told him of what he wanted. Hiiro recalled about Emu was missing after he played the mentioned game after Sougo revealed that the incident of the disease was related to the game. There was a note and Hiiro as he claimed that he somehow could trust them, on playing the game. The note was written in the German language and Geiz able to read it, revealing that it was a code for the player when they played the game. Sougo realized the meaning of the code after Geiz translated it and played the game, making them to be dragged to the game world itself and encountered Another Ex-Aid. Sougo and Geiz transformed and fought Another Ex-Aid, who proved formidable until they transformed into Zi-O Build Armor and Geiz Drive Armor respectively to defeat it. Emu appeared and congratulated them on cracking his code in a cold tone, before transforming into Ex-Aid and attacking them.
After some trouble, Sougo finally gained Ex-Aid's power and defeated his Another Rider counterpart No Continue 2016
Reaching the Stars
In 2018, Sougo finds out that several high school girls are missing, and Tsukuyomi mentions that an Another Rider is maybe behind this. Sougo, Tsukuyomi, and Geiz then go to Amanogawa High School, where the last victim last seen. Indeed, in there they met Another Fourze attacking a girl. After repelling the kaijin, Sougo and co. are forced to go to the Kamen Rider Club. The club's temporary advisor, Chuta Ohsugi then gives Sougo the Fourze Ridewatch, that he got from the club's official advisor. Switch On! 2011
Justifying Actions
With Another Fourze also possessing the powers of Another Faiz, Takumi Inui appears to stop Masato Kusaka and help Sougo investigate the case of dissappearing Libra female high school students. As they continue searching for answers behind the mystery of Another Fourze/Faiz's target Karin Yamabuki, they discover a connection with the Ryusei School. Sougo send Geiz in 2003 to beat Faiz and defeat the Another Rider once and for all. At the current time, Sougo also manages to defeat Another Fourze. 555・913・2003
King Kuroto Dan
In 2018,Kuroto Dan, the head of the Dan Foundation, established his own country, dubbing himself 'King Kuroto Dan', after accepting a deal from Uhr in 2010 to become Another OOO. After Geiz goes to investigate and gets his hands on the Gemn Ridewatch (Kuroto's old rider form) in 2016, Sougo decides to go a different route and becomes the head of Kuroto's army. Genm Master 2016
Later on, Sougo met Eiji Hino, the past Kamen Rider OOO (erased because of Another OOO), who had become a politician and was imprisoned by Kuroto. Eiji gave Sougo the OOO Ridewatch, with Sougo becoming Zi-O OOOArmour to defeat Kuroto. Hawk, Tiger, and Grasshopper 2010
Time Paradox
While Sougo was facing Another Gaim in 2013 to save Geiz, he suddenly found the Gaim Ridewatch from nowhere and became Zi-O Gaim Armor, with a bit of difficulty. Eventually, Another Gaim was defeated, but suddenly, a mysterious entity pulled Sougo to an alternate dimension, eventually revealed to be Kouta Kazuraba (the old Gaim) as the The Beginning Man. He asked whether it was right to depend on his own power to save his friend, before sending Sougo back to 2018. Zi-O On Parade 2018
After meeting his 3 days future self, Sougo has a plan to defeat the Another Gaim: making both himselves defeat Another Gaim in 2013 and 2018 the same way, with the duped Gaim Ridewatches future Sougo gave to him. My x My Stage 2013
Going Limbo and The Destroyer of Worlds
After defeating Another Gaim and saving Geiz from the Helheim Forest, Sougo went into the city to stop Another Ghost, who was sucking people's souls away. However, when he attempted to defeat him, Tsukasa Kadoya, also known as Kamen Rider Decade, the world destroyer working with the Time Jackers, stopped him and nearly made him lose his soul to Another Ghost. However, Takeru Tenkuji, the original Kamen Rider Ghost, was able to stop his soul from being sucked away, leaving his soul displaced from his body and invisible to everyone but to Takeru as he had the Ghost Ridewatch and Ghost powers. Ghost Hunter 2018
Geiz, realizing what had happened, went back to 2015 to fight Another Ghost, but just before he could be destroyed, Tsukasa intervened and stopped him again, giving him the Decade Ridewatch after neutralizing the Ghost Ridewatch. Sougo's soul was soon reunited with his body, and he became Zi-O DecadeArmor before regaining the Ghost Ridewatch, defeating Another Ghost while Tsukasa took his leave. That night, Sougo returns home only to find Tsukasa at his dinner table, who threatens to kill him before he can become king. GO! GO! Ghost 2015
Fated Meeting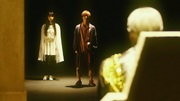 The next morning, Sougo arrived to the dinner table, only to have Geiz attempting to convince him to stop being a Rider. However, Sougo retorts the advice and starts eating. After Woz arrived and led Junichiro out the room, he informed the team of a crisis that was happening outside. They head out and discover the Dai Mazines attacking areas all around the world. Sougo reveals that he had dreams as a child where the Dai Mazines attacked the city, but was approached by a mysterious man who told him he could stop it all if he became king. Later, one of Ohma Zi-O's servants, Kasshine, appears and is tasked with killing Geiz and Tsukuyomi to protect "Sougo". The two escape, but Sougo manages to find them later at a warehouse, where Geiz arms himself to fight Sougo with a new resolve. However, Kasshine appears and assaults Geiz, who Sougo tries to tell that Geiz wasn't the enemy. Kasshine does not listen, and prompts Sougo to transform and stop him. Before he is able to do anything, Tsukasa appears and transforms into Decade. Sougo begged Tsukasa to stop so he can save Geiz, but Tsukasa did not let him and accessed Build Form. Sougo did the same and went to DecadeArmor BuildForm, and the fight continued. Kasshine intervened, and Geiz decides to team up with Tsukasa who then attack Sougo and Kasshine. Sougo spends the rest of the fight in denial, only enhanced by the taunts of Tsukasa who then opens up a portal to 2068 and forces Sougo in, with Tsukuyomi following him in.
Sougo awakens on a dystopian land and discovers the stone monument of his first transformation, with Tsukuyomi confirming that he is in 2068. Sougo decides to walk around and see what the world will be like in 50 years, and is distraught to find that the remaining 50% of the population are living in poverty and the terror of Ohma Zi-O. The two are then transported by Dragreder to the presence of Ohma Zi-O, who reveals himself to be the person Sougo had feared to be. In both disbelief and denial, Sougo transformed and attacked his older self, who then survives the attack and transforms into Ohma Zi-O. Ohma Zi-O laughs in nostalgia, having not seen his default weak form for over 50 years, and attacks the young boy. Ohma Zi-O then promises Sougo that one day in the future, he will gain powers befitting of a demon king. This angers Sougo as he goes into DecadeArmor and attacks Ohma Zi-O with a Decade-Kuuga attack from his RideHeisaber, but Ohma Zi-O whips out the Kuuga Ridewatch and counters it, sending it back to Sougo. Sougo gets up and readies a Decade-Kiva attack, while Ohma Zi-O activates the Kiva Ridewatch and counters the attack once again, sending it back. The two do the same with Ryuki, and Sougo goes down once again. Ohma Zi-O then tells Sougo that there is one thing he can do to prevent the world's destruction and to not be a demon king, and that was to throw away his Ziku-Driver. He then shows Sougo what was going on in 2018 and sends him and Tsukuyomi back. Back to 2068
Changing The Timeline
After being traumatized by his encounter with his future self (as Ohma Zi-O), Sougo gave up on being Zi-O to stop the future from happening, while Kasshine came from the future to kill Geiz and Tsukuyomi, under orders from Ohma Zi-O. Eventually, Geiz convinced him that he could still change his fate, despite the risk of Ohma Zi-O's timeline occurring, and reassured him that if he started to stray towards that path, he would stop him before he went too far. Sougo then accepted his fate, becoming Zi-O once again as Decade Ex-Aid Form, destroying Kasshine and helping Geiz destroy Uhr and Ora's Time Mazines. However, they both escaped. Forever King 2018
Heisei Generations FOREVER
A powerful Time Jacker named Tid appears and creates two powerful warriors, Another Double and Another Den-O and orders them to pursue a young boy named Shingo. While Sougo attempts to protect him, he meets a young Kamen Rider fan named Ataru, who demoralizes the existence of the Kamen Riders. Wondering what does he mean, him and Sento try to uncover the truth. The Kamen Riders are in fact only TV show characters and are not real, getting back to his world, Woz and Sougo acknowledged what happened and try to go back to this world to save Shingo from Tid. With the mystery uncovered, Sougo and Sento head to the Kurogatake Mountains where they must face their true enemy, Another Kuuga. The 20 Heisei Kamen Riders reunite for a last Heisei battle together and Shingo is returned to his time, in 2000. Kamen Rider Heisei Generations FOREVER
Meeting White Woz and Shinobi
One morning as Sougo fell asleep, he dreamt of a Kamen Rider named Rentaro Kagura, a ninja from the year 2022 who became Kamen Rider Shinobi. However unbeknownst to him, this dream actually materialized Rentaro Kagura to the real world where Rentaro later became Another Shinobi. As Another Shinobi began to wreak havoc in the city, Sougo and his team head out to investigate and eventually encounter it. Partway through, they encounter an White Woz, who antagonizes Zi-O and Black Woz and is completely loyal to Geiz, calling him "GeizRevive". After defeating Another Shinobi for them, he reveals that because Sougo temporarily gave his powers up, it created a new timeline where Ohma Zi-O did not exist, and from there came him. Happy New Woz 2019
When the team returns to 9 5 DO, they discuss how White Woz were able to control their actions using his Future Note, which was a problem. Deciding to just focus on Another Shinobi, Sougo decides to go confront Rentaro himself (unknowingly following White Woz's Future Note), an action that was quickly dis-advised by Black Woz, who told Sougo doing so would jeopardize his existence and his future. Sougo went anyway, telling Black Woz that he believed that Rentaro was a good man and could eventually become Kamen Rider Shinobi in the future. Sougo meets with Rentaro and encourages him to believe in his future self, later Rentaro affirming such belief after being defeated several times. However White Woz appears and creates the Shinobi Miridewatch, using it to defeat Another Shinobi as Woz Futurering Shinobi. Even though Sougo failed to protect Rentaro, he still held a strong belief that Rentaro will rediscover that power in the future. Amazing! Era! Future! 2022
Meeting the Puzzle Master
Sougo and Geiz head out to investigate an attack instigated by an Another Quiz, who was attacking people at a science laboratory. The two transform to fight the Another Rider, but are suddenly told stop fighting it by Mondo Douan, who just arrived and wanted to defeat Another Quiz for himself. The two refuse, and Mondo transforms into Kamen Rider Quiz, eventually targeting both Zi-O and Geiz as his enemies and defeating them both as well. As they watch Quiz approach Another Quiz, Ora appears, stops time, and retreats with Another Quiz. After time resumes, Quiz chases after them. Black Woz appears and tells the team that Quiz is most likely from GeizRevive's timeline. They also become confused as to why Quiz was able to coexist alongside his Another Rider counterpart. The Quiz Shock 2040
In order to make Geiz the savior of the future, and deprive Kamen Rider Quiz of his powers, White Woz uses his Future Note to start a fight between Zi-O and Geiz. After paticipating in the fight against Another Quiz, Sougo then helps Mondo with some closure with his father. Final Answer? 2040
The Mirror World and Accepting Fate
Following the Another Quiz incident, Sougo and Geiz finds themselves pursuing the elusive Another Rider, Another Ryuga, whose reflection powers continually frustrated for the Kamen Riders. After numerous encounters, the group discovered this Another Rider was targeting persons associated with the ORE Journal news site. Following this lead, the team tracked down the former chief editor, who directs them to Shinji Kido, the original Kamen Rider Ryuki where they discovered clues about the nature of Another Ryuga's power. The day after devising strategy, Sougo's uncle, Junichiro, presents Sougo with an unusual Ridewatch, which Black Woz had commissioned him to fix some time ago. Black Woz explains to Sougo that the Ridewatch was originally intended to be used by him on Oma's Day, but White Woz's present interference prompted him to make it available sooner. When Another Ryuga resurfaced, Sougo arrived in time to save Geiz from the monster. When using the new Ridewatch fails, Sougo is transported to the Mirror World along with Another Ryuga while trying to apprehend him. There, he encountered his Mirror World counterpart and a fight ensues. #21 Mirror World 2019
"Heads and tails... The past and the future... Light and darkness... A Watch that rules over the two worlds!"
―Sougo, after creating the Zi-O Ridewatch II
Sougo and his Mirror World counterpart fight in their transformed state where Mirror Sougo accused him of being a hypocrite for his views before sending him back to his reality in defeat. Following the encounter, Sougo sought out the advice of Shinji Kido, the original Kamen Rider Ryuki, who survived his own encounter with Dark Shinji. After speaking with the former Rider, Sougo came to a realization and confronted his Mirror World counterpart once more. From his talk with Shinji, Sougo accepts that he may become the foretold Ohma Zi-O despite his best efforts, but more importantly, he came to understand the importance of accepting one's self--the light and dark (represented in Mirror Sougo). Mirror Sougo offers his real world self a Ridewatch, which Sougo realizes was the missing component to the one Black Woz gave him earlier. Once combined, Sougo acquires the completed Zi-O Ridewatch II as Mirror Sougo merges with him and unlocks the power to reverse time. Using this newfound power, Sougo saves Geiz before transforming into Zi-O II and defeating Another Ryuga. Yet despite the outcome, Tsukuyomi becomes concerned that the power Sougo has acquired is similar to that of Ohma Zi-O. Fearing he may inevitably become Ohma Zi-O despite the efforts, she debates whether Sougo should to be eliminated while Geiz remains conflicted and undecided on the matter. Zi-O Strongest! 2019
Unravelling the Past and GeizRevive's Confrontation
Sougo is at risk of being unable to graduate unless he passes his final examination. He starts to focus and study hard but he dozes off and starts to dream again. In his dream he sees a future where humans and machines confront each other, and is attacked by some people, revealed to be manslaughtering robots. He then meets some human and among them is Rento Makina alias Kamen Rider Kikai, another Future Rider who is also a robot but on the good side. Sougo is awoken by Geiz calling him on his phone. He called him because an Another Rider appeared, Another Kikai. When they beat the Another Rider, there is no host, confusing both Geiz and Sougo. He goes back to study but rapidly falls asleep another time, and comes back to his dream where he attends to Rento's entertainement for children. Surprised, Rento explains Sougo that they're he's dreaming of a human reserve in the year 2121. The world is dominated by robots called Humanoise which goal is to annihilate humanity. When Kikai is fighting, Sougo recognizes the Another Kikai moves and acknowledges their link. However a Humanoise hits him, making him wake up in the real world. Sougo joins Geiz who just have beaten the Another Kikai. Sougo explains everything, making Geiz forcing Sougo to sleep. As Geiz wonders what these dreams are meaning, Sougo finally sleeps and is "awoken up" bt Rento in the future. As Rento lacks energy, he uses a satellite to recharge but it is the wrong program, making Kamen Rider Kikai evil. The tension wakes Sougo up who finds outside White Woz and Geiz having beat again the Another Kikai. EP23 Kikai there! 2121
Tsukuyomi becomes even more worried that Sougo will become evil, given his control over time is getting stronger, and decides to travel to the past with the original intention of killing the young Sougo. At the present, Sougo meets Hiryu again, as Another Zi-O. Hiryu blames Sougo for the bus acccidnet that killed his parents and wants to settle things with him. Meanwhile, White Woz sees the conflict as the perfect time to coax Geiz into becoming Geiz Revive.
Due to an encounter with Swartz in the past, Tsukuyomi appears to be killed in the bus explosion. Geiz sees this as his mistake: he has been too weak to follow through with killing Sougo, which results in Tsukuyomi's death. He hardens his resolve, accepts White Woz's Revive Ridewatch and uses it for a battle to the death aginst Zi-O. Unbeknownst to him, Tsukasa Kadoya has saved Tsukuyomi prior to the crash.
Since Hiryu is still hellbent on killing Sougo, Zi-O and Geiz decide to defeat Another Zi-O first, before having a showdown. After Another Zi-O is defeated, Sougo encourages him to continue and live for the present instead of clinging to the past.
Just as Sougo and Geiz are about to transform, Tsukuyomi appears before them, alive and well, putting their animosity to rest.
Zi-OTrinity Is Born!
"I-I feel like something amazing has just happened!"
"Wh-What is this?"
"For us to become one..."
"Huh? Geiz and Woz are here, too?"
―Zi-O, Geiz, and Woz's reactions upon becoming Zi-OTrinity
Seeing that Geiz will not act like what he wants, White Woz hires Daiki Kaito to steal the Revive Ridewatch and the Zi-O II Ridewatch. Furthermore, he transforms Amane Kurihara into Another Blade so that the two Jokers - Kazuma Kenzaki and Hajime Aikawa - will be lured out and, restarting the Royal Battle Fight.
Sougo learns that Black Woz used to be a member of the Resistance until he betrayed them for Ohma Zi-O. He encourages them to cooperate instead of being confrontational, since, in Sougo's perspective, their animosity has not "happened" yet, and the future can be changed.
Another Blade manages to absorb all of Blade and Chalice's power, becoming the sole existing Joker, resulting in the destruction of the world. Before that can happen, Sougo manages to convince White Woz into helping the heroes, to which the latter responds by giving them the Trinity Ridewatch, which has been created from the stolen Revive, II Ridewatches and himself. The three transform into Zi-O Trinity and destroy Another Blade, sealing Blade and Chalice's power inside Ridewatches. Sougo presents the Watches to Kenzaki, but the latter refuses, as both he and Hajime has finally been relieved of their burden as Joker, and able to live a happy life together after years of fighting fate.
Meeting Agito
With Tsukuyomi's beginning to develop time controlling power, Swartz creates Another Agito and begins to doubt that he and her may share the same roots. Kamen Rider Agito, Shouichi Tsugami, returns from France to aid the herroes in fighting the Another Agitos.
Another Agito manages to steal Shouichi's power and become Kamen Rider Agito itself. Sougo as Zi-O Trinity is able to take it back and return it to the original owwner. Shouichi also transforms into Trinity Form, prompting WWoz to make an ascension speak, much to Sougo's annoyance. The two, however, are able to destroy all the Another Agitos. Shouichi gives the Agito Ridewatch to Sougo, wishing him luck on his path to become King. The two part ways as Shouchi returns to France.
The Disciple of Oni
Sougo's birthday is drawing near, and Black Woz struggles to find a way to celebrate. Zi-O and Geiz have a fight with Another Hibiki, and they are helped by Tomizo Todayama - Kamen Rider Todoroki. Just as Todoroki is finishing off the Another Rider, he is attacked by an unknown figure, allowing the latter to get away.
The two later meets a man named Kyosuke Kirya, who calls himself Hibiki. Kyosuke forces everyone to to take a training course to acquire the power of Hibiki. It is later revealed that Kyosuke has never really taken on the mantle of Hibiki, which gets him chewed out by Todoroki for disrespecting Oni guidelines. Another Hibiki is a student of Kyosuke, who has been too disappointed by his master's deception.
Time after time, Kyosuke stops the Riders from destroying Another Hibiki. However, after some encouragement from Sougo, Kyosuke decides to face the truth and gets down to saving his student from the dark path. Meanwhile, Black Woz is sent to help Tomizo on some chores. During this time, he learns that there is no need to be grand or showy in celebrating for someone. All that the person needs is the presence of their cherished ones. Black Woz takes the teaching of Todoroki to heart.
Sougo and Kyosuke find Another Hibiki in a warehouse and after Kyosuke shows his resolve in saving his student, the Hibiki Ridewatch activates and allows him to finally become Kamen Rider Hibiki for real. The two manage to defeat Another Hibiki and save the student. Kyosuke gives Sougo the Hibiki Ridewatch afterwards, saying that he will become an Oni in his own way, reconciling with his student.

Arrival of Shocker 1971/2068
to be added Kamen Rider Zi-O: Special Event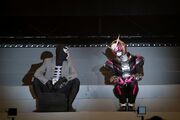 First Love, Ginga, and Kiva' Powers
A woman, Yuko Kitajima, appears to be Sougo's first love. She is currently in prison for having murdered her lover and his spouse. Ora gives her the power of Another Kiva, and she goes on a rampage of revenge aginst the people who put her in prison.
Yuko plays along with Sougo's assumption that she is his first love, and appears to tend to his wound. However, Jiro sees through this, and advises Sougo against being associated with her, giving him the Kiva Ridewatch in the process.
At the same time, a threat from outer space, Kamen Rider Ginga, shows up on Earth in a meteorite. He proceeds to attack everyone in sight, including Another Kiva and the Riders. His power proves to be enough to overwhelm even Zi-OTrinity. Seeing that Ginga can be a liability to both sides, the Time Jackers propose a temporary truce to deal with Ginga.
Sougo and his allies fight a losing battle against Ginga, despite having known his weakness to lack of sunlight beforehand. The tables turn when Yuko finally decide to step in and help, creating an opening for a triple Rider Kick. Ginga flees into space, leaving some of its essence on Earth as the GingaFinaly Ridewatch, which ends up in Woz's posession.
Although he has the Kiva Ridewatch, Sougo cannot bring himself to use it agaisnt Yuko, as he still believes she is his first love. Black Woz, on the other hand, uses his newfound power to transform into Woz GingaFinaly, and makes short work of Another Kiva to protect his king. After the battle, Sougo comes to Yuko, trying to comfort her, but she is killed in cold blood by Ora. Sougo becomes depressed by this later, refusing to eat or drink.
One day, while going outside, he falls to the ground. A woman on a bicycle helps him up and tends to his wound, calling him "Kawaii boy" once she leaves. At this point, Sougo finally realizes that this is truly his first love, not Yuko.
The ZECT Riders and Tsukuyomi's Past
A meteor strikes the city, carrying with it a great number of Worms. One of the Worms mimicks the appearance of Shun Kageyama - Kamen Rider PunchHopper.
Sougo meets Arata Kagami - Kamen Rider Gatack - when battling against some Worms. Gatack fights PunchHopper in ClockUp, trying to make him stop his evil intention. Just as he is about to finish off PunchHopper, Another Kabuto - Sou Yaguruma - intervenes to save his "brother". The two then make a quick getaway.
Sougo later meets Shun, who asks for his help in saving his "brother" Yaguruma from the dark path he has taken as an Another Rider. Black Woz warns him against this at first, but Sougo decides to follow Shun to an abandoned warehouse anyway. At the warehouse, Arata shows up as well, having tailed Sougo, and calls him out for his naivety. To his surprise, Shun reveals that the trap is not for Sougo, but for Arata, in fact, as Another Kabuto appears and battles Gatack. Sougo, however, has anticipated this, and has prepared Woz to trap PunchHopper in place.
Another meteor is about to collide with Earth as they fight, and Sougo flies into space to destroy it, only to find out that there is another meteor, even bigger than the one he has destroyed, heading right to Earth. He returns to think of new strategy, only to find out that Arata has been captured by the brothers.
Sougo and Woz go to rescue Kagami, but they are forced to give the brothers the Ginga and Fourze Ridewatches (the Worm Kageyama wants to make sure the meteor carrying his Worm comrades can reach Earth without fail, and is only using Yaguruma). Arata goes back to 9 5 DO with Sougo, and he muses his inability to prevent tragedy from happening, calling himself weak. Sougo tells him otherwise, and that if he becomes king, he would really like to have someone like Kagami in his ranks to protect people.
Heure steals back the Fourze and Ginga Ridewatches and gives them to the heroes, because the Time Jackers do not want the destruction of all life on Earth due to the meteor. Sougo takes Woz to space to deal with it, and the remaining people settle the score with the brothers. Arata manages to become Kamen Rider Kabuto and defeats Yaguruma, while Geiz takes down PunchHopper. Zi-O and Woz also successfully destroys the meteor, saving the planet.
Kagami gives Sougo the Kabuto Ridewatch later, saying he will need it to fulfill his dream of becoming king.
The Ridewatch of Imagin, Zeronos and Achieving GrandZi-O
Sougo meets the DenLiner crew as the DenLiner is wrecked in his time. The Imagin come to 9 5 DO to recruit Junichiro, saying that he is the "best repairman of the era", and can help them with fixing the time train.
While Junichiro is fixing the train, Momotaros decides to help the heroes put an end to Another Den-O, who wants to steal the DenLiner. While fighting against the Another Rider, Sougo is interrupted by Yuto Sakurai - Kamen Rider Zeronos. Yuto attempts to defeat Sougo to prevent him from becoming the tyrant he is destined to be in the future. Another Den-O takes advantage of this squabble and runs off on the stolen DenLiner.
Momotaros gives Sougo the Den-O Ridewatch, the final of the 20 Heisei Rider Ridewatches that he needs to obtain. However, after hearing from Yuto that Sougo would become a tyrant in the future, Momotaros takes back the Den-O Ridewatch. Yuto then says he will handle Another Den-O himself, much to Sougo's disappointment.
The Riders travel to the past to find Another Den-O, who is shown wreaking havoc at a hospital. After seeing Sougo's kindness and strength, Momotaros decides to give him the Den-O Ridewatch, confident that he will not abouse its power. All the 20 Heisei Ridewatches have been obtained, resulting in the creation of the GrandZi-O Ridewatch. Sougo uses this newfound power to destroy Another Den-O. Yuto Sakurai also acknowledges Sougo's kindness, and helps him with the battle. Momotaros notes that Sougo is a good man, though he thinks he is not as good as Ryotaro Nogami.
New Time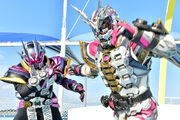 After acquiring the power of GrandZi-O, Sougo is summoned into 2068 by Ohma Zi-O, who wants to see how far his young self has gone. The two exchange some blows before GrandZi-O summons Kamen Rider Build, and Ohma Zi-O summons Kamen Rider Kuuga to counter him. Sougo proceeds to summon Kamen Rider Drive, but since Sougo has not obtained the Drive Ridewatch in the proper way, Ohma Zi-O is able to corrupt the Kamen Rider Drive summoned and have him attack Sougo instead. Sougo is defeated and lies on the ground. Black Woz shows up to save young Sougo, and is commended by Ohma Zi-O for doing so. However, he notices a change in the timeline, and tells Woz to go back and check.
Back in the present time, Sougo finds himself in a changed world: Hiryu Kakogawa, now with the stronger Another Zi-O II Ridewatch, is ruling the world, with Another Riders under his command. Black Woz, surprisingly, has also joined force with his adversary. Hiryu takes offense to Sougo's earlier advice that Hiryu should "live for the present", and states that he will take away everything from Sougo to test his resolve. GrandZi-O and Another Zi-O II fight, and Sougo is overpowered by the Another Riders that Hiryu can summon and heal again and again. Just as he is about to be finished off, Tsukasa Kadoya shows up to save him. As he is reminded of his dream to become king by himself, not because of other factors like the appearance of Woz, Geiz, and Tsukuyomi, Sougo decides to find a way to fix the situation with Tsukasa.
Tsukasa takes Sougo back to 9 5 DO, where no one recognizes him, not even his own uncle Junichiro. Geiz and Tsukuyomi are also confrontational towards him due to the changed timeline. However, they are eventually convinced that they have to deal with Hiryu first before they can think about anything else.
During another fight with Another Zi-O II, Zi-O has his Grand Ridewatch stolen by Daiki Kaito, who has previously been given time powers by Swartz. Geiz saves him and takes him away from the fight, but he still notes that he does not trust Sougo. Some time later, Tsukuyomi becomes abducted by some Another Rders, and Sougo gives chase, only to find Black Woz in his way. He states he does not want to fight, and leaves without a further word, confusing Sougo. Tsukuyomi is subsequently brought before Swartz.
Swartz explains to Tsukuyomi that she is his younger sister. The two of them come from a separate timeline in a royal family with power ofver time, and Swartz wants to become king despite the fact that Tsukuyomi is the chosen one. As a result, he dumps Tsukuyomi into Ohma Zi-O's timeline, hoping that she will get herself killed there. Swartz then attempts to do away with his subordinates Heure and Ora, but is unsuccessful as they are able to run away. He sends Daiki to finish the job, while he stays behind to absorb Tsukuyomi's power. Black Woz, whose allegience has been with Sougo all along, witnesses all of this and tries to save Tsukuyomi, but he is too late and can only save her after she has been depowered. Black Woz returns to Sougo and apologizes because he has to go undercover.
Daiki finds Heure and Ora and gives them the GrandZi-O Ridewatch, saying he dislikes working under Swartz. The two later return the Ridewatch to Sougo, who promises he will defeat Hiryu for them. Sougo, Tsukasa, Geiz and Woz come before Hiryu's castle to bring about his end. Hiryu summons an army of Another Riders to fight the heroes. This time, Sougo is able to win against Another Zi-O II and uses the All Twenty time Break Rider Kick to finish him off, returning the world to normal. During the fight, however, Swartz is able to steal the power of Kamen Rider Decade. Diend takes the Another Zi-O II Ridewatch as his treasure and walks away.

Aqua's Arrival and Another World
Sougo allows Heure and Ora to come and stay with him at 9 5 DO, despite that Geiz does not trust them. While Heure is still insecure and unsure of himself at first, Sougo gives him the encouragement to change for the better.
An old model Time Mazine appears inside a distortion in time-space. Sougo meets Kamen Rider Aqua - Michal Minato - who walks out from the machine. He explains that he is here to talke Tsukuyomi and Geiz back to the future. Later, Sougo encounters Another Drive, and transforms into GrandZi-O. Michal is surprised by the form, however, as he has never seen this state of Zi-O before. As they defeat the Another Rider, they are shocked to find Ora emerging from the explosion and walking away. Before they can work out an explanation, however, Swartz appears before them and transforms into Another Decade, summoning G4, Rey, Dark Ghost and Fuma to fight Zi-O and Geiz, with Another Decade being the victor. Black Woz, however, is able to save them from further harm.
Angry at Heure for supposedly having set them up, Geiz grabs him by the throat, but Sougo stops him, saying that he has changed. Geiz rebuffs by referrring to Sougo's future as Ohma Zi-O, pointing out that changes do not happen that fast. The two have a falling out with Geiz storming off in frustration. Sougo returns home to 95 DO, and meets his ex-classmate from high school, Owada. He asks about Owada's life after graduation and he explains that he's on a Tekken game tournament to decide Japan's representation at the world stage. He asks Sougo to become his supporter and when he refuses, forces him to go.
At the game tournament, however, Owada is losing badly. Swartz shows up and traps Owada in a sphere, making him vanish. Sougo demands Swartz to return his friend, to which he responds by summoning Katsumi Daido - Kamen Rider Eternal to fight the young Rider. Aqua comes to help him, and just as Sougo is being overwhelmed, Tsukasa shows up and uses a Dimensional Wall to teleports him and himself away from the battle scene. Tsukasa explains to Sougo that Swartz has access to a world known as the "World of lost possibilities", where the outcomes of events in the real world are played out differently. Tsukasa demonstrates this by showing Sougo his friend Owada's winning the game tournament, in contrast to what really happens in real life. Likewise, he deduces that the Kamen Rider Eternal Sougo has been fighting is actually a version who has won the battle agianst Kamen Rider W a long time ago., as the real world Eternal has already been defeated and killed by W. The two come to the conclusion that Swartz intends to revive past Dark Riders, who are more powerful versions than their original counterparts, to do his bidding.
Sougo is returned to the real world just in time to see the real Ora stab Heure to death. Another Drive, who has copied the appearance of Ora, laughs manically at the scene. Enraged, Sougo transforms into GrandZi-O and lays down a beating to Another Drive, finishing it off with an All Twenty Time Break. After the battle is done, Sougo cancels his transformation and kneels at the deceased Heure's body, mourning his former enemy with Woz quietly watching him with sympathy.
Sougo later finds out that Geiz has ben trapped by Swartz into an Another World, and the Another World version of White Woz has been revived to take his place. However, White Woz explains that he does not want to work under Swartz, and he only wants to save his saviour. He proposes a plan to save Geiz, all the while warning them that it is a dangerous plan.
Zi-O and Aqua challenges Eternal to a fight once more, but Eternal has the upper hand. White Woz and Black Woz have a showdown, with White Woz easily falling to Woz GingaFinaly, but Swartz simply summons another White Woz from the Another World to continue the battle. White Woz then proceeds to trap them inside Geiz's Another World as Sougo can only look from afar, being occupied by his fight with Eternal. After being overpowered, Zi-O uses WArmor to get the fight to be on a more even ground, managing to trade blows with Eternal. Nevertheless, Eternal activates the Zone Gaia Memory, powering him up with all 26 T2 Gaia Memories. He then uses his Maximum Drive, charging a Rider Kick aimed at Zi-O. Zi-O tries to withstand the kick, activating the Trinity Ridewatch in the process. The effect of the Ridewatch transports both Zi-O and Eternal to the Another World where Geiz is being trapped. As the transformation finishes, Zi-OTrinity redirects the Rider Kick to the dimension itself, destroying it along with several other Another Worlds, freeing the people trapped within. Sougo apologizes to Katsumi for having taken advantage of his power that way, to which the latter replies that it is fine for him to go, because he wants to be reunited with his comrades in the afterlife. Katsumi gives Sougo a thumbs up before being erased from reality.
White Woz congratulates the heroes for the success, and when he is about to reveal something crucial regarding Swartz, he is killed by the latter without being able to finish his sentence. Swartz commends them for their efforts, but also shows them they have not yet destroyed all Another Worlds, since G4, Rey, Fuma and Dark Ghost are still there. Geiz and Woz go to fight the Dark Riders while Sougo stays behind with Swartz. Swartz reveals to Sougo the truth behind the bus accident in his youth: He is the man in black encouraging Sougo to becmome King in the first place, and he is responsible for the bus crash that killed his parents, all becasue he wants to set Sougo up to collect the power of Kamen Riders for him to steal when the power reaches its peak. Now that Sougo has the power of GrandZi-O, Swartz intends to steal his power right there. Sougo, surprised and enraged at Swartz's manipulation, is throughly shocked by the revelation. He transforms into Zi-O to settle the score with Swartz. The two engage in combat as GrandZi-O and Another Decade.
During their fight, Swartz taunts Sougo by giving him a triple-lose scenario: Sougo kills Swartz, and Tsukuyomi will be gone as well, since if Swartz is killed, his timeline will disappear; or Sougo gives up, letting Swartz steal all his power and rule the world; or let the original course of history take its form and become Ohma Zi-O. However, Aqua jumps and attacks Swartz with a Rider Kick, saying that Swartz is just trying to confuse Sougo. Unfortunately, Another Decade is able to work around the attack and counter with his own Rider Kick, killing Aqua and knocking Sougo out of transformation. Sougo, having nothing he is able to do about the situation, can only scream Swartz's name in rage.
Swartz finishes by warning Sougo that his time is limited, as the Sky Wall and the Smash from Kamen Rider Build begin to appear from nowhere in the city.

Foes from Past
More monsters from previous series keep spawning everywhere in the city. Sougo and Tsukuyomi decide to go to Tsukasa and asks him to bring the two to Tsukuyomi's timeline again. Tsukasa complies, while also noting that they may not find any solution to their problem there.
At Tsukuyomi's timeline, she meets a younger version of both herself and Swartz. The young Swartz explains to them that his world is going ti disappear, and he intends to save it by destroying and merging the other worlds together. Sougo asks what if Tsukuyomi is stronger than him, to which the young Swartz replies that if she is stronger indeed, he will erase her memories and dump her into another timeline. He then proceeds to fire an energy blast at them, knocking them outside of the building. Tsukuyomi intends to kill the young Swartz right there to prevent all the trouble, but is unable to follow through. The young Swartz fires another energy blast, but Tsukasa jumps in and takes the blast, saying that Tsukuyomi cannot die as he dies from the attack. This is short-lived, however, as Daiki also appears from a Dimensional Wall to lure Swartz away, and uses his newfound Another Zi-O II Ridewatch to revive Tsukasa. Nevertheless, the Ridewatch overpowers his will and takes control of him, tranforming Daiki into a mindless monster. Sougo gives Tsukasa his Decade Ridewatch, and he uses the Ridewatch to regain the power of Kamen Rider Decade. To Sougo's surprise, Decade is able to transform into Kamen Rider Zi-O. Sougo and Tsukasa join forces to destroy Another Zi-O II and save Diend, this time with the Ridewatch breaking for good. Sougo's GrandZi-O Ridewatch disappears just as the battle ends, and the group is surrounded by even more monsters from previous series.
The group retreats to 9 5 DO, and Tsukasa explains the rest of the situation to Sougo: Sougo himself has been unknowingly bringing Swartz's plan into fruition, because by defeating Another Riders and collecting Ridewatches, he is actively making the Worlds merge faster. The moment he becomes GrandZi-O, the merging of worlds has already become complete. Visibly upset that his life has been manipulated by Swartz for the longest time, Sougo agrees to Tsukasa's plan to destroy the world but save all the people within it.
As Sougo destroys a number of monsters, he confesses to his uncle about his Kamen Rider identity. He apologizes for revealing this fact too late, but he has to fight and protect people with his given power. This touches Junichiro, who says Sougo acts like a true king. Junichiro has some watches he needs to fix, and wishes Sougo good luck on his way. He jumps on a Time Mazine and goes back to 2068 to confront Ohma Zi-O one final time.
In 2068, the Resistance is fighting a hopeless battle agianst Ohma Zi-O. Sougo comes to comfort a battle-wounded Tsukuyomi, while slipping a blank Ridewatch inside her pocket. He transforms into Zi-O to stop his future self from continuing the assault, much to the shock of the Resistance. Ohma Zi-O uses telekinesis to knock Zi-O down, but the latter takes out the Trinity Ridewatch and attempts to use it. Zi-OTrinity summons Geiz and Woz to 2068 as well to fight Ohma Zi-O. Managing to exploit an opening, Trinity is able to use a Rider Slash to briefly overpower Ohma Zi-O. Sougo's future self comments on the power, saying that he has never had such power before, since he never meets Geiz or Woz back in his youth. He further asks young Sougo whether he is ready to sacrifice himself for his friends, to which Woz and Geiz express their bewilderment. Sougo cancels the transformation, sending Woz and Geiz back to the present, while he stays to have a word with his future self.
Sougo admits that it is useless to keep battling like this, since Ohma Zi-O never intends to kill him, as they are one and the same. He asks his futire self what exactly is the power of Ohma Zi-O, to which the latter replies it is the power to destroy space and time itself, a power that someone like Swartz can never dream to have, which is why he needs to manipulate Sougo in the first place. Sougo reaffirms that he has no intention of becoming like future Sougo, but future Sougo rebuffs that the two of them are just one person, and that is an indisputable fact. Future Sougo wishes to see which timeline his young self will erase, as he sends Sougo back to the present day. Afterwards, future Sougo gives some of his power to Tsukuyomi, creating the Tsukuyomi Ridewatch from the blank Watch Sougo has previously slipped into her pocket, although he laments that doing so is futile.
Back in the present time, Sougo tells Tsukuyomi to transform, just as she is close to being killed by Swartz. Tsukuyomi does so, much to Another Decdade's shock and displeasure. However, Tsukuyomi suddenly chooses to side with Swartz.

Final Battle and Time Reset
Sougo shares a meal with his uncle Junichiro before going into the final battle. After the meal, Junichiro reveals that he has fixed all the Ridewatches. Sougo, taking the Watches, goes to war for the last time.
Just as Another Decade is about to finish off Decade, Woz, Geiz and Diend, Sougo uses his power to stop him from doing so. He proudly proclaims to the Time Jacker that no matter how Swartz tampers with history, Kamen Riders will always exist. He transforms into GrandZi-O and fight Another Decade.
"My lord..."
"Woz... Rejoice."
"Huh?"
"I order you to rejoice.""
―Sougo orders Woz to announce his rejoice to his new power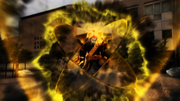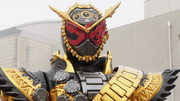 Zi-O initially gains the upper hand as he summons OOO Tajadol Combo, Gaim Pine Arms, Double Xtreme and Wizard Infinity Style to overpower Another Decade. However, Swartz evens the odds by summoning villains from previous series: Evolto, Daguva, Sagittarius Zodiarts, Utopia Dopant and Gamedeus. The villains defeat Sougo's Riders, and Another Decade, along with them, fires a concentrated energy blast at Sougo, knocking him out of the transformation. Before Swartz can end Sougo's life, Geiz steps in and shields Sougo from Swartz's energy blast, sacrificing himself for Sougo. Geiz, in his dying breath, tells Sougo to become Ohma Zi-O, saying that he believes the latter can become the "greatest", "kindest" demon king like he originally intends to. The death of his friend makes Sougo enraged, and his Ziku Driver turns into the Ohma Zi-O Driver.
"It's not like someone like you can grasp the scope of my powers. This power of mine...is the power of ALL the Kamen Riders"
―Sougo to Swartz after the latter fails to absorb his power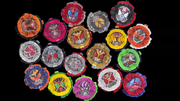 Sougo transforms with the new belt into Ohma Zi-O. He coldly commands Woz to rejoice him, which the latter does. Swartz is ecstatic, wanting to claim his power, and immediately does so by absorbing it. However, Ohma Zi-O's power is too much for the Time Jacker to handle, and the absorption backfires as a result. Sougo boasts that Swartz cannot comprehend the scope of Ohma Zi-O's power, as his power is the power of literally all Kamen Riders known to exist throughout the worlds and timelines. He then effortlessly destroys the villains and some other kaijins with a single strike each. Swartz, realizing Ohma Zi-O is out of his league, attempts to make a getaway to his timeline. Just as the Time Jacker is summoning a Aurora Curtain to escape, Kamen Rider Tsukuyomi stabs him from behind. Enraged, Another Decade fires an energy blast at her, killing her. This makes Sougo even more furious, and he aims a Rider Kick at Another Decade. Swartz also prepares a Rider Punch to counter him, but ultimately falls before the sheer might of Ohma Zi-O's power. The Rider Kick finally lands, and Another Decade is destroyed, and a surge of temporal energy sweeps through the area, making the other monsters vanish, ending the Time Jacker's scheme for good.
After the battle, Woz kneels before Sougo, content that the world is finally saved, and that Sougo is going to rule it from then on. Nevertheless, he replies that it is not going to happen that way, because he will destroy this timeline. Suddenly, Sougo's future self's voice echoes, asking his youthful self whether he has made a decision. Young Sougo is then drawn into a meeting with his future self in the latter's throne room.
Future Sougo states that after saving the world, young Sougo has the right to become King and rule it as he wishes. Sougo replies that he is not the one who saved the world, but rather, Geiz, Tsukuyomi, and the power of all the Kamen Riders, and that he cannot bear to live within a world where he alone reigns supreme without his friends. Future Sougo tells him that destruction cannot come without creation. His younger self agrees, and proclaims he will use Ohma Zi-O's power for creation and rewrite the world's history. Future Sougo notes he will never be able to return to the throne if he rewrites history. Nevertheless, the young Sougo determines that he can achieve that goal. This amuses future Sougo, who admits that meeting his youthful self is interesting for him. Future Sougo is then erased from the timeline, as the young Sougo proceeds to rewrite history.
After resetting the timeline, Sougo finds himself in September 2018. He has breakfast with Junichiro before going to school. In this new timeline, the people involved in the original events are shown to be alive and well, as well as being on the good side and with no memory of the original events. Geiz and Tsukuyomi become Sougo's classmates, along with Heure and Ora. Ora notes that they are about to be late for school, prompting everyone to rush.
Woz, who remembers the events of the old timeline, quietly notes to himself that his Ohma Advent Calendar will have a different story to tell as he watches Sougo Tokiwa and his friends rush to school in joy.
Possible Futures
Ohma Zi-O's Timeline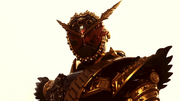 On the day known as Oma's Day, Sougo Tokiwa transformed into Ohma Zi-O and used seven giant monstrous machines called Dai Mazines to destroy the world and become the revered "Demon King".
After his past self and Tsukuyomi arrive in 2068, Ohma Zi-O reveals himself to be the person he had feared to be and the past Sougo tries to destroy him, to no avail. Ohma Zi-O then tells Sougo that there is one thing he can do to prevent the world's destruction and to not be a demon king, and that was to throw away his Ziku-Driver. He then shows Sougo what was going on in 2018 and sends him and Tsukuyomi back. This resulted him being briefly erased from the timeline after his past self let Geiz destroy his Ziku-Driver, but was restored thereafter knowing his past self couldn't give up his dream.
Even after Oma's Day passed, Ohma Zi-O is still intact in the timeline, which meant that Sougo was still on track to become Ohma Zi-O sometime in the future. Ohma Zi-O reveals that there are six remaining Ridewatches left to unlock. After his past self managed to obtain the power of GrandZi-O, he made his way to 2068 in order to face off against Ohma Zi-O once again, only to be be a futile effort due to the past Sougo still having yet to collect the last remaining power.
When the past Sougo traveled back to 2068 to face off with Ohma Zi-O one last time, Sougo managed to push past Ohma Zi-O down to his knees. Sougo explained to the Demon King his victory is due to him fighting alongside his companions, something that Ohma Zi-O lacks. Ohma Zi-O tells his past counterpart the power of Ohma Zi-O is the only power left to defeat Swartz before sending him back to 2019, before helping create the Tsukuyomi Ridewatch.
Eventually, his past self accepted his fate, inevitably transforming into Ohma Zi-O and defeated Swartz. Despite the older Sougo being surprised that his younger self's wish to create rather than destroy, he was amused with his past self's desision. Ohma Zi-O bade farewell to his past self before being erased permanently from the timeline, claiming that it was interesting to have met his youthful self.

In this timeline, Geiz defeated Ohma Zi-O and became known as the world's savior, later evolving into GeizRevive, creating a peaceful timeline and according to White Woz, "like time itself has stopped". This timeline is likely erased after the fated duel between Zi-O and Geiz that took place in Oma's Day was averted.
It was never explicitly stated whether Sougo was alive or not in this timeline.

Prophesied Vision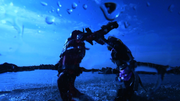 In a version of Oma's Day, seen by Sougo through the use of the Zi-O Ridewatch II, he sees a future of a fated duel between Zi-O II and Geiz to declare which future will be secured. While the dream did not reveal the outcome of the fated battle, it was likely erased after Oma's Day had passed and such battle didn't happen. Another Zi-O 2019

Other Events
"I am Kamen Rider Zi-O. The demonic king with the powers of all Kamen Riders, or so I'm told."
―Zi-O introducing himself to Sento Kiryu.
At some point in his history, Kamen Rider Zi-O joined a battlefield where the first 18 Heisei Riders were engaged in battle against their numerous adversaries. This event was also witnessed by Sento Kiryu, Kamen Rider Build, which was inadvertently transported to this location as a result of experiments with the White Pandora Panel he conducted at some point following his battle with Kamen Rider Blood.
Arriving in his Time Mazine, Zi-O disembarked and found Sento, who noted the name "Kamen Rider" on his mask. Revealing to Sento that he possessed the power of Build, Zi-O used the Build Ridewatch to assume BuildArmor as he entered the fray. After striking several monsters with his Drill Crusher Crusher, Zi-O quickly performed a Vortex Time Break which wiped out all the Riders' opponents while catching the prior Riders in the crossfire. Reverting to his default form, Zi-O was left with Sento, who questioned who the Rider was and how he had his power. Introducing himself as Kamen Rider Zi-O, Sougo proclaimed himself as the demonic king with the powers of all Kamen Riders, while acknowledging that he was going by the word of others.

NOTE: The following events take place in an alternate timeline following episode 43
In an alternate timeline, Sougo comes face-to-face with Quartzer, who intend to wipe Kamen Rider Drive from history and a conspiracy behind his kingship. It is in this timeline where he will formally receive the Drive & Mach Watches, encounter his original counterpart, and obtain Kamen Rider Zi-O OhmaForm.

NOTE: The following events take place in an alternate timeline after the events of Over Quartzer
Another Agito and Another Ryuki come in the place and fight Sougo and Geiz Myoukouin. The fight is rapidly finished by the Riders' finishers. Then, they find two unknown Ridewatches that is those of Kamen Rider 2 and Kamen Rider V3. Tsukuyomi comes, and since she's being talked to like a mere human, she transforms into Kamen Rider Tsukuyomi and attacks both Riders. She declares thus being the Queen of Time. She orders Zi-O and Geiz to give her the Ridewatches as she needs them, calling Kamen Rider Zamonas and Kamen Rider Zonjis to force them to do so. Red Woz, a Tsukuyomi worshipper, comes too and explains that these are two out of the seven Showa Ridewatches and they are needed to make Tsukuyomi genuinely the Queen of Time. Not giving up the Ridewatches, Sougo and Geiz fight Kamen Rider Woz and both Quartzer Riders. As the fight is too difficult, Zi-O and Geiz escape but are pursued by Zamonas and Zonjis.
Surprised by what happened, Zi-O and Geiz try to put it together, trying to understand what happened. They are however found by Another Blade and Another Drive. Zi-O becomes Zi-O II and Geiz puts the DriveArmor, thus fighting the Another Riders. Finishing them easily, they find Riderman and Kamen Rider X Ridewatches, but are found by Zamonas and Zonjis. When engaging the fight, the mysterious man shows up and transforms into Kamen Rider Barlckxs, helping to beat the Quartzer Riders. Barlckxs explains that he's in fact Hiryu Kakogawa, who changed his mind and decided to help Zi-O, and that Tsukuyomi and Red Woz are being controlled by some group who is behind everything. This group is formed by Heisei Riders who actually call themselves Showa Riders, their goal is to wipe the Heisei and Reiwa Eras out from the timeline to let only Showa Era rule it.
Another Hibiki and Another Kabuto appears fought by Grand Zi-O and GeizRevive Goretsu. They finish the Another Riders by the help of Kuuga, Faiz, Den-O, W, OOO, and Build's powers. Thus they find the Kamen Rider Amazon and Kamen Rider Stronger Ridewatches. Now, all of the watches are gathered in a battle between both teams. Barcklxs manages to take the Ichigou Ridewatch from Tsukuyomi.
Now, everyone is attacking Zi-O and Geiz, making Barcklxs a traitor. He reveals that it was his plan from the beginning: brainwashing Woz and Tsukuyomi to gather Showa Ridewatches and remodeling history in order to make Ohma Zi-O never exist. As he doesn't need Woz and Tsukuyomi anymore, he beats them and goes away. Grand Zi-O powers suddenly vanish and Barcklxs, declaring he's not born in the right era, say that current year is now Showa. Woz and Tsukuyomi regain consciousness as they acknowledge the situation. Woz, to honor his Demon King from Barcklcx's humiliation, gives Zi-O a Woz Ridewatch that was created by the separation of Black Woz and Red Woz. Now "Kamen Rider Zi-O WozArmor" was born, and he quickly gets rid of the Quartzer Riders and engage a fight against Barlckxs.
Using the seven Showa Ridewatches, Hiryu becomes Another Ohma Zi-O. Another Ohma Zi-O easily dominates everyone who lose their powers. He's declaring that Heisei Era is in fact a "bursting bubble" Era as Heisei Riders were doomed to fail in the end. When delivering the final blow, Hiryu is stopped by Kamen Rider 1 (The First), Kamen Rider 2 (The First), Kamen Rider V3 (The Next), Kamen Rider Amazon Alpha, and Kamen Rider Amazon Omega, who firstly were mistaken for their Showa counterparts, but are in fact Heisei's Showa Riders. Amazons Alpha tells thus Sougo to act as Reiwa's Heisei Riders. This is makes Hiryu confused since he considers this as putting chaos in the Eras. Heisei's Showa Riders tells the audience to encourage the Riders vigorously, as they give them the power of the Reiwa Era. Future Zi-O thus comes and tells that Heisei cannot be erased and stays in the memories. Now, the four of them transform into Zi-O Ohma Form, GeizRevive Shippu, WozGingaTaiyo, and Tsukuyomi. Another Agito, Another Den-O, and Another Drive are beaten by the heroes.
Another Kabuto and Another Hibiki go up for the same fate, with Zi-O totally dominating them. Future Ohma Zi-O now congratulates his past self, and decides to join the fight and kills Another Kiva. Another Ohma Zi-O comes and proves that he still doesn't understand why he should let go of the past. Zi-O explains that the hands of a clock cannot go backwards and that he's there to ensure that what happens within time does the same. Zi-O and Future Zi-O now engage the final battle against Another Ohma Zi-O. Hiryu seems to be defeated for the third time now, and Sougo tells him the same phrase: "You'll keep losing if you don't look forward".

to be added
Taking place after Sougo rewrote the timeline, sensing the presence of disturbances caused by Time Jacker Finis, Sougo travels to Kamen Rider Zero-One's World to help Aruto Hiden restore his timeline.
Sougo once again transforms into Zi-O to aid Geiz, and others in the battle against Another Diend.
When Sougo wake up from the dream, he finds himself at his school with a lot of Elementary Inves outside.
As the series starts, two groups of school students in two separate places are being assaulted by a horde of Inves. Two Kamen Rider Zi-Os arrive in time to defeat the monsters and save the school students. The Sougo who wears a cap identifies himself as a student from "Hanazomo Academy", while the other Sougo, who wears glasses, introduces himself as a student from "Misawa High School".
The main Sougo, from Hikarigamori High School, is shown later, being stalked from afar by Heure, who expressed his admiration. He and Ora, after some bickering, decide to send Sougo and Geiz their love letters. At first, Sougo is excited and surprised because he has never received one before, but Geiz promptly snatched the letter, saying that Heure and Sougo are both males.
As Geiz is dragging Sougo away from the two, they witness three students being attacked by Inves. Sougo attempted to transform, but is stopped by Geiz, since they are already too late to save the students, who are mauled to death by the monsters shortly after. At this point, it is revealed that Hikarigamori High School has somehow ended up in the middle of a wasteland filled with monsters, and no one is allowed to leave the school to preserve their own safety.
In the evening, Sougo has a short discussion with Geiz about what they would do to improve the situation at hand. Geiz suggests Sougo to organize a festival, which the latter considers a good idea. They continue talking about Tsukuyomi, who has taken work to help underprivileged children before all the trouble happens. Geiz assures Sougo that she is doing fine and there is no need to worry.
Elsewhere, the Sougo of "Hanazomo Academy" decides to run outside to look for help. His girlfriend, Misa Kudo, asks to come along because it is dangerous for Sougo to go alone. The two travel by a motorcycle, with Sougo slaying some Inves on the way.
At Hikarigamori, Sougo's "festival" turns out to be a flop, with only one disinterested attendant. Just then, the Hanazomo Sougo shows up and transforms to fight a number of Inves. The main Sougo also transforms to fight the monsters, with Geiz arriving just behind to help. As the battle ends, everyone at the scene becomes surprised and confused at the sight of two Sougos. Things get even more murky as a third one, the Misawa Sougo, also joins the fray.
The three Sougos gather and introduce themselves to one another. Swartz dubs them Sougo A (the main one), Sougo B (the Hanazomo one) and Sougo C (the Misawa one) to avoid confusion. Much to Sougo A's surprise, the other two also have a desire to become king. As Tsukuyomi is not in the school, Sougo B expresses his desire to become the student president as a first step towards becoming King. Sougo C also reveals he has the same intention, but Sougo A only seems to be exasperated by the notion, while still not being able to understand why there are so many versions of himself.
Black Woz appears later and explains to Sougo A that there exists different versions of Sougo Tokiwa across various dimensions, and that the reason for the current status quo is due to the merging of such different dimensions together. He wishes Sougo A success before departing. Geiz encourages him to win the competition for student president.
The next day, Sougo C is gathering votes from distributing free food to the students, while Sougo B throws a rave party with his girlfriend Misa. Nevertheless, Sougo A only stays at the site of his "flopped" festival, much to the ire of Geiz, who says he is being left far behind by his counterparts.
At night, Sougo A woke up because of a sound in the kitchen. He goes there to check and finds Swartz, who tells him that he is cooking Inves meat. While bewildered at first, Sougo A decides to help. After a short time, he gets out of the kitchen but is ambushed by an Inves. Sougo A manages to kick the monster out of the window. He then finds Sougo C talking to an unknown figure in the stairway, with the latter claiming to bring "him" down with his own hands.
During lunch, Sougo A finds Sougo C to talk about the incident, but the latter does not reveal much, only saying that he will tell the teachers about it and leaves.
In the "Romance Club", Ora is giving Heure a make-up in order for the latter be more attractive to Sougo. Just then, Sougo A enters the club room only to meet an infatuated Heure. He becomes scared of the latter's advances and runs away, meeting Sougo C again in the process. Sougo A says he is not good at being popular, to which his alternate counterpart responds he will take care of it for him. To the main Sougo's surprise, however, Sougo C transforms into Zi-O and throws Heure down to the ground. The two Zi-O then engages in combat, with Sougo C being the winner. Sougo A, as a consequence, vanishes from existence, much to the grief of Heure. Right after the battle, while Heure is mourning the loss of Sougo A, two more Sougos appear at the compound, one with a baseball bat, and the other with a teddy bear.
Tsukasa Kadoya, having witnessed everything, muses that there are too many Sougo Tokiwa at the moment. Back at school. Swartz is ecstatic at the sight of two more Sougo, and he names them Sougo E and F, respectively, but Misa Kudo corrects him, saying they are Sougo D and E instead. Swartz agrees, and calls the one with the baseball bat Sougo D and the teddy bear one Sougo E, as he invites them to participate in the student president race. Sougo D bullies other students into voting for him, while Sougo E manages to win the affection of the other teddy bear lovers.
Sougo C is called outside for a private talk with Misa, who attempts to give him a "reward" for having killed Sougo A. However, it is revealed that Sougo C is actually Sougo A in disguise, and the one who has perished in the previous battle is, in reality, the real Sougo C, the two having switched costumes beforehand. Sougo A, through this, finds out that Misa is the one Sougo C has talked to on the stairway, as she wants him to get rid of Sougo A so that there would be less competition for Sougo B. Just then, Sougo A notes that he is actually not the killer of Sougo C, but rather someone else, who has jumped in as their final attacks collide, and he wants to know who it is. Tsukasa, revealing himself as the one Sougo A is looking for, makes his presence known, and declares war on all of them, so that he can defeat the "true Sougo", whom he says would become Ohma Zi-O. Sougo D goes to pick a fight with Tsukasa. Sougo A attempts to help, but is stopped by Heure. Sougo D is soundly defeated by Decade and perishes.
The following day, Tsukasa breaks the school doors open for the Inves outside to invade, much to the ire of Sougo B. He and Sougo E find Tsukasa later for a battle, but is interrupted by Sougo A, who demands to know the purpose of all the fighting, to which Tsukasa replies that Ohma Zi-O has to be stopped. Sougo A and Tsukasa transform and fight, as the two other Sougo stand by and watch. As Zi-O and Decade drag their fight to a wasteland, Tsukuyomi appears before them, accompanying another child, much to the surprise of Sougo.
In an unexpected turn of events, the child turns out to be the "true Sougo", who has apparently become weakened because of having created and destroyed too many worlds. In an attempt to find a host body, he has gathered many Sougos from different dimensions. With Sougo E having been killed by him, he orders Sougo A and B to fight to find the winner. As the two are about to transform, Swartz suddenly arrives and announces that Sougo A is the winner in the school student president election. Seeing that he has lost, Sougo B admits defeat and leaves, telling Sougo A to take care of things. Since Sougo A is the only Sougo left, the child transforms into Ohma Zi-O, commands him to lend over his life and fires a blast at him. However, Heure jumps in front of Sougo and takes the blast, dying as a result. Grief-stricken by his death, Sougo transforms into Zi-O for a showdown, with the support of Decade and Another Decade.
Zi-O and Decade are easily overwhelmed by Ohma Zi-O, with Decade being dealt a fatal blow by the tyrant. Tsukasa, detransformed, gives Sougo the Saber Ridewatch. Zi-O uses the Ridewatch to transform into Decade Armor Saber form, and manages to defeat Ohma Zi-O, after the tyrant showed a brief moment of weakness and hesitation when reminiscing his time spent with Tsukuyomi. The world returns to normal after Ohma Zi-O's defeat.
In the restored world, Sougo parts ways with Sougo B, who expresses his consent of having met his original counterpart. He returns to his life with Tsukuyomi and Geiz.
Kamen Rider Saber + Kikai Sentai Zenkaiger: Superhero Senki
Sougo appeared in Superhero Senki, aiding the Zenkaigers and the Taros.

Personality
Sougo is described as an ambitious young man with a strong desire to be king. This desire stems from a recurring dream he has had since his childhood, where a man in black, who would later be revealed to be Swartz, had encouraged him into becoming one in order to save the world. Because of his eccentric dream, Sougo did not have a lot of friends growing up, with his sole companion being a toy robot, a fact that Junichiro would confide later with Tsukuyomi, saying both she and Geiz were the first closest friends he ever had. Sougo also exhibits fanatical admiration towards the presence of regal figures (i.e.: Kuroto Dan) and ordinary people who possess benevolent king-like qualities (i.e.: Eiji Hino), as he believes he can learn from individuals who have succeeded in their ascension and also understand what is needed for one to be a benevolent ruler, resulting in him becoming one step closer to accomplishing his own ambitions.
His views for kingship changed once he discovered the existence of his tyrannical alternate future self, and temporarily abandoned his quest for kingship. However with support from Geiz, Sougo began displaying emotional and psychological resilience when facing such moral dilemmas; even when confronted by the Mirror World manifestation of his own dark side, Sougo persevered and adapted, and was able to come to terms with his inner darkness and decided to risk it all in finding out if he truly does become the evil tyrant he was destined to be. Despite so, Sougo is still someone who is sensitive towards people who tell him that he will or recommend that he become an evil demon king, despite him on several occasions voicing out his intentions to become the very opposite.
Sougo is a peaceful and genuinely kind man at heart who confidently feels obligated to show compassion and empathy even towards people who have committed horrible deeds, such as Yuko Kitajima, Heure, and Ora, as he feels it is a quality that kings should possess. He will gladly put himself in danger in order to cease a conflict, a trait even Tsukuyomi does not fully understand. He is also very trustful towards others, and had no doubt that Geiz would use the Wizard Ridewatch and defeat Another Wizard in 2012.
Sougo also showed an inability to come out with his feelings, hiding the fact that he genuinely felt lonely after Geiz and Tsukuyomi left and continued insisting he was fine. It wasn't until Junichiro built up the courage to actually scold him over this, advising him to just come out with his feelings. This encouraged Sougo to admit his loneliness to both Geiz and Tsukuyomi and asked them to return to 9 5 DO.
Despite his peaceful nature, it doesn't mean that Sougo never shows anger. The first example was right after he discovered the result of the future he caused and witnessed the man he feared to become, and attacked Ohma Zi-O to no avail. After Heure was killed by Ora, and his death was mocked by Another Drive, it left Sougo in a rage and he mercilessly attacked and killed Another Drive. Following Swartz informing of three impossible choices to stop him, Sougo couldn't do anything but scream Swartz's name in grief and anger. That anger and rage took a turn for the worse after Geiz's death, who shielded him from Another Decade's attack. Combined with Tsukuyomi's supposed betrayal and the fact his life was manipulated by Swartz this whole time, Sougo then accepted the power of Ohma Zi-O and defeated Swartz with no hesitation. Despite his transformation into Ohma Zi-O, Sougo was able to not let his grief corrupt him, leading him to not go on the path of villainy like his future self did, but instead restore the multiverse back to normal, hence living up to his ambition of becoming the "greatest, kindest demon king".
Because of his optimistic approaches, Sougo adds the verbal tic "Feels like it" (気がする, Kigasuru) at the end of most of his sentences.
Legend Rider Catchphrases
Occasionally when Sougo dons a new RiderArmor, he will say the original Rider's catchphrase, albeit somewhat altered:
Powers and Abilities
Powers
Reality Alteration (Uncontrollable): Like Tsukasa Kadoya before him, Sougo's very presence causes the various Rider worlds in the multiverse to merge with one another due to Swartz granting him space-time manipulation abilities. Even after Sougo rewrote the timeline, this ability still persisted and resulted in the temporary merger between the World of Zi-O and the World of Zero-One.
Time Manipulation: Upon acquiring the Zi-O Ridewatch II, it bestowed several abilities directly onto Sougo, allowing him to manipulate time as he wishes. All of these abilities were further augmented following his evolution Ohma Zi-O.

Temporal Rewind: Sougo can reverse time, allowing him to redo events he has personally experienced with his own eyes and change the future. So far, he has utilized the ability twice in order to undo the deaths of Geiz and Tsukuyomi. While Sougo has been shown to have only reversed events once, it's unknown if he can reverse it a second time in the case he fails to succeed in changing the timeline the first time. Since realizing the dangers of altering the very fabric of time, Sougo has since stopped using this ability.[2]
Prophetic Dreaming: Sougo's dreams of the future causes him to subconsciously integrate them into the timeline, as evident of the events that transpire in present day while he is dreaming. While Sougo cannot control the contents of his dreams, he can however change his present day decisions in order to completely stop or delay the prophesied event from happening, as such when his dreams of the fated duel between him and Geiz on Oma's Day was averted completely.

Rider Creation: Through this ability, any (new) Rider that Sougo creates through his dreams are permanently integrated into the timeline, and cannot be tampered with using other temporal means. His usages of this ability created Rentaro Kagura in 2022 and Rento Makina in 2121. However the side-effect of this ability is that it creates an Another Rider version of themselves during the year Sougo had the dream.

Retrocognition: Sougo was able to look into Yuko Kitajima's memories, though he isn't able to fully come to terms with this ability as of now. 2008: First Love, Wake Up!
Temporal Freezing: Through miraculous means, Sougo Tokiwa once shared the Time Jackers' ability to freeze time. The only known usage of this ability when he was eight, summoning a series of pink katakana that slowed down time, saving Hiryu Kakogawa from the falling debris. Although, SOUGO being shown to have only disintegrated a Dai Mazine, this is a natural ability that the young Sougo possessed previously. Our Goal 2019
Timeline Formatting: After evolving into Ohma Zi-O, Sougo gained the ability to destroy and create the timeline as per his own wishes. While Oma Zi-O never used this ability, Sougo did so to live a peaceful life with his friends. 2019: Apocalypse

Teleportation: Sougo after evolving into GrandZi-O gained the ability to teleport himself, which is helpful to him as defense against several attacks. 2019: Tsukuyomi Confidential This ability cannot be traced by the future sight ability belonging to both Zi-O II and Another Zi-O II.
Abilities
Skilled Combatant: Throughout the course of his journey, Sougo has improved his combat skills considerably, rising from the ranks of an amateur combatant to a formidable warrior, who could contend with more seasoned warriors such as Geiz in a relatively short period of time. In regards to his fighting habits, Sougo is a resourceful and competent fighter who relies heavily upon his huge arsenal of Rider Armors and weapons. While not a fully technical fighter, Sougo approaches a fight in a composed manner and remains calm and level-headed under fire. He is a focused and cunning strategist who can adapt to most situations with innovative strategies.
Skilled Historian: According to Tsukuyomi, Sougo excels in history, although Sougo can stumble on remembering some historical figures as Mondo Douan has shown to be more adept in this field than him.
Expert Manipulator: Sougo has a talent for understanding how people would behave and subsequently exploiting people around him to do his bidding like how he tricked both Geiz and Tsukuyomi into watching Another Wizard's magic show with him and how he took advantage of Woz to make him cooperate with him and Geiz. Geiz considered his manipulative capabilities to be a serious threat and an indicator of his potential to become an evil demon king.
Weaknesses
Poor Academic Performance: According to Tsukuyomi, Sougo is helpless in science and curricular subjects in school. This is indicated when he first used the BuildArmor, and instead of proper equations, it simply listed sentences stating that he 'didn't know' or 'something I learned in grade school'. However, Sougo does manage to pass his exams with an 82/100 and avoid dropping out. Despite having snored through his actual studying, Sougo is able to graduate.
Poor Gaming Skills: When Sougo plays Mighty Action X, he fails several times. This is also indicated when he uses Kamen Rider Ex-Aid based attacks with his RideHeisaber and his Critical Time Break finisher with Ex-AidArmor, failing to land a perfect on any of those attacks, implying that Sougo is weak when using any of the Gamer Riders' powers.
Future Sight Exploitation: Zi-O II's future sight can be exploited by opponents moving super-speed by attacking him fast enough to stop him from counterattacking on time, such as GeizRevive Shippu and Kamen Rider PunchHopper. Currently this has only been done by Geiz, since Zi-O II had managed to counter PunchHopper.
Another Zi-O: While Sougo is able to coexist alongside his Another Rider counterpart, they both also become liable against one another. While Sougo is the only one able to defeat Another Zi-O due to having the corresponding Rider power, Another Zi-O can do the same to Sougo as well under the same circumstances, with death imminent to Sougo since he's a Rider.

Another Zi-O II: With Hiryu's evolution to Another Zi-O II, it allows him to alter history. While Sougo will receive some protection to this if it was his past that was altered, it will severely jeopardize both his and Ohma Zi-O's existence sooner or later by some means.
Former Weaknesses
Kamen Rider Drive: GrandZi-O could not completely control Drive's powers at full capacity due to him not having faithfully acquired the Drive Ridewatch through his usual means, and was easily countered by Ohma Zi-O. This weakness was ultimately solved when Sougo himself evolved into Ohma Zi-O and gained the powers of all Kamen Riders rightfully.
Kamen Rider Zi-O
Kamen Rider Zi-O transforms by inserting the Zi-O Ridewatch into the right-hand side of the Ziku-Driver and spinning the Driver 360 degrees. He accesses Rider Armor (ライダーアーマー, Raidā Āmā)[3] forms based on Kamen Riders by inserting Ridewatches into the left-hand side of the Ziku-Driver.
Zi-O can execute a finishing attack known as the Time Break (タイムブレーク, Taimu Burēku) by pressing the Ride-On Starter on their Rider Ridewatch and rotating the Ziku-Driver. Time Breaks performed in a Rider Armor are named after the respective Rider's special move with "Time Break" after it.
Kamen Rider Zi-O's ending theme is entitled "Zi-O, Toki no Ōja".
Kamen Rider Ohma Zi-O
"Shukufuku no toki! Saikō! Saizen! Saidai! Saikyō ō! Ohma Zi-O!"
―Transformation announcement
Rider Statistics
Ability Parameters
Kamen Rider Ohma Zi-O (仮面ライダーオーマジオウ, Kamen Raidā Ōma Jiō), or simply Ohma Zi-O, is Zi-O's true final form. While this final form is once used by Sougo's future self, the present-day Sougo briefly uses it after Another Decade proves too powerful for all of his previous forms. His visor reads "Rider" (ライダー, Raidā), while the logo on his forehead reads "Kamen" (カメン, "Kamen") in katakana. This form is accessed via the Ohma Zi-O Driver.
Compared to other Riders in the series, Ohma Zi-O possesses the highest stats. While Ohma Zi-O's stats are somewhat balanced, he has a tremendous kicking power, which is higher than most of Kamen Riders. He also has high punching and jumping powers, though they're still lower than that of many Legend Riders. However, it should be noted that since he has full control all of the Legend Rider Powers, he can manipulate his stats using those powers if needed. The only form of Zi-O stronger than it is OhmaForm, but possibly only in terms of physical stats.
This form wields the powers of every single Kamen Rider in existence and can command the Dai Mazines. According to the original Ohma Zi-O, this form possesses the power to not only destroy time and space itself, but to recreate everything into whatever the user wishes. It is unknown if the power to destroy time affects the existence of Ohma Zi-O himself.
Ohma Zi-O is composed of the following parts:
Complication Caliber A (

コンプリケーションキャリバーA

Konpurikēshon Kyaribā A

) - The helmet

Transcendence Blade (

トランセンデンスブレード

Toransendensu Burēdo

) - The two clock hand antennae. The long Transcendence Baryon Hand (

トランセンデンスバリオンハンド

Toransendensu Barion Hando

) collects temporal information, such as the timing of enemy attacks while the short Transcendence Meson Hand (

トランセンデンスメソンハンド

Toransendensu Meson Hando

) collects spatial information such as the distance between enemies and trajectory angles.
Ohma Signal (

オーマシグナル

Ōma Shigunaru

) - The meeting point of the two Transcendence Blades. Adjusts Ohma Zi-O's systems according to information collected by the Transcendence Blades.
Parallel Rattrapante (

パラレルラトラパンテ

Parareru Ratorapante

) - The three clock-like devices on Ohma Zi-O's forehead. Allows Ohma Zi-O to sense parallel timelines and informs him of any temporal changes made to history. Also allows Ohma Zi-O to sense parallel worlds. (Note, a rattrapante is a type of chronographic device that possesses two second hands, allowing the user to time multiple events. Also known as a 'double chronograph'.)
Expressive Flame Eye (

エクスプレッシブフレイムアイ

Ekusupuresshibu Fureimu Ai

) - The red visor that spells out 'Rider' in katakana. Sensors with a 270° viewing angle is built into the compound eye. Additionally, its red coloring is due to it being in a constant state of heat, being 1000-1200°C. It can shoot out rays of heat at a maximum output.
Decorative Dial (

デコラティブダイアル

Dekoratibu Daiaru

) - Ohma Zi-O's faceplate. It is a multilayered armor structure. The top layer utilises Dark Matter Ingot (

ダークマターインゴット

Dāku Matā Ingotto

) as a decorative material.
Divine Bezel (

ディバインベゼル

Dibain Bezeru

) - The golden frame that surrounds Ohma Zi-O's face. It is composed of Zavaldust Graphenium (

ザバルダストグラフェニウム

Zabaru Dasuto Gurafeniumu

), which is 1200 times stronger than steel. Super dense diamonds are encrusted into it.
Core Diadem (

コアダイアデム

Koa Daiademu

) - The 'button' on Ohma Zi-O's left cheek. It is an information storage unit that has information on every single Kamen Rider from the Heisei era. It also stores information recorded by the Ohma Signal.

Ohma Radiant Armor (

オーマラディアントアーマー

Ōma Radianto Āmā

) - Ohma Zi-O's upper torso magic armor. It is engraved with multiple decorations that channel magical energy through it (similar to Kamen Rider Wizard). It dons a special energy field titled Absolute Throne (

アブソリュートスロウン

Abusoryūto Suroun

), negating any damage dealt to Ohma Zi-O.

Ornament Slots (

オーナメントスロット

Ōnamento Surotto

) - Special slots for Ridewatches located on the Ohma Radiant Armor. A maximum of six Ridewatches can be plugged in. Devices known as Alternate Plugs (

オルタネートプラグ

Orutanēto Puragu

) are installed, allowing Ohma Zi-O to activate a Ridewatch's powers just by activating them.
Apocalypse of Kingdom (

アポカリプス・オブ・キングダム

Apokaripusu Obu Kingudamu

) - The two giant clock hands that hang on Ohma Zi-O's back. The hands themselves are titled Aparajita (

アパラージタ

Aparājita

). By rotating themselves on the back, the Apocalypse of Kingdom can create a sort of circular disk attack.

Engraved Tecter (

エングレイブドテクター

Engureibudo Tekutā

) - Ohma Zi-O's shoulder armor. It is composed of Zalvadust Graphenium. Contains an inbuilt Sona Count Pad (

ザバルダストグラフェニウム

Sona Kaunto Paddo

).
Mid Band Liner Anthem (

ミッドバンドライナー・アンセム

Middo Bando Rainā Ansemu

) - The silver watch strap that travels along Ohma Zi-O's entire body. It is a biological enhancement device, delivering the Ohma Zi-O Driver's inexhaustible energy into the wearer's body, giving them astonishing strength and power.
Noble Adjustrike Suit (

ノーブルアジャストライクスーツ

Nōburu Ajasutoraiku Sūtsu

) - Ohma Zi-O's bodysuit. Partial shape changes, such as contraction and expansion, are regularly performed to deal maximum sharpness into an attack. Additionally, due to there being no damage accumulation, thanks to the Ohma Radiant Armor as well as having the highest quality possible self-healing function, it is possible for Ohma Zi-O to continue in battles that may exceed the limits of the wearer.
Meridian Sash (

メリディアンサッシュ

Meridian Sasshu

) - The golden watch strap. It is an 'authoritative medal'. It allows Ohma Zi-O to send a 'seperate surge' (

セパレートサージ

separēto sāji

) boundary wave that sends all objects in comes into contact within a 4km radius into a separate dimension.
Time Catastrophe Arm (

タイムカタストロフアーム

Taimu Katasutorofu Āmu

) - The arms. The built-in Nanotube Muscle (

ナノチューブ筋

Nanochūbu-kin

) that covers the entire arm is strengthened and pushed to the absolute limits that humans can tolerate. The addtional ultra-high Gold Compression Line (

ゴールドコンプレッションライン

Gōrudo Konpuresshon Rain

) restraints on the upper arm restrains the Nanotube Muscles' power, yet allows Ohma Zi-O to retain his supernatural power.
Solemn Arm Armor (

ソレムアームアーマー

Soremu Āmu Āmā

) - The forearm armor. Crafted out of Dark Matter Ingot, it can freely change its weight and density, increasing punching and blowing impacts. By increasing density as per needed, the ultimate defensive strength can be obtained.

Sona Ridewatch Holders (

ソナライドウォッチホルダー

Sona Raidou~otchi Horudā

) - Golden Ridewatch Holders. Due to Ohma Zi-O's ability to pull out Ridewatches out of thin air, they appear to be mere decorative pieces.

Ohma Causality Hand (

オーマコーザリティーハンド

Ōma Kōzaritī Hando

) - The hands. It (somehow) manipulates causality and allows Ohma Zi-O to manipulate surrounding objects around him as he wills.
Time Catastrophe Leg (

タイムカタストロフレッグ

Taimu Katasutorofu Reggu

) - The legs. The built-in Nanotube Muscle (

ナノチューブ筋

Nanochūbu-kin

) that covers the entire leg is strengthened and pushed to the absolute limits that humans can tolerate. The additional ultra-high Gold Compression Line (

ゴールドコンプレッションライン

Gōrudo Konpuresshon Rain

) restraints limit the Nanotube Muscles' power, yet allows Ohma Zi-O to retain his supernatural power.
Sona Count Pad (

ソナカウントパッド

Sona Kaunto Paddo

) - Collection devices located around the entire body (such as the knees). Instantaneously measures received impacts and information on objects and sends the data to the helmet.
Solemn Leg Armor (

ソレムレッグアーマー

Soremu Reggu Āmā

) - The lower leg armor. Crafted out of Dark Matter Ingot, it can freely change its weight and density, increasing kicking impacts. By increasing density as per needed, the ultimate defensive strength can be obtained.
Ohma Causality Shoes (

オーマコーザリティーシューズ

Ōma Kōzaritī Shūzu

) - The feet. Allows Ohma Zi-O to (somehow) manipulate causality to float in the air or walk/run at high speeds.
This form's finisher is the Ohma Zi-O Hissatsu Geki (逢魔時王必殺撃, Ōma Jiō Hissatsu Geki, lit. 'Ohma Zi-O Finishing Strike'): Zi-O channels energy into his entire body before rising into the air as a series of gold "Kick" (キック Kikku) characters appear and circle the enemy. Zi-O then performs a powerful Rider Kick with the Apocalypse of Kingdom acting as wings. Upon striking the enemy, the characters combine with Zi-O's foot and strengthen the attack to the point where he destroys the enemy.
Appearances:
Zi-O
Episode
49
Equipment
Devices
Weapons
Handheld Weapons
Suit-Equipped Weapons
Legend Riders' Weapons Used by Zi-O DecadeArmor and GrandZi-O
Vehicles
Legend Rider Devices
"Zi-O! (Distorted digital beeping)"
―Activation announcement
"Zi-O!"
―Another Rider transformation announcement
"Another Time! Zi-O!"
―Transformation announcement in the Ziku-Driver's right-hand slot
"(Right-hand Ridewatch's announcement)! Another Time! Zi-O!"
―Transformation announcement in the Ziku-Driver's left-hand slot
"Finish Time! Zi-O Another Time (Break/Burst/Jack)!"
―Finisher announcement in left-hand slot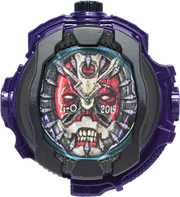 Another Zi-O Watch (

アナザージオウウォッチ

Anazā Jiō Wotchi

): A twisted version of the Zi-O Ridewatch used to transform into Another Zi-O
"Zi-O II! (Distorted digital beeping)"
―Activation announcement
"Zi-O II!"
―Another Rider transformation announcement
"Another Time! Zi-O II!"
―Transformation announcement in the Ziku-Driver's right-hand slot
"(Right-hand Ridewatch's announcement)! Another Time! Zi-O II!"
―Transformation announcement in the Ziku-Driver's left-hand slot
"Finish Time! Zi-O II! Another Time (Break/Burst/Jack)!"
―Finisher announcement in left-hand slot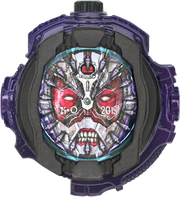 Another Zi-O II Watch (

アナザージオウIIウォッチ

Anazā Jiō Tsū Wotchi

): An upgraded version of the Another Zi-O Watch used to transform into Another Zi-O II.
RiderTiming Zi-O Progrisekey (ライダータイミングジオウプログライズキー, Raidātaimingu Jiō Puroguraizu Kī): Based on Kamen Rider Zi-O, this Progrisekey's ability is "King".[44]
"Zi-O Kourinreki!"
―Activation announcement
"Toaru Jidai ga Owari wo Mukaeta Toki, Saikou Saizen no Oh ga Kourin Shita...[45]

Translation: A certain greatest and kindest king has arrived when a certain era has ended... (

とある時代が終わりを迎えた時、最高最善の王が降臨した…

)"
―Story announcement
Zi-O Kourinreki Wonder Ride Book (ジオウ降臨暦ワンダーライドブック, Jiō Kōrin Reki Wandā Raido Bukku, lit. "Zi-O Advent Calendar Wonder Ride Book") is based on Kamen Rider Zi-O and his forms. The book's name is shortened to "Zi-O" in the Swordriver's announcements. The Book's name and cover page are based on Kamen Rider Woz's Oma Advent Calendar.
Kamen Rider Zi-O Gear (仮面ライダージオウギア, Kamen Raidā Jiō Gia) ,this Sentai Gear based in Kamen Rider Zi-O Gives the user time manipulation abilities.
The Brachio Vistamp (ブラキオバイスタンプ, Burakio Baisutanpu)[46] is a Vistamp based on Kamen Rider Zi-O.
Relationships
Family
Junichiro Tokiwa: Sougo's uncle. Junichiro always wanted Sougo to face reality and take tests to get into a university, but he still respects Sougo's dream to become king. Junichiro is also prone to giving advice to Sougo. After Sougo reveals his alter ego as Zi-O, Junichiro was visibly shocked, but still encourage his nephew to do what he must do as a Kamen Rider.
Allies
Enemies
Ohma Zi-O: When Sougo first learned of Ohma Zi-O through Tsukuyomi, he initially didn't believe her. When he does believe her claim, he becomes determined to change his fate, but he otherwise still remains skeptical of how dangerous Ohma Zi-O is according to her and Geiz. It wasn't until a proper meeting when he was sent to the future that he understood the reason why he was feared. Sougo despises what his future self has become, and is even more determined to change his fate. However, this results Sougo unable to keep his cool whenever facing Ohma Zi-O in combat. Ohma Zi-O on the other hand, didn't see Sougo as a threat, even after Sougo obtains GrandZi-O Ridewatch. However, Ohma Zi-O still aids his younger self and didn't really intend to kill him, presumably to secure his own existence as well.
White Woz: Being Woz from a different timeline where his future self was dethroned, the other Woz sees Sougo as a threat due to the fact that White Woz's loyalty lies with GeizRevive. White Woz, however, doesn't see Sougo as a big hindrance, until Sougo becomes Zi-O II. Ironically, Sougo is the one behind White Woz's redemption, to the point that White Woz willingly gives Sougo his Zi-O II Ridewatch, GeizRevive Ridewatch, and the newly created Zi-OTrinity Ridewatch. White Woz also show his interest in Sougo's possibility to alter the future to his counterpart, moments before he is erased from the timeline. White Woz willingness to help Sougo was shown even after his revival by Swartz, although he simply cover it up by his loyalty to Geiz.
Hiryu Kakogawa: Hiryu thought that his parents were dead in a bus accident in 2009 because of Sougo, vividly remembering a woman in white dress aiming her gun at Sougo. Since then, Hiryu hates Sougo with a passion, even going as far to become Another Zi-O, just to kill him. Sougo then advises Hiryu to stop dwelling in the past and keep moving forward. However, Hiryu took it as an insult and became more hateful towards Sougo when they met again when the timeline was altered. In the end, Sougo had no choice but defeat him once more using GrandZi-O.
Tsutomu Tsuzumiya: Tsutomu is Sougo's childhood friend, who dreams to become an Oni. Due to both of them having a seemingly 'absurd' dream, they supported each other.
Yuko Kitajima: Yuko is mistaken by Sougo as his first love from when he was still in elementary school. Despite this, Yuko's shown to have a soft spot to him. she affectionately calls him a cute boy, tending his wounds and pinching his chin as a gesture. Sougo also don't mind shielding her from enemies' attack, even after knowing her identity as Another Kiva. It is shown that both of them develop a romantic relationship, to the point of Yuko indirectly proposes Sougo to marry her. Although Sougo later learns that Yuko is not his first love, he still hesitant to attack her. Upon Yuko's demise by the hand of Ora, Sougo grieves over her dead body, showing that despite their short-lived relationship, he had grown fond of her.
Legend Riders

Kuroto Dan/Kamen Rider Genm/Another OOO: Sougo serves Kuroto to complete his ambition of becoming king, but soon betrays him because he believes that a king must care about people (which Kuroto does not). Sougo also thinks he is the only king the world needs.
So Yaguruma/Kamen Rider KickHopper/Another Kabuto: To be added
Shun Kageyama/Kamen Rider PunchHopper: To be added

Future Riders

Kamen Rider Ginga: An unknown evil rider who becomes the 9 5 DO members and Time Jackers' common enemy during Another Kiva's emergence.
Behind the Scenes
Portrayal
Sougo Tokiwa is portrayed by So Okuno (奥野 壮, Okuno Sō). As Kamen Rider Zi-O, his suit actor is Seiji Takaiwa (高岩 成二, Takaiwa Seiji), who has been the leading suit actor for the majority of the main Heisei Riders (minus Kuuga and Hibiki). Zi-O is Takaiwa's final suit acting role for the main Rider.
Keisuke Watanabe originally auditioned for the role of Sougo Tokiwa, but ultimately dropped out due to him not resonating with the character.
Rider No.
As the leading rider protagonist of Kamen Rider Zi-O, Zi-O is labeled Kamen Rider #35 (仮面ライダー35号, Kamen Raidā Sanjūgogō) and Heisei Rider #20 (平成ライダー20号, Heisei Raidā Nijūgō).
Etymology
Sougo Tokiwa's name is play on Tokiwa-sō, the place where Shotaro Ishinomori lived and started his manga career during 1956 to 1961. "Tokiwa" also carries the word (とき, Toki), which can be translated into time when it is written in kanji "時". If matching his kanji, it was named after (常盤桜 Tokiwazakura), which it means primrose.
"Zi" in Zi-O's name could mean either time (時, Ji) or character (字, Ji), representing his "watch" and "Katakana" motifs while the "O" means king (王, Ō). It may also be Goroawase for the number 20 (2 - Ji, 0 - Ō), referencing that Zi-O is the 20th Heisei Rider.
Notes
Sougo can be considered the oldest rider (in Zi-O only) chronologically since Sougo would be 68 as Ohma Zi-O while Geiz, Woz, and Tsukuyomi would be in their early 20s.
Appearances
References