"I'll become a King!"
―Sougo's dream declaration
"That's right.. Ever since I was born... I knew where I wanted to go!"
―Sougo's determination to change his fate
"I will become the demon king! However, I won't be the villainous demon king. I will be the greatest, kindest demon king!"
―Sougo's declaration to change his fate and becoming Zi-O
"Armor Time!"
―Zi-O's call when he changes forms in Kamen Rider Build: Be The One
"I've got a feeling this will work out!"
―Zi-O's catchphrase when he feels optimistic
Sougo Tokiwa (常磐ソウゴ, Tokiwa Sōgo)[2], alternatively spelt Sogo Tokiwa[3], is an 18-year-old high school student who dreams of becoming a king one day. When Tsukuyomi and Woz travel to his time from 50 years in the future, he learns that he is destined to become the tyrannical ruler of their time, Oma Zi-O. With this knowledge, he makes it his goal to be a great king through kindness by becoming Kamen Rider Zi-O (仮面ライダージオウ, Kamen Raidā Jiō). However, he faces Geiz Myoukouin, a Kamen Rider from the future who is bent on killing him to change the course of history.
History
Sougo Tokiwa was born on April 28, 2000. Living with his grand-uncle Junichiro in a clock shop, he attended high school at Hikarigamori High School, excelling in history but poor in physics. From an early age, Sougo believed that he would become a king, much to the consternation of his uncle and his friends' chagrin.
The Birth of Zi-O
One day, Sougo found a mysterious watch-like item that was on the seat of his bicycle, and after examining the blank item, Sougo laid down the blank item, then went on home while minding his own. Later while bicycling down a small street up towards a stairway, a man in hood, holding a grimoire appeared out of nowhere, who told him that it would be a momentous day for him and to avoid the "red robot" before mysteriously disappearing.
He does indeed encounter the robot shortly after, run by a man in red and black attire and attacks Sougo. He is saved by a woman claiming to be from the future named Tsukuyomi in her Time Mazine. They seemingly travel back in time to 1671 Japan where she proves her legitimacy to him. Tsukuyomi warns Sougo that the watch he currently had possessed a tremendous amount of power and using it will make Sougo turn into the worst and lowest overlord, Oma Zi-O. Just before Sougo could reply, a fight occurs and Tsukuyomi decide to test whether Sougo is really Oma Zi-O or not by forcefully putting Sougo in the middle of the fight. The citizens proceed to throw Sougo to a river and doing so makes peace for themselves. Instead of lamenting his misfortune, Sougo is relieved to see that the group had reconciled, much to the citizens' amusement. However, a red Kamen Rider, Geiz manages to tail them and the two retreat back into the Time Mazine.
When Tsukuyomi was being attacked by Geiz, Sougo gets kicked out of the mech and wakes up in a strange world with a huge wall in the horizon. As he ponders over this, a Smash attacked him but luckily Kamen Riders Build and Cross-Z appears to help. After revealing their names, Sento and Ryuga bring Sougo to the cafe Nascita.
As Ryuga drinks from a carton of milk, Sougo sees the expiration date and realized that he's indeed in the year 2017. Sento affirms that Sougo is indeed from the future since, after some analysis, Sougo's Ridewatch is different from any current technology. Before Sento can ask about the future, Tsukuyomi appeared and shot the three of them into unconsciousness using Faizphone X, in order to prevent Sougo from interfering with the past any more than necessary. He wakes up in his old home, believing it to be all a dream. Later, he encounters a monster with the similar look of Kamen Rider Build attacking civilians. He tries to stop him but is quickly subdued twice.
Sougo was approached by the prophet, Woz once again, who then tells him that he'll become an overlord who will reign over the future. Tsukuyomi desperately tries to warns Sougo to not use the Ridewatch. However, after some quick thought, Sougo decided to not become a tyrant, but to become a beloved overlord of the future, much to both Tsukuyomi and Woz's surprise. After that, the blank Ridewatch revealed itself to becoming the Zi-O Ridewatch, then Sougo is given the Ziku-Driver by Woz to transform and battle the elusive Kaijin Rider. As it is his new beginning of becoming a Kamen Rider, Woz announced the introduction of Sougo as he was now Kamen Rider Zi-O, the King of Time, much to Tsukuyomi's disappointment.
He is able to go on par with Another Build and is quick to defeat him using the Zikan GiLade finisher. Geiz enters the fray, seemingly frustrated with Sougo on his decision and Tsukuyomi as she failed in convincing him. Geiz proceeds to ask why Sougo became Zi-O, which the latter replied that it was probably decided from the moment he was born. Reminiscing Oma Zi-O's declaration, Geiz deems Sougo as irredeemable and transforms using both Geiz and Ghost Ridewatchs to become Kamen Rider Geiz GhostArmor and advances towards Zi-O. Kingdom 2068
Assisting the Genius Physicist & Obtaining Build's Power
Geiz proceeds to attack Zi-O relentlessly until Tsukiyomi piloting the Time Mazine and tells Zi-O to run. After a lenghty bike chase, he manages to do so. Sougo then encounters Woz once more, who formally introduces himself. He states that the two that hail from the future are trying to change the future. Woz then warns him a group named the Time Jackers who have the same goal but to have another king of their choosing in the future. He claims to be the one keeping the timeline the same and that he's on Sougo's side, remarking that his conquest has only just begun. He later finds Another Build fighting Geiz and rescues the two. With his Time Break, Zi-O seemingly defeats the monster once more, only to find it again within seconds. Believing the real Build could defeat him, he rushes off to find him.
Later, Sougo went to the
same cafe
to meet
Sento
and
Ryuga
again. However, due to Another Build's appearances, Nascita's scenery had changed, the fridge that was the passway to the Build laboratory is gone and both
Sento and Ryuga become Lynks Band fanboys instead, seemingly forgetting their memories of being Kamen Riders and their encounter with Sougo the previous year. After Geiz destroys Another Build once again, Sento and Ryuga memories returned, and two blank-ridewatches that they somehow possessed turns into the Build and Cross-Z Ridewatches. Sento then said to Sougo to take care of his past self and gives him the Build and Cross-Z Ridewatches. Although he doesn't understand at first, he quickly realizes that Another Build showed up and attacked Sento and Ryuga in 2017 and Sougo went back in time to help defeat it. He meets up again with Geiz and Tsukuyomi informing them and the two Riders head to their
Time Mazines
 and head back to the past. 
Sougo and Geiz manage to arrive at the very scene, only to be interrupted by Uhr of the Time Jackers. He tells Sougo that the host of Another Build's fate was to have his athletic career abruptly ended in an accident and that he helped him move forward. The latter argues that despite his ability to time travel and intervene with other's lives, it's that individual that can determine his or her future. Impressed with his statement, Uhr wonders what his future will look like and walks away. The two Riders transform and join up with Build and Cross-Z to take down Another Build. However, the change of events in the timeline has caused Build's and Cross-Z's powers to disappear, seemingly to have transferred into the Cross-Z and Build Ridewatches. Zi-O uses the Build Ridewatch to become Zi-O BuildArmor, with Woz appearing and remarking this moment. Zi-O Build Armor now able to damage the monster, with Geiz subduing him with his Zikan Zax in Yumi Mode. Zi-O uses Vortex Time Break to finish the monster with Geiz utilizing the Zax's finisher equipped with the Cross-Z ridewatch. Remembering that Sento and Ryuga gave Sougo the Ridewatches, he asks the two to hold on to two blank Ridewatches for safe keeping. Sento corrects him by saying that his real name is Takumi Katsuragi, and he seems to forget about Sougo. Geiz demands to know what's with sudden anomalies in the timeline, but Sougo himself is confused about it as well, only exclaiming that Sento and Ryuga will choose to become Kamen Rider Build and Cross-Z in the future.
Sougo wakes up the next morning to find out that Tsukuyomi and Geiz have rented out that his uncle's spare rooms. Tsukuyomi explains that him saving the two has questioned whether or not he will grow to become a vile dictator and have decided to keep an eye on him, with Geiz later saying his vendetta towards him hasn't ceased. Despite all this, Sougo seems to be fine with the two living under the same roof as him. Best Match 2017
Genius Gamer M & Obtaining Ex-Aid's Power
The first day that Geiz and Tsukuyomi took a class with Sougo, Sougo didn't feel relax a bit because whatever he did, they would follow and sneak on him, especially Geiz took a look at him closely when he was about to use the toilet. During the lunchtime, he hid inside the sport warehouse and met a student playing a game from GENM Corp, similar to Mighty Action X game. However, when Sougo tricked the gym teacher for covering the student to play the game in quiet, Another Ex-Aid appeared and attacked the player. Sougo transformed and fought it, but after he got thrown, Another Ex-Aid disappeared. Geiz and Tsukuyomi came to Sougo and explained that it wasn't his fault and Another Rider had appeared.
At home, Sougo thought to play the game to lure Another Ex-Aid, but his skill was beyond help as he couldn't reach the level where the student would be attacked. Tsukuyomi said about if only there was a gamer which could help as even she and Geiz couldn't play any old video game, Sougo rushly caught an idea to search a gamer and went to search for Genius Gamer M after Tsukuyomi took a look on her history tablet. Sougo late to realize if doing things like running around to search for him was 100% a difficult task but as he got tired after he had done that. But he found another victim and Another Ex-Aid escaped in a blink, with Sougo couldn't even reaching for it. Woz came and told Sougo to take the victim to the doctor.
Sougo, Geiz, and Tsukuyomi took the victim to Seito hospital. There, Sougo heard of a doctor who played game with the name Emu and asked where he was. Hiiro met them and asked about the ruckus and Sougo told him of what he wanted. Hiiro recalled about Emu was missing after he played the mentioned game after Sougo revealed that the incident of the disease was related to the game. There was a note and Hiiro as he claimed that he somehow could trust them, on playing the game. The note was written in the German language and Geiz able to read it, revealing that it was a code for the player when they played the game. Sougo realized the meaning of the code after Geiz translated it and played the game, making them to be dragged to the game world itself and encountered Another Ex-Aid.
Sougo and Geiz transformed and fought Another Ex-Aid, who proved formidable until they transformed into Zi-O Build Armor and Geiz Drive Armor respectively to defeat it. Emu appeared and congratulated them on cracking his code in a cold tone, before transforming into Ex-Aid and attacking them. Doctor Gamer 2018
Reaching the Stars & Obtaining Fourze's Power
In 2018, Sougo finds out that several high school girls are missing, and Tsukuyomi mentions that an Another Rider is maybe behind this. Sougo, Tsukuyomi, and Geiz then go to Amanogawa High School, where the last victim last seen. Indeed, in there they met Another Fourze attacking a girl. After repelling the kaijin, Sougo and co. are forced to go to the Kamen Rider Club . The club's temporary advisor, Chuta Ohsugi then gives Sougo the Fourze Ridewatch, that he got from the club's official advisor. Switch On! 2011
King Kuroto Dan & Obtaining OOO's Power
In 2018, Kuroto Dan, the head of the Dan Foundation, established his own country, dubbing himself 'King Kuroto Dan', after accepting a deal from Uhr in 2010 to become Another OOO. After Geiz goes to investigate and gets his hands on the Gemn Ridewatch (Kuroto's old rider form) in 2016, Sougo decides to go a different route and becomes the head of Kuroto's army. Genm Master 2016
Later on, Sougo met Eiji Hino, the past Kamen Rider OOO (erased because of Another OOO), who had become a politician and was imprisoned by Kuroto. Eiji gave Sougo the OOO Ridewatch, with Sougo becoming Zi-O OOOArmour to defeat Kuroto. Hawk, Tiger, and Grasshopper 2010
Time Paradox
Personality
Sougo is described as an ambitious young man who desires to be a king. He had a hobby of learning the history of existing kings, even the Kings that are classified as Tyrants (i.e. Nobunaga Oda). However, upon learning of his alternate future self-being a tyrant, he decides to change his fate. The current reason is yet to be known of why he is like that except the fact that Sougo somehow felt that it is his fate.
Despite his grand ambitions, Sougo is a peaceful and genuinely kind man at heart, and will gladly take physical harm if it means stopping a conflict, much to Tsukuyomi's confusion. He also took his duty as Kamen Rider seriously, as he fully understands the responsibility of his power to protect people, something he believes what a benevolent King would do. 
Sougo seems to have a verbal tic by adding "Feels like it" (気がする, Kigasuru) at the end of most of his sentences, mostly due to his optimistic approaches. Sougo also generally friendly and remain trustful to everyone, to the point that Sougo gives Geiz permission to use the Wizard Ridewatch to defeat Another Wizard in 2012.
Sougo exhibits fanatical admiration when in the presence of a regal figure (i.e.: Kuroto Dan). However, he also exhibits respect for ordinary people that have benevolent king-like quality (i.e.: Eiji Hino). This stems from the belief that he could learn from those individuals who have succeeded in their ascension and also understand what is needed for one to be a Benevolent Ruler. Resulting in him become one step closer to accomplish his own ambition. This character trait gives him intense focus, which extends to his combat prowess. In the ensuing confrontation with Geiz, Sougo displayed formidable combat skill and effortlessly defeated him.
Power & Abilities
Skills
Vast Historical Knowledge: According to Tsukuyomi, Sougo excels in history.
Keen Manipulator: Sougo has a talent for understanding how people would behave and subsequently exploiting people around him to do his bidding like how he tricked both Geiz and Tsukuyomi into watching Another Wizard's magic show with him and how he took advantage of Woz to make him cooperate with him and Geiz. Geiz considered his manipulative capabilities to be a serious threat and an indicator of his potential to become an overlord.    
 Weaknesses
Poor Academic Performance: According to Tsukuyomi, Sougo is helpless in science and curricular subjects in school. This indicated when he first used the BuildArmor, and instead of proper equations, it simply listed sentences stating that he 'didn't know' or 'something I learned in grade school'.
Forms
Kamen Rider Zi-O transforms by inserting the Zi-O Ridewatch into the right-hand side of the Ziku-Driver and rotating the Driver 360 degrees.[4] He accesses Rider Armor (ライダーアーマー, Raidā Āmā)[5] forms based on previous Heisei Kamen Riders by inserting Ridewatches into the left-hand side of the Ziku-Driver.[6][7][8] Though, as a side-effect of using the Legend-Rider powers, he sometimes gains the habits of the rider who's powers he's using.
Zi-O can execute a finishing attack known as the Time Break (タイムブレイク, Taimu Bureiku) by pressing the Ride-On Starter on their Rider Ridewatch and rotating the Ziku-Driver. Time Breaks performed in a Rider Armor are named after the respective Rider's finishing attacks with "Time Break" after it.
Kamen Rider Zi-O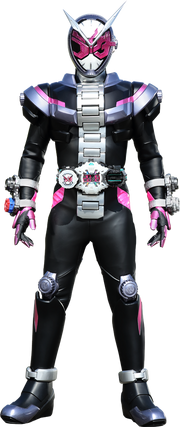 "Rider Time! (Electronic beat) Kamen Rider Zi-O![8]"
―Transformation announcement
Rider Statistics
Rider Height: 200.0 cm.
Rider Weight: 92.0 kg.
Ability Parameters
Punching Power: 8.2 t.
Kicking Power: 19.0 t.
Maximum Jump Height: 30.2 m.
Maximum Running Speed: 100 m. per 5.0 sec.
Sougo transforms into Kamen Rider Zi-O (仮面ライダージオウ, Kamen Raidā Jiō) by inserting the Zi-O Ridewatch into the D '9 Slot on the Ziku-Driver. His base form's visor reads "Rider" (ライダー, Raidā), while the logo on his forehead reads "Kamen" (カメン, "Kamen") in katakana. Zi-O's personal weapon in his base form is the Zikan Girade.
Zi-O consists of the following parts:
Caliber A (

キャリバーA

Kyaribā A

) - Zi-O's helmet. 'A' stands for Analog.

Clock Blade A (

クロックブレードA

Kurokku Burēdo A

) - The clock hands on the Caliber A. It is a data collection device. The long hand, Baryon Hand M (

Barion Hando M

バリオンハンドM

) predicts temporal information, such as enemy timing, while the short hand, Meson Hand H (

メソンハンドH

Meson Hando H

) measures spatial information, such as the distance between Zi-O and the enemy as well as landing points of finishers.
Ow Signal (

オウシグナル

Ou Shigunaru

) - The circular section where the two Clock Blades meet. It feeds gathered information to Zi-O, derive optimum solution to problems, and adjust internal systems of Zi-O.
Indication Eye (

インジケーションアイ

Injikēshon Ai

) - The visor which spells out "Rider". Sensors with a 270° viewing angle is built into the compound eye.
Kamen Dial (

カメンダイアル

Kamen Daiaru

, lit. 'Mask Dial') - Zi-O's faceplate. It invokes an analog clock face, and is made using a multilayer structure composed of the special metal alloy Graphenium (

グラフェニウム

Gurafeniumu

). The Kamen Dial is described by the TV Asahi website to have a beautiful white lustre finish.
Crash Bezel (

クラッシュベゼル

Kurasshu Bezeru

) - The metal frame surrounding the face. It is composed of Graphenium.
Core Ryūzu (

コアリューズ

Koa Ryūzu

, lit. 'Core Crown') - The 'button' on Zi-O's left cheek. It is an information management unit that stores combat data.

Oval Light Tecter (

オーバルライトテクター

Ōbaru Raito Tekutā

) - Zi-O's shoulder and chest armor. A metal coating called Graphenium Coat (

グラフェニウムコート

Gurafeniumu Kōto

) has been applied, raising durability. As a result, the Oval Light Tecter is not only lightweight, but is also 200 times stronger than steel.
Mid Band Liner M (

ミッドバンドライナーM

Middo Bando Rainā M

) - The silver band that runs vertically across Zi-O's torso, it connects the Ziku Driver to the head, converting energy made by the Driver into bioenergy.
Time Rush Arm (

タイムラッシュアーム

Taimu Rasshu Āmu

) - Zi-O's arms. Nanoscopic "Nanotube Muscle" (

ナノチューブ筋

Nanochūbu-kin

) tubing covers it, increasing strength.
Flex Arm Girder (

フレックスアームガーダー

Furekkusu Āmu Gādā

) - Zi-O's forearm armor. It is composed of the shock-absorbant material Amsein (

アムセイン

Amusein

), allowing it to absorb and disperse physical attacks with ease.
Zi-O Leap Hand (

ジオウリープハンド

Jio Rīpu Hando

) - Zi-O's hand units. It is covered with the purple metal Graphenium Bite (

グラフェニウムバイト

Gurafeniumu Baito

) units, raising destructive power of punches.
Adjustrike Suit (

アジャストライクスーツ

Ajasutoraiku Sūtsu

) - Zi-O's bodysuit. It automatically repairs minor damage.
Time Rush Leg (

タイムラッシュレッグ

Taimu Rasshu Reggu

) - Zi-O's legs. Nanoscopic "Nanotube Muscle" (

ナノチューブ筋

Nanochūbu-kin

) tubing covers it, increasing strength.
Counter Pad (

カウンターパド

Kauntā Pado

) - Zi-O's kneepads. It reads combat data on the field and sends it to the helmet.
Flex Leg Girder (

フレックスレッグガーダー

Furekkusu Reggu Gādā

) - Zi-O's shin protecters. It is composed of the shock-absorbant material Amsein, allowing it to absorb and disperse physical attacks with ease.
Zi-O Leap Shoes (

ジオウリープシューズ

Jio Rīpu Shūzu

) - Zi-O's shoes. The tip is covered with the Graphenium Bite (

グラフェニウムバイト

Gurafeniumu Baito

) units, increasing destructive power of kicks. Additionally, The katakana for the word "Kick" (キック) in engraved on the soles.
This form has two finishers:
Ziku-Driver finishers:

Time Break (

タイムブレイク

Taimu Bureiku

): A series of magenta-colored "Kick" (

キック

Kikku

) characters appear and circle the enemy. Zi-O then jumps high as the "Kick" characters merge into one and imprint on Zi-O's right foot as Zi-O performs a flying kick into the the enemy.

Zikan Girade finishers:

Giri Giri Slash: Zi-O uses the power of a Ridewatch in the Zikan Girade in Ken Mode and performs a powerful slash.

Zi-O: Zi-O coats the Zikan Girade in magenta energy before slashing the enemy. The slash then projects two silver energy clocks upon impact.
Appearances: Be The One, Zi-O Episodes 1-12, Heisei Generations FOREVER

The Decade Ridewatch features a slot into which other Ridewatches can be inserted. This allows Zi-O to access hybrid forms based on past Kamen Riders' upgrade forms or super forms. The katakana of the Rider augmenting the Armor is moved from the face to the right shoulder, and the form name displays across the chest to the left shoulder, while the face projects an image of the Upgrade Form's helmet.
The Decade Ridewatch grants access to the Ride HeiSaber.
Kamen Rider Zi-O II
"Rider Time! (Techno Rock Music) Kamen Rider Zi-O II![23]"
―Transformation announcement
Kamen Rider Zi-O II (仮面ライダージオウⅡ, Kamen Raidā Jiō Tsū)[24] is Zi-O's super form accessed by splitting the Zi-O Ridewatch II into two pieces and using them in both slots of the Ziku-Driver.[24]
In this form, Zi-O wields the Saikyo Girade[25], which can combine with the Zikan Girade to form the Saikyo Zikan Girade.
This form's finisher is the Twice Time Break (トゥワイスタイムブレーク, Tuwaisu Taimu Burēku).

These Rider Armors are normally used by Kamen Rider Geiz.
GhostArmor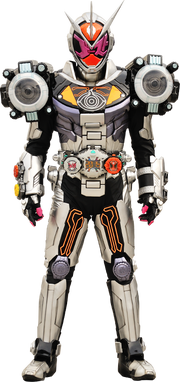 "Rider Time! Kamen Rider Zi-O! Armor Time! (Guitar beat with Ghost Driver's standby) Kaigan! Ghost!"
―Transformation announcement
Rider Statistics
Rider Height: 202.2 cm.
Rider Weight: 108.0 kg.
Ability Parameters
Punching Power: 11.3 t.
Kicking Power: 24.7 t.
Maximum Jump Height: 39.5 m.
Maximum Running Speed: 100 m. per 4.4 sec.
GhostArmor (ゴーストアーマー, GōsutoĀmā) is Zi-O's Kamen Rider Ghost-based form accessed by inserting the Ghost Ridewatch into the left-hand side of the Ziku-Driver, invoking Ghost's Ore Damashii. Its visor spells out "Ghost" (ゴースト, Gōsuto) and and it bears the Eyecon Shoulders (眼魂ショルダー, Aikon Shorudā).
In this form, Zi-O has the abilities of Kamen Rider Ghost, such as becoming invisible and intangible, and is capable of levitation at will. Through the Eyecon Shoulders, he can summon Parka Ghosts as reinforcements. Compared to his base form, Zi-O GhostArmor's stats are heightened, being stronger and faster.
GhostArmor bears the following parts:
Ghost Head Gear R (

ゴーストヘッドギアR

Gōsuto Heddo Gia R

)[26] - Ghost Armor's helmet.

Wisp Horn (

ウィスプホーン

Wisupu Hōn

) - The horn located on Zi-O's forehead. It detects enemies within a 5 km radius, and alerts Zi-O to them. Because of its sharpness, it can also double as a headbutting weapon.
Indication Eye (

インジケーションアイ

Injikēshon Ai

) - Zi-O's visor which spells out 'Ghost'. Sensors with a 300° viewing angle are installed within the compound eye.
Pantheon Reflector Frame (

パンテオンリフレクターフレーム

Panteon Rifurekutā Furēmu

) - The frame of Ghost Head Gear R, it is covered with special particles that block energy attacks.

Eyecon Shoulders (

眼魂ショルダー

Aikon Shorudā

)[27] - The shoulders of the Ghost Armor which take the form of Eyecons. It has the ability to summon Parka Ghosts as backup. It is unknown if these Parka Ghosts are actual souls or mere copies.
Omega Breaster (

オメガブレスター

Omega Buresutā

) - The chestplate of the Ghost Armor. It has a function which allows Zi-O to levitate and permeate through substances.
Ghost Ability Plate (

ゴーストアビリティプレート

Gōsuto Abiriti Purēto

) - The thigh armor of the Ghost Armor, it gives Zi-O the ablity to float objects in the air.
This form's finisher is the Omega Time Break (オメガタイムブレイク, Omega Taimu Bureiku):
Appearances: Zi-O Episode TBA[28]

Equipment
Devices
Weapons
Handheld weapons:
Suit-equipped weapons:
Vehicles
Relationships
Past Kamen Riders:
Behind the Scenes
Portrayal
Sougo Tokiwa is portrayed by So Okuno (奥野 壮, Okuno Sō). As Kamen Rider Zi-O, his suit actor is Seiji Takaiwa (高岩 成二, Takaiwa Seiji).
Rider No.
As the leading rider protagonist of Kamen Rider Zi-O, Zi-O is labelled Kamen Rider #35 (仮面ライダー35号, Kamen Raidā Sanjūgogō) and Heisei Rider #20 (平成ライダー20号, Heisei Raidā Nijūgō).
Etymology
Sougo Tokiwa's name is play on Tokiwa-sō, the place where Shotaro Ishinomori lived and started his manga career during 1956 to 1961. "Tokiwa" also carries the word (とき, Toki), which can be translated into time when it is written in kanji "時".
"Zi" in Zi-O's name could mean either time (時, Ji) or character (字, Ji), representing his "watch" and "Katakana" motifs while the "O" means king (王, Ō). It may also be Goroawase for the number 20 (2 - Ji, 0 - Ō), referencing that Zi-O is the 20th Heisei Rider.
Notes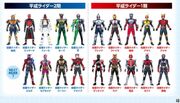 Kamen Rider Zi-O's official design was first revealed in Kamen Rider Buttobasoul accidentally and resulted in the machines needing to undergo matienance after the reveal.[30] His legend forms were soon after revealed by a Chinese printing industry staff unintentionally during Kamen Rider Battle: Ganbarizing posters making.[31]
Zi-O is the second Rider with a magenta & black color scheme, after Decade.
Zi-O's suit design is based on Rolex watches.
Zi-O's boots have the katakana for "kick" (

キック

) on the soles.
The hands on Zi-O's face point to 10:10, which is a rough common setting of watches and a reference to his status as the 20th Heisei Kamen Rider.

This makes Zi-O the first Heisei Rider since Kamen Rider Decade to incorporate his number into his design (the "X" on Decade's chest refers to 10).

Uniquely, Zi-O's forms appear as an inversion of Decade's, where the forms conform to the core design and the summoned weapons are modified to either fit the design of the trinkets or the aesthetics of the rider's form, instead of both forms and weapons being their normal designs.
Zi-O is the first Rider since Decade not to have a unique name for his default form.
The prefixes added to Zi-O's Time Break for Rider Armor finishers are all taken from the original Riders' finishers:

BuildArmor's Vortex Time Break is taken from the Vortex Finish.
Ex-AidArmor's Critical Time Break is taken from the Critical Strike and Critical Finish.
GaimArmor's Squash Time Break is taken from the Squash finishers.
FourzeArmor's Limit Time Break is taken from the Limit Break.
OOOArmor's Scanning Time Break is taken from the Scanning Charge
KivaArmor's Wake Up Time Break is taken from the Wake Up Fuestle, which is required for Kiva's finishing attacks.
Den-OArmor's Ore no Time Break is taken from Momotaros' various nicknames for his Full Charge, usually "Ore no hissatsu waza part 2!" (

俺の必殺技パート2

lit. "My finishing attack, part 2!")
KabutoArmor's Clock Time Break is taken from the Clock Up maneuver that all the Riders of Kamen Rider Kabuto have, even though it's not a finishing attack.
HibikiArmor's Ongeki Time Break is taken from Hibiki's own Ongeki Finishers.
BladeArmor's Lightning Time Break is taken from either the Lightning Slash, the Lightning Blast, or the Lightning Sonic.
RyukiArmor's Final Time Break is taken from Final Vent.
AgitoArmor's Ground Time Break is taken from Agito's Ground Form.

Zi-O's DecadeArmor form has similarities to Kamen Rider Ghost's Toucon Boost Damashii as both are upgrade forms that can change between different upgraded form changes.

The way the visor acts like a monitor whenever an upgrade form is used via the Decade Ridewatch is reminiscent of the helmet design of Ganbarider.

Zi-O's DecadeArmor use Ghost's super form instead of upgrade form like Build and Ex-Aid.
Appearances
References
↑ Cite error: Invalid <ref> tag; no text was provided for refs named Armors1