Wiki Targeted (Entertainment)
Play Sound
This article is about an alternative version of the protagonist of the series, Kamen Rider Zi-O. For other uses of Sougo Tokiwa, see Sougo Tokiwa (disambiguation).
"What did I do?"
―Sougo's question
Sougo Tokiwa (常磐 ソウゴ, Tokiwa Sōgo), alternatively known as Sougo F (ソウゴ F, Sōgo Efu), is a normal student who transforms into Kamen Rider Zi-O (仮面ライダージオウ, Kamen Raidā Jiō).
History
Confrontation with Decade
This Sougo's only appearance has him being chased on foot by Tsukasa Kadoya, who is driving a jeep and is seeking to erase all seven Sougos to restore their damaged timelines. Sougo F attempts to retaliate by transforming into Zi-O to fight Tsukasa as Decade, but is instantly killed by a Final Attack Ride. Rider Time: Kamen Rider Zi-O VS Decade
Personality
Unlike his original counterpart and his other counterparts, this version of Sougo lacks confidence and is shown to be afraid if something bad happens to him.
Powers and Abilities
His powers and abilities seem to be those of the original Sougo Tokiwa when he just became Zi-O. However, due to his cowardice, he's possibly the weakest of among all Sougo.
Forms
Kamen Rider Zi-O transforms by inserting the Zi-O Ridewatch into the right-hand side of the Ziku-Driver.[1]
Kamen Rider Zi-O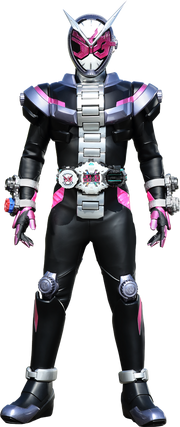 "Rider Time! (Electronic beat) Kamen Rider Zi-O!"
―Transformation announcement
Rider Statistics
Rider Height: 200.0 cm.
Rider Weight: 92.0 kg.
Ability Parameters
Punching Power: 8.2 t.
Kicking Power: 19.0 t.
Maximum Jump Height: 30.2 m.
Maximum Running Speed: 100 m. per 5.0 sec.
Kamen Rider Zi-O transforms by inserting the Zi-O Ridewatch into the right-hand side of the Ziku-Driver. His base form's visor reads "Rider" (ライダー, Raidā).

This form is exclusive to Rider Time: Kamen Rider Zi-O VS Decade Episode 2

Equipment
Devices
Weapons
Zikan Girade - Zi-O's personal weapon and Zi-O II's secondary weapon
Relationships
Tsukasa Kadoya: Another enemy who confronts him and manages to kill him.
Behind the Scenes
Portrayal
Sougo Tokiwa is portrayed by So Okuno (奥野 壮, Okuno Sō) who portrays every version of him except his child one and Ohma Zi-O.
Etymology
Sougo Tokiwa's name is play on Tokiwa-sō, the place where Shotaro Ishinomori lived and started his manga career during 1956 to 1961. "Tokiwa" also carries the word (とき, Toki), which can be translated into time when it is written in kanji "時". If matching his kanji, it was named after (常盤桜 Tokiwazakura), which it means primrose.
"Zi" in Zi-O's name could mean either time (時, Ji) or character (字, Ji), representing his "watch" and "Katakana" motifs while the "O" means king (王, Ō). It may also be Goroawase for the number 20 (2 - Ji, 0 - Ō), referencing that Zi-O is the 20th Heisei Rider, the Heisei Era starting with the year 2000 for the Kamen Rider Series (the actual Heisei Era started in 1989).
Notes
This version of Sougo has the shortest amount of screen-time compared to the others.

He is also the weakest Sougo compared to the others.
He is the only one who has not met the other versions of Sougo. As a result, he is officially referred to as Sougo F due to the others receiving consecutive lettering.
Appearances
References
Community content is available under
CC-BY-SA
unless otherwise noted.