Wiki Targeted (Entertainment)
Play Sound
"I'm Sougo Tokiwa, a 3rd Year student at Hanazono Academy"
―Sougo's presentation
Sougo Tokiwa (常磐 ソウゴ, Tokiwa Sōgo), alternatively known as Sougo B (ソウゴ B, Sōgo Bī), is a 3rd-year high school student and class president of Hanazono Academy who transforms into Kamen Rider Zi-O (仮面ライダージオウ, Kamen Raidā Jiō).
History
Meeting other Zi-O
When the Elementary Inves attack lost students in the wasteland, Sougo arrives and transforms into Kamen Rider Zi-O to save them. However, he helps out the only girl out of them, in front of the boys' eyes.
After coming back to the academy, he tells his classmates that he doesn't want to stay in a shelter but he rather wants to fight against the threat. Then, Misa, a girl who seems to be romantically interested in Sougo, comes and asks if she can go with him. After denying, he finally accepts, and starts to fight the Inves while riding a bike with Misa on his back.
Once arriving, he transforms into Zi-O, beats some Inves before meeting Geiz and his main counterpart as well as another one. However, as they are confused in front of him, Sougo feels interested in this situation. Chapter 1: The Drifting School
Sougo B then decided to stay along to see how the fights would end. When Sougo C was killed, two more Sougos appeared. After Sougo D was killed, Sougo E transformed into Zi-O and fought Decade. When Ohma Zi-O was killed, the world began to change. Sougo B and Misa were preparing to leave, saying goodbye to Sougo, Geiz, and Tsukuyomi. Sougo asked him where he'll go, and he said wherever, as long as Misa was with him. He and Misa then got on the bike and drove off, returning both of them into their home world. Geiz said that two Sougos shouldn't be allowed to live in a single, original world.
Personality
Sougo seems to be pretty self-confident and belittling, but he is protective for the ones he cares about. Unlike Sougo C, he tends to act out of a genuine devotion to protect others and keep them safe, journeying out of Hanazono in hopes of finding a way to free his classmates and using parties to bring the Hikarigamori students together.
Powers and Abilities
His powers and abilities seem to be those of the original Sougo Tokiwa when he just became Zi-O. However, as a result of his personality, he seems to be more readily capable of fighting than the original Sougo, being able to skillfully wield the Zikan Girade while untransformed and riding a motorcycle.
Forms
Kamen Rider Zi-O transforms by inserting the Zi-O Ridewatch into the right-hand side of the Ziku-Driver, receiving Misa's flying kiss and rotating the Driver 360 degrees.
Kamen Rider Zi-O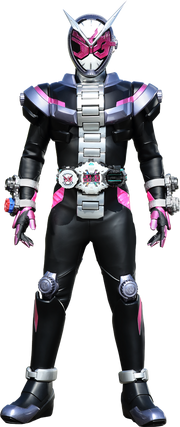 "Rider Time! (Electronic beat) Kamen Rider Zi-O!"
―Transformation announcement
Rider Statistics
Rider Height: 200.0 cm.
Rider Weight: 92.0 kg.
Ability Parameters
Punching Power: 8.2 t.
Kicking Power: 19.0 t.
Maximum Jump Height: 30.2 m.
Maximum Running Speed: 100 m. per 5.0 sec.
Kamen Rider Zi-O transforms by inserting the Zi-O Ridewatch into the right-hand side of the Ziku-Driver, and recieving Misa's flying love kiss. His base form's visor reads "Rider" (ライダー, Raidā).
This form has two finishers:
Ziku-Driver finishers:

Time Break (

タイムブレイク

Taimu Bureiku

): Zi-O delivers a Flying Kick covered in magenta energy.

Zikan Girade finishers:

Ken Mode

Giri Giri Slash (

ギリギリスラッシュ

Giri Giri Surasshu

): Zi-O uses the power of a Ridewatch in the Zikan Girade in Ken Mode and performs a powerful slash.

OOO: The slash projects fire and burns it in a manner similar to the Tajaspiner's Giga Scan finisher.
Appearances: Rider Time: Kamen Rider Zi-O VS Decade -7 of Zi-O!- Episodes 1-2
Equipment
Devices
Weapons
Handheld weapons:
Zikan Girade - Zi-O's personal weapon and Zi-O II's secondary weapon
Vehicles
Relationships
Misa Kudo: A girl who seems to have a relationship with Sougo.
Sougo A: They both got along well. B was glad he met A.
Behind the Scenes
Portrayal
Sougo Tokiwa is portrayed by So Okuno (奥野 壮, Okuno Sō) who portrays every version of him except his child one and Ohma Zi-O.
Etymology
Sougo Tokiwa's name is play on Tokiwa-sō, the place where Shotaro Ishinomori lived and started his manga career during 1956 to 1961. "Tokiwa" also carries the word (とき, Toki), which can be translated into time when it is written in kanji "時". If matching his kanji, it was named after (常盤桜 Tokiwazakura), which it means primrose.
"Zi" in Zi-O's name could mean either time (時, Ji) or character (字, Ji), representing his "watch" and "Katakana" motifs while the "O" means king (王, Ō). It may also be Goroawase for the number 20 (2 - Ji, 0 - Ō), referencing that Zi-O is the 20th Heisei Rider, the Heisei Era starting with the year 2000 for the Kamen Rider Series (the actual Heisei Era started in 1989).
Notes
Sougo's bike is registered 2018, the debuting year of the series Kamen Rider Zi-O.
As of the end of Zi-O VS Decade, Sougo B is the only other counterpart of Sougo who is still alive.
Appearances
References
Community content is available under
CC-BY-SA
unless otherwise noted.