"My plan should have worked 1000%!"
This article is a stub, meaning it needs more info. You can improve this Kamen Rider Wiki article by expanding it.
Sota Suyama (須山 颯太, Suyama Sōta) is a young boy who becomes infected with the Bugster virus.
Character History
He is infected with an unknown illness, and refuses to be treated. When he gives his doctor Emu Hojo and nurse Ginko Yumita the slip and escapes the hospital, he sees the Gamer Driver and Mighty Action X Gashat that Asuna Karino is carrying, but quickly falls unconscious, and Asuna realizes he is infected by the Bugster virus. He is taken to CR for treatment, but Emu sneaks in behind her and discovers Sota's love of video games, especially Mighty Action X. He takes Sota out of CR to a video game convention, but the virus inside him takes over his body, mutating him into a giant golem-like form that begins trashing the convention. Emu takes the Gamer Driver from Asuna and becomes Kamen Rider Ex-Aid Action Gamer Level 1, using his skill at video games to defeat the giant virus and revert Sota to normal; however, he is unconscious and fading. Smaller viruses that had leapt off of him then form the Salty Bugster and a group of Bugster Viruses, but they are defeated by Ex-Aid Action Gamer Level 2, after which Sota fully recovers in minutes. I'm a Kamen Rider!
Personality
to be added
Forms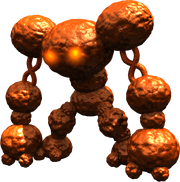 Bugster Union: When taken over by the Bugster virus, Sota is mutated into the form of a giant golem-like virus monster.
Powers/Abilities

It can "move" its mass from one part of its body to another; for instance, it can shrink one arm to grow the other even larger.
Behind The Scenes
Portrayal
Sota Syuama is portrayed by Ryowa Sakai.
Appearances
References
Community content is available under
CC-BY-SA
unless otherwise noted.