"Because I wanted you to realize... that you weren't anyone's successor. I wanted you to leap towards your own dreams. To become the first of a new generation... This is such a strange feeling."
―Soreo's final words to his son
Due to Finis altering the timeline, this version of the Humagear Soreo Hiden (飛電 其雄, Hiden Soreo) had survived in 2019 as the Daybreak Town Accident never occurred. In a world ruled by Humagears, he uses the Cycloneriser to transform into Kamen Rider Ichi-Gata (仮面ライダー1型, Kamen Raidā Ichigata, lit. "Masked Rider Type-1").[1][2]
History
Kamen Rider: Reiwa The First Generation
Due to changes to Zero-One's timeline caused by Time Jacker Finis, Soreo meets an older Aruto and continues to plan the destruction of the Ark by uploading the same program that would have caused it to self-destruct. However, Will's interference cause Soreo to fully succumb to the Ark's hacking and he is forced to fight his son, Aruto.
In the present day, Soreo gives Aruto a Forceriser to become Kamen Rider ZeroZero-One after he loses the ability to transform normally. He also denies Aruto in a vote with the other Humagears as the tiebreaker of becoming President to lead Hiden Intelligence, as he believes that unless he surpasses him, his dream of humans and Humagears co-existing will be nothing but meaningless. Aruto ultimately decides to fight Soreo, and the latter is defeated. It is revealed that Soreo wasn't really hacked by the Ark as he wanted Aruto to leap toward his own dream, reassuring him that he isn't anyone's successor. Aruto is appointed President of Hiden Intelligence as Soreo's body deactivates, but not before giving Aruto his Rocking Hopper Zetsumerisekey. After Another 1 is destroyed, the deactivated Humagear body of Soreo dissolves as the timeline goes back to normal.
Video Game appearances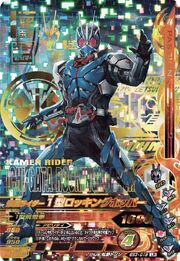 Kamen Rider Ichi-Gata, alongside Vulcan, Valkyrie, Zero-One, Horobi, Jin and other Riders, is a playable character in Kamen Rider Battle: Ganbarizing.

Kamen Rider City Wars
Kamen Rider Ichi-Gata is a playable character alongside the other Kamen Riders. Notably, he is the first movie Rider in the Reiwa Era to appear in Kamen Rider City Wars.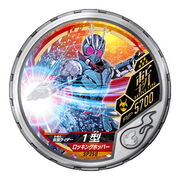 Kamen Rider Ichi-Gata is a playable character with other Kamen Rider of Showa Heisei and Reiwa in Kamen Rider Buttobasoul.

Powers and Abilities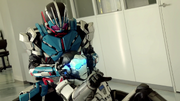 Humagear Restoration: Soreo can restore a Humagear to their original programming if they have been corrupted by the Ark.
Engineering: In addition to being the primary technician for the Ark after its construction, Soreo created several weapons, including the Cycloneriser and Rocking Hopper Zetsumerisekey, as well as prototypes of the Zetsumeriser, MetsubouJinrai Forceriser, and other Progrisekeys.
Weaknesses
Ark: Because the Cycloneriser connects Soreo to the Ark, he is susceptible to its control.
Kamen Rider Ichi-Gata
Rocking Hopper

"Cyclonerise! Rocking Hopper! Type-1."
―Transformation announcement
Rider Statistics
Height: 200.0 cm
Weight: 98.3 kg
Ability Parameters:[3]
Punching Power: 14.2 t
Kicking Power: 60.6 t
Maximum Jump Height: 68.4 m
Maximum Running Speed: 100 m per 2.8 seconds
Rocking Hopper (ロキングホッパー, Rokkingu Hoppā)[4][5] is Ichi-Gata's primary form accessed by using the Rocking Hopper Zetsumerisekey in the Cycloneriser. By releasing strengthening particles from the Cycled Muffler (サイクレッドマフラー, Saikureddo Mafurā) around his neck, Ichi-Gata can unleash a high-speed barrage of strikes.
Cycloneriser finishers:

Rocking Spark (

ロキングスパーク

Rokkingu Supāku

): Empowered by the Cycled Muffler, Ichi-Gata moves at high-speed, then attacks the opponent multiple times.
Rocking The End (

ロキングジエンド

Rokkingu Ji Endo

): Empowered by the Cycled Muffler, Ichi-Gata jumps up and delivers a Rider Kick covered in glowing red energy.
This form is exclusive to Kamen Rider: Reiwa The First Generation.

Equipment
Devices
Behind the Scenes
Portrayal
Like the original, this version of Soreo Hiden is portrayed by Koji Yamamoto (山本 耕史, Yamamoto Kōji). As Kamen Rider Ichi-Gata, his suit actor is Seiji Takaiwa (高岩 成二, Takaiwa Seiji).[6]
Concept Art
Notes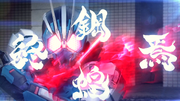 Kamen Rider Ichi-Gata's color scheme is based on that of Kamen Rider 1's Original 1 (

旧1号

Kyu Ichigo

) form and the reboot Kamen Rider 1 from Kamen Rider The First.

In fact, Soreo's transformation pose is similar to Takeshi Hongo's transformation pose.
Ichi-Gata's transformation belt, the Cycloneriser, is named after Kamen Rider 1's bike, the Cyclone.
Ichi-Gata's Cycled Muffler closely resembles Kamen Rider 1's red scarf.

This is emphasized whenever Ichi-Gata uses his finishers, as the excess energy released by the Cycled Muffler produces an effect similar to Kamen Rider 1's trademark scarf.

With the exception of his visor, which was pink colored, Kamen Rider Ichi-Gata's color scheme is also similar to Kamen Rider 3.

Kamen Rider Official states that Kamen Rider Ichi-Gata was developed as the prototype for the Kamen Rider that would protect humanity and Humagears.[7]
Ichi-Gata's Rocking The End attack is the second finisher to incorporate the phrase "The End" as the part of the finisher name, with the first being Kamen Rider Kikai's Fullmetal The End.
Soreo is similar to Shinobu Katsuragi from Kamen Rider Build. Both of them are the fathers of the protagonists (in Soreo's case, a surrogate parent), created the Rider system that their sons use to become Kamen Riders, and temporarily fight their sons using a prototype of the Rider system they created as part of a facade to trick a villain.
Appearances
References
Community content is available under
CC-BY-SA
unless otherwise noted.