Sonorabuma (ソノラブーマ, Sonorabūma, 29, 38, 43 & 44) was a type of cicada-themed Mirror Monster. It could climb on walls, had sharp claws, and emitted a distinctive chittering hiss sound.
Kamen Rider Ryuki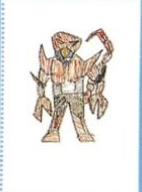 It targeted Reiko and Shimada when they were taking part in marriage interviews, abducting them. While fighting Shieldboarder, Ryuki heard its hissing, recognizing it from earlier, and followed it to Reiko and Shimada (who it surprisingly had made no attempt to eat, merely leaving them laying asleep). It was kicked by Ryuki through a mirror and killed by Zolda's Giga Launcher and Knight's Hishou Zan. Marriage Interview Battle
A second Sonorabuma appeared in a group of other Monsters, where it wields some form of sword, only to be destroyed with the others by Knight's Hishou Zan. Targeted Yui
Yet another Sonorabuma appeared in the crowd of Mirror Monsters that closed in on Yui when she tried stranding herself in the Mirror World, quickly being sent after each other by Shiro, it facing a Wiskraken and GuldMirage. The Hero Fights Glassy Happiness
Super Hero Taisen Z
It is revived in Kamen Rider x Super Sentai x Space Sheriff as a member of Space Shocker. It is seen fighting DekaRed.
Appearances
See also
Community content is available under
CC-BY-SA
unless otherwise noted.