"Complete!"
―Transformation announcement
The Smart Buckle (スマートバックル, Sumāto Bukkaru) is a Riotrooper transformation device developed by Smart Brain as means to protect the Orphnoch King, constructed in the shape of a belt. Unlike any other gears, this belt lacks a Mission Memory but is capable of generating the photon streams that form the suit. If the belt is removed, the armor will dissolve.
In Kamen Rider 555: Lost World, Kyouji Murakami creates the latest version of Smart Buckle, transforming him into Riotrooper V2. Later in Kamen Rider 555: Paradise Lost, instead of pushing over the buckles to start transformation, the Troopers touch a pad on their right shoulder after saying "Henshin". Before the full transformation begins, the wearer's Orphnoch outline appears before becoming a Riotrooper.
World of Faiz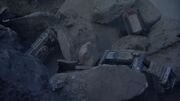 The Smart Buckle also existed in the A.R. World of Faiz, but was unused. It was seen abandoned alongside the Delta Driver and Psyga Driver in the ruins of Smart Brain High School as Daiki Kaito retrieved the Orga Driver. 555 Faces, 1 Treasure
Community content is available under
CC-BY-SA
unless otherwise noted.