"Wait, this Shift Car is not yet complete!"
This article is a stub, meaning it needs more info. You can improve this Kamen Rider Wiki article by expanding it.
Simon Marcus (サイモン・マーカス, Saimon Mākasu) is a major antagonist of Kamen Rider Build NEW WORLD: Kamen Rider Grease who is able to transform into Phantom Crusher (ファントムクラッシャー, Fantomu Kurasshā). He was the leader of Down Fall until he was betrayed and killed by Keiji Uraga.
Character History
Simon is a prime minister from London and came to Japan to learn their technology to maintain the peace of the world from the threat like Killbus shall something like him to appear, especially the Down Fall. As Simon spoke in English, Gentoku helped Taizan as the translator and the introduction of the Guardians and the later Build Driver from Shinobu.
However, the Prime Minister's office where they were in got ambushed. Right on the lab ambush, Simon introduced himself as the leader of Down Fall and planned to rule the world by taking over Japan and its rider technology as the first step and transformed into a Phantom Crusher. Gentoku faced him and the rest, but one of the terrorists absorbed Gentoku's Hazard, rendering him unable to transform.
Victory was in their grasp, until he questions Keiji why he brought Misora with them, but he immediately shot Simon in his heart, shocking Simon of being betrayed with Keiji taking over Down Fall.
Forms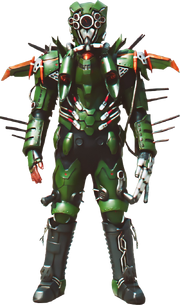 Equipment
Devices
Weapons
Behind the Scenes
Portrayal
Notes
Like Killbus, Phantom Crusher's spider motif is also a part of the recurring bat/cobra/spider trio in the Kamen Rider franchise, a tribute to the first two Shocker monsters as well as the first monster to be upgraded, following Blood Stalk's cobra motif and Night Rogue's bat motif.
Like any other higher up antagonist which die in Build, Simon was killed and actually a pawn for the one whom he lead.
References
Community content is available under
CC-BY-SA
unless otherwise noted.