Shvarian (シュバリアン, Shubarian) is one of the main antagonists of World of Black RX and a Strange Demon Robot from the Crisis Empire, seeing himself as the ultimate machine in his branch. In addition to reinforced spiked armor he has a laser pistol for the right hand armed with a sickle. He originally turned down Apollogeist's offer to join Dai-Shocker until he sees his power first hand.RX! Dai-Shocker Attack He is destroyed by Decade Complete Form with the aid of Agito Shining Form.Black × Black RX
Super Hero Taisen Z
He is briefly seen fighting the Go-Busters. Kamen Rider × Super Sentai × Space Sheriff: Super Hero Taisen Z
Heisei Rider vs. Showa Rider: Kamen Rider Taisen feat. Super Sentai
Shvarian was resurrected as part of the revived Badan Empire. Heisei Rider vs. Showa Rider: Kamen Rider Taisen feat. Super Sentai
Super Hero Taisen GP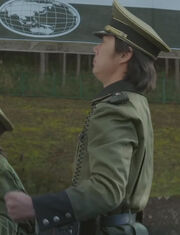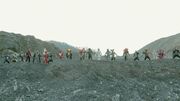 Through an alteration to history rewritten by Shocker's History Modifying Machine, Shvarian is among the many monsters that serve the evil organization that rules the world in this alternate timeline created by Kamen Rider 3's assassination of the Double Riders in 1973, appearing in human form as a Shocker officer. During the final battle against the Kamen Riders, Shvarian is destroyed by Decade's Dimension Kick. But before then, he is one of the monsters responsible for killing Go Shijima. Super Hero Taisen GP: Kamen Rider 3

Video Game appearances
Kamen Rider Break Joker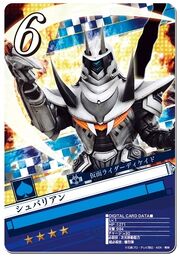 Shvarian appears as a playable character with other Riders and monsters in Kamen Rider Break Joker.

Profile
Height: 230cm[1]
Weight: 264kg
Behind the scenes
Portrayal
Shvarian is voiced by Tetsu Inada (稲田 徹, Inada Tetsu). He reprised this role in Kamen Rider × Super Sentai × Space Sheriff: Super Hero Taisen Z.
Conception
Shvarian is designed by Keita Amemiya, the original designer of most of Crisis Empire monsters.

Appearances
References
External Link
Shvarian in Kamen Rider Official Website.
Community content is available under
CC-BY-SA
unless otherwise noted.