Shuichi Kitaoka (北岡 秀一, Kitaoka Shūichi) is one of the participants of the Rider Fight known as Kamen Rider Zolda (仮面ライダーゾルダ, Kamen Raidā Zoruda, Masked Rider Zolda).
History
With the Rider War reaching its climax, Ryuki, Knight, Ouja, Zolda and Odin are the surviving Riders left. While Ouja is fighting Knight, he crushes him under some rubble. Ryuki shows up and challenges Ouja into a fight. Using the Survive Shippu card he stole from Knight, Ouja transforms into his Survive form, with Venosnaker evolving into Venoviper.
Kitaoka shows up saying that he knew "something weird" was going on in Mirror World, since he was in his car when its windscreen just cracked. He transforms into Zolda, summons Magnugiga and performs the End of World, killing Ouja, Genosurviver and himself.

Kamen Rider Zolda
Kamen Rider Zolda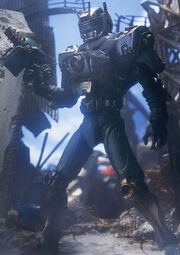 Rider Statistics
Ability Parameters:
Special Attacks:
Kitaoka can transform into Kamen Rider Zolda using his Advent Deck and V-Buckle upon forming a contract with Magnugiga. His Visor, the Magna Visor (マグナバイザー, Maguna Baizā), is a submachine gun that also functions as his personal weapon. Zolda's punching power and kicking power are equal and of decent strength, but his jump height and running speed are the lowest among all of the 13 Riders. To compensate for his lack of agility, Zolda employs an exclusively long-ranged fighting style.
Zolda possesses two different Shoot Vent Advent Cards. The first arms him with the Giga Cannon (ギガキャノン, Giga Kyanon), a pair of cannons derived from Magnugiga's legs which mount on Zolda's back and fire over his shoulders. The second Shoot Vent arms Zolda with the Giga Launcher (ギガランチャー, Giga Ranchā), a massive missile launcher derived from Magnugiga's arms combined together. His Guard Vent equips him with the Giga Armor (ギガアーマー, Giga Aāmā), a shield derived from Magnugiga's torso which can also be used as a mount for the Giga Launcher.
By using his Final Vent, Zolda can execute his finisher, the End Of World (エンドオブワールド, Endo Obu Wārudo), in which Magnugiga appears in front of Zolda and he inserts the Magna Visor into its back. Magnugiga then deploys all of its weapons, which Zolda fires all at once by pulling the trigger of the Magna Visor. The resulting barrage destroys both the target and the surrounding environment.
This form is exclusive to S.I.C. Hero Saga Kamen Rider Ryuki Edition: Advent Calendar

Contract Monster
Main article: Magnugiga
Equipment
Vehicles
References
Footnotes
See also
Community content is available under
CC-BY-SA
unless otherwise noted.