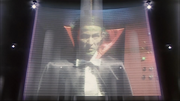 Shocker Staff: Elderly Gentleman (ショッカー幹部・老紳士, Shokkā Kanbu Rōshinshi): Depicted in the film as the figurehead of Shocker, he is a mysterious elderly man with vampire-like fangs and dons a long black and red cape. During the course of the film, he appears only via satellite on screens in the Shocker headquarters. His physical whereabouts are unknown. He is an adaptation of the original television series' character Doctor Death (死神博士, Shinigami Hakase).
Behind the scenes
Portrayal
In Kamen Rider The First, Elderly Gentleman is portrayed via archive footage of the late Hideyo Amamoto (天本 英世, Amamoto Hideyo), who played the original Doctor Death. Hideyo Amamoto's appearance in the film is only through various pieces of footage recorded before his death in 2003, including several from Kamen Rider, the original series. He was overdubbed by Eiji Maruyama (丸山 詠二, Maruyama Eiji).
Community content is available under
CC-BY-SA
unless otherwise noted.