Shock! Mystery Kamen Rider! (衝撃!謎の仮面ライダー!, Shōgeki! Nazo no Kamen Raidā!) is the fifth episode of Kamen Rider Ghost. It features the official debut of Makoto Fukami, his first on-screen transformation into Kamen Rider Specter, and both his Nobunaga and Tutankhamun Damashii forms.
Synopsis
The apparent sounds of a machine gun in a supposedly abandoned school, about to be remodeled, catch the attention of Takeru and he decides to investigate. Takeru rushes to the elementary school to find the Gamma. As Takeru fights against the Gamma, the Rider that stole the Nobunaga Eyecon appears again and attacks Ghost. As this Kamen Rider attacks Takeru, he allows the Gamma to get away!
Plot
to be added
Cast
Guest Cast
Suit Actors
Ghost Eyecons
Eyecon Used:

Ghost

Ore, Newton (once attempted), Edison

Specter

Specter, Nobunaga, Tutankhamun

Damashii Used:
Errors
Although Ghost lost to Specter's Rider Kick in their second confrontation, Takeru manages to steal back his Newton Eyecon. How exactly he was able to do this is unknown.
Notes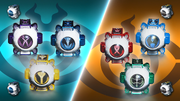 Closing Screen Ghost Eyecon

Ghost Eyecons:

Ghost: Musashi, Robin, & Newton
Specter: Edison, Tutankhamun, & Nobunaga

Count at episode end

Takeru's days of life remaining: 57
Heroes' Eyecons left to obtain: 9
Eyecons in Ghost's Possession: 3
Eyecons in Specter's Possession: 3

Sennin's cosplay: Scientist
Ryoka Minamide guest stars in this episode. He is better known as the fan-dubbed "Juicy Kid" in the Kamen Rider Gummi commercials which aired alongside Gaim and Drive, due to his hammy exclamation of "Juicy!" after eating said candies in the commercials.
This is the first episode where Ghost does not obtain a new form.
This is the first time since Episode 3 that Ghost doesn't assume Robin Damashii.
With the Edison Eyecon under Makoto's possession, as a result, Takeru is unable to access Edison Damashii until episode 11.
DVD releases
External Links
References
Community content is available under
CC-BY-SA
unless otherwise noted.